Pats are concerned about Wilson, but more focused on defending the field
PHOENIX -- The NFL has its "protect the shield" mantra. For the Patriots' defense, it's "defend the field."
All week long, New England's coaches and players have been asked -- over and over and over again -- how they plan to stop Russell Wilson. The answer is, well, that they don't. At least not in a specific sense, with a revamped game plan designed exclusively to keep Wilson from beating them.
• SI.com's complete coverage of Super Bowl XLIX: News, features, video
Instead, because so many of the Seahawks' big plays come via Wilson's improvisation and thus are almost impossible to anticipate, the Patriots are hammering home the idea that each defender must be sound in his individual responsibility on every play.
Defend the field and you defend the player.
Russell Wilson enters Super Bowl duel with Brady eyeing upper QB echelon
"As a defense, you can't just focus on one guy," said Patriots linebacker Rob Ninkovich during Wednesday's media session, from his team's secluded hotel in Chandler, Ariz. "Every person has a job to do and there's 11 guys on the field that you have to defend. Russell Wilson's one of them that's a very good athlete and very good player.
"It's true, we're defending the field. The whole field. Wherever the ball's located, we've got to defend the field. It's everybody."
Ninkovich reminded that the Patriots "have faced scrambling type mobile quarterbacks" before, but not in the recent past. The most mobile quarterbacks New England faced in 2014 were guys like Andrew Luck, Aaron Rodgers and Ryan Tannehill. Luck has scored 12 rushing touchdowns in his three NFL seasons, while Rodgers is one of the better quarterbacks the league has ever seen at throwing on the run.
• KLEMKO: How Wilson willed himself to the top of the football world
None of those players presents a challenge identical to Wilson, who not only is adept at the read-option with Marshawn Lynch (and Christine Michael and Robert Turbin) but also creates play upon play outside the pocket. His 849 yards rushing during the regular season ranked 17th-best in the league, running backs included. Wilson also averaged 8.7 yards per pass attempt when defenses blitzed, per Pro Football Focus, compared to 7.4 when no extra rusher attacked. (For comparison's sake, Tom Brady averaged 7.0 yards per pass when blitzed; 7.1 when not.)
The MMQB's Andy Benoit took an in-depth look at how the Patriots may attempt to contain Wilson on Sunday. The problem is that any strategy requires a defense to be at least as adept as Wilson when a plays break down.
That's a lofty goal. So, the Patriots are doing what they can to be ready.
"You have to make the decision, 'How aggressive can we be?'" said defensive assistant Brendan Daly. "That dictates your game plan."
Ever the underdog, fearless Edelman intends to upend Super expectations
In the AFC championship game, New England opted to push the throttle against Andrew Luck and the Colts. Long stretches of that matchup featured the Patriots' defense in a single-high safety look, with aggressive press-coverage on the outside. They may opt for a similar strategy Sunday, trusting their Darrelle Revis-Brandon Browner cornerback combo to take away Wilson's receiving threats, then using an extra defender to help contend with Wilson and Lynch.
The versatility New England has in its front seven may provide an edge as compared to other teams Seattle has faced this season. Ninkovich and Chandler Jones are capable of dropping in coverage or even helping to spy Wilson from their DE spots; Dont'a Hightower is an aggressive presence up the gut; and Jamie Collins has emerged as a dynamic three-down linebacker.
"Whether you have Jamie Collins or you have Joe Schmo, as a defense you're trying to do something so the offense can't get a bead on what you're doing," Patriots linebackers coach Pat Graham said. "Defend the field and defend the situation. You do that, your defense will do a good job."
Indianapolis was rather unwilling to pound the rock in its loss two weeks ago, with the score eventually forcing Luck and co. to abandon the run altogether.
GALLERY: All-time dumbest questions at Super Bowl Media Day
All-Time Dumbest Super Bowl Questions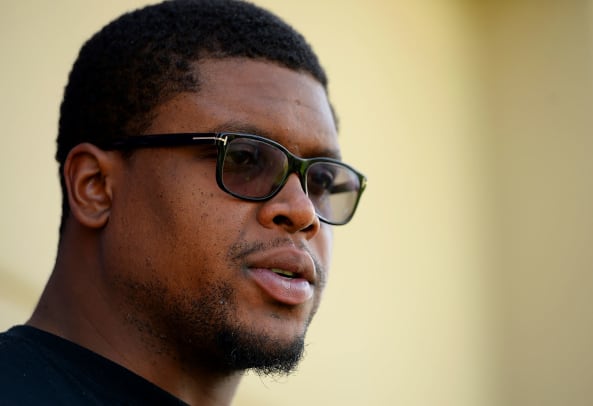 [pagebreak]
Seattle will not let the Patriots' defense off quite so easy, even if the defending champs fall behind. The Seahawks needed 11 offensive plays (plus an onside-kick recovery) to pull off their epic comeback in the final four minutes of the NFC title game. Seven of those 11 plays were runs: four for 45 yards and a touchdown by Lynch, three for 20 yards and a touchdown by Wilson.
• ​BISHOP: Revisiting Dan Marino's one and only trip to the Super Bowl
Lynch, Doug Baldwin and Luke Willson all had clutch receptions, too, spanning late fourth quarter and overtime. Seattle then won downed Green Bay on a deep ball from Wilson to Jermaine Kearse.
The rally was far from a one-man show. Hence, the Patriots' mindset heading into Sunday.
"'Defend the field' is real general in terms of how we play defense," Graham said. "We're calling a defense to defend the field, the goal line, defend the sticks. ... There's always a game plan for a specific player, specific team. We'll do whatever we have to to beat that team."
Despite separate styles, Belichick and Carroll aren't that different after all
Said Bill Belichick: "They've got a great quarterback, got a great running back, they're a very experienced team. So, yeah, there's a lot of things that worry me about Seattle. Pretty much everything."
The Seahawks are sounding the same alarm, by the way. "It's never about one guy. It's never one guy that's going to beat a team," safety Kam Chancellor replied when asked about defending Tom Brady.
Brady is far more advanced as a passer. Wilson is much more dangerous at extending plays and challenging defenses horizontally. Is one more difficult to defend than the other?
In theory, it would be Wilson, simply because there are so few quarterbacks capable of doing what he can do, but there's a counterargument. Wilson might give a defense more opportunity for a game-changing turnover when he does take to air -- see: the four interceptions he threw against Green Bay.
• ​BEDARD: Why the Patriots will beat the Seahawks in Super Bowl XLIX
New England cannot bank on a repeat, turnover-prone performance ... nor can it enter Super Bowl XLIX pretending to know exactly what Wilson will do on a given play.
The main focus? "Doing your job," said linebacker Dont'a Hightower. "There's going to be plays he extends where he's not looking to run the ball. There's going to be that point where he can .... get 10 yards, or you could evade your man and try to press up and then there's 50 or 60 yards right over the top of your head.
"Definitely, just got to be guys doing their job whether it's the run game or the pass game."
What makes Gronk as great as he is? Even he doesn't know the answer
All that said, of course the Patriots will have a strategy in place for dealing with Wilson. It may start with something as simple as individual defenders' keys on the Wilson-Lynch options, but someone -- Collins is the most likely candidate -- has to take on the chore of limiting Wilson's escape routes.
The whole game must be very systematic for the Patriots' defense. Disciplined. Consistent. As soon as a defender who's not supposed to have his eyes toward the backfield sneaks a glance at Wilson, the Seahawks' quarterback is apt to find him and exploit him.
Sure, Wilson is a concern. But as the Patriots' thinking goes, if the defense can keep Lynch in check, frustrate the receivers on the edge and win some battles up front, there will only be so much that the electrifying Wilson can do on his own.
Defend your position. Defend the field. Let the chips fall where they may.
"I always pay attention to my job and not try to worry about anybody else," Hightower said. "I'm going to do my job.
"You've got to have trust in [your teammates]. You have to."