Hungry Cats
After four-straight one-and-done playoff exits, the Bengals are hungrier than ever. Can a now-healthy Geno Atkins and Tyler Eifert lift Cincinnati over its postseason hump? Plus, Eric Berry's arrival brought a jolt of energy to the Chiefs as they opened camp. But, as Robert Klemko writes, Kansas City's offense causes concern, and that begins with quarterback Alex Smith and the men tasked with protecting him. 
Cincinnati Bengals Training Camp Report
Robert Klemko writes… 
What I saw: Bengals scrimmage at Paul Brown Stadium. 
Three things you need to know about the Bengals:
1. They're hungrier than I've ever seen them. I've been in the Bengals locker room a number of times in the last three years, and something's different this time around. To a man, they're tired of the Andy Dalton questions after four straight years of one-and-done playoff appearances. They've owned these playoff failures as a product of the collective. Perhaps safety George Iloka said it best: "Our playoff losses have been team losses, not on one particular person. There's no, I lost or he lost. We all lost… When we got to the playoffs, nobody took their game to the next level."
2. It's obvious, after watching this team with a dominant Geno Atkins in 2013, and watching them with a ho-hum Geno Atkins still recovering from a torn ACL the following year, he is the straw that stirs the drink. If you were to make a list of the defensive players most valuable to their team's fortunes in 2015, he would be No. 2, right behind JJ Watt. In 2013, Atkins made Michael Johnson look like an all-pro end worthy of a five-year, $43.75 million deal in Tampa that offseason. Johnson was released after one season and finds himself back in Atkins' good company in the starting lineup. The sixth-year defensive tackle isn't talking to the media in training camp, but the consensus is he's back to his 2013 form.
3. Tyler Eifert may be the weapon that puts Dalton over the hump. He's been more than just a safety valve for the quarterback, who seldom targeted Eifert's predecessor, Jermaine Gresham. A first-round pick in 2013, Eifert's been the star of Bengals camp after playing just one game a year ago, dislocating his elbow against the Ravens. A healthy Eifert means a reliable blocker who can be a safe outlet for Dalton, who is not above throwing dangerous lobs to a double-covered  A.J. Green when no check downs present themselves.
Player I saw that I really liked: Rex Burkhead. The former sixth-round pick out of Nebraska had a big impact wherever he lined up in practice, whether in the backfield or the slot. He's got a real mastery of the offense and a quick first step that translates to route-running and running off tackle. A career special-teamer, he flashed some offensive ability in last season's playoff loss to Indianapolis, totaling 57 yards on just four touches.
Player on the roster that I forgot about: AJMcCarron. How could I forget about possibly the greatest college quarterback of all time? The three-time national champion and fifth-round pick in 2014 has a new attitude, and from the sounds of things, has conducted himself behind the scenes like a big league quarterback this training camp for the first time since his arrival in Cincy.
Five dot-dot-dot observations: I think the coaches like what they see from third-year running back Rex Burkhead, so much so that Burkhead could begin dipping into Gio Bernard allotment of reps behind Jeremy Hill… Second-year center Russell Bodine's issues with accurately snapping the football have been an unwelcome storyline at camp, and haven't waned late in August. Bodine himself chalks them up to an offseason technique tweak… Defensive end Michael Johnson is progressing as expected with a sprained MCL suffered in early August. There is little doubt about his availability for the season… Third-round rookie linebacker Paul Dawson has shown flashes of brilliance as a ballhawk in practice… Three years since the Bengals drafted cornerback Dre Kirkpatrick 17th overall out of Alabama, he looks more than ready to be a full-time starter.
What I'll remember about Cincinnati: George Iloka, laying the wood on helpless Bengals teammates in a scrimmage low on both contact and adrenaline. Iloka is a known striker around the league and doesn't appear to let up too much when the targets share his locker room.
Gut feeling about the Bengals: I could see three playoff teams coming out of the AFC North again (last year, the Ravens, Steelers and Bengals all made it). I could also see the Nov. 1 and Dec. 13 meetings between the Bengals and the Steelers deciding who gets the wild card and who watches from home. My gut says the Bengals sweep that matchup, if anybody's going to sweep it, but that's a projection based on several players coming back from injury (Geno Atkins included). Prediction: 9-7.
Kansas City Chiefs Training Camp Report
Robert Klemko writes…
What I saw: Morning practice (shells), the last day of camp in St. Joseph Mo., Missouri Western State University
Three things you need to know about the Chiefs:
1. There's an aura with this team unlike any other, and it starts with Eric Berry. There are hardly words for the adrenaline shot that was the sight of No. 29 showing up at his locker this summer like he never left, after quietly spending the offseason in treatment for lymphoma. The sense of urgency silently conveyed by Berry, as singular a leader there is in the NFL, could be felt even during a non-padded practice on move-out day at MWSU.
2. The offensive line is a work in progress, and that's bad news for Alex Smith, who is as reliant as any quarterback in the NFL on a formidable run game and the threat of play-action. The interior line is a jumble, with the team planning on starting rookie second-rounder Mitch Morse at center in place of the departed Rodney Hudson, last season's lone bright spot on the offensive line. Often disappointing 2012 second-rounder Jeff Allen will likely start at right guard. Left guard Ben Grubbs started every game last year in New Orleans but was nowhere near the 2013 version of himself, which is why New Orleans was ready to deal the 31-year-old in exchange for a fifth-round pick. The interior line situation makes you wonder if Kansas City might have benefitted from pursuing Eagles castaway Evan Mathis, now a Bronco.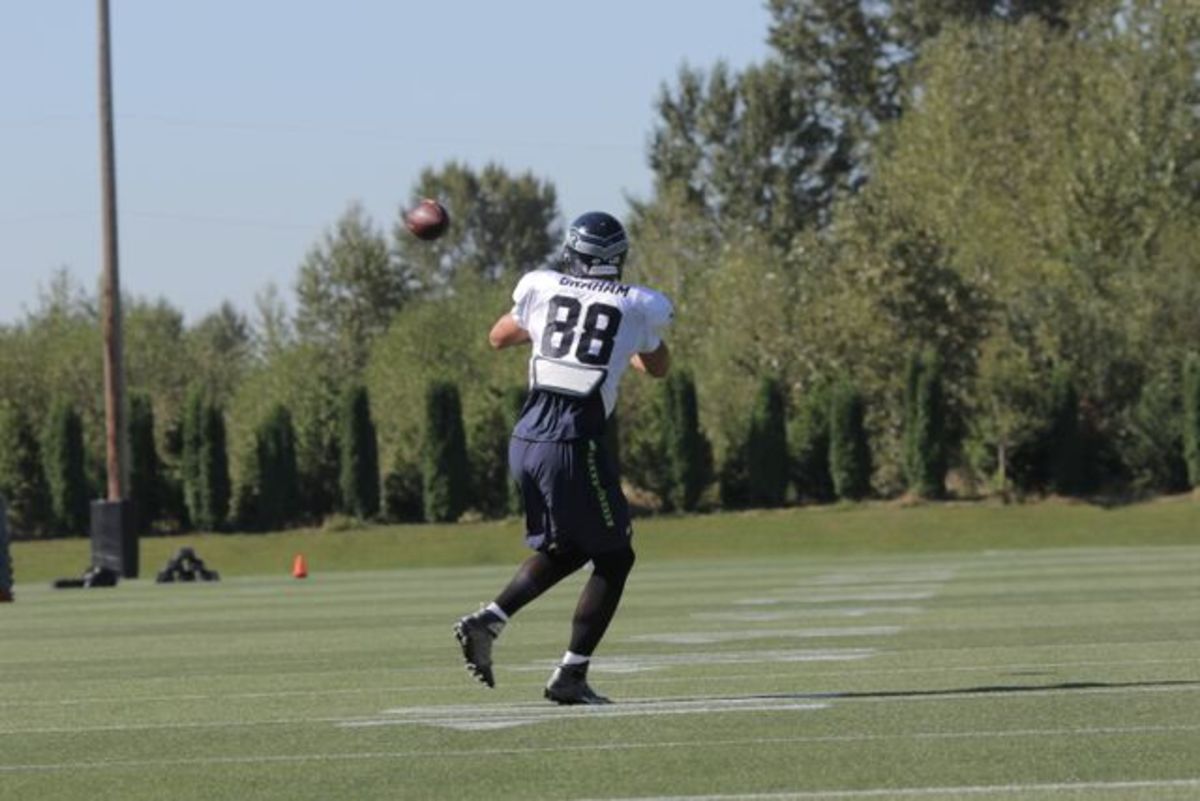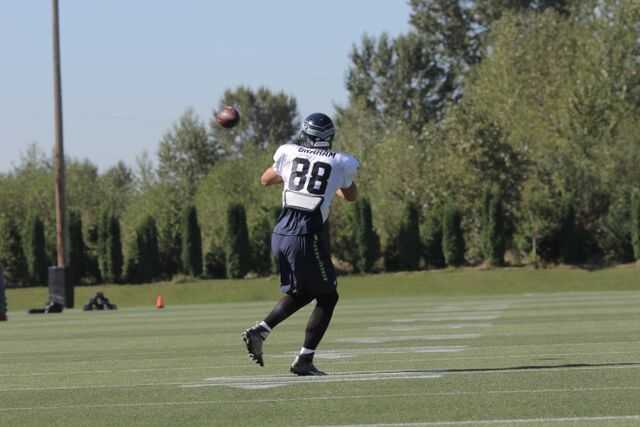 Indianapolis Colts Training Camp Report
Kalyn Kahler writes ...
Site:Anderson University campus in Anderson, Ind., about 40 miles northeast of Indianapolis.
What I saw:An afternoon practice, the seventh day of Colts camp. Dark clouds warned of a storm, but the Colts were able to finish out practice before the drizzling rain began.
Three things you need to know about the Colts:
1. Frank Gore is ready. Colts management knows this is Andrew Luck's window. They acted to surround him with more options and signed an offensive weapon in veteran running back Frank Gore. The longtime 49er has been impressive in camp and has yet to take a day off of practice. He's a total workhorse. The Colts need a 1,000-yard season out of Gore (the team hasn't had a 1,000-yard back since Joseph Addai in 2007). "He practices hard, really hard, he runs hard in practice," Luck said. "The old adage 'practice how you play,' he does that." In 10 seasons Gore has come up short of 1,000 yards just twice. The Colts need Gore to be twice what they thought they were getting in Trent Richardson.
2. There's an insane amount of talent at receiver.Despite their apparent defensive shortcoming, the Colts focused on receiver in the offseason, drafted Phillip Dorsett in the first round, signing Duron Carter from the CFL and adding seven-time Pro Bowler Andre Johnson in free agency. With those three joining leading receiver T.Y. Hilton and deep threat Donte Moncrief, Luck has a wealth of options here. So many, that it feels like Johnson, a potential Hall of Famer, is a spare part. Hilton made his first Pro Bowl last season and was targeted 131 times for 82 passes and 1345 yards. It will be interesting to watch how Luck shares the love among his receivers. Luck plans to find a balance with his offense, "There is a happy medium," he said.  "Coach Pagano has always said, 'If you win, there is enough credit to go around.'" With Coby Fleener at tight end and Gore at running back, this offense could be the best in the league.
​
​
* * *
Packers Training Camp Report
Emily Kaplan writes:
Site: Practice fields adjacent to Lambeau Field. 
What I Saw: Morning practice, Friday, Aug. 7. Low 70s and gray skies, occasional mist. Refreshing. However, practice was cut short after about 90 minutes as coach Mike McCarthy looked to shield his already injury-bitten team from a wet field. 
Three things you need to know about the Packers: 
1. Mike McCarthy is not calling the shots. This is the biggest change for a team that was a botched onside kick away from reaching the Super Bowl. In fact, it's the biggest structural change for the organization since firing defensive coordinator Bob Sanders in 2009. McCarthy enters his 10th year in Green Bay; he has a Super Bowl win and a street named after him in town, and twice in the last four years he has directed the NFL's top-scoring offense. Making such a drastic change after one aching loss? Said Mike Holmgren of McCarthy's choice: "What's wrong with you? You never give up play-calling!" There's nothing necessarily wrong with McCarthy's play-calling, but rather something problematic with the machine. The coach felt that other areas of the game—specifically special teams—suffered because he focused so intensely on minutiae of the offense, so he tapped longtime assistant Tom Clements to navigate game days. When you have a quarterback as systematic as Aaron Rodgers and an offensive line as dependable as the Packers', you don't need a lot to keep the engine running smoothly. And so the new chapter of McCarthy's tenure begins. "I don't see him as much now," says wide receiver Randall Cobb. "He's not with the offense as much as he used to, but he's definitely there. You feel his presence everywhere." We'll find out quickly whether this will help Green Bay in a larger sense or is simply a knee-jerk reaction to one loss—a decision with potential to implode.
Left cornerback Tramon Williams inked a three-year, $21 million deal with the Browns while Davon House, who was used mostly in dime,
"wanted to be the number one guy"
and signed on for four years at $24.5 million in Jacksonville. Suddenly, Green Bay found itself a bit thin in the secondary. Sam Shields became the sole returning corner and at 27 the oldest player in the defensive backfield. I wouldn't be surprised if Shields takes on a larger role this season, shifting away from his regular right side to shadow the opponent's No. 1 receiver at times. "I don't know what the coaches think," Shields says. "But I'm willing to do it. I'd like to be that top guy." Casey Hayward will likely start in the other spot. General Manager Ted Thompson spent his first two draft picks on potential corners in Damarious Randall (first round) and Quinten Rollins (second round). Randall was one of the most intriguing players in the draft, a free safety with the speed and size of a cornerback, and should figure in the rotation this season, mostly in dime. One wild card to look out for: LaDarius Gunter, an undrafted free agent, who has had great offseason reviews. However, one one play I saw Friday, Gunter overplayed wide receiver Jimmie Hunt and got beaten badly.
3. This team needs to get healthy—especially at outside linebacker, where there are currently just four hale bodies. Of course, most Packers fans are concerned about one linebacker in particular: Clay Matthews, who has missed four straight practices with a sore knee. Matthews, wearing compression leggings and a t-shirt, pleaded for reporters not to worry about him. "This is the best I've felt the entire offseason," says Matthews, who is continuing his transition to inside linebacker (when he's on the field).
What will determine success or failure for the Packers: Whether they have an epic collapse again. All kidding aside, there is no reason the Packers shouldn't return to the NFC Championship Game. Their division is a cinch, and as long as Aaron Rodgers is in his prime, dominance is the expectation.
Player I saw and really liked: Cornerback Casey Hayward, the favorite to take Tramon Williams' starting spot. Hayward actually underwent minor foot surgery at the end of last season and was limited during the offseason program but looked just fine when I saw him on Friday. During an 11-on-11 drill Hayward read a throw by Matt Blanchard perfectly. In the back of the end zone, he cut in front of Jeff Janis for what should have been an interception, but it bounced off Hayward's chest. 
Five dot-dot-dot observations about Green Bay: Nate Palmer proves you can totally play football with a club hand (take notice, Jason Pierre Paul). With a cast on his left hand, Palmer batted down a ball from Scott Tolzien. … I like rookie wideout Ty Montgomery a lot. He reminds me of Randall Cobb—overall similar skill set, with Montgomery perhaps a tad stronger—and should be used in a variety of ways on offense, plus contribute right away by returning kickoffs. … Secondary coach Joe Whitt is one of the most animated assistants I've seen. He wouldn't stop yapping in positional drills (mostly words of encouragement) and jumped up and down on the sideline when Randall broke up a pass in 11 on 11s. … It was my first time at Lambeau, and I'll admit I spent a few minutes simply in awe of the place. Coolest fact I learned: When they moved the tunnel during reconstruction, they brought a patch of cement from the old tunnel, so that players could step on the same ground that Vince Lombardi, Bart Starr, Forrest Gregg and so many great Packers once walked. … I'll just let Aaron Rodgers' Tweet from Friday speak for itself. It's wonderful:
The one name on the roster I'd forgotten about: Richard Rodgers. The Packers achieved all of their offensive accolades last season with very little production from their tight ends. Rodgers, the 2014 third-round draft pick, barely registered as a blip last season, but we should probably know better than to overlook a Packers draft pick from Cal. I'd expect this Rodgers to take on a larger pass-catching role in 2015.
The thing I will remember about Green Bay: The Game That Shall Not Be Named isn't talked about much in this building, although the agony of that loss lingers. "I haven't watched it, I can't watch it, really, I have no interest in watching it," Eddie Lacy told me. "But I remember the pain, and I never want to feel that pain again." 
Gut feeling as I left camp: Aaron Rodgers is going to be automatic, and he returns pretty much every offensive weapon from a team that scored 30.4 points per game last season. Given the team works through its injuries, and the Mike McCarthy no-play calling experiment pans out, say hello to your 2015 NFC (and Super Bowl) favorites. 
* * *
Postcard from the Road
BATTLE GROUND, Ind. — Saturday was an off day for Team MMQB in Chicago. After sharing a margarita pizza and enjoying a few Goose Islands during a glorious afternoon in the Wrigley Field bleachers, we departed South on I-65 for Colts camp. About two hours into our drive, cruising past boundless farmland and towering wind turbines, something struck us: just how beautiful this snapshot was. 
Sometimes you need to pull over.
Through 10 days on our journey, we have talked to dozens of players, coaches and general managers. We have seen bottom-dwelling franchises and Super Bowl contenders. We have pieced together the fabric of the NFL. Along the way, as we have traversed from suburban Baltimore to the swamps of the Southeast, to here, the middle of the Midwest, we're also seeing just how stunning this country can be.
* * *
Buccaneers Training Camp Report
Robert Klemko writes.. 
Site:Tampa Bay Buccaneers practice facility, Tampa Fla., within spitting distance of Raymond James Stadium.
What I saw:A morning practice on a muggy day in West Florida. 
Three things you need to know about the Bucs:
1. Jameis Winston will probably struggle early. That's fair to say of any rookie quarterback, but I think it will be especially true for Winston. For starters, his left tackle is rookie second-rounder Donovan Smith, who will take his lumps on a young offensive line that figures to start another rookie, Ali Marpet, at guard. More importantly, Winston looked overwhelmed at times in practice, but that could be a function of the coaching approach. Are the coordinators throwing the book at the rookie and letting him fight through the surf? Hard to say. On the day of practice we watched, his first and third throws were interceptions, the third ending up in the hands of linebacker Lavonte David on a ball Jameis had no business attempting to squeeze into the alley. In an ideal world, I think Jameis would benefit from beginning camp on the second team and learning behind an experienced placeholder.
2. The pass rush is a work in progress.
3. If Jameis can get the ball out, he has options. It's hard to argue with this group of pass-catchers as a highly rookie-QB-friendly group. Mike Evans and Vincent Jackson are one of the top receiver pairs in the league, and second-year tight end Austin Seferian-Jenkins (21 catches in nine games as a rookie) could end up being Winston's best friend if he stays healthy.
What will determine success or failure for the Bucs in 2015… It would be easy to say Winston, but the No. 1 overall pick won't have a shot at success in 2015 if the Bucs don't get improved offensive line play. You could make the case that Tampa had the worst offensive line in the NFL a year ago, with the two weakest spots being right guard and left tackle. And wouldn't you know it, general manager Jason Licht went out and drafted Smith with his second-round choice to play tackle and Ali Marpet out of Hobart with the 61st pick in the second round to play right guard. Marpet has looked good so far, recently mixing in with the first team after doing some serious road grading early in camp. Smith has debuted to mixed reviews. The good news is the two rookies will be supported on all sides by three accomplished veterans. Demar Dotson had a strong year at right tackle in 2014 and even showed he could play the left side in a pinch. Veteran interior linemen Evan Dietrich-Smith and Logan Mankins need no introduction.
Player I forgot was on the roster:Chris Conte. The former Bears safety is in a bid for the starting free safety spot, and I think he'll win it. Conte is an average player and a good tackler who got a bad rap for a handful of highly visible coverage gaffes in Chicago. It was time for a fresh start.
Five dot-to-dot observations… There's buzz about the improvement of defensive end T.J. Fatinikum, now in his second NFL season after going undrafted out of Toledo in 2013 and maximizing his opportunity with the Arena Football Portland Thunder that year… We arrived in Tampa after more than 20 straight days of rain, and the campus showed it. The area around the practice field was a sloppy mess, but the actual playing field looked to be holding up to the abuse. Kudos to the grounds crew and whatever landscaping mind designed the practice grounds… The coolest part of my first seven cities on the training camp tour, by far, was a visit from the EA Sports folks in Tampa. Brad Hillebrand was kind enough to bring an advance copy of Madden 16 all the way from Orlando so Peter King could play Madden with Gerald McCoy and Mike Evans, and the results were fantastic. Video to come… My favorite part of the Madden session was watching Evans scroll through the list of wide receivers rated higher than him, commenting on how and why the makers are wrong. Some funny stuff… I mentioned that Lavonte David interception for a reason; I couldn't have been more impressed with the young linebacker. His agility and anticipation in pass defense is something special.
Gut feeling as I left camp:First-year quarterback with a young offensive line and a defense still missing significant pieces. That sounds like a 4-12 ball club with a lot of upside for 2016.
Find coverage from week one of The MMQB Training Camp Tour blog here.