Carson Palmer, the Cards and an Offense on 'Empty'
How Bruce Arians' system thrives on spread concepts and big plays, and why the return of a healthy Carson Palmer makes them one of the league's most dangerous offenses again
Have you noticed that NFL teams more and more seem to be lining up in empty formations? With only the quarterback in the backfield, most of these empty sets feature spread alignments, with three eligible receivers to the wide side of the field and two eligible receivers split to the short side.
The tactic seems counterintuitive, if you think about it. Going empty lifts a significant mental burden off of the defense. For one, there's no longer the possibility of a run (barring a QB draw). Defensive linemen can pin their ears back and prepare to tee-off; linebackers and safeties don't have to worry about play-action. These pass rushers teeing off are likely to face one-on-one blocking, too. With nobody in the backfield, there's nobody to help an overmatched offensive tackle with chip blocks or double-teams. And there's nobody to pick up an extra blitzer, should one come.
Occasionally a tight end still positioned up on the line of scrimmage can provide some of this help. But that's usually limited or nonexistent. Often an empty set has the tight end detached from the formation, kicked to either one of the slots or even split out wide, near the sideline. That's because the main benefit of going empty is spreading the field with all five of your eligible targets. That benefit is a considerable one—otherwise the empty formation would not be catching on like it is.
No team makes greater use of empty than the Cardinals. We didn't always get to see this last season because their quarterback position was bitten ruthlessly by the injury bug three different times: a Carson Palmer shoulder nerve problem after Week 1; a Palmer ACL tear in Week 10 (just four games after the shoulder healed) and a Drew Stanton knee injury in Week 15. Head coach Bruce Arians retreated from some of the empty sets when Stanton was in there. And he did not employ them as much with Ryan Lindley, either.
• CARDINALS TRAINING CAMP REPORT: Carson Palmer's knee is now pain-free and the Cardinals welcome the sight of a stacked offense for 2015. However the defense, without coordinator Todd Bowles, has a few too many question marks.
It must have been hard for Arians and his team to not play the "What If?" game after January. What if Palmer had stayed healthy? In the six full contests he played, the Cardinals averaged 275 yards through the air (sixth best in the league) and 25.8 points (eighth). Without him, they ranked 29th in passing and 32nd in scoring.
Palmer is the reason the Cardinals can flourish in empty sets. It's not that he's a superstar quarterback (those days are past), it's that he's a very professional one. He's tough and fundamentally sound in the pocket. He's smart and works smoothly from one progression to the next. Progression reads are the nexus of Arians' system—Arians calls it a "scratch where it itches" system, meaning it's not tethered to any one player. Instead, it's tailored to exploiting a defense's specific weaknesses via aerial concepts. (This is why Larry Fitzgerald has seen his numbers diminish under Arians, even if his skills have not.)
Many of these concepts include route combinations that attack at the deep-intermediate levels. The empty sets are a great way to do this. In them—as well as in the 3 x 1 formations that have become a staple for Arizona and across the NFL—Arians utilizes a Don Coryell principle: traditional three-receiver route combination on the front side that is designed to move the ball 8-15 yards, and a downfield route concept on the back side that's designed to hit a home run. The best example of this came on wide receiver John Brown's 75-yard, game-winning touchdown against the Eagles in Week 8. On that play, Brown ran a slant-and-go (aka "sluggo") from the back side of a spread empty set, while the three front side receivers ran flat, curl and seam patterns—the white bread of midrange route combinations.
Brown's touchdown was not the only explosive downfield play out of empty. Such vertical success here is unusual because, despite the rise of spread formations, most deep shots in today's NFL still take place out of running formations, where elongated play-action can influence a deep safety. In running formations, you can keep six, and often seven, players in as pass protectors, affording the quarterback and receivers enough time to stretch the field.
• 'I'M HERE AS A FOOTBALL COACH': In an exclusive first-person piece for The MMQB, Jen Welter reflects on what it means for be the first female coach in the history of the NFL.
That's not possible with the empty sets, where offensive linemen are mostly forced to block on an island. That's the reason Palmer, playing behind an athletically substandard front five, sometimes disliked the high volume of empty in Arizona's scheme early on. And it's surely one of the reasons GM Steve Keim spent $10.5 million in guarantees last year to sign left tackle Jared Veldheer and $15.75 million in full guarantees this year to bring in ex-Niners three-time Pro Bowl guard Mike Iupati. Veldheer's addition helped, and so will Iupati's (once he's recovered from a knee injury), but they won't make the O-line impermeable. Tackle Bobbie Massie is still a liability on the right side. So much so, in fact, that green-but-talented first-round pick D.J. Humphries might finagle a starting job sometime during his rookie year. And at right guard Jonathan Cooper, unable to capture a starting job ahead of middling journeyman Ted Larsen last year, is a major question mark.
Empty will always require a quarterback who knows what he's looking at, both pre- and post-snap. What Palmer will see in 2015, at least on his side after the snap, are a lot of speedy targets running routes. Fitzgerald isn't necessarily fast (though he can still run away from certain defenders) but John Brown has wheels. And Michael Floyd is a long-strider who covers ground effortlessly. At tight end, last year's second-round pick, Troy Niklas, (if healthy) brings more athleticism than the position has seen since Arians' arrival in 2013. And then there's running back Andre Ellington, a big play threat whenever the ball is in his hands. Ellington is an uncommonly natural receiver, both in terms of catching and route execution. When the Cardinals go empty with him and four wideouts (which they do often), they're essentially playing with five wide receivers against no more than four cornerbacks. If an opponent wants to guard Ellington with a linebacker, he'll split out. If they want to guard him with a defensive back, you can bet Ellington will shift back to behind the QB and take a handoff.
Handoffs, by the way, were not Arizona's forte in 2014. With and without Palmer, their rushing attack was putrid. Ellington is dangerous on the perimeter, but he's not built to provide a foundational between-the-tackles ground game. This further explains the Iupati signing; he has good short-area mobility on pull blocks and brings much needed straight-line power for inside zone blocks. It also explains why Keim spent a third-round pick on Northern Iowa tailback David Johnson and signed free agent Chris Johnson. With these additions, the Cards are equipped for better offensive balance in 2015. But that balance won't mean anything if they don't stay aggressive and creative out of empty.
• MOVE OVER SEAHAWKS, ST. LOUIS HAS THE NFL'S BEST DEFENSE:The average age of a Rams' starting defender is 25, and the average level of athleticism is off the charts. | FIXING COLIN KAEPERNICK:The 49ers' QB has fundamental flaws in his game. If he can't take the next step, he may end up joining the mass exodus in San Francisco.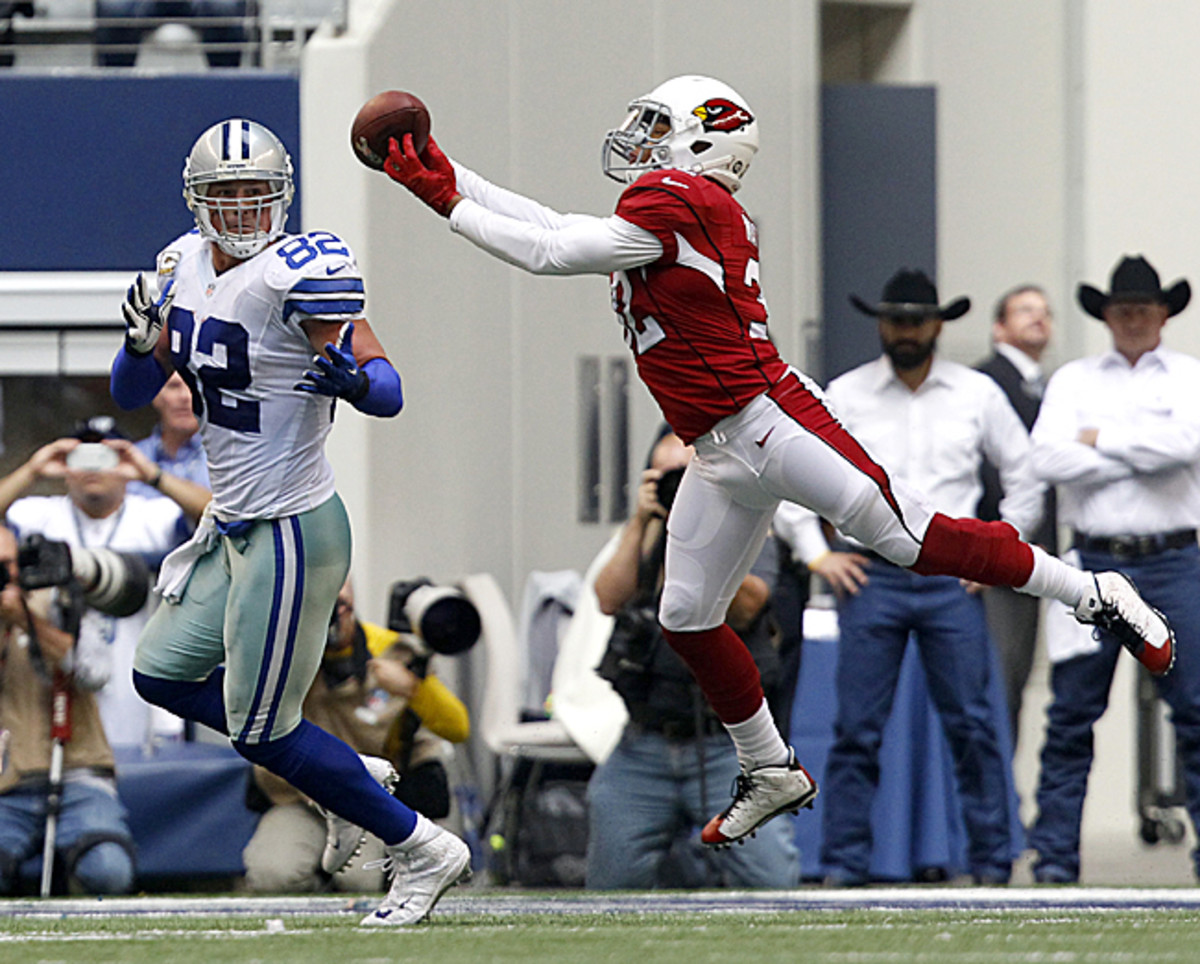 Cardinals Nickel Package
1. How will the defense look under new coordinator James Bettcher? A lot like it looked under Todd Bowles. Or so Arians hopes. Bettcher, previously the club's outside linebackers coach, was appointed to the position because his philosophy most aligns with Arians'. Both men believe in an attack-oriented scheme. They'll have to; even with the second-round selection of outside linebacker Markus Golden, the Cardinals are short on natural pass rushers (unless veteran pickup LaMarr Woodley has an unexpected renaissance). Alex Okafor showed flickers of pass-rushing prowess during an eight-sack 2014 campaign, but he has yet to show the week-to-week impact that strikes fear in an offense. Expect a continued heavy serving of double-A-gap pressure concepts from this defense.
2. The loss of Antonio Cromartie to the Jets was huge—maybe even a deathblow for a D that's built on pressure (and therefore, on corners being able to match up in man-to-man). The lanky Cromartie was a stalwart opposite No. 1 cover corner Patrick Peterson (who, by the way, needs to be a lot more consistent this season). Most importantly, though, Cromartie's presence allowed Jerraud Powers to play the slot, where he's 10 times more comfortable. And that allowed Tyrann Mathieu to focus fulltime on safety, where there are fewer change-of-direction demands on his surgically repaired knee. With Powers now the No. 2 corner, Bettcher, Arians and defensive backs coach Nick Rapone must decide whether to take a chance and return Mathieu to the slot in nickel—where, granted, he's an excellent cover guy and blitzer—or keep him safe back in space and roll the dice with Justin Bethel as the No. 3 corner outside. None of these options are ideal.
3. Expect to see more of Deone Bucannon at linebacker this season. Last year, as a rookie, he played linebacker in Arizona's dime package, which Bowles employed on a league-high 60% of snaps. There were two reasons for this: (1) Bucannon was sensational. A thick but lanky 210-(or-so)-pounder, he's good in traffic and can match up in short area coverage against most tight ends. He's also ferocious on inside blitz concepts. The other reason for the dime: Arizona had an awful situation at inside linebacker. Larry Foote was extraordinary for most of the season, but by December 13 years of NFL wear and tear had taken its toll, and it showed whenever he was forced into coverage. Kevin Minter often remained sidelined as a major disappointment. Now, Minter is the most experienced inside 'backer in this scheme. The other projected base starter is oft-injured ex-Falcon Sean Weatherspoon, who has spent his career in a 4-3 and missed most of camp with a hamstring injury. In addition to playing more dime than any coordinator, Bowles also played more seven-DB packages. Bettcher may want to consider doing the same.
4. The Cardinals are very tough to run inside against because of their use of "condensed fronts." They'll put both defensive ends over the guards and a nose tackle over the center, commanding interior one-on-one matchups. It will be interesting to see if Bettcher sticks with this tactic now that nose tackle Dan Williams is gone and three-year backup Alameda Ta'amu is in there. If the nose tackle situation proves O.K., you'll see a variety of different 3-4 and 4-3 gap concepts from Arizona. They did this last season, and this offseason they brought in two backup linemen in Cory Redding and Corey Peters (the latter since lost for the season with a torn Achilles) who have experience in one- and two-gap systems.
5. Expect tight end Darren Fells to ultimately play a greater role than late-summer pickup Jermaine Gresham. There's a reason Gresham remained unsigned for so long. Besides coming off back surgery, his mental toughness was not highly regarded by his former club, the Bengals. You can bet word got around the NFL.