Drama Builds in Denver
Brock Osweiler's performance in a road win puts the pressure on the Broncos to make a decision on the ailing, aging Peyton Manning. Plus the mid-tier teams to fear, a crucial call aids the Cards and more from Week 11
I love this time of year, and not just because it's Thanksgiving (ICYMI: I like food). But look at the standings this morning. Notice a symmetry? Thirty of the 32 teams—all but New England and Buffalo, playing tonight—are at the 10-game point. No more byes. By midnight tonight, every team in the league will be entering the home stretch, the six-game sprint to the playoffs. Or so they hope.
More about that after the story of the week. More about the teams set up to make strong runs to January. (Kansas City? Understandable. Tampa Bay? Really?) And more about the call just before midnight that I'm assuming sent 90 percent of the Eastern and Central Time Zones to bed confused last night. The call is "disconcerting signals," and made the difference between the Cardinals attempting a potential winning field goal from 32 yards … or the game going to overtime.
But first, I'm assuming you saw what I saw in the Denver-Chicago game Sunday: an efficient, mistake-free performance by one of the quarterbacks. It wasn't Jay Cutler. It wasn't Peyton Manning. It was a graduate of Flathead High in Montana who turned down the chance to be a 6-8 power forward at Gonzaga to chase his dream of being a big-time quarterback. For a day—his 25th birthday, in fact—Brock Osweiler had his dream came true. It will make things quite complicated this week in Denver.
Denver 17, Chicago 15. The game reminded me of this movie, The Candidate, starring Robert Redford as an upstart non-politician running for the Senate from California in 1972. Redford wins in an upset and looks at his manager when the results are final and, stunned, says, "What do we do now?"
That's where Denver coach Gary Kubiak and GM John Elway are this morning. They're 8-2 and have a three-game division lead with six to play, so that's good. But they're on the verge of a decision that could be either painfully uncomfortable, or historic, or frustratingly loyal. Or some combination of those. And that's all going to play out this week—with Tom Brady and the unbeaten Patriots coming to Denver for what looked like one of the great games of the year.
* * *
What do we do now?
Osweiler winning this game in Chicago wasn't the biggest surprise in the league this year. But the way he won it was notable. Osweiler played with confidence and a self-assuredness that belied his experience. His experience, basically, was that he had none. In his last start, nearly four years ago, Osweiler and his Arizona State teammates got their clocks cleaned in the Maaco Bowl in Las Vegas. Asked late Sunday afternoon if he had any doubts about his ability to play well in an NFL game, Osweiler said from Chicago: "When you haven't started a game in three-and-a-half years, those thoughts do creep in."
Manning was intercepted in every game he played this year—a league-high 17 in all.
Osweiler was not intercepted in 12 drives in Chicago on Sunday.
Manning, with sore ribs and plantar fasciitis in a heel, was left home to rest and rehab by the Broncos, and I'm told he did a lot of both over the weekend. Everyone was mum on what the Broncos were likely to do this week, but let's go on coach Gary Kubiak's word. He said Manning is the starting quarterback when healthy. Eight days ago, Manning's throws were weaker than they'd ever been, and he wasn't comfortable moving on his sore heel. His ribs ached. Is there any chance all of those things heal enough to be fully healthy in a week? Kubiak can always say, "Peyton's not fully there yet, so we're giving him at least another week to get himself right." Manning may not like that, but lions in winter don't like being told it's wintertime either.
Manning's highest passer rating in a game this year: 101.7.
Osweiler's passer rating Sunday: 127.1.
Osweiler looked like more of a Kubiak quarterback than Manning has this year—though that's a bit unfair because Manning just hasn't had the same arm strength and admitted in training camp he had no feeling in his passing fingertips. Osweiler is fine being under center, which fits more of the Kubiak mold; Manning vastly prefers the shotgun or pistol. Osweiler is more athletic and is comfortable running bootlegs. Manning doesn't like throwing on the run. Kubiak said of Osweiler: "He can do everything. He's a very composed young man, and the more he plays, I think, the better he's going to get. We booted a little bit, not a lot. They [the Bears' defenders] were up the field quite a bit, but the threat of us [running bootlegs], I think, helped us run the ball." Osweiler finished 20 of 27, and more importantly, took care of the ball.
• Join our risk-free Week 12 FanDuel league. Double your entry fee or get refunded! New users only. Sponsored by FanDuel
"One thing we stressed all week was ball security," Osweiler told reporters after the game, "and coming out of this game with no turnovers. To be able to play the entire 60 minutes and have a zero in that turnover column was huge for the offense."
Manning's passes are slow and sailing this year.
Osweiler's fastball, right now, clearly has more velocity.
Mike Florio of NBC and Pro Football Talkreported on the Sunday night NBC game that Manning was planning to play in 2016, even if he had to play somewhere other than Denver. Manning's former coach, Tony Dungy, said on TV that he was surprised by the story. I can't imagine Manning would be happy with that report, though as someone who has worked with Florio for several years at NBC, I know he's got his ears to the ground and is a very solid reporter. Manning has told me the past three years that he's playing it one year at a time, and will decide after each season whether he's going to play another. But minds change sometimes. We shall see.
My gut feeling is that the Broncos will let Manning heal and rehab at least one more week, though all voices on this topic, including Manning's, were silent Sunday night. If this is the case, and Osweiler either plays valiantly and very close against New England, or beats the Patriots, then I think the Broncos have to face the reality that Osweiler should continue to play. Those, of course, are very big ifs.
This time is coming. It comes for every player. I would be careful about putting Manning out to pasture just yet, but I would also be pragmatic and smart. Every decision Kubiak and Elway make has to be for the team first and Manning—and all individuals—after that. What do we do now? Play Osweiler at least one more week is my guess. But whatever happens, the near future will be high drama in Denver.
* * *
And down the stretch they come …
About six weeks ago, Denver linebacker DeMarcus Ware said his years in football had taught him this about the peaks and valleys of a season: "It's great to be playing well now, but when I really want to be playing well is at the end of the year. Look at the league. In so many years, the Super Bowl teams are the teams playing best in late December, not now."
The four middle-of-the-pack teams I'd fear right now if I coached a team preparing to play one:
1. Kansas City (5-5). Easy pickings here. The Chiefs started 1-5, but they've won four straight, by an average of 23 points. Last three wins: by 35, 16 and 30, the latter a 33-3 pulverizing of the Chargers in San Diego Sunday. I'll have more about the Chiefs in the next couple of days—including the answer to this question: What in tarnation has gotten into this team?—but suffice to say that the running game has gotten good enough to succeed with interchangeable parts, and though Alex Smith isn't throwing any deeper than usual, he is throwing with his usual efficiency. Smith hasn't thrown an interception in the past seven games. Kansas City is 4-2 in conference games, the key tiebreaker, and I really like the remaining schedule: Buffalo (5-4), at Oakland (4-6), San Diego (2-8), at Baltimore (3-7), Cleveland (2-8), Oakland (4-6). Four home, two road. Would anyone be shocked if the Chiefs finished 10-6 and and beat up the AFC South champ in a wild-card game? I wouldn't be.
2. Indianapolis (5-5). There's not a lot predictable about a season that has Andrew Luck going 2-5 and Matt Hasselbeck 3-0. So let's not try to make a lot of sense of this. "You kept throwing haymakers!" coach Chuck Pagano told his team in the locker room after the 24-21 win at Atlanta. "You kept throwing haymakers, 52!" That would be veteran inside linebacker D'Qwell Jackson, who benefited from one of the brainlock interceptions of the year, Matt Ryan's third of the day, to decide this game. Ryan, throwing from his end zone, woefully undershot his receiver and hit Jackson at the Falcons' six-yard line. Jackson turned it into a touchdown. Seven straight Colts games have been decided by a touchdown or less, so Indy had better keep throwing. Slight problem to the Colt euphoria: Tampa Bay and Pittsburgh are on the schedule the next two weeks. Both are playing better than Atlanta.
• AN ODE TO MATT HASSELBECK: Andrew Brandt—who also happened to have been Hasselbeck's first agent—looks back on the quarterback's unlikely journey from draft-day nobody to franchise QB to elder statesman.
3.Houston (5-5). Aside from playing the Patriots in three weeks, the schedule can be dominated, and the Texans are just the team to do it. They've allowed 9.7 points per game over the past three (all wins), and it's not just J.J. Watt. As a team, the Texans are the stingiest third-down team in the league, holding foes to 26.4-percent conversions. Like Watt, Whitney Mercilus and Jadeveon Clowney are playing exceedingly well against the run and pass, and that's made all the difference. New England (home) and Indy (road) will be the toughest games down the stretch.
4. Tampa Bay (5-5). The Bucs have turned into a force of nature. Who expected 45-17 over Philadelphia, at Philly? Who expected .500 before 2016? Not I. It's exaggerating reality to say it's all Jameis Winston, but he's the biggest part of it, by far. On Sunday he threw five touchdown passes with no interceptions—against the team he grew up in Alabama rooting for. He loved Randall Cunningham and Donovan McNabb. "I just won a game in a place I always dreamed of playing in," Winston said from Philadelphia. "My whole entire life I wondered what it would be like to play here." The Bucs are 4-2 in their last six games, and Winston has thrown nine touchdown passes and just two interceptions over that time. Road games with the Colts, Rams and Panthers will determine the Bucs' fate over the next six weeks, and it's probably a year too soon for a playoff trip, particularly with the second team in the NFC North and Seattle to overcome in order to make it. But there's nothing guaranteed in the NFL this year, other than New England and Carolina being home on the second playoff weekend.
* * *
The story behind the late-night flag ...
Explaining the strange penalty that helped decide the Cincinnati-Arizona game… With the score at 31 and the ball at the Bengals' 28-yard line, quarterback Carson Palmer stood at the line of scrimmage, under center, and waited for the clock to get down to about six seconds so he could spike the ball and afford kicker Chandler Catanzaro the chance to try a field goal. Palmer waited, and just as the clock got to :06, guard Ted Larsen jumped and immediately began pointing at the Cincinnati line. The Bengals did the same, pointing at the Cardinals. Now the officials would have to sort this out—and if they ruled against Arizona, the fourth quarter would be over due to the NFL's 10-second-runoff rule. (When there's a dead-ball penalty at this time of game against the offense, 10 seconds are run off the clock automatically unless the offense chooses to use a timeout; the Cardinals had no timeouts left.)
The officials ruled that Bengals defensive tackle Domata Peko was mimicking Palmer's snap count, which is called "disconcerting signals," and results in a 15-yard unsportsmanlike conduct penalty. So a half-the-distance penalty was marked off, putting the ball at the Cincinnati 14. And Catanzaro made the 32-yard field goal to win it. Bengals coach Marvin Lewis said, "I don't see how they make that call at that point of the game," and Peko said he was simply telling his teammates to "get set."
But this is what Palmer told me an hour after the game: "I don't know who it was who was saying it, but it was obvious. He was saying 'Set, Go!'" That is what Palmer says at the line. "The ref ran right in. They heard it. They knew." Sure enough, that's what the crew maintained after the game as well. Doesn't sound like the Bengals have much of a case here.
* * *
What's next for Kaepernick
The future of Colin Kaepernick, who went on injured reserve Saturday with a shoulder injury that might require surgery... Obviously the likely scenario, with Kaepernick's contract not being guaranteed in San Francisco beyond next April 1, is for the Niners to either trade him or cut him and move on to the next quarterback prospect. I doubt San Francisco will be able to make a trade, because who's going to want to pay Kaepernick $13.9 million next year when they're not sure he can be their quarterback of the short- or long-term? I talked to a few league people over the weekend about possible landing spots for Kaepernick, and the ones that seem to make the most sense, in order:
1. Philadelphia. If Chip Kelly is, as expected, still the coach, he'll need a quarterback with his QB depth chart a disastrous minefield right now.
2. The Jets. Because they're in need of a quarterback of the future, and offensive coordinator Chan Gailey likes versatile athlete types.
3. Baltimore. Because of the Harbaugh connection—and now, because there's no guarantee Joe Flacco will come back from his torn ACL and MCL suffered Sunday, considering that the third preseason game for the 2016 season comes exactly nine months from this week.
4. Oakland. But as a backup only, obviously, and that would only be if no team would be interested in Kaepernick as a starter or to compete for a starting job. Why the Raiders? Because not long before Al Davis died, he hosted Kaerpernick for a pre-draft visit, and the Raiders likely would have picked Kaepernick if the 49ers hadn't trade ahead of them to pick him during the 2011 draft. "Al was upset," Hue Jackson, the coach at the time, told me a couple of years ago. "So was I. Scouting him, I fell in love with the kid." I hear that some in the building still like Kaepernick and think he can be saved, but again, Derek Carr's their guy, and the only way this works is if there are no starting prospects elsewhere.
One other thing on Kaepernick: Inside the Niners, there's a prevailing opinion that he has to rededicate himself to football and approach the game the way he did in his first couple of years with the Niners. He's always been a worker bee in regards to his physical condition, and now he has to be that way, tirelessly, about the mechanics and study of the position.
* * *
Joe Flacco's dedication
Since 2008, John Harbaugh has been on the sidelines, coaching all 137 of the Baltimore Ravens' regular-season and playoff games. His starting quarterback for every one of those games: Joe Flacco. That will end, but not without a great illustration of who Flacco is.
He's been having a crummy year, and he had a poor throw for a costly interception against the Rams. But after getting his left knee rolled up during the final series of the game, Flacco stayed in to hand off twice, and then for another play to spike the ball before Justin Tucker kicked a 47-yard field goal to win the game. When he was examined shortly thereafter, he got the news: torn ACL, likely torn MCL.
Maybe that's not the smartest thing, to stay out there. But that's the person Flacco is: not the lead-by-hollering guy, but the lead-by-example guy. Now the question is: Can he be ready for the start of the 2016 season? Until this injury happened, the plague of Ravens injuries would all seemingly be confined to 2015. But if Flacco's prognosis is shaky for 2016, the Ravens may have to enter the competition for a quarterback who is better than just an insurance policy next year. A lot of that will have to do with how current backup Matt Schaub plays over the final six games. He was on a fast spiral downward when Baltimore signed him to back up Flacco.
* * *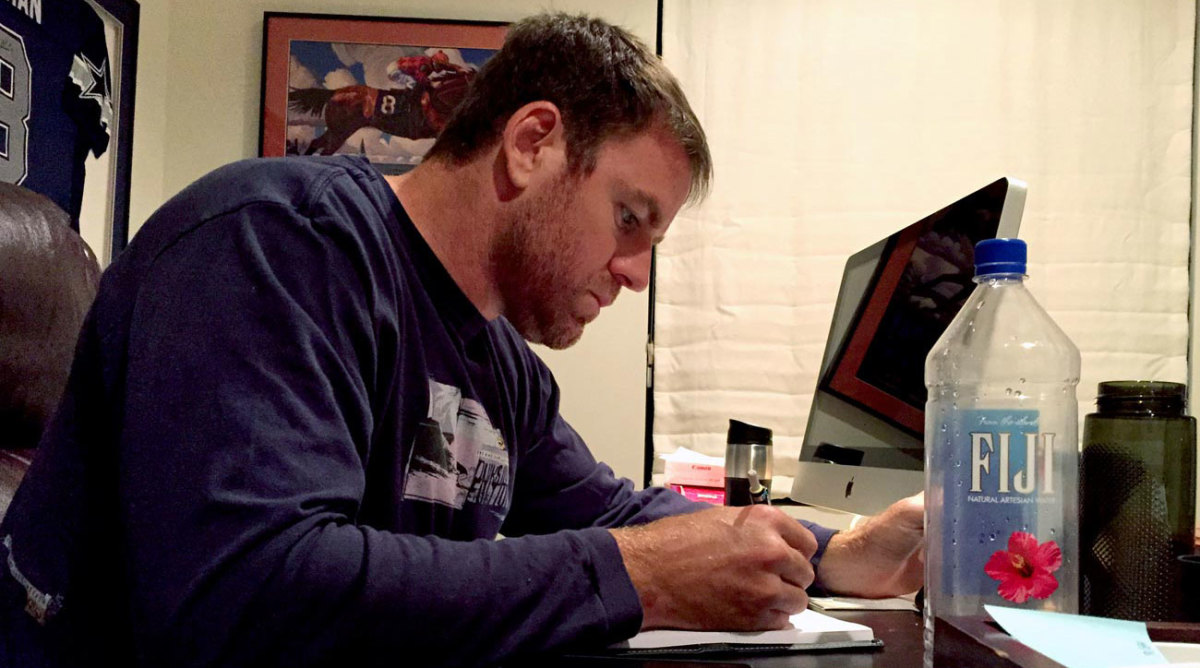 On Carson Palmer and the Cardinals' game plan
Last week I wrote about the nuts-and-bolts (with a little Kipling and meteorology and a weird-looking virtual-reality headset included) of a quarterback, Arizona's Carson Palmer, absorbing a game plan. I didn't concentrate at all on the actual invention of the 171-play game plan. I didn't see it. Instead, I focused on what happened from the moment the game plan pinged into Palmer's email in his home in Paradise Valley, Ariz., at 7:25 p.m. on the Tuesday before Arizona faced Cleveland in Week 8. In particular, the story dissected one play of the 171, and how it met the fate it did.
• A QB AND HIS GAME PLAN: PART I || PART II
A couple of things many of you have wondered about in the wake of the series:
• Arizona coach Bruce Arians has been organizing the game plan the same way for years as offensive coordinator or head coach—it's very quarterback-friendly. Palmer surprised me when he said he picks the first 15 passes Arians is likely to call in the game. Late during game week, Palmer walks into the room where the Cardinals' offensive coaches have the game plan hand-written on a whiteboard and marks with a blue Sharpie his favorite 15 pass plays in the game plan. Then he circles the four he likes the most and wants to see called early in the game. Invariably, Arians follows Palmer's lead when he called plays on game day. "I never want to call a pass a quarterback is not comfortable with," Arians said. So Arians picks the first 15 runs. Palmer picks the first 15 passes. Those become the first 30 plays on Arians' call sheet.
But I wondered: Palmer is a veteran quarterback; did Arians do the same things with all his quarterbacks—rookie Andrew Luck with the Colts, for instance, in 2012? "Sure did," Arians said. He believes that quarterbacks take more ownership of a play if the quarterback has in effect told the coach, I love that play. Call it early. Giving the quarterback power over the plays puts the heat on the quarterback to know them inside and out, and to be comfortable with every call early in the game. I asked one NFL offensive coordinator last week what he thought of what Arians did, and this coordinator said he loved it; each week he tells his quarterback to throw out the plays he doesn't want to run, and they'll be thrown out. But giving the quarterback the power over the first 15 passes? This coordinator said he preferred to get the quarterback's input, then call the game himself.
• I don't think this was any grand plan by the Cardinals to set a trap for future foes; in fact, I know it wasn't. When the Cardinals were in West Virginia to practice before playing at Pittsburgh on Oct. 18, I asked Palmer if he would consider giving me a window into how he prepares for a game, from the time he got the game plan until the time he played the game. At the time, I wasn't sure the story would turn into Palmer "absorbing the game plan," because I wasn't sure how open the quarterback would be to the proposal. Palmer was concerned that participating in the story would take away from the very limited time he has during the week with his family. I proposed some hard-and-fast times during the week, the biggest piece of which would be simply observing him Tuesday evening. He agreed, but was strict about the limits. When I saw him the Tuesday before the Cleveland game at his home, it was clear he wanted to tell the story of the week and was into the educational aspect of it. I did spend time with Arians, and he was open and good, but this was mostly a deal between me and Palmer, and he didn't do this to send any messages to any future opponents—unless I read him 100 percent wrong.
• I asked readers what surprised them in the story, and looked at some of the comments on the piece. Some of your responses:
Jack A.:"The fact that we could only focus on one play out of 171 is emblematic of the intricacies of the game today. While Palmer may have the largest load on the team, every player is learning similar information for their facets of the game plan … It's truly an extraordinary undertaking that proves a few things: 1) That we fans, even those of us who see ourselves as knowledgeable (Hey, they're going Zero Coverage!), truly have no idea what's really going on when we're watching a game. 2) That all of the sportswriters, bloggers, radio hosts and internet commentors have absolutely no idea what they're seeing on game day. 3) That we underestimate the intelligence, effort and commitment of the 'coddled' athlete. 4) That physical ability simply isn't enough to be successful …  171 plays to commit to memory, a multitude of permutations, knowing where everyone belongs both on offense and defense, factor in weather conditions, and process all that information in two to two-and-a-half seconds, it makes you wonder how it ever goes right more often than it goes wrong. I, like most people, thought football was a physical game played by athletes with incredible physical talents, and boy was I wrong."
Ray S., Arnold, Md.: "Never did I understand the mental part of the game, the required computer-like recall, the ability to not only quickly process incoming information, but to even more quickly know how to apply that information and then make a decision in milliseconds that a normal human being might require minutes or even hours to analyze to come to a correct conclusion. These are not dumb jocks; these are perhaps some of the smartest people on the face of the planet. Imagine if these people chose medicine or politics and applied their incredible skills to those fields, maybe, just maybe, the world would be a better place. Pstl Str Rt Stk Act 6 Y Crs Dvd, might have ended up as the cure for cancer."
Thiago C., Brasilia, Brazil: "The story not only highlights how important it is for a quarterback to be highly intelligent, but also how much teamwork is essential when preparing for the next matchup. All the work done by Palmer, Arians and the rest of the Cardinals is a big part of what's made this team so great this season. The opportunity to know details about the process of game-planning was mind-opening."
Ed S., New City, N.Y.:"What surprises me about Carson Palmer's preparation for a game? NOTHING. The man is a professional. As a professional, he is expected to have singular focus and commitment to his trade. Everyone should learn from his example as how to conduct himself in his chosen field."
Jeff T., Washington, D.C.:"I thought I understood that you had to have a good quarterback in the NFL. That story made it clear that it's virtually impossible to win without a smart, dedicated, detail-oriented guy who can react to changing circumstances. I wish you could have done a week with JaMarcus Russell so we could see the contrast."
Jake H., Duluth, Minn.: "I was fascinated that Bruce Arians could only give Carson Palmer 30 minutes of his time on Saturday night. You would think the QB would be able to command a considerable amount of time from his head coach. Guess not."
Craig S., Harlingen, Texas:"What surprised me the most, by far, was how much studying Palmer had to do each week to master the plays. Palmer and Arians have been together for three years, and I assumed that by this point Palmer would just automatically know the plays/protections/hot reads, and that prep work was a matter of refining them. I can't imagine what it would be like to do that as a rookie quarterback."
Tom H., Bath, England:"What surprised me most about Carson Palmer's preparation was how relaxed he was at the start of the week knowing that he and his offense had 171 plays to implement in less than a week. The articles really proved that when a coach/player says that they're only concentrating on the next opponent, they're not spouting clichés."
• READ THE GAME PLANNING SERIES: PART I || PART II
* * *
Factoids That Should Interest All of You
So I spent some time over the weekend with the Sports IllustratedSuper Bowl book, "Super Bowl Gold: 50 Years of the Big Game." I came away thinking, "Black Friday coming up! What an incredible gift for the football fan who has everything!"
Actually, Good Corporate Employee Me came away thinking that.
But the idea behind the book is quite good: Sum up each game with the SIgame story from each of the 49 mega-tilts, then have a player from each squad look back on the game with some insight. Some of those are very good. Len Dawson, the winning quarterback in Super Bowl IV, wrote this while looking back at the 23-7 win over the Vikings: "Toward the end of the first quarter, we were on about the five-yard line. I called most of the plays, but here comes Gloster Richardson into the huddle with a play from Hank Stram. He said, 'The coach wants 65 Toss Power Trap.' I said, 'Are you sure? We haven't worked that play, even in practice, for weeks.' Richardson said, 'He said 65 Toss Power Trap.' I said, 'You better be right.' I called it, and it was a perfect play. Our tight end, Fred Arbanas, made not one, but two blocks: on the linebacker and on the safety. I don't think Mike Garrett was touched going into the end zone. With that 16-0 lead, it was virtually over … Later in the locker room someone said the president wants to talk to you. I said, 'The president of what?' He said, 'The United States.' … I was flabbergasted. He [Richard Nixon] congratulated me. It was very special."
Some of my favorite other niblets from the book:
• Times of Game: Super Bowl II: 2 hours, 34 minutes. Super Bowl XLIX: 3 hours, 36 minutes.
• My favorite photo: Page 23, by Walter Iooss Jr., of the Los Angeles Coliseum, from one end zone down the field to the famous L.A. Coliseum clock and scoreboard … showing the stands about as full as they'd be for a junior college football game in Orange County today. Shocking how empty the stands were for the first AFL-NFL title game.
• Ticket prices: You could get into the first Super Bowl for a $6 ticket. You could buy a ticket to last winter's Super Bowl for $1,900. Of course, you couldn't actually find a $1,900 ticket last year. You could scalp one for about three times that amount.
• Entertainment: The Southeast Missouri State band played at halftime of the fifth Super Bowl. The Los Angeles Unified All-City Band played at the 11th. Madonna entertained at halftime of the 45th.
• The Anthem: Tom Sullivan sang the National Anthem at Super Bowl 10. Phyllis Kelly sang it at Super Bowl 12. I do not know who they are.
• Worst motivation ploy in Super Bowl history: Eagles owner Leonard Tose, before Super Bowl XV, brought Don Rickles into the locker room to do a stand-up act. You know, to keep the fellas loose. The final: Raiders 27, Eagles 10.
• Best modern Super Bowl story I didn't know: When Adam Vinatieri played in the Patriots' first winning Super Bowl, it was 17-17 late in the fourth quarter, with the Patriots driving. Before his first field goal, Vinatieri had told an equipment guy, Johnny Hillebrand, that he'd love to have a field-goal ball as a souvenir if he kicked one. Hillebrand couldn't get his hands on the 37-yarder Vinatieri kicked earlier in the game. Waiting for his second chance was Vinatieri, and the only person who said a word to him on the sideline in the waning seconds of Super Bowl XXXVI was Hillebrand: "If you kick it, I'll get it." So Vinatieri kicked it, and "Sure enough, Johnny got that football. He must have had to wrestle it away from a lot of people, but he got it into our equipment trunk. I still have it. Aside from my family and loved ones, it's my most prized possession."
• Stat you'd just never remember: Oakland's Rod Martin had three interceptions in Super Bowl XV.
There's more where those nuggets came from. Buy the book.
* * *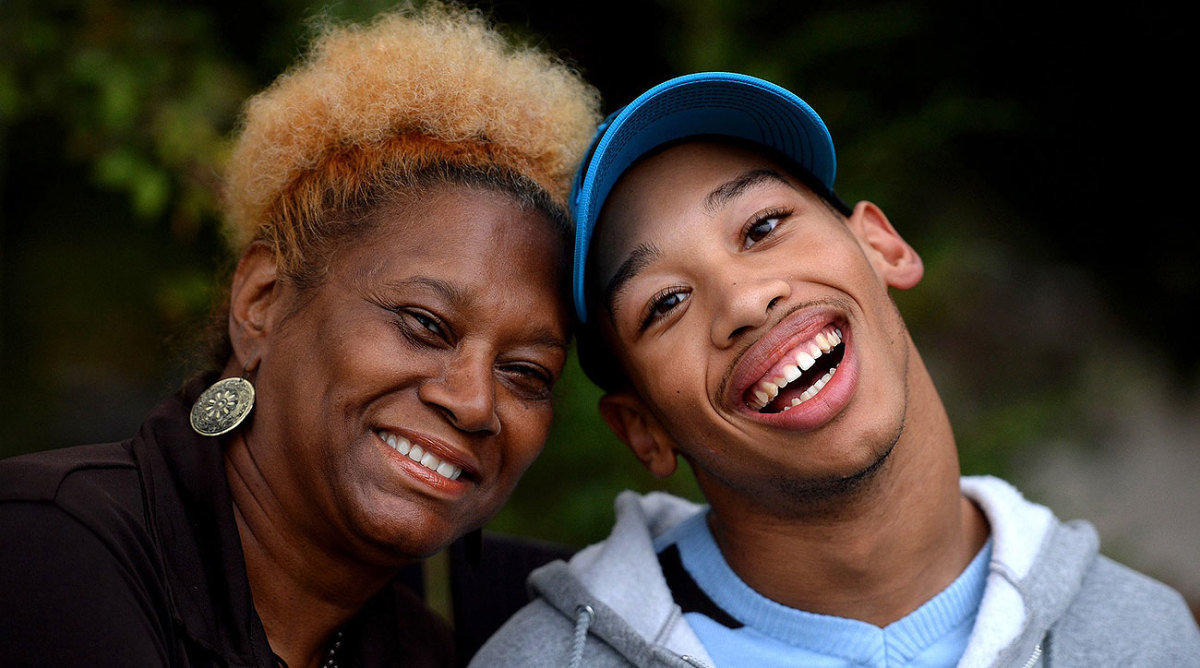 Story of the Week
Scott Fowler of the Charlotte Observerwrote a deep and emotional tale about the 16th birthday of a Charlotte boy named Chancellor Lee Adams.
Former Panthers wide receiver Rae Carruth was convicted of conspiring to murder a woman named Cherica Adams in 1999. She was pregnant with Carruth's child on the night a man pulled up alongside Adams' car and shot her four times. The son inside her, Chancellor Lee Adams, was born prematurely, oxygen-deprived at birth, and turned 16 last Monday. Just a great story, full of the kind of rich detail journalists hunger to uncover, with an absolute hero in Chancellor's grandmother, Saundra Adams. 
I asked Fowler about how the story came to be:
"I am fortunate to possess a long institutional memory about the Panthers. The Charlotte Observer hired me away from the Miami Herald in 1994, so I have covered all 21 Panther seasons in some capacity—as a beat writer or, since 1999, as a columnist. So I covered Carruth from the day he was drafted in the first round in 1997 up to and through his trial [which ended in January 2001]. Like the rest of Charlotte, I watched it all with a horrified fascination. In the locker room in his first two years, I considered Carruth something of a brooding loner—although I would have not told you he was dangerous.
"The day of Nov. 16, 1999, is seared into my memory. That was the day Cherica Adams was shot and Chancellor Lee Adams was born. But you know how it goes. People forget. Saundra and Chancellor Lee have lived in Charlotte for Chancellor's entire life. They are heroes, for sure, living out their lives quietly in a small house without cable. It took an offhand conversation with another journalist about three months ago to remind me that Chancellor's 16th birthday was coming up.
"I worked on the story off and on for about two months. Saundra Adams is a wonderful interview—introspective, detail-oriented by nature and with a capacity for forgiveness that few of us possess. She and Chancellor Lee made the story what it was, not me.
"It was Saundra's suggestion for the photos for the story to be shot at Chancellor Lee's therapeutic riding class. Watching him at the horse-riding class was also instructive, because I wanted to write about what Chancellor Lee could do, not what he couldn't. Due to his speech difficulties, you cannot really conduct a traditional interview with him, so it was important to observe him in a familiar setting, I thought.
"Finally, in nearly 30 years as a professional journalist, this was the first time I wrote the ending to a story first. But when I saw Chancellor literally riding into the sunset that day on a beautiful horse farm at twilight, I knew I had just seen the ending of the piece. I debated the phrase 'rides off into the sunset' a little, as I wondered if it would seem too corny or trite, but it is the phrase that has been most often re-quoted to me from readers emailing about it."
* * *
The sheer force of Steve Gleason's will
You may have noticed Sunday, on NFL Network or the NFL's social channels, a new campaign to bring attention to trying to spur fundraising to work for a cure to ALS. The spots are powerful, with highlights of great individual plays in NFL history, dramatic music and announcer calls, and, at the end, these two screens:
The NFL has had 1000's of game-changers.
ALS needs 1.
This concentrated effort to find willing donors to help fund the massive research project it will take to seek a cure to ALS is happening because of the pro bono work of many people. The NFL, NFL Network, NFL Films and marketing firm KBS worked with Steve Gleason and his Answer ALS group—including former Saint and close friend Scott Fujita—to make the spots happen. Gleason said Sunday: "We had several meetings with [NFL commissioner Roger Goodell], and they all went really well. He was personally engaged and interested in not only the campaign, but the research. In our initial meeting the commissioner indicated the league could get behind a campaign if it was meaningful to their audience and could have an impact. Upon reviewing the campaign, it was apparent, the game-changing message accomplishes both of those goals."
Gleason, who is wheelchair-bound and has no use of his extremities, has been the driving force behind this effort. The undersized special-teams player from the Saints said, "Our mission has always been to keep ALS in front of the public until a treatment or cure is found."
That's where someone seeing these spots comes in. That's what Gleason and his group desperately hopes.
* * *
A new addition to The MMQBfamily
Beginning Dec. 1, we're going to have a new teammate, temporarily, at The MMQB. Robert Mays, formerly a writer for Grantland, will help us with all things NFL through the end of the combine. We think Robert is a talented young writer who will fit in well with our group and with the way we cover the game. After the dissolution of Grantland,we felt it would be a good fit for him to supplement our coverage of what's turning out to be a compelling season. He'll be writing feature stories and some columns for us.
Robert was born and raised outside Chicago, in Barrington, Ill. Football was always his first sports love; his dad had a pair of tickets in the north end zone at Soldier Field. He went to the University of Missouri, graduating in 2010, and interned at the Boston Globebefore moving to Grantland at the inception of that site. We're really looking forward to having him, and I know you'll join me in welcoming him to our little family here in webland.
* * *
Quotes of the Week
I
"He's crazy. [He should] go spend time with his family. He couldn't stay healthy last year. He can't stay healthy this year."
—NBC's Rodney Harrison, responding to Mike Florio's report on the NBC pregame show Sunday night that Peyton Manning "intends" to play football in 2016, even if it's not with the Broncos.
II
"Something had to be done. Right now, the defense is ranked 33rd in the league and there are only 32 teams."
—Rob Ryan, fired as the Saints' defensive coordinator last week, on NFL Network's GameDay Morning show Sunday.
III
"He checked in on me around summertime, but there is no real feud or any animosity. One thing I can say about Roger is that when I looked him in the eye during the arbitration, I think he knew the person I was. He still spot checks on me, just not through him. I don't think this has anything to do with Roger or anybody holding me back, it just comes down to an owner giving me a second chance. I'm just going to continue to work and work and work until an owner says, 'Okay, let's give him a second chance … If the owners follow it actively, they'll see there is more support now. I'm not saying the stance has lightened up. What I'm saying is, give me a chance and I'm guaranteeing I'll make a difference."
—Former Ravens running back Ray Rice, suspended after being caught on video striking his fiancée in 2014, on the "Boomer & Carton Show" on WFAN radio in New York. "Roger" is commissioner Roger Goodell.
Revealing interview, and good radio. Asked if he'd come to terms with the prospect that he may never play football again, Rice said: "I don't need football for money. I want to play football again so that I can hang my cleats up with pride and tell my daughter I started something, and this is the way I finished. It would hurt me to end my career this way, because I know there is so much more good I can do, not only on the field, but off it. The thing I miss most is the stuff I used to do in the community, hospital visits with my jersey on. You can do more good with the game of football than all of the bad stuff that is being talked about. There are a million more good stories out there. I was a part of those good stories, but I made the worst decision. I made my decision, and I took responsibility for it."
IV
"I would probably say that I'm not qualified to run any other NFL team. But I think I'm qualified to run this one."
—New Lions president Rod Wood, as a press conference a day after being appointed to the job by owner Martha Firestone Ford.
I appreciate the humility. But not really what I want to hear from the president of a team fighting to get out of decades of also-ranville.
V
"Great teams don't take nights off."
—Steph Curry of the champion Golden State Warriors, after they came from 23 points down to beat the Clippers on Thursday night in L.A. The Warriors are 15-0 this morning.
VI
"Mom and Dad wanted me to do this game. They had this game circled on their calendar."
—NBC Notre Dame analyst Doug Flutie, in the open to Boston College-Notre Dame on Saturday night on NBC Sports Network.
Flutie's parents died within an hour of each other on Wednesday, both of heart attacks. His dad had been sick and died in a Massachusetts hospital, and his mom died soon afterward.
I am always skeptical when someone grieving says, Oh, so-and-so would have wanted me to do this, so soon after the passing. I know Flutie some, and know the importance of Boston College and Fenway Park to his family. (Seriously: When Flutie attends games at Fenway, the guy still brings his glove to catch foul balls.) And I have to say absolutely that, yes, his parents would have been ticked off if Flutie sat home commiserating with relatives on the night Boston College played at Fenway Park for the first time in Flutie's life.
* * *
The Award Section
OFFENSIVE PLAYERS OF THE WEEK
Apologies to Doug Martin. How does one man have 84-yard and 58-yard runs, and 235 yards on the day, and not win this august honor? The judge is a strange judge.
Thomas Rawls, running back, Seattle. With Marshawn Lynch an unexpected injury scratch, Rawls had the kind of day that will make the Seahawks consider letting Lynch walk after the season. His 255 rushing-receiving yards were the most by an NFL back in three years: 209 yards on 30 carries, with 46 yards on three receptions—with one touchdown on the ground and one through the air in Seattle's 29-13 win over San Francisco.
• THE MARSHAWN DILEMMA: Seattle ponders the fate of its beloved, offbeat running back
Cam Newton, quarterback, Carolina. He threw his 100th career touchdown pass in the first half against Washington—a half that was a milestone in another way. It was the first time that Newton threw at least three touchdown passes in a half. And he threw four—in the first 25 minutes. Newton was 16 of 24 for 187 yards, with four touchdowns and no picks, before halftime.
• TIME TO BELIEVE IN CAM NEWTON: Jenny Vrentas on the Panthers QB's breakout year
Jameis Winston, quarterback, Tampa Bay. Don't look now, but the first pick the draft this year has gone interception-free in five of his past six games. Playing against the team he idolized as a kid—visiting the Philly stadium complex for the first time in his life—Winston was 19 of 29 for 246 yards, with five touchdowns and no interceptions, for a rating of 131.6. I talk to guys after games quite often during the NFL season, and few have had as ebullient a tone of voice as Winston did when we spoke 50 minutes after Tampa Bay 45, Philadelphia 17.
Brock Osweiler, quarterback, Denver. Ebullient … That was Osweiler too. Maybe not the same as Winston, but pretty excited, after starting his first NFL game on Sunday in Chicago, an important 17-15 Broncos victory. Osweiler, playing with the pressure of The Man Who Would Succeed Peyton Manning on his shoulders, had a tidy 20-of-27, 250-yard, two-touchdown performance. Most importantly, in 12 possessions, he didn't throw an interception, nor did he fumble. A terrific performance with so much on the line.
• A QUARTERBACK AND HIS GAME PLAN: Carson Palmer gave an unprecedented behind-the-scenes look as the veteran QB digested a deep and complex NFL game plan.
DEFENSIVE PLAYERS OF THE WEEK
J.J. Watt, defensive line, Houston. "He is so stupendous that you almost take it for granted, unfortunately," Houston owner Bob McNair said after another tour de Watt performance in Houston's 24-17 dismantling of the Jets. He sacked New York quarterback Ryan Fitzpatrick twice, knocked him down three more times, had three more tackles for loss, and recorded a team-high eight tackles. McNair's right. Just another day in the life and great career of the unquestioned best defensive player in football.
• BONE-CRUSHING HITS AND A BEAUTIFUL MIND: Jenny Vrentas on J.J. Watt
Datone Jones, defensive end, Green Bay. A first-round pick by the Pack in 2013, Jones had one of his most impactful days as a pro, sacking Teddy Bridgewater twice—for losses of 28 yards—along with a pass defensed. He wasn't alone. Green Bay had failed to sack an opposing quarterback for three straight games, and the Packers' front snowed under Bridgewater for six sacks in one of their most impressive performances of the year.
• Join our risk-free Week 12 FanDuel league. Double your entry fee or get refunded! New users only. Sponsored by FanDuel
SPECIAL TEAMS PLAYERS OF THE WEEK
Mason Crosby, kicker, Green Bay. Great day for a kicker who's made a nice home in the great north. Kicking outside in the chill of Minneapolis, Crosby converted field goals in every quarter—from 42, 47, 40, 42 and 52 yards—without missing in Green Bay's decisive 30-13 win over the archrival Vikings.
Andre Roberts, kick-returner/wide receiver, Washington. It's been a roller-coaster year for Roberts, who has fallen out of favor in the regular offense. But at Charlotte on Sunday, with the Panthers on such a roll, Washington needed to make some plays on defense and special teams to have a chance. They made next to none on defense, but Roberts' shifty and speedy 99-yard romp through the Carolina kickoff coverage late in the first quarter tied the game at 14 and gave Washington hope. For a few minutes, anyway.
COACH OF THE WEEK
Mike Shula, offensive coordinator, Carolina. Just another day in paradise for the 10-0 Panthers on Sunday, with the 44-16 rout of Washington. No one—not Don Shula, not David Shula—expected the Panthers to be averaging 29.9 points per game at the 10-game mark of the season. With Cam Newton improvising to a mostly new cast of characters, Mike Shula made it his point to not allow anyone in the offensive meeting room to make excuses about all the new faces Newton had to use—even after Kelvin Benjamin was lost for the year with an ACL injury in the preseason. Even with the newness, look at Shula's Panthers compared to the offensive powers (or so we thought entering the season) in the league: Denver 22 points per game, Green Bay 25 per game, Carolina 30 per game?
GOATS OF THE WEEK
Cordarrelle Patterson, kick-returner/wide receiver, Minnesota. This didn't cost the Vikings a vital NFC North game, but it was the dumbest play of Week 11. By far. After the Packers scored to go up 27-13 early in the fourth quarter, Patterson returned the kickoff 52 yards to the Vikes' 49 … and followed up on that by head-butting the Green Bay kicker, Mason Crosby. Unsportsmanlike conduct. Loss of 15 yards. If anything will put Patterson, a talented but underachieving player, further in Mike Zimmer's doghouse, this would be it.
• ANATOMY OF ATLANTA'S FREE FALL: After dropping four of five, you might think it's time to panic in Atlanta. But a closer look reveals a different story.
Mark Sanchez, quarterback, Philadelphia. I watch Sanchez play, and for a quarter I get excited, and I think he's going to turn the corner—and then he just makes brain-locked plays, the kind that eventually made the Jets sour on him. That's the same thing happening in Philadelphia with Chip Kelly, who has to have seen enough. In the span of five drives beginning late in the second quarter, Sanchez threw three interceptions, two deep inside Tampa territory. He's just not the answer for what Kelly will do at quarterback in 2016.
* * *
Stat of the Week
I
Updating my note from two weeks ago on the sack race between J.J. Watt and Lawrence Taylor:
Taylor, arguably the greatest pass-rusher of all-time (unless you're in the Bruce Smith or Reggie White or Deacon Jones camp, and some observers are, justifiably), had his most productive four-season stretch rushing the passer from 1986 to 1989. In the '86 season Taylor won the MVP award, the last defensive player to do so. Comparing the four best Taylor seasons with the span between 2012 and today for Watt:
• Taylor, 1986-89: 63 sacks.
• Watt, 2012-15: 63 sacks.
Watt has six games left in 2015.
II
Quarterbacks usually get better as they get more experience in the NFL.
Explain, then, Colin Kaepernick.
The stat line from his first two years as San Francisco's starter versus his past two years, including playoff appearances:
| | | | | | | |
| --- | --- | --- | --- | --- | --- | --- |
| Years | Team W-L | Comp % | TD-Int. | Rating | Rush Yds/Game | Rush TD |
| '12-13 | 21-8 | .594 | 38-16 | 92.8 | 43.8 | 10 |
| '14-15 | 10-14 | .601 | 25-15 | 83.8 | 37.3 | 2 |
* * *
Factoid of the Week That May Interest Only Me
I
I counted the commercials in the first hour of the Thursday night game. The first 62 minutes, actually, starting with the 8:26 p.m. ET kickoff in Jacksonville.
Thirty-seven.
II
I remember visiting Jaguars camp when former Michigan quarterback Denard Robinson was a rookie in 2014. On GM Dave Caldwell's roster board, Robinson was listed next to the initials: "OW."
Offensive Weapon.
* * *
Mr. Starwood Preferred Member Travel Note of the Week
Quite a weekend for the South Dakota State Jackrabbits, the FCS school from Brookings, S.D. The 'Rabbits had a football game at Western Illinois on Saturday afternoon, and The MMQB'sKalyn Kahler documented the long, strange trip of the kids from the great north:
FRIDAY
8:45 a.m.: Team buses leave campus in Brookings for the airport in Sioux Falls, S.D., 58 miles away.
10:00 a.m.: Team arrives at Sioux Falls Regional Airport for a scheduled 11 a.m. flight to Peoria, Ill. The flight is delayed several times due to weather in the area, and the Jackrabbits sit in the airport for 11 hours before finally boarding the plane. Said senior tight end Cam Jones: "Some guys were playing a dice game that we bought in the airport, some guys were on their phones watching Netflix, some guys were going through social media, some did homework." While waiting in the airport, the Jackrabbits coaches held team meetings at the gate. "We improvised quite a bit," Jones says. "We split up into two different empty gates, we did offense and defense and then we split up into our position meetings."
Noon: Also stuck in Sioux Falls that day: the University of Sioux Falls football team and the University of South Dakota Coyotes, the Jackrabbits' biggest rival. "We just played them last week and beat them," Jones says. "We didn't do any trash-talking but you could definitely tell there was a little bit of tension in the air."
9:15 p.m.: Flight finally takes off for Peoria, after dealing with a small mechanical issue that kept the team waiting on the plane for 45 minutes.
11:00 p.m.:South Dakota State players arrive at the hotel in Peoria, have a quick meal and go to bed. "It's funny because in years past, we have always driven to Western Illinois, which is the longest bus trip of the year," Jones said. "It's nine hours. It's ironic how the first year that we fly there, we probably could have gotten there faster by bus."
SATURDAY
8:30 a.m.: Team buses are set to leave Peoria for the Western Illinois campus in Macomb. Before pulling out of the hotel lot, one of the buses gets a flat tire. Somewhere on I-74 between Peoria and Macomb, the three South Dakota State buses sit in traffic for 90 minutes because of an accident on the highway.
12:30 p.m. Jackrabbits arrive in Macomb, an hour and a half late, and just 30 minutes before the scheduled start of the game. Kickoff is pushed back to 2:30 p.m.
2:30 p.m.:Kickoff. South Dakota State loses 30-24 to Western Illinois in double overtime. Said Jones: "That was the cherry on top, I guess you could say."
7:30 p.m.: Team departs Macomb for Peoria airport.
10:15 p.m.: Team flight takes off for Sioux Falls.
11:30 p.m.:Team lands in Sioux Falls and heads back to campus.  
SUNDAY
1 a.m: Team arrives back on campus.
"We are a little tired today," Jones said late Sunday morning.
Well, I wonder why.
Tweets of the Week
I
II
III
No one. No one did.
IV
This was tweeted after former Kelly protégé Marcus Mariota sprinted around left end for the first touchdown of the game, 40 minutes into the Thursday night Jags-Titans game.
V
The Stanford phenom had 282 all-purpose yards, including a 98-yard kick return for a touchdown, before halftime of the Cal-Stanford game late Saturday night.
This could be an interesting test for the Heisman Trophy voters on the East Coast. McCaffrey had 389 all-purpose yards, the most in school history, as Stanford beat Cal for the sixth year in a row. McCaffrey has 192 rushing, 49 receiving, 148 on kick returns—and scored on a 98-yard kickoff return and a 48-yard reception. The 19-year-old Cardinal star will play in a nationally televised game against Notre Dame at 7 p.m. ET this Saturday.
* * *
Ten Things I Think I Think
1. I think this is what I liked about Week 11:
a. Geno Atkins—and not just for his first-half sack of Carson Palmer on Sunday night, but for his three first-half run stuffs. The Bengals are a different defense this year because Atkins is whole again.
b. Blaine Gabbert, who has looked better in two weeks for San Francisco than he looked in two years in Jacksonville. I'm not ready to say there's hope for him to be a starter for the long haul, but I'm intrigued.
c. The rollout 27-yard touchdown throw from Aaron Rodgers to James Jones. That's one of the most perfect throws of this NFL season.
d. Replay working the way it should in Atlanta. Colt safety Dwight Lowery with a questionable interception in the end zone, with the ball hitting the ground as he caught it. Did he maintain control without the ground affecting the possession of the ball? Inconclusive. The call did not change.
e. Tony Romo, back.
f. Tony Romo, with the best left-handed shovel pass—eight yards in the air, shot-putted from the end zone—since Favre.
g. The Jags finding a way. Don't know how they won on Thursday night, but having seen them lose games in some unimaginable ways, maybe they deserve some luck.
h. Jurrell Casey, the Titans defensive tackle, makes five game-influencing plays every week. Very good player whom America needs to know more about.
i. Chad Henne's fu manchu.
j. My gosh. What an incredible stretch for the first down by the pride of Verona, N.J., tight end Anthony Fasano, while being tackled, for a third-quarter first down.
k. Brian Orakpo, the Tennessee linebacker, with a field-goal-forcing sack of Blake Bortles and forcing a fumble by Bortles on a third-and-one run. When he stays on the field, Orakpo's hugely valuable.
l. Rick Gosselin's smart column about why Carl Banks should be discussed by the 46 Hall of Fame voters as a finalist.
m. Gosselin's point is that, very often, the same candidates are discussed year after year—while excellent players, often-times all-decade players, never get discussed once. It's a very good point about a weakness in the process of selecting a Hall of Fame class every year.
n. This very good story by Tyler Dunne of the Buffalo Newson Torell Troup, the player picked one spot in front of Rob Gronkowski in the 2010 draft.
o. "On April 29, 2010, one dynasty and one curse continued." Very good line, Tyler Dunne.
p. Gorgeous throw by Kirk Cousins to a streaking DeSean Jackson. Washington's been waiting for that touchdown combination.
q. Luke Kuechly plays sideline to sideline as well as any defensive player—not just linebacker—in football.
r. Olivier Vernon, with the stutter-step and speed, sprinting around Dallas left tackle Tyron Smith to get a sack of Tony Romo. What quickness.
s. Looked up at Brock Osweiler's numbers at one point Sunday, when Denver led Chicago. Osweiler: 15 of 20. Reminder that Peyton Manning last week was five of 20.
t. Great seal block by Dallas's La'el Collins on a second-half 38-yard run by Darren McFadden.
u. Read William Gay's column on our site Tuesday, his plea to NFL commissioner Roger Goodell. It's good.
• Join our risk-free Week 12 FanDuel league. Double your entry fee or get refunded! New users only. Sponsored by FanDuel
2. I think this is what I didn't like about Week 11:
a. Early-game Carson Palmer. Yeesh. Too ratcheted up for this environment, playing against his old team. He needed to settle down, which, as you saw, did happen.
b. The San Francisco defense. Just too many defections. A bad day in Seattle.
c. Adrian Peterson's fumble at a crucial time against the Packers. That's six fumbles in 10 games. That's too many. By about five.
d. T.J. Yates, for overthrowing a wide-open DeAndre Hopkins—who'd beaten DarrelleRevis—on the first series of the game in Houston.
e. First pass of the latest Matt Hasselbeck era: Perfect throw to Paul Worrilow. Unfortunately, Worrilow is the middle linebacker for Atlanta.
f. Speaking of interceptions, horrible throw by Kirk Cousins at Carolina, overthrowing a wide-open Pierre Garçon and gifting Panthers safety Kurt Coleman with the easiest pick of his career.
g. Blake Bortles, on the key pass of the fourth quarter, throwing to a max-covered Julius Thomas and having it picked off. Talk about forcing a ball.
h. Still have no idea how Tennessee lost that game Thursday night. Jacksonville's go-ahead touchdown and insurance field goal in the final five minutes came on drives of five and nine yards.
i. Not going to get many chances making a fumble with the game on the line, Phillip Supernaw. (He's a Tennessee tight end.)
j. Matt Jones, the Washington running back, with his fourth lost fumble of the year. Not going to get playing time giving it away once every 10 quarters.
k. Selfish moves by Dallas receiver Terence Williams and Dez Bryant, being flagged for unsportsmanlike conduct after the Williams touchdown, leaving the Dolphins time on the clock late in the first half and the chance for favorable field position, which Ryan Tannehill took advantage of. The Cowboys just have way too much immaturity. It shows every week.
l. Romo's wasted second-half ballooned interception. Should never have been thrown.
m. Case Keenum, you've got to be more accurate if you want to start in this league.
n. Devin Smith. Dropped a would-be 46-yard touchdown. Not a good afternoon for the Jets in Texas.
o. Bizarre throw from Matt Ryan resulting in a pick-six by D'Qwell Jackson. No clue why Ryan released the ball and handed Jackson an easy touchdown.
3. I think the NFL has a huge issue on its hands stemming from the unaffiliated neurological consultant on the St. Louis sideline Sunday missing the obvious play where Rams quarterback Case Keenum was knocked woozy. For those unfamiliar with how the program works, there is a brain-trauma specialist with no tie to either team on each sideline of every NFL game. That medical professional's job is to monitor all players on the field for any evidence of a debilitating hit. It's stunning to try to figure how the Rams' consultant missed Keenum's head slamming against the turf, and it's also inexplicable as to how the independent eye-in-the-sky medical consultant upstairs missed it as well. What was startling to me is that so many on the Rams sideline saw it. Backup quarterback Nick Foles immediately began to loosen up as if he was going to have to enter the game. This loophole absolutely must be closed, or viewers and the teams themselves are going to lose faith in the system designed to protect players who've undergone head trauma. 
4. I think the Jets are phonies. T.J. Yates and the Texans, through three quarters, had 24 points and 389 yards on them.
5. I think I know I'm late to the party on this one, but Andy Dalton's response to J.J. Watt's Red Rifle comment? Sheesh. You wonder what his reaction will be when a good player actually says something critical of him.
6. I think I'm not saying uniforms should be sacred. When I was growing up, teams basically had two of them: home and away. In recent years, it's changed, of course. But this constant fiddling with everything players and coaches wear, and the pink and the camouflage and the prison-stripe uniforms and so many throw-up throwbacks … it's out of control. Isn't there a uniform cop in the NFL offices who, very occasionally, says, "We're making ourselves looks bad here. We're a parody of ourselves. Are we seriously allowing our teams to looks different for more than half of each season?" The NFL so bastardizes everything about the uniform that it's altogether laughable when they fine a player for having some odd-color shoes or different eye-black, or fine a player such as Cam Heyward when he puts his late father's name in small letters on his eye black. Example: Marcus Mariota, wearing this all-Carolina Blue uniform for the Color Rush (!!!) game and blue shoes, and with the Salute to Service camouflage towel tucked into his waist, dives to the pylon for a touchdown Thursday night. Camera goes to the sideline. There's coach Mike Mularkey, with the camouflage headset, camouflage cap and camouflage lapel pin. Last month, it would have been the pink towel flying on Mariota's dive to the pylon, with pink cleats, and the coach on the sidelines with the pink hat and pink-accented headset. In nine of 17 weeks this season, the NFL makes the uniform not a uniform. And in some other weeks, the uniform is something that's not a uniform. In the Oxford Dictionary, uniform is defined as "not changing in form or character; remaining the same in all cases and at all times." The NFL does not have uniforms anymore. The NFL has costumes.
7. I think I have one question for the NFL marketers: Just how many of the 256 regular-season games this year—six? nine?—are the players and the coaches allowed to dress in the traditional uniforms, instead of being billboards for whatever causes the NFL chooses?
8. I think, while we're at it, get off my lawn.
9. I think these are the worst uniforms I have seen in the current NFL iteration of uniforms:
a. The Steelers' current alternate convict/bumblebee jobs.
b. Jacksonville's stadium-mustard pale yellow jobs with the bizarre square brown stomach patch Thursday night.
c. The Bucs' uniforms—not because of the color scheme, which I like, but because of the hard-to-read jersey numbers.
10. I think these are my non-NFL thoughts of the week:
a. Thanksgiving week. Truly one of my favorite weeks of the year, and certainly my favorite meal of the year.
b. Friday is one of the events I most look forward to attending: Fare Share Friday, during which the church in our neighborhood, St. Bart's, hosts two dinners for the homeless, with food provided, gratis, by three midtown hotels. Just a fabulous New York City event, with the homeless and those who have homes sharing tables and fellowship for a delicious meal. 
c. Thanks to ESPN's Don Van Natta for including the Palmer story in the weekly email newsletter that I've been reading for some time: The Sunday Long Read.
d. Hey, Frank Beamer: Congrats on a great career in Blacksburg. As always, you left the home field with class Saturday.
e. I don't think I've seen a cooler television visual in a long time than Saturday night's Notre Dame-BC game at Fenway Park on NBC Sports Network. Stunning that a football field fits there in the first place, and, as the first football game there in 47 years, I was struck by how gorgeous it looked. First the Bruins at Fenway. Then BC. On New Year's Day, the Bruins at Gillette Stadium in the NHL Winter Classic. What's next? How about an early-October Celtics preseason game at Fenway?
f. Come to think of it, I'd love to see the Patriots play a game there.
g. Ezekiel Elliott, the first-round-rated Ohio State running back, after the loss to Michigan State, said the "coaching staff didn't put us in position to win." Whenever Elliott enters the NFL (I suppose in the 2016 draft) I can tell you some teams at the combine will be very curious about throwing coaches under the bus after an emotional loss—even if the coaches deserved it. Will it affect his draft stock? Likely not, but some teams with Coughlin/Belichick-type coaches will put a mark in the minus column for Elliott about this.
h. I am college football nincompoop, but that Mark Dantonio has to be one heck of a coach. Winning in Ann Arbor and Columbus in one season, the victory over Ohio State ending the Buckeyes' 23-game winning streak and knocking the defending champions from a return trip to the Final Four? That's one heck of an organization Dantonio has built, and one heck of a coaching job he did.
i. Loved the New York Times' Nicholas Kristof the other day on what to do with Syrian refugees: "One Syrian family—a man who once ran a clothing store, his wife and their 4-year-old child—were supposed to arrive in Indiana this week. Then Gov. Mike Pence announced that Syrians were unwelcome, and the family is settling in Connecticut instead. Remember what a Syrian immigrant looks like—the father of Steve Jobs."
j. Fifty-two years and one day ago, President Kennedy was assassinated in Dallas. It still feels surreal today—one of the first vivid memories that's stuck with a first-grader from Enfield, Conn., who got sent home early from school with the rest of the students at Mark Twain School with an announcement over the school PA that we didn't really understand until we got home—and, in my case, found my mother crying.
k. I really feel for you, Doug Flutie.
l. Coffeenerdness: So we've got a new coffee shop in the neighborhood, on the east side of Manhattan. Actually, it's a coffee hole in the wall, a tiny takeout store called Brooklyn Diamond Coffee. Very nice and smooth espresso. Tried an almond milk latte there, and I'll be back.
m. Beernerdness: Would love to tell you about some cool new autumnal beer I tried, but I went out to dinner the other night, saw Allagash White on the draft list, and that was it. Two of those, please. Any day.
n. I'm not auto racing guy, as you can tell by reading me over the years. But Jeff Gordon deserves some praise today. Any man in any sport who's won once out of every eight times he goes to the starting line is one of the best ever. Congrats to Gordon on a career for the ages.
o. Then there's David Ortiz, who announced last week that 2016 will be his last season playing baseball. There will be time to celebrate a player I consider to be the best in the big moments of any baseball player I've watched since I became a fan about 50 years ago. But before 2004, as most of you will recall, the Red Sox found every reason to slip on a banana peel late in a regular season or in the postseason. There are many reasons why they've won three World Series since then, but far and away the biggest is Ortiz. Regardless of your love or hatred of that franchise, regardless of your love or hatred of the player, I hope in 2016 Ortiz gets the respect and appreciation he deserves for forever changing the course of one of America's most magnetic franchises. The one memory I'll always recall, and it's not even in his top three of monster moments: ALCS, 2013, Game 2, Fenway Park, Detroit up 5-1, eighth inning. The Tigers one-hit Boston in Game 1, and Boston had three hits in the first 16 innings of this series entering the bottom of the eighth. But the Red Sox loaded the bases, and Ortiz, with still a hopeless feeling hanging over the game and the series, hit a line drive that right fielder Torii Hunter missed by eight or 12 inches while tumbling into the Red Sox bullpen. Sox won in the bottom of the ninth, went on to win the series, went on to win the World Series. That's Ortiz, a man of the moment for a long, long time.
Who I Like Tonight
New England 24, Buffalo 22. I think Tyrod Taylor creates a few problems with his ability to get outside the pocket and play effectively on the run, not to mention the ability of LeSean McCoy to be an effective player, particularly with an extra few days to rest his balky hammy. The Patriots allow 4.0 yards per rush, which means the Bills should at least have a chance to string some long drives together. But I can't see much of a way Tom Brady loses here, unless Rex Ryan and defensive coordinator Dennis Thurman pull out something to frustrate Brady. Which, as you know, is rather difficult.
The Adieu Haiku
Raiders and Chargers:
Six and fourteen. And sinking.
You want 'em, L.A.?
• Question or comment? Email us at talkback@themmqb.com.