Steph Curry on Cam Newton: 'He Should be the MVP'
While the sports world is talking nonstop about Curry and Newton, the hottest players in the NBA and NFL can't stop talking smack to each other about video games. Theirs is a friendship that runs deeper than fandom
A week ago today, the Steph Curry Show rolled into Indianapolis. The main event was set for 7 p.m., but the matinee started just after noon. December shootarounds in the NBA typically draw only a smattering of local media, but the surging Warriors had become a spectacle. As the session ended, more than two dozen reporters and cameramen lined the left side of the court.
Wearing a slate grey, ear-flapped winter hat, Curry started his end-of-practice routine by hoisting shots from the right wing. His release is so fast that the shots look imperfect in real time, like a fling and not a flawlessly calibrated sequence. After seven in a row barely grazed the rim, a reporter muttered what everyone must have been thinking, "I wish I could shoot like that." No aspiration to be the greatest of all time has ever sounded so casual.
Twenty-four hours later, and nearly 600 miles away in Charlotte, a crowd twice the size of the Warriors' media throng gathered just outside the gate of a closed Panthers' practice. There were no reporters, just Cam Newton jerseys and blue and white ribbons tied around a young girl's pigtails. Fans always wait for the players, but the crowd has grown of late. Carolina's undefeated season is like a snowball barreling downhill, accumulating as it goes.
Drawing parallels between the Warriors and Panthers is easy to do on paper. Golden State's 24-0 start was the best in NBA history by 10 games, and although the streak is over, the Warriors' march toward a record 73 wins and status as the greatest NBA team ever is very much alive. At 13-0, the Panthers are nearing Christmas with a chance to become the third team to have an unblemished regular season. Both are led by MVP favorites, with Curry moving further toward transcendence and Newton having just completed the best two-game stretch of his career.
The connection between the two hottest teams in sports goes beyond the tale of the tape, though. Curry may be the most talked-about athlete in the world, but on Sundays he's just like those diehards hanging outside the Panthers' practice facility. A Charlotte native, the NBA's reigning MVP has been a rabid Panthers fan, he says, "since '95"—the franchise's inaugural season. In the midst of an eight-game winning streak last season, he ducked to Seattle for a playoff game. He pounded the team's ceremonial drum at the home opener in September. Four years ago, he even attended a couple days' worth of practices and sat in on quarterback meetings.
Since Steph Curry and Cam Newton first met, their relationship has developed from an acquaintanceship into an actual friendship. They see each other whenever their schedules land them together in Charlotte—like two weeks ago, when Newton sat courtside as Curry dropped 40 points in a 116-99 win over the Hornets.
Newton and Curry text often, but even without communicating, they've pushed each other from afar. "We talk about the ride, but we also just kind of motivate each other without really speaking," Curry says. "What we're seeing each other do on the field and on the court, that's just motivation for us."
* * *
The current era of Panthers' football began five seasons ago, and Steph Curry's bond with the franchise began to intensify around the same time. During the NBA lockout in 2011—the first year in Charlotte for Newton and head coach Ron Rivera—Curry stopped by practice to observe the quarterbacks and their routine. When they hit the field, he jumped into the action on a makeshift throwing competition. It only took a couple tosses to prove his sharpshooting isn't contained to the court. From 20 yards out, Curry plunked the crossbar twice.
As part of the visit, Curry sat in on quarterback meetings, not only to quench his thirst as a fan but also to soak up information on how a different sort of point guard approaches the game. "Kind of just hearing how QBs communicate and lead their team, and how vocal they are," Curry says. "I was just trying to pick up cues."
Panthers backup QB Derek Anderson had landed in Carolina that offseason, and he remembers his first thought when Curry walked in. "He was so little!" Anderson says. When the normal beats of the meeting were over, the quarterbacks and Curry rotated turns at the white board, diagramming plays and detailing their progressions on a given snap or possession. "We had a good time, just kind of giving him a little perspective on how we do things," Anderson says. "He was looking at the leadership aspect of the quarterback position."
Two years later, in the summer of 2013, Curry was a footwear free agent and Newton heard whispers that Under Armour—his sponsor—was interested.
"I was always a fan of him," Newton says when recalling the chance to bring Curry aboard. "He's not big. He's not tall. He's not the guy that's going to make that amazing dunk. You know he works on his skill. That's a character that's just America, that blue-collar person that works on each and every part of his game."
Putting Curry and Newton under the same brand helped solidify their connection—and it has also made for a landmark year in the company's history. On the day that Curry extended his agreement this fall, Under Armour stock was at an alltime high, thanks to a reported 40% rise in footwear sales the previous quarter. "I wake up every day and kind of pinch myself," says Kris Stone, Under Armour's Director of Pro Basketball Sports Marketing. "If you don't, then you're not human. It's an amazing moment for the brand and for those two. They have a really good relationship." During the NBA Finals, when it was time to release a new low-cut version of the Curry 1, the kicks weren't Warriors royal and gold. They were Panther blue.
* * *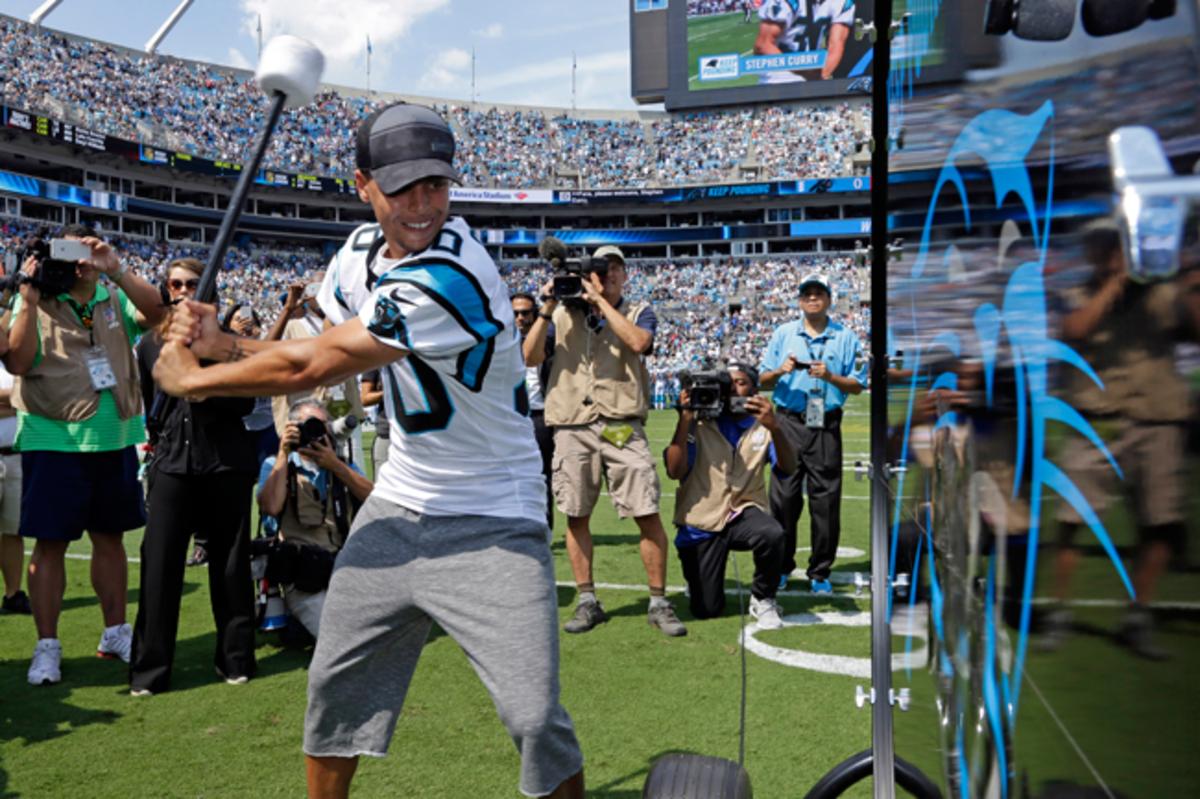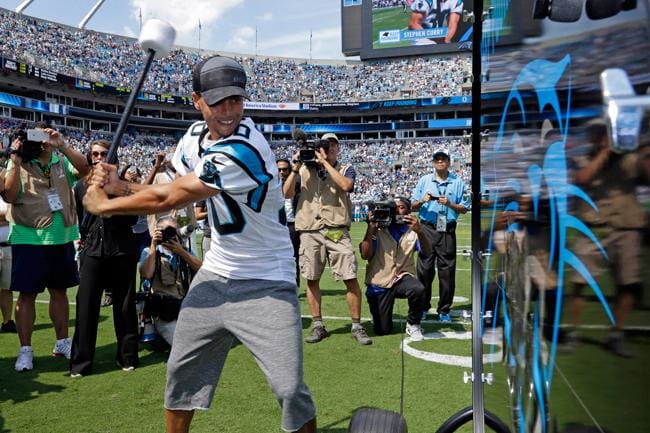 When Curry returned to Charlotte to bang the drum before the Panthers kicked off their home opener against Houston at Bank of America stadium, he did so as an NBA champion and MVP. Those titles come with plenty of attention, and as the game went on, others roaming the sideline approached him for photos. Cornerback Benè Benwikere says those moments provided even more proof of Curry's fandom. Even as he obliged his own fans, Curry kept peering toward the field to make sure he didn't miss a play. "You can tell he's a serious Carolina Panthers fan," Benwikere says, "and that's awesome."
Curry's dedication played at least a small role in why so many Panthers were at Time Warner Cable Arena earlier this month for the Warriors-Hornets game. "The support of him watching our team and being a fan of our team, a lot of the guys here understand that and wanted to go watch him too," says Derek Anderson, who sat with third-string quarterback Joe Webb. Running back Jonathan Stewart and linebacker Thomas Davis were also there, and they made sure to introduce Benwikere, a huge fan who played college ball at San Jose State while Curry was turning into a star.
Before the tip, Davis—a Hornets season-ticket holder—chatted with Curry courtside and made sure to remind him that he wanted Steph's jersey as a memento. "I told him, "Hey, don't forget about me," Davis says. "And he didn't. I have a great place to hang it. I've got a man cave with a lot of sports memorabilia, and it's definitely going in there."
Moments like that, in which the NFL's 2014 Walter Payton Man of the Year is more fanboy than peer, are signs that Davis and others weren't at the game simply to return a favor. Curry and the Warriors have their own gravitational pull. "He's a guy that you just love to be around," Newton says. "His game is just fun to watch. I'm a guy that likes celebrations—obviously—in games, and he's known to hit a three and do something crazy. When he's feeling it and he goes in the zone, it's fun. It's hard to not be a fan, watching him play."
As Curry poured in 28 points in the third quarter, Anderson texted his high school basketball coach, seeking confirmation that his awe isn't misplaced. The next day, his wife lamented that she wasn't able to make it to the game. "There's a lot of mutual respect that goes between athletes when guys are playing well," Anderson says. "When guys are hot, like when Jordan was rolling, everyone wanted to go watch the Bulls."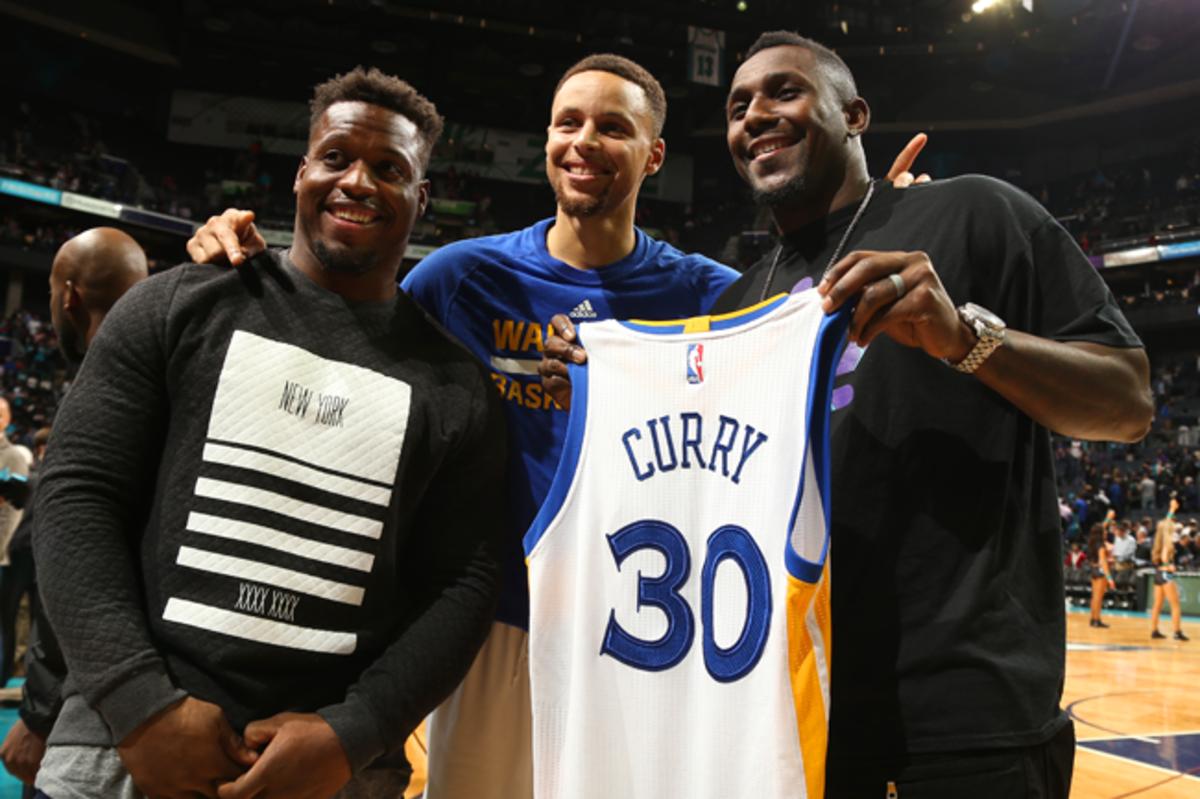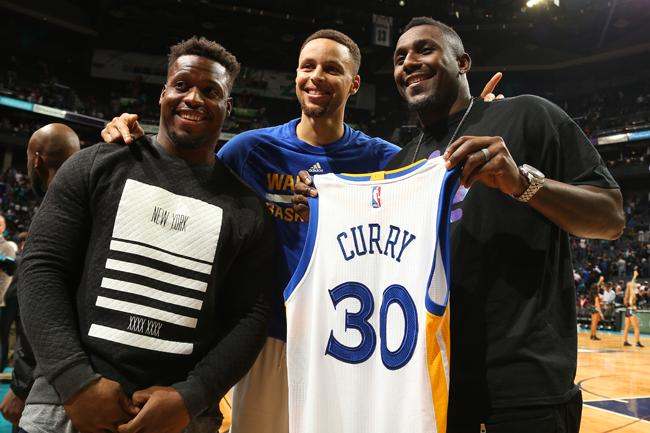 Trying to place the most magnetic element of Curry's game, Newton points to the desire we all have to witness the impossible. "People are showing up at the games to see, 'Can he do it again?'" Newton says. "I want to see if he can hit a shot from even deeper. When you see those go in, it's like your eyes are deceiving you. It's ridiculous. But you know, with his résumé, it's going to go in. It's like he's playing a game of P-I-G out there against everybody else."
The Panthers have taken on a similar air. A southern California native, Benwikere has friends who can't watch the Panthers locally, but these days, many are ordering Sunday Ticket or migrating to bars to watch them each week. "They're tuning into our game to see the defense, but they also want to see what dance Cam is going to do," Benwikere says. "They want to see what he's going to pull off. They'll send me a message like, 'Look at this dance that he's doing.' So it's kind of cool to see such similarities [with Curry]."
Both players have reached new heights in the past few months, but in tracing the paths of their franchises, the Panthers are positioned the same way the Warriors were late last spring. Golden State was setting a new standard for the organization, marching toward the playoffs with a likely MVP at the helm. As Curry watches the Panthers get closer to an echelon they've never reached, he sees shades of last year's Warriors everywhere.
"Obviously, being undefeated and kind of setting a standard for the league is a new experience for them, and that's basically what the experience was for us," Curry says. "We were doing things the franchise had never done before."
Ron Rivera took his lone trip to Oracle Arena in Oakland last season just as Golden State was reaching that hilt. From the moment he and his wife, Stephanie, walked in, they felt the energy in the building. After catching the postgame press conferences and chatting with coach Steve Kerr, Rivera walked into the locker room to present Curry with a personalized Panthers jersey for his 27th birthday. What he found was a group of players in no hurry to leave. They were laughing, talking, and enjoying what they'd built and where they were headed.
"Just to see the way his teammates were with each other in that locker room is very similar to what I'm seeing in our locker room," Rivera says. "There seemed to be a unity, a real cohesiveness that the group had."
* * *
In the bowels of Charlotte's Time Warner Cable Arena on Dec. 2, Curry met with Newton in a hallway outside the locker room. They talked for a bit, trying to figure out when their schedules might align again. The admiration flows each way. Even as Curry sits atop the sports world, he says it's impossible to not appreciate whom Newton has become.
"To see Cam doing what he's doing and leading a team after all the critics basically said he's a mediocre quarterback," Curry says. "As a fan, I never believed that. It's great to see him out there playing well. He should be the MVP when it's all said and done."
The reverence Newton has for Curry's achievements is clear, but what he seems to appreciate even more is what's different about his friend: nothing at all. "Just knowing that here's a guy I have conversations with, and he's never changed," Newton says. "He's approachable. You text him, he texts back."
Lately, a frequent topic of those text conversations has been superiority in the video game NBA 2K. "We've been talking a lot of smack about that," Curry says.
Newton admits to the same, but is adamant that his confidence isn't misplaced. "Listen, man, I'm trying to tell not only him, but also the world, my thumbs are God-given," he says. "My thumbs have been touched. I need to start coming out with this promotion company—Golden Thumbs promotions. It's part of the Whoop Ass Tour. I can come with it to Oakland, but I don't think he wants those problems."
Newton knows that when they do eventually throw down in the Great Thumb War, playing with the Warriors will be off limits. He says simply playing as Curry and using that shot are "a cheat code," but he isn't concerned.
"You tell Stephen..." Newton starts, before pausing. "What's his middle name?"
"Stephen is his middle name," someone from the Panthers' media relations department chimes in. "His first name is Wardell."
"There ya go," Newton says. "You tell Wardell Stephen Curry that Cameron Newton is going to thrash him."
As excited as he is to show off those golden thumbs, Newton says the showdown will have to wait until the Warriors defend their title.
"We need him to keep winning," Newton says. "They say winning begets winning and losing begets losing. I want him focused. I need Steph to keep being Steph."