Two Quarterbacks, Two Paths, One Super Bowl
In 2011, the Panthers drafted Cam Newton. In 2012, the Broncos signed Peyton Manning. Here's a look back at how those decisions were made and led to the Carolina-Denver matchup in Santa Clara. Plus reader mail
The two most important players in Super Bowl 50 got where they are through different means 11 months apart—Cam Newton to Carolina as the first pick of the 2011 draft and Peyton Manning to Denver in a frenzied 2012 free-agency period that began with Manning asking a coaching friend, "I don't know what to do—what does a free agent do?"
The abridged tales of how one of the most intriguing quarterback matchups in Super Bowl history—the elder statesman in the twilight (Manning) versus the quarterback of the next generation (Newton)—was made possible in the past five years: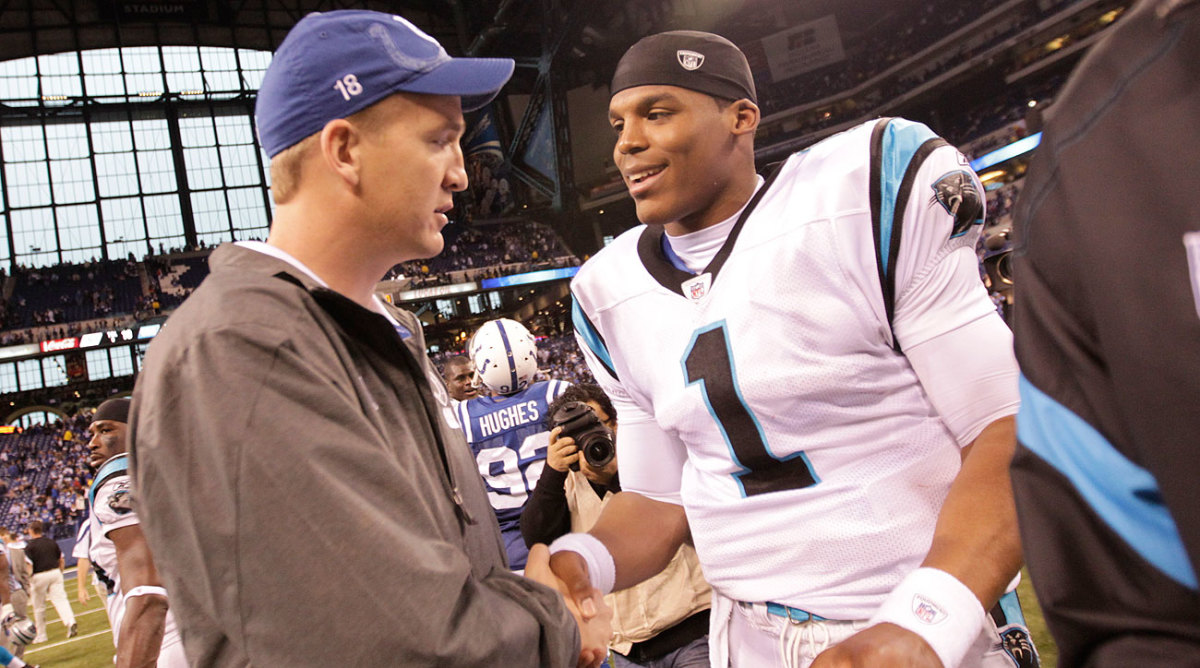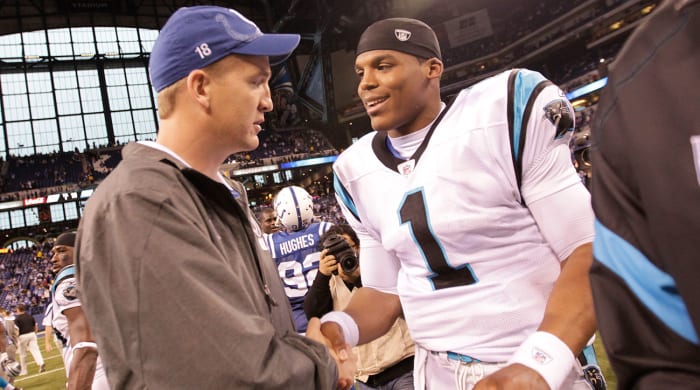 April 2011: Getting comfortable with Cam
The GM of the Panthers, Marty Hurney, had a rookie head coach, Ron Rivera, to go quarterback-shopping with early in 2011. This was going to be Hurney's call, but Rivera had to be comfortable with it. The fact-finding on the off-field stuff was handled on scouting trips to Florida and Blinn College, a junior college in Texas, and Auburn. At Florida, a stolen laptop charge, and Newton's entry in a diversionary program for it, was seen as college mischief. Three colleges in three football seasons was bothersome, but the Panthers saw it as Newton's intense desire to play football, not sit the bench at Florida. But a real key for Hurney and Rivera were two independent trips to Newton's home in Georgia. There, they met Newton's mother, father, grandmother and two brothers, and got a strong feeling of family and a kid who was raised right.
• BIRTH OF A DYNASTY, DEATH OF A DOME: Robert Mays from Pontiac on the Super Bowl that launched the 49ers' dynasty, and the sad state of the stadium that hosted the game
The night before Newton's Pro Day workout, Hurney and Rivera met with Newton and were impressed when he told them he fully intended to be a top NFL quarterback and knew how much work and how much study it would take, and they could trust him to be the kind of worker and practice player who could accomplish that. They knew he was raw—Newton had but 290 major-college throws on his résumé—and they had to get comfortable with knowing he was a work in progress. "Power arm," praised the well-respected Greg Cosell of NFL Films, after studying the pre-draft Newton. But … "Limited QB skills. Accuracy a major concern. Poor mechanics."
Hurney and Rivera knew there was work to do, but more and more felt the prospect was too good to pass up. They worked on Blaine Gabbert and Jake Locker and Christian Ponder, but didn't get as far down the road with any as they did with Newton. There was a game in Newton's Auburn season, 2010, that left an indelible mark on the Panther brass. Alabama was beating Auburn 24-7 at halftime in Tuscaloosa, and Newton told the coaches he wanted to speak at halftime. He spoke, passionately, to the team. Auburn outscored the Tide 21-3 in the second half (two Newton touchdown passes, one Newton touchdown run) and won 28-27.
Now about the Blinn College experience. Newton went through two mostly bench seasons at Florida (2007, 2008) and was facing the same—behind Tim Tebow—in 2009. Instead of transferring to a big school and sitting a season, Newton decided to go to junior college for a year, then transfer to a big school to play in 2010. Blinn was important not only for the football (Newton threw 22 touchdowns and five picks, with 16 rushing touchdowns, playing the Pistol) but for the way he acted off the field. I remember talking to then-Blinn coach Ronny Feldman that spring, and he was livid about the impression that Newton was a phony. "I heard somebody on the radio the other day talk about his fake smile and how he's not genuine," said Feldman. "He is full of s--- with a capital 'S.' If I had a rock, I'd throw it and hit that guy right in the mouth. He doesn't know Cam! I was with him day after day, side by side, for a year. I can't say enough good things about him. He's a yes-sir, no-sir kid, 100 percent trustworthy, with a strong passion to compete at anything. What a strong, strong leader. The first day here [in the off-season] they were all lifting, going after it hard. When it was over, they all thought it was done. But Cam, who doesn't even know these guys yet, says, 'I'm gonna be out there throwing if anyone wants to come.' Five or six go out. The next day, 10 or 15 are out with him. Later in the week, I see him out there running the stadium stairs, and a couple days later, he's got a bunch of guys out there with him. A natural leader. Charismatic."
That's the review Feldman gave the Panthers. When the draft was over, I was told that was an important piece to the puzzle. And the Panthers, on April 28, 2011, made Cam Newton the future of their franchise.
• THOMAS DAVIS: 'I'M NOT MISSING THE SUPER BOWL: Robert Mays reports from Charlotte on the Panthers' injured war horse
March 2012: Being patient with Manning
"People want to know the reason," Manning said, searching for one, almost grimacing trying to explain himself. His strange free-agency search was over and he was standing off to the side of a stage in Denver after being introduced. "There really isn't one. I could have pictured myself on any of those other teams. But what it came down to is, this just fit. It felt right."
Manning was cut by the Colts, who were set to draft Andrew Luck as their quarterback of the future. And Manning had to explain to all about the condition of his neck, which had undergone four surgeries in the previous two years, causing him to miss the 2011 season. There were a slew of medical visits. One night, staying with his old college coach, David Cutcliffe, in Durham, N.C., there was knock at the door after 9 p.m. It was the San Francisco team doc, there to give Manning a thorough physical and to report to coach Jim Harbaugh whether Manning was a medical risk worth taking. Overall, Manning's search took him from Miami to Indianapolis to Miami to Denver to Phoenix to Indianapolis to Raleigh to Nashville to Raleigh to Knoxville to Chattanooga to Denver, as he confabbed with Washington, and with the Dolphins, Cardinals, 49ers, Titans and Broncos. He turned down a visit from the Jets, the Chiefs, and from Seahawks coach Pete Carroll, who flew to Denver to see him during the process … and Manning wouldn't take the visit.
• MANNING'S MOMENT: Peter King reflects on how Denver beat New England and much more in Monday Morning Quarterback
The Broncos were smart; they knew Manning was an info junkie who absolutely, positively didn't want to be pressured. Executive director of media relations Patrick Smyth gave coach John Fox a couple of stats to counteract two things they thought would be used against the Broncos—that the defense was going to hurt Manning's chances of winning big, and that Manning, who'd played his home games indoors for 13 seasons, would freeze outside in the Rockies. Smyth came up with two gems.
"Do you realize," Fox told Manning, "that in the history of the Broncos, we've played 519 games in our stadium, and the average temperature at kickoff is 60.1 degrees.''
Another stat: "About the defense," Fox said. "In your 14 years in Indianapolis, the Colts averaged 26 points a game. In my 10 years as head coach, when our teams in Carolina or here scored 26 points or more, our record is 39-3."
On Manning's private visit to Denver, GM John Elway sat with Manning at a country club, and he imagined what it would have been like if Denver—where he played his entire career—cut him after 13 or 14 years. "There's got to be a dagger in your gut right now," Elway said. "Take your time. Be thorough. Make the right decision, whether it's us or someone else."
There was a bit of comic relief. When Manning worked out for the Niners in Durham, on the Duke campus, Harbaugh and offensive coordinator Greg Roman didn't want to be spotted there. They wore Duke hooked sweatshirts, watched from the privacy of a car by the side of the field, and then, to get a better view, from the field, wearing hoodies, so as not to be identified. Manning texted his mother, Olivia: "You'll never guess who I just worked out for. He was wearing a hoodie."
"Bill Belichick?" she responded.
And Manning reached out to people in the business for advice. One, Bill Parcells, asked Manning if he knew who Jamie Moyer was.
"Yeah, the pitcher," Manning said.
"He's 48 years old," Parcells said. "He's not 26 anymore, but he's still getting 'em out. Can you still throw well enough to get 'em out?'
 "I think I can," Manning said.
• BRADY, BRUISED AND BEATEN: How the Broncos defensive line embarrassed the Patriots in the AFC title game
Then it came down to the decision. He chose Denver, really, because of familiarity. He thought Elway and a veteran coach, Fox, would take care of him, and there was a coordinator and position coach, Mike McCoy and Adam Gase, he thought would let him be him. And that was it. He agonized for a couple of days at an offseason home in Chattanooga and made the call. Two Super Bowls in four seasons have resulted. Probably the right call.
Actually, the Carolina call for Newton was right, and Manning's call picking Denver was right. And here we are, on the doorstep of Super Bowl 50, with a fascinating quarterback matchup.
• ROAD TO SUPER BOWL 50: Follow The MMQB's cross-country trip on ourlanding page,TwitterandInstagram.#SB50RoadTrip
Now onto your email:
* * *
ELIMINATE THE PAT
I think it's crazy—and bad for the NFL—that a missed extra point from any distance makes the difference in any game, much less a conference championship game. They should just eliminate the play already and be done with it. Give a team seven points for a touchdown with the option of giving one of the points back for a chance at two. I never have watched extra points and I never will. You are never happy when they are successful unless it's at the end of the game and always angry when they are missed. How can a play be good for the league if it is only associated with either boredom or anger?
—Brad S., Kentucky
Interesting point. I am on the fence about some of the quirky iterations that you and others have proposed. I don't mind the extra point. I mind a play that is meaningless and utterly, absolutely repetitive. That was the old extra point. The extra point that was missed in Denver on Sunday added some real strategy to a compelling, exciting game. I've got no problem with that.
• THE LEGACY OF LOMBARDI: Jenny Vrentas on the man who started it all
PATRIOTS PENALTIES
With the Joe Nocera column in the New York Times, the science so strong in the Patriots favor, and the NFL's reluctance to release the football air pressure readings taken this year, how in the world can the NFL keep pushing the Deflategate penalties? Ignoring the Brady suspension and appeal, the Patriots still are down a first-round pick in this year's draft and it BLOWS MY MIND. If this year's air pressure readings show last year's Deflategate readings are normal, how can the NFL stick with enforcing these penalties?
—Jim, Hartford, Ct.
I agree with you. The NFL didn't prove its case in Deflategate beyond any reasonable doubt. I would be extremely frustrated if I were the Kraft family or the management team with the Patriots. My only suggestion from here on out would be for more people to point out the fact that the NFL did not have thorough evidence in this case, and that it makes no sense to kill an ant with a sledgehammer.
COACHING FREE AGENCY
Saw your comment in MMQB about teams not pursuing coordinators in the final four to fill their head-coaching vacancies. Why not install a free-agency period for coaches? This could begin the Monday after the Super Bowl; no interviews or discussions or tampering allowed before this date. It ensures all teams get a fair crack at all coaches, and teams in playoffs don't have to worry about their coordinators getting distracted before a key playoff game. I appreciate some teams wanting to appoint a coach immediately, but do four weeks really make that much difference, especially with the draft now pushed back?
—Brian C.
In an ideal world, it would be great for the NFL to say there would be no discussions about new coaches until the Super Bowl has been played. There's very little chance that a rule like this would be followed, even if potential penalties were added to the rule. If you tell a team with a coaching opening that it will have to wait six weeks before it starts the interview process for the opening, it seems totally counterproductive to me, and unfair to that team trying to get a jump on making the best team possible for the following season. Let's say the hot coach that year is a coordinator for a 9-7 team that didn't make the playoffs. Does it make any sense that this coach and this team should not be married for six weeks? And what if a team wants to hire a college coach? It almost would eliminate hiring a college coach, because someone in college is unlikely to pick up the phone for a pro job in the middle of February. As I wrote Monday, I do not know what the solution is, but I would be more inclined to suggest that every coach in the NFL be allowed to interview very soon after the regular season for a day or two. Nothing is going to be fair for everyone. But I don't think it would be fair at all to wait until February.
• WHAT 45.7 MILLION TV VIEWERS DON'T SEE AT HOME: The MMQB embedded with the FOX broadcast for the NFC title game
SOCIAL MEDIA HALL OF FAMER
First off, I don't think Marshawn Lynch belongs in the HOF. Yes, he's been really good in Seattle, but his Buffalo years were quite bad. Anyway, I see something here that might be affecting the public's perception on whether he is a player worthy of the Hall of Fame or not: Social media. Nowadays, even if you didn't see a game, social media has a big influence on how we look at big plays (take for example the Odell Beckham catches which have been retweeted, shown through sports apps and seen millions of times in a short amount of time).This makes certain players way more hyped than they deserve. Do you think social media is affecting the cases for certain players to enter the Hall of Fame?
—Omar
No. I am a Hall of Fame voter. Nothing that has ever been said on Twitter has influenced a vote. I don't mean to be curt or rude, but I think you are reading too much into the influence of social media. If we are considering strong sentiments on social media in whether a player belongs in the Hall of Fame or not, then we probably shouldn't be voting.
THE OVERTIME SOLUTION YOU'VE BEEN WAITING FOR
NFL overtime is being WAY too overthought. Here is the solution:Home team gets the ball last in overtime, similar to the way home teams get last at bat in major league baseball.
—DJ G.
I am fine with anything that guarantees both teams a possession in overtime. If you give the home team such a privilege, that is okay.
WRONG ABOUT GOATKOWSKI
I disagree that a missed PAT in the first quarter merits goat horns. If Stephen Gostkowski makes it and the game plays out exactly as it did, at best New England gets to the crapshoot of overtime. But you didn't mention that twice the Patriots passed on field goals, the first with six minutes left in the game, which would have taken an iffy 2-point conversion out of the equation entirely. The goat is Bill Belichick, for passing on the field goal and for not going all-out for home field in the season finale.
—Mark P., Washington D.C.
This has nothing to do with Week 17. This has everything to do with what happens in one game on Sunday in Denver. Belichick has one of the best fourth-down conversion records in football. If you think that going for it on fourth-and-one at the opposing 16-yard line is a horrible decision worthy of goat of the week, I disagree adamantly. Having said that, I would have gone for the field goal with six minutes to play. Now, to suggest that it was a stupid strategic decision to go for it on fourth down with 2:25 left in the fourth quarter is mind-boggling. Say Belichick kicks the field goal with 2:25 to go. If Denver makes one first down on the ensuing possession, New England very likely doesn't touch the ball again. That would be a smart coaching decision? I don't think so.
• Question or comment? Email us at talkback@themmqb.com.