Gary Kubiak Makes Quarterbacks—Even the Best—Better
The Denver coach's QB-friendly system gets the most out his passers, whether it's a longtime backup or one of the game's greatest. It's been fascinating to watch how he and Peyton Manning have worked together to reach the Super Bowl  
By Sage Rosenfels
Gary Kubiak knows quarterbacks. He knows they come in all shapes, sizes and abilities, with different strengths and weaknesses. He has played with and coached Hall of Famers, Pro-Bowlers, solid NFL starters and career backups (i.e., me). Rarely over the course of 22 years as an NFL coach has he coached an underachieving signal-caller. Almost every quarterback who ran the plays he called from the sideline had some level of success, and many had the best years of their career. I count myself as one of them.
I spent four of my first five years in the NFL as a third-string quarterback and entered free agency in 2006 with just two career starts. While researching teams that were interested in me, I got advice from one of my former quarterback coaches. He told me that playing for Kubiak would be the best move for my career. From Steve Young and John Elway to Brian Griese and Jake Plummer, Kubiak's QBs almost always experienced strong seasons under his tutelage.
• CAN CAM BE STOPPED? How Wade Phillips and the Broncos plan to neutralize Superman
With that advice, I signed with Houston, and during my three seasons there I played hands down the best football of my career. I went 6-4 as a starter and had a nearly 90 quarterback rating, much higher than my career average. I played great in the preseason and had a streak of 11 preseason games in a row with a TD pass (great backup QB stat!). Needless to say, I believe Gary Kubiak's system works.
Offenses and defenses have gotten increasingly complex since I entered the league in 2001. One strength of Kubiak's system is he doesn't put the full command of the offense in the quarterback's hands. He tries to design the offense so the quarterback just needs to focus on executing the play called rather than deciding if the play will work and how they should change it. This allows the quarterbacks to just "do their job" while playing fast, analyzing less and allowing their athletic ability to take over. It's one of the most quarterback-friendly systems in the NFL.
When he returned to Denver, where he had been a backup to John Elway for nine years and then was the longtime QBs coach/offensive coordinator, I wasn't sure how he'd sync with Peyton Manning. I was asked by dozens of people in the media and by numerous Broncos fans how the two would mesh. My answer was, "They are two really smart guys, and they will figure it out." Looking back, they have.
The challenge of Peyton Manning running a Gary Kubiak-style offense is complicated on multiple levels. First, physically, Kubs' offenses have always focused around the run game, with play-action and bootlegs that complement the runs. This is more effective if the quarterback is athletic. However, it's not a requirement—as John Elway (late in his career), Brian Griese, Matt Schaub and Joe Flacco weren't considered speed demons by any means. All of them had success in Kubiak's system.
If you followed the rules of Kubiak's system, your reads and your feet told you where to go with the football.
More challenging, though, is that the styles in which Manning and Kubiak previously attained success were as different as Chinese and English. From a system and philosophy standpoint, the two had little in common. Kubiak's offense has some audibling, but for the most part it's a "call it and run it"-style offense. He believed he would always have his players in position to run plays that contained answers for the vast majority of what defenses could throw at them. If a team had a safety in the box, Kubiak would have a wide receiver in position to block him through the way he designed a formation or motion. If two players blitzed and you weren't protected, you always had a hot route or a quick throw to save the play. The line took care of the majority of the run game-calls, and pass patterns usually had an answer versus the majority of coverages you expected. If you followed the rules of the system, your reads and your feet told you where to go with the football.
• LUKE KUECHLY, NICE-GUY ASSASSIN: Jenny Vrentas on the man at the heart of the Panthers D
On the other hand, Peyton had received the keys to the car for the majority of his 14 years in Indianapolis. Usually, multiple plays were called in the huddle, and he had a full IHOP menu of plays to get to if he saw something better. He could check to any run play based off the look. If he saw a blitz or one-on-one matchup, he could change the play to a pass he wanted. Many believe Peyton is the greatest QB in history at this type of skill. A true coach on the field.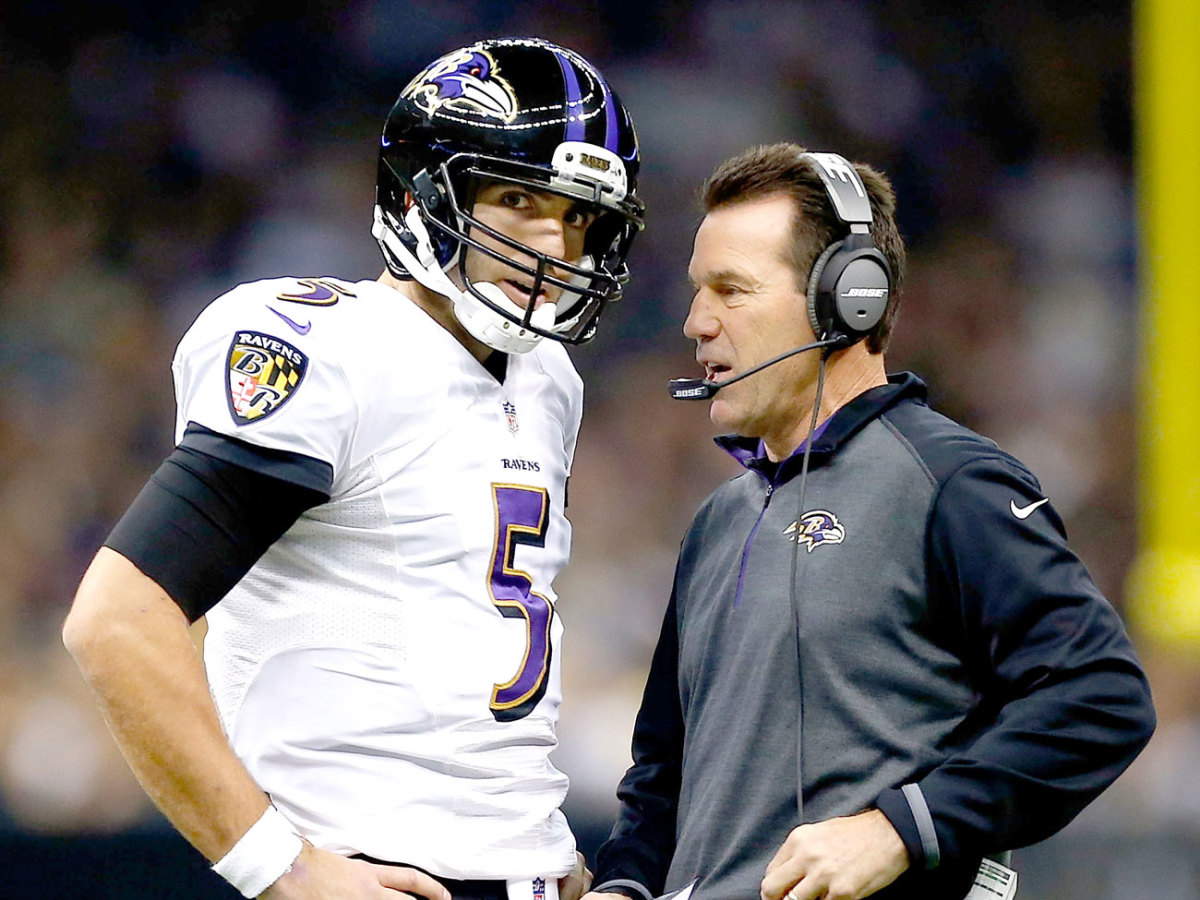 Also, Kubiak is a big believer in an offense having tempo. Get the play called in the huddle and don't waste much time at the line of scrimmage. Since there are generally answers built into his system, Kubiak likes to go with a quick snap count so the line can fire off the ball, as well as to prevent the defensive line from jumping the count. This helps the run game and pass protection. As we all have seen for nearly two decades, Manning's pre-snap routine is the complete opposite. Almost every play is a ballet of mike calls, hand signals, finger pointing, fake cadences and "Omaha Omaha." Not exactly call it and run it.
I assumed Kubiak would bend his philosophy to match Manning's strengths, and early in the 2015 season he definitely did. Manning was regularly in the shot-gun, as well as changing protections and audibling. The Broncos had early-season success and jumped out to a lead in the AFC West, but this had more to do with their defense and overall team talent. Their offense struggled, and Manning was having his worst season since his rookie year.
Finally, on the night he broke the all-time passing yards record, Manning had one of the worst games of his career. Having played through a foot injury that had affected him since the summer, Manning was sent to the bench, and a completely unproven Brock Osweiler took over the reins. Osweiler had enough talent for John Elway to make him a second-round draft pick three years earlier, but he never had significant or extended NFL action. Like most of Kubiak's backups, Osweiler played solid and even some excellent football to win in five of his seven starts, with a respectable 86.4 QB rating. If a team is starting its backup quarterback, the hope is it can win half of its games and keep itself in the playoff hunt. The Kurt Warner and Tom Brady stories—backups to Super Bowl winners—are extremely rare.
• WHAT DO DO ABOUT JOSH NORMAN? Carolina's All-Pro corner presents a tough challenge for the Broncos
As he has done over the majority of his career, Kubiak played the cards just right, and now he has his first-ballot Hall of Famer leading the team in the Super Bowl. I couldn't imagine the conversation Kubiak had with Peyton as he placed him on the shelf. I wish I could have been a fly on the wall in Kubs' office that day. I'd like to know exactly how Manning took the news. My guess? The two dealt with the situation like the pros they both are.
With a combined 50 years in the NFL, these two know what it takes to win football games. Sometimes you win it with offense, and sometimes you win with defense and special teams. Most of the time everyone has to play well to be successful. At the moment of that discussion between Kubiak and Manning, the most important position was also the Broncos' weakness. Something had to change. I assume Manning didn't fight Kubiak's move in any way and went right to work on getting physically healthy and helping Osweiler perform at a high level.
When Manning came back during Week 17, his play improved, and his injury was noticeably better. His style of play changed as well. While there is still more audibling than most Kubiak offenses, Peyton is now under center and relying more on the run game, quick passing game concepts and his defense to win. He is no longer the most important piece of the team. He's become "Trent Dilfer" for the Denver Broncos (nothing but love for ya, TD). But he also just beat his rival Tom Brady because he had the better team and knew it.
• THE MMQB'S ROAD TO SUPER BOWL 50: Our cross-country drive from Maine to Santa Clara has included visits to Lombardi's grave, Kuechly's high school, Kurt Warner's grocery store and much more
As it turns out, the pieces have fallen into place for the Broncos. I am rooting for Denver because of my respect for Kubiak, but I believe they have their work cut out for them. They didn't play a team this year that has a defense as disruptive as Carolina's and an offense, led by presumed MVP Cam Newton, that has been so tough to stop. Going 17-1 in a season means you should be compared with teams such as the '72 Dolphins, the '85 Bears and the '07 Patriots. Dominating two of the top five teams in the NFL during the playoffs just doesn't happen very often. This Panthers team has been great in historic fashion.
If the Broncos were to win Super Bowl 50, it will be because of an incredible mix of timing and decisions made by three old quarterbacks. John Elway has chosen the ingredients for this team. Peyton Manning is the one with the football in his hands on every offensive play. Gary Kubiak has been pulling the right strings from the day he was hired. Kubs needs to have his finest coaching performance yet to pull off this Super Bowl. Peyton Manning riding off into the sunset as a Super Bowl champion just feels like the right thing to happen. If the Broncos win it all, it's because two great football minds put their egos aside and found a way to get it done.
Sage Rosenfels played quarterback in the NFL from 2001 to 2011. Follow him on Twitter @SageRosenfels18.