Publish date:
'He Set the Standard'
As Peyton Manning rides off into the sunset—he'll make his retirement official today in Denver—his most worthy adversary, Tom Brady, lauds a competitor who 'mastered' the game. Plus a quick look at free agency, including three teams likely to spend lavishly when the market opens
DENVER — Late Sunday morning, Tom Brady was multitasking: watching his 8-year-old son, Jack, play a soccer game, and talking about the retirement of the player with whom he will be forever entwined in NFL history, Peyton Manning.
Brady said the thing that really struck him when it started to sink in than Manning wouldn't anymore be his foil, his rival, his frenemy, his quarterback confidant, was how Manning's life was going to change. Forever.
"It's what I said to my wife after I found out," said Brady. "The way he played football, and the way he was consumed by football, all the mental energy he had to use, and I mean every day of the year you're thinking about it—imagine what he must feel like with all that pressure off. Twelve months a year, the time commitment, the mental commitment, I can tell you it never leaves you. You are constantly trying to be better, constantly striving to learn more. Think about how long he's been a great quarterback. For Peyton, the pressure's probably off for the first time in his life. Imagine how that feels."
For now, Brady can't. Sometimes he must long for the day when he'll be able to watch Jack play a soccer game without thinking: Hope we'll get a receiver in free agency … Gotta figure a way to scheme against the edge rushers or we're in trouble … How can I fool Von Miller next year?
But in 2016 Brady's going to be the obsessor, not Manning—though surely Manning will find something else (TV? a front office?) to obsess about, and soon. Something about not having Manning to face anymore weighed on Brady, even with the happy noises of a kids' soccer game surrounding him.
"What's it going to be like for you," I asked, "when, for the first time since you've been in the league, you won't have Peyton Manning to play against?"
"That part sucks," Brady said, sounding sad. "That part really sucks. That part will always suck."
• HOW PEYTON MANNING CHANGED THE GAME: Peter King on Manning's transformative role and his place in football history
* * *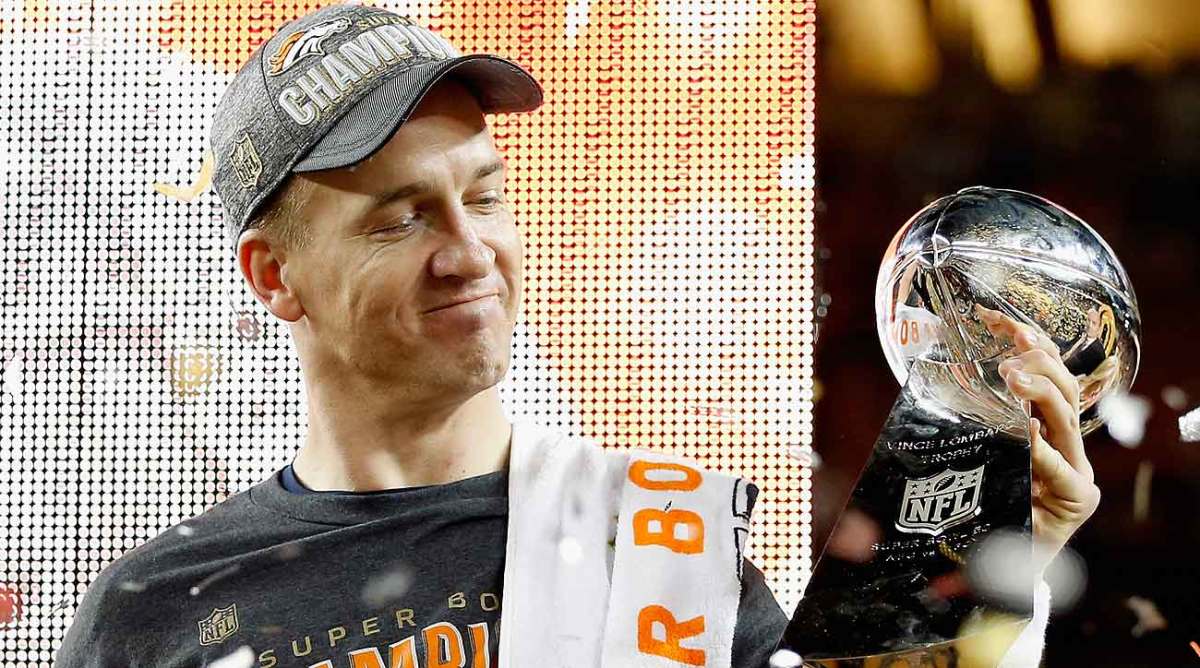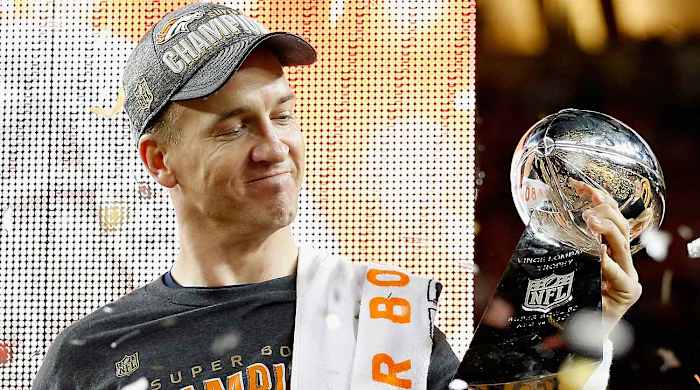 Peyton Manning will announce his retirement today at the Broncos' training facility and offices in Englewood, Colo., at 11 a.m. Mountain Time. There is something Manning-like about how we all found out about that. Woody Paige of the Denver Postreported nine days ago that Manning would retire by the end of last week, and technically it did happen that way. But I am told Manning and his people were fact-finding about the possibility of continuing to play as late as last week.
But then Adam Schefter of ESPN reported during the week that a part of Manning wanted to continue playing in 2016. So it wasn't until Chris Mortensen of ESPN reported just after 7 a.m. Eastern on Sunday that Manning was retiring that people knew for sure it was over. How did they know for sure? Because Manning and Mortensen are close. Mortensen is currently a patient at the MD Anderson Cancer Center in Houston, being treated for a life-threatening form of throat cancer. Mortensen is not working right now as he receives treatment, but he broke the definitive news on Manning, which said to everyone in the business: Peyton Manning is taking care of Mortensen. A cool thing to do—if that's how it happened. But it's very cool that Mortensen broke the story Sunday morning that Manning would announce his retirement in Denver on Monday. "For Mort to get the adrenalin of a big story when he's in the battle of his life makes me feel great for him," Schefter said Sunday. So if Manning picked Mortensen to break the news, good on Manning.
So there is much to learn about Manning's process over the past couple of weeks. We won't know details until we hear from him today. But one thing I can tell you this morning is that the Broncos were in the dark about it until 4:30 p.m. Saturday. That's when Manning called Denver coach Gary Kubiak and told him he was going to retire. True story: Not a soul in the Broncos organization knew before late Saturday afternoon.
"Who has lived up to the expectations year after year after year as well as Peyton?" says Tom Brady. "He's done it so gracefully, so admirably. He set the standard for how to play the quarterback position."
The road was traveled something like this: The Broncos won the Super Bowl on Feb. 7, and Manning was determined to drink it in for a while. For two weeks. After that two weeks of enjoyment, he had 16 days before he was either going to retire or get his release from the Broncos and see if any team in the NFL would give a starting job to a player who threw seven more interceptions than touchdowns and had a 72.2 passer rating in his last one-and-a-quarter seasons, and who would turn 40 this month. In other words, the walls were closing in. Still, when he met with Elway at Elway's home 13 days ago, the former Broncos quarterback expected to hear the current Broncos quarterback say he was going to retire. But Manning didn't. He was still considering his options.
In 2012, Manning had teams panting after him. Houston, Kansas City, San Francisco, Denver, Arizona, Miami, the Jets. In 2016, that was gone. The one team that was mildly interested was the Rams. But the Rams' braintrust hadn't had a serious internal discussion about Manning, and I am told the Rams would not have guaranteed Manning the starting job. And how embarrassing would it have been if Manning signed with Los Angeles for, say, $8 million plus incentives, then had to come in and compete with Case Keenum and—in all likelihood—a drafted quarterback this spring for the starting job? Imagine Jeff Fisher having to go to Manning on Aug. 25 and ask him if he wanted to be number two … to Case Keenum. Not that this certainly would have happened, but the Rams were going to play the best guy. Manning wouldn't have been on scholarship. And maybe there would have been interest in Houston, but let's face it: This was shaping up to be John Unitas to the Chargers or Joe Namath to the Rams. Not pretty, and ultimately forgettable.
• THE ONLY TIME I OUTSMARTED PEYTON MANNING: Broncos LB Brandon Marshall on what he learned from his Denver teammate about commitment and competing
So Manning told Kubiak, to whom he'd grown close, late Saturday afternoon. Kubiak told the rest of the organization. And then, Saturday night, Manning made a round of phone calls to people he admired—some he'd worked with, some he'd battled against—to tell them he was retiring. Former coaches Tony Dungy, John Fox and Jim Caldwell got calls. A rival coach, Bill Parcells, who'd become a late-career advisor of sorts, got a call. Current and former players got calls, as did trusted assistant coaches Adam Gase and Greg Knapp and others. The calls were short, less than 10 minutes. There were quite a few—more than 10 of them.
So now what? Manning might discuss his future plans today, but he's been cryptic about them to this point. He could pull an Elway and run a team; Browns owner Jimmy Haslam certainly would be interested in hiring Manning for some role, as would the Titans and who knows who else. As for TV, one of the great football minds in broadcasting history, ex-NBC czar Dick Ebersol, thinks Manning would have a chance to follow in the footsteps of the great commentators—like John Madden and Cris Collinsworth—because he'd talk about football in English instead of footballese.
"The traits the great ones have," said Ebersol, "are a love of the game, a visceral affection for the game, talking to football people in their language. I am confident Peyton can do that—and he should definitely do games, not the studio. I will never forget early on with the Sunday night games, when John Madden brought his old coaching friend John Robinson on the road one week; he wanted Robinson to hear Manning in the production meeting. And Peyton, as always, was terrific, so insightful with such great stories. When he left the room, John Robinson said, 'If that guy ever has a speaking engagement anywhere near me, and there's an admission charge to hear him, I'll pay whatever it costs just to listen to him talk football."
So there's that. Manning has made an estimated $240 million in his football career, but you can expect a team or a network will throw more millions at him. Soon.
* * *
Where will Manning rank among the great quarterbacks ever? More on that Tuesday. How much will the December HGH accusation and the more recent flareup of the 1996 Tennessee training room allegations mar his legacy? More on that Tennessee story below, from The MMQB's Robert Klemko, and in the coming weeks, for sure. And will Manning stay a dominant presence in football, either in the media or with a team? All to be determined.
For now, Tom Brady has the floor.
"Every game he has played, I have watched," Brady said. "I have file folders of his plays, of how he plays. It'd take years for me to watch it all again. But what he's done in Denver has been incredible. Think of what he did—changing teams, changing organizations, at his age, and then in four years going to two Super Bowls with that team.
"What just happened, winning the Super Bowl in his last game, is a perfect way to end a career. But what he's accomplished through all these years, what makes it so admirable, is the pressure he's had on him his whole life. He was the highest-rated recruit in high school. He was the biggest quarterback in college football. He was the first pick in the draft. Who has lived up to the expectations year after year after year as well as Peyton? He's done it so gracefully, so admirably. He set the standard for how to play the quarterback position."
"What'd you learn from him?" I asked.
"A lot," said Brady. "I realized the level of commitment you must have to be great, watching him do it. I know the time I put in, so I knew the time he had to have put in. It's not 9 to 5. It's a lifelong commitment. Football is a sport, it's an art, it's a religion. It's all-encompassing. He mastered it."
• BEHIND THE SCENES FOR A COMBINE INTERVIEW: An unprecedented look as the Dolphins interview a quarterback prospect
* * *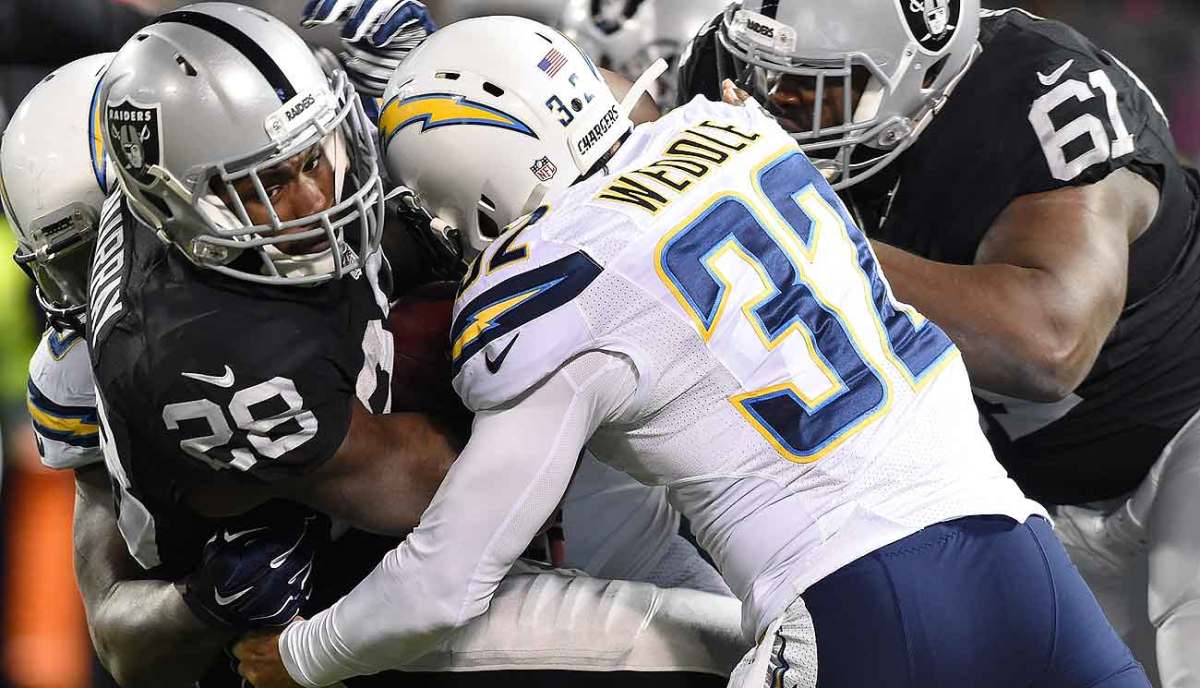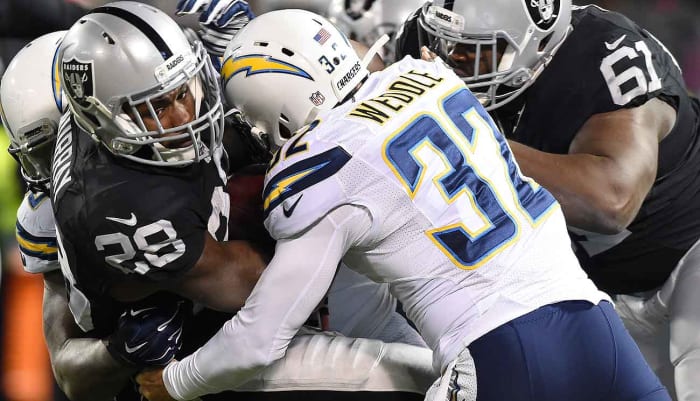 A lucrative market opens Wednesday
It's a strange week. Teams are entering free agency flush with cash, an obscene amount, more than any other time in the 23-year history of the NFL's free market. The 32 teams have close to $1 billion to spend. That means that if these teams so choose, semi-famous unrestricted or restricted free-agent players—Sean Smith, Olivier Vernon, Malik Jackson, Kelechi Osemele—are going to be swimming in guaranteed money soon after the opening of the market Wednesday at 4 p.m. ET.
What the NFL calls a legal tampering period will begin today and last until midday Wednesday. By legal tampering, I mean agents and teams are allowed to talk terms but not make any binding deals. For instance, if the Browns were interested in free-agent quarterback Brock Osweiler, they could discuss parameters of a deal with Osweiler's agent, Jimmy Sexton, but they couldn't say, "We'll give you three years and $50 million, with $25 million guaranteed." What the Browns could say is that they are interested in Osweiler if the price tag were somewhere in the $15 million range annually, with around $20 million guaranteed. So teams just have to be careful with how precise they get when they talk turkey.
The big story this year is how awash the league is in available money. By the time the market kicks off, 19 teams—by my count—will have at least $20 million available to spend if they choose. That brings us to … fun with the salary cap.
SALARY CAP FACTOIDS OF THE WEEK
1.Jacksonville has more cap room than the Jags had to fund their entire roster 12 years ago. In 2004, the salary cap was $80.58 million. In 2016, the Jaguars are more than $80.98 million under the cap, according to cap site Spotrac.
2.The cap has more than doubled in 13 years. It was $75.007 million per team in 2003. It is $155.27 million per team this year.
3. Some teams, such as Oakland, need to spend a gargantuan amount of money to satisfy the 2011 collective bargaining agreement. The Raiders, in order to meet the CBA's minimum spending amount, will have to spend approximately $160 million in cash on players in the next calendar year. When the CBA was signed in 2011, there was a provision that called for each team to spend a total of 89 percent of the salary cap over the four-year period between 2013 and 2016. That period ends 12 months from now, and the Raiders have some catching up to do. Some of the money they must commit could go to looming 2017 new-contract targets Khalil Mack and Derek Carr, but the Raiders also will have to spend generously in free agency to meet the requirement. That means that players like Eric Weddle could cash in with Oakland. Weddle could step in immediately in performance and leadership roles for the retired Charles Woodson at free safety.
• FREE AGENCY: WHO ARE YOU REALLY GETTING? Robert Mays looks at past comparables to this year's crop of top FAs
Weddle promises to be one of the most interesting stories in free agency this year. He's 31, probably two years beyond his prime earning years, and coming off a season in which he was plagued by a groin injury. But he is probably the most productive free safety in football over the past five seasons, the kind of plug-and-play defensive centerfielder who would be ideal for a contender for the next few years.
And that, for Weddle, is the most important thing: contending.
"I've got three to five years left in me," Weddle said Saturday. "I want to go somewhere I have a chance to win a Super Bowl. Until last year I've never been injured. I've never had surgery. I don't drink, I don't go out. My shoulders, back, legs, hip, they're all fine. I think I bring a lot to a team."
One place Weddle sees himself as a good fit with is New England, which is ironic: When Rodney Harrison was 31 after playing nine years in San Diego, he signed with New England and had a productive twilight of his career playing for Bill Belichick. That is exactly what Weddle would love. He too is 31 and has played nine years in San Diego. "It would be funny if I ended up there," said Weddle. "We've played them so many times. The thing I like about them is they don't have an ego. It's insane to think about how good they've been. I've been to just one AFC championship game. They've been there every year. You respect it, you envy it, you admire it."
Although Weddle admires the Patriots, he also spoke longingly of Oakland, Pittsburgh and Carolina, all of which he was sure would be a good landing spot. 
Four other stories to watch as free agency dawns this week:
• Free agency this year is going to be a great test of discipline by teams. This is not a good year to plug huge holes. The receiver group is weak, as is offensive tackle, cornerback and interior defensive line. History says teams that have money will spend it. This is why free agency traditionally is very good for the above-average player. A few non-stars, such as Chiefs cornerback Sean Smith and Ravens guard Kelechi Osemele, are going to get rich. And that traditionally has been one of the things about free agency that so many teams hate. Above-average players getting paid like stars.
• As for teams bound to be very aggressive in the early days of the market, league people expect Jacksonville, Oakland and Atlanta to be very aggressive beginning Wednesday afternoon. One target for Atlanta could be Bruce Irvin of the Seahawks. Jacksonville needs a corner, and former Ram Janoris Jenkins could be a fit there. Oakland should sign Weddle, but the Raiders don't always do the smart thing.
• TEN PLAYERS WHO COULD SURPRISE IN FREE AGENCY: Andy Benoit examines who teams might seek to sign in the coming months
• One bit of drama will center around the Dolphins. They used the transition tag on pass rusher Olivier Vernon, hoping it would keep away suitors. But in talks with several teams in the past few days, there seems to be significant interest in Vernon who, at 25, is one of the rarest NFL commodities: a productive pass rusher at a very young age. Vernon is coming from a team that already has too many high-priced defensive stars, so he could be signed by a team that would make his 2016 cap number too high for the Dolphins to match. If Vernon gets an offer sheet, Miami would have seven days to match.
• The Broncos will be an interesting team to watch in the first couple of days in free agency. Denver has two of the top players in free agency, and after the Broncos franchise-tagged Von Miller, defensive end Malik Jackson and quarterback Brock Osweiler could be stolen by aggressive teams. It is likely that Jackson will sign elsewhere, for as much as $15 million a season. Osweiler, however, will be Denver's prime target, and you should expect him to be re-signed by John Elway. The Broncos GM is convinced Osweiler can be a star. 
* * *
A follow-up on our Manning/Naughright story
In the wake of Robert Klemko's reporting for The MMQB last week on the 20-year-old incident between Peyton Manning and an athletic trainer at the University of Tennessee—an incident that was included in a discrimination complaint that the trainer, Jamie Naughright, settled with the University in 1997, led to two lawsuits Naughright filed against Manning, and resurfaced after Super Bowl 50 in a New York Daily News story by Shaun King—Klemko did more reporting. I thought it best to give his update here.
From Klemko:
- - -
Since we published our story, we've fielded several criticisms, most comprehensively expressed by Sean Newell at Vice Sports. There has been considerable doubt cast on the credibility of Greg Johnson, the new witness to a 20-year-old saga who supports Manning's longtime contention that the incident was a simple mooning of a fellow athlete, rather than something more, directed at Naughright. Given that Johnson, a friend and former college roommate of Manning's, is not named in any previous documentation regarding the incident, Newell describes the emergence of Manning's former roommate as "frankly bizarre."
Additionally, a reader, Don Brophy, writes, "If Johnson saw the incident and Manning knew he saw the incident and his testimony could exonerate Manning, why then didn't Manning mention Johnson or get his deposition even if over the phone?"
This is a fair question, and one we didn't address thoroughly in the story. The skepticism was amplified by an ESPN interview with another witness who had never spoken publicly, former UT football player Kevin Horne, who said, "I never saw him. I saw that story and I'm like, 'Greg Johnson?' I like Greg, but, sorry, I don't remember that."
Upon the release of ESPN's story, Horne phoned Greg Johnson to apologize, according to Johnson. "He was calling to tell me that what he said was that he couldn't remember who was there," Johnson told me. "Not that he didn't remember me being there. He just said, Hey, it was 20 years ago. I don't remember anybody that was there." Reached by phone, Horne declined to comment for the record on this apparent backtracking.
Johnson, who joined the Marines shortly after graduation in 1997, would have been on campus while the university was investigating Naughright's claims. He says he spoke with a university staffer a week after seeing the incident in passing (he says he was on his way out of the training room when it happened). He says there was no on-the-record interview and no follow-up. Johnson says he talked with Manning about the incident a day or two after it occurred. Asked why he wouldn't have been named in the university's report, Johnson says, "And I don't know how to answer that. I can tell you this—as a 20-year-old, I probably didn't want to be a part of any investigation. I certainly wasn't volunteering because I didn't think it was that big of a deal." He says the next time he and Manning talked about the incident was two weeks ago, when he reached out to Manning.
Vice Sports points out that while it was true Johnson was deployed in the invasion of Iraq during the time of Naughright's 2003 lawsuit, he did make it home between deployments in August of that year, while depositions were still taking place. He says returned in July, got married in Hawaii, then returned to service. Johnson said he went back to the Tennessee campus for a weekend, hadn't heard about the suit and paid it no mind. "We just thought so little of it at the time," Johnson said.
As to why he does not appear in documentation regarding the university's 1996 investigation, we spoke to Camille Hazeur, who at the time was head of the Diversity Resources and Educational Services office, the university unit responsible for investigating Naughright's complaint against Tennessee. By the time Naughright's filed her complaint, Hazeur says she was already aware of the Manning incident and had conducted numerous formal and informal interviews with parties involved.
In response to Naughright's complaint about the Manning incident, one of 33 claims she lodged against the university, Hazeur's office found in 1996: "[Redacted] denied that he directed the 'mooning' at [Naughright] and a witness corroborated his account." Twenty years later, Hazeur said she could not remember Greg Johnson, but she suggested a roommate was among those interviewed. "There were so many people," she said. "I don't recall. It's been too long. I [interviewed] the roommate, or the one he said he mooned. I thought that was sufficient." As we indicated in our story, no one other than Manning, Naughright and Malcolm Saxon had publicly spoken of the incident before last week, and it is unclear from the legal documentation how many people were in the room at the time. One passage from a 2003 document makes oblique reference to at least five people; another refers to six.
The DRES report concluded, referring to Naughright's name at the time: "The action was not sexual in nature or directed at Ms. Whited; and was therefore not sexual harassment."
Last week, Hazeur said: "My office didn't do depositions. It never got that deep. My understanding, and I'm sure we corroborated this, was that he pulled his pants down and I don't think it was directed at the trainer."
Hazeur left the university in late 1996, just after the investigation was handed over to UT's legal department, to become the dean of students at Trinity College. She later led diversity initiatives for George Mason University, Bates College and the U.S. Department of Education. In 2009 she was named director of the U.S. Department of Transportation's Office of Civil Rights. She retired in 2014.
"I would never let an athlete off the hook because he was an athlete," she said. "It didn't have to be Peyton Manning. I don't give a damn who it is. Even though the athletics director and the coaches were all trying to coach me, you can ask anybody in the department at that time—they couldn't sway me, honey. If that boy had done something directed at her, I would've jumped all over him. But he mooned somebody. It's just stupid. I was not there for the deeper investigation."
Hazeur balked at Naughright's claim, expressed in the 2003 lawsuit, that Manning made physical contact with her.
"What is this mess about putting his genitals on her head? Bull," Hazeur said. "He had been on the cover of Sports Illustrated, and it was becoming clear this child would have a future, and I don't know what that sister was up to. This is not a good case for the cause."
Some critics of our story have called it an instance of victim-blaming or victim-shaming. This could not have been further from our intention. We set out, in the wake of the Daily News story, to understand more about the 1996 incident and why it resurfaced now, 20 years after the fact and 11 years after the disposition of the final legal case. We contacted the parties involved; we were connected to Greg Johnson through Manning's representatives, as noted in the story, and found what he had to say newsworthy and credible enough to report. We spoke to both Malcolm Saxon and Jamie Naughright and would have reported what they had to say had they chosen to talk on the record. They declined to do so, as did Peyton Manning.
Part of our query into the 1996 incident and its aftermath involved the depiction of Jamie Naughright's character as related in the Daily News story and the 74-page document at its center, a legal brief written by Naughright's lawyers. We found sources who questioned that depiction and sources who supported it, and we reported what those willing to go on the record said to us. During our reporting, we also discovered a pattern of unusual behavior attributed to Naughright, in the form of phone conversations and voicemails that impugn Peyton Manning's character and that imply that Naughright remains deeply affected by the 1996 incident. Whether our reporting of that behavior amounts to an unfair treatment of Jamie Naughright, we leave to the reader to decide.
* * *
Quotes of the Week
I
"I called him the piranha. I could never get him enough information … We had him in for a pre-draft interview in '98 and he had a notebook full of questions for us, including one about Indiana tax code. I remember thinking, 'Who interviewed who here?' "
—Arizona coach Bruce Arians, who was the offensive coordinator of the Colts when Indianapolis drafted Peyton Manning in 1998, on Manning.
II
"Few have left their marks on a sport as Peyton Manning has. Simply put, he revolutionized NFL football, Peyton energized it as had no one before him … He is the most recognizable face in the history of the NFL."
—Colts owner and CEO Jim Irsay.
III
"Without you, the Colts are probably in Los Angeles. Without you, Lucas Oil Stadium never gets built. Without you, high school football doesn't become a prime recruiting ground for big-time programs. Without you, we don't have about 10,000 little Peytons, boys and girls, walking around this town."
—Longtime Indianapolis columnist Bob Kravitz, in a brilliant open letter to Peyton Manning on Sunday.
IV
"The evidence of ball-tampering is compelling if not overwhelming."
—U.S. Appeals Court Judge Denny Chin, during oral arguments at the NFL's appeal of its loss in the Brady/Deflategate case Thursday in New York.
As the six-state New England region goes apoplectic.
* * *
Stat of the Week
Peyton Manning clearly retired at the right time. Manning's play, at least statistically, began to decline after Thanksgiving 2014. Using that day as a line of demarcation, Manning has played 19 games since, through the Super Bowl one month ago. Comparing his performance in those 19 games to the 19 games prior:
| | | | | |
| --- | --- | --- | --- | --- |
|   | Comp. % | Yds | TD-Int | Rating |
|  Manning's final 19 games | .591 | 4,168 | 17-24 | 72.2 |
|  His 19 games prior to Thanksgiving '14 | .685 | 6,223 | 58-15 | 108.9 |
Manning turns 40 in 17 days.
* * *
Factoids of the Week That May Interest Only Me
I
Bud Collins, the unmatched tennis writer and broadcaster who died Friday, coached the Brandeis University tennis team in the late 1950s. One of his players was Abbie Hoffman, a founder of the Yippie movement, an anarchist and avowed enemy of the American government.
In Jason Gay's fine tribute to Collins in the Wall Street Journalon Saturday, he said Collins used to joke that Hoffman played quite conservatively. 
II
The University of Hartford has a basketball player named Pancake Thomas. His first name is actually Cleveland. But he got the name Pancake, he told the Hartford Courant, this way: "It was something to do with my mom's pregnancy, when I was in her stomach. No one knew she was pregnant—nobody, at all, but my grandmother. My mom's stomach at the time was flat, even when she was pregnant with me. So when they brought her to the hospital, my dad thought she was just having a stomach ache or something. But as he was parking the car, she was in labor. I was just a surprise baby. That's why my grandmother called me Pancake."
I see.
* * *
Tweets of the Week
I
II
III
IV
V
VI
* * *
Ten Things I Think I Think
1. I think the oral arguments in NFL v. Brady, with everything that's happened since then, seem like four weeks ago, not four days. I asked Andrew Brandt of The MMQB, who was in the Manhattan courtroom for the proceedings, to sum up what he saw and heard there:
- - -
There appeared to be a reversal of fortune for the NFL in the case of NFL v. Brady, appellate division. As pro-Brady as Judge Berman appeared at the district court level, the 2nd Circuit Court of Appeals panel of three judges was equally (or more) pro-NFL. The judges were well versed in the facts of this case; from the judges' vantage point, these facts did not look good for Brady. They even spotlighted Brady's destruction of his cell phone, speculating that commissioner Roger Goodell could have (1) punished Brady for that act alone or (2) increased Brady's suspension for such destruction but chose not to. In theory, courts do not immerse themselves in the facts of employer-employee arbitrations, yet both the Richard Berman court and the Court of Appeals have liberally plunged into the Deflategate particulars and expressed their (differing) views.
Jeffrey Kessler, the lawyer for Brady and the NFLPA, had a day to forget. Kessler enraptured Judge Berman yet annoyed and confused the 2nd Circuit. At one point an exasperated Judge Barrington Parker Jr., asked Kessler if he thought that Goodell was simply "out to get" Brady, to which Kessler replied that Goodell was trying to justify a $3 million expenditure on the Wells Report, an answer Judge Parker found unconvincing. 
This summer I noted caution as to Judge Berman's anti-NFL tone, and I should note similarly caution here. However, while Thursday's hearing could have been a complete "devil's advocate" ruse, two of the three judges—Parker and Denny Chin—showed their anti-Brady hand. If we are to read the tea leaves the court will either (1) directly reinstate Brady's four-game suspension, (2) send the case back to Judge Berman (whose name was never mentioned) to rehear with their instructions or (3) simply have Berman reinstate the suspension. The court stressed that they were "an expeditious court" which, in appellate court terms, should mean a ruling within six to eight weeks.
Assuming the NFL is successful, however, I am not convinced the league will enforce Brady's four-game suspension and, at the least, think they will be open to compromise. Remember, the NFL could have asked for a stay of Judge Berman's order in September to keep Brady from playing, yet chose not to. I claim no inside knowledge of the NFL's intentions, but this appeal has long since moved past punishing Tom Brady. The NFL has been intent on protecting commissioner power and preventing players (and lawyers) from running to court after receiving unfavorable discipline from Goodell. In my view, if the NFL is successful in protecting that precedent, there may be an avenue to common ground with Brady, with perhaps an implicit nod to Robert Kraft in the process.
- - -
2. I think one of the underrated guys who has made the move from the field to the media is former offensive lineman Ross Tucker, and I really think he encapsulated why Manning must have had a tough time making his decision, despite the fact that it seemed so obvious that it was the only thing to do. Tucker, writing in Sports On Earth: "I miss football. I miss the game. I miss the physicality which borders on brutality. I miss the strategy, the ebb and flow of a given contest. I miss running out onto the field in front of all of those people and then running around that same field trying to light somebody up like I had done since I was 12 years old and for years before that in backyard football with friends. I miss the roar of the home crowd when we scored a touchdown or the stunned silence of the away crowd when we got into the end zone on the road. I miss the satisfaction in the locker room after a victory of a job well done by a group of men coming together for a common purpose. I miss all of it. Why does that matter in March of 2016, a full eight years since I officially retired from the NFL? Because I still miss it and imagine I will for the rest of my life. It's also why I'm not surprised Peyton Manning took every last second he could to make sure that stepping away from the game was what he wanted to do." Superb, Ross.
• RESUSCITATING THE TITANS: Tennessee has been the worst team in football over the past two years. Good thing the man charged with turning around the team knows a thing or two about coming back from the dead
3. I think the NFL needs to punish the Atlanta Falcons—with either a fine or a suspension for the offending coach—for the incredibly gauche question one of the Atlanta assistant coaches asked Ohio State cornerback Eli Apple … and, perhaps, other players at the NFL combine. Apple was asked by an unnamed coach if he likes men. This comes after the NFL told teams forcefully that questions about sexuality must not be included in any interviews of prospective employees. The NFL has been adamant about it. It is time to put some teeth into a common-sense rule that was violated by an Atlanta coach. By the way, it was a strong anti-discrimination statement by Atlanta coach Dan Quinn that prevented me from eviscerating the organization. Quinn was justifiably outraged by the question. The league should be too, and should do something about it in the form of a sanction.
4. I think, while the NFL is at it, the league and the Falcons should reveal the name of the coach who asked the question. Why protect a discriminator? Especially because it's very likely the discriminator will be identified in the coming days by some media organization.
• THE POST-COMBINE MOCK: Tunsil on top, Cleveland gets Goff, and all the projections for Round 1 of April's draft
5. I think the most mysterious two players in free agency are Mario Williams and Victor Cruz. I have no clue if Cruz will ever be the electric player he once was. How can anyone know? He last played 17 months ago. What a phenom—18.7 yards per catch in his breakout year, 2011. But we don't know who he is anymore. Regarding Williams, he's 31 and coming off a grousing five-sack season playing for a coach whom pass-rushers love. I don't get Williams' dissatisfaction with Rex Ryan. But how do you figure what to pay each one of those players? I'd do heavily incentive-laden deals for both.
6. I think the Chargers would love to have major interest in their third overall pick. GM Tom Telesco, not a rarity here, wants additional high picks. How ironic it would be if the Rams, with an extra second-round pick, fall in love with one of the premier quarterbacks and have to trade into the top five to get one—and deal with a team that could well be a future stadium-sharing neighbor?
7. I think Greg Jennings—33 years old this season, dumped by a third team in four years on Saturday (Miami)—is going to have to have a hard time getting more than a minimum-salary-plus-incentives contract from anyone.
8. I think one of the reasons free-agent wide receivers won't get rich this year is not only because of the quality (who wants to pay $10 million a year for Mohamed Sanu?) but also the recent free-agent washouts at the position. Mike Wallace, Torrey Smith, Greg Jennings. Teams realize they're probably better off drafting and developing their own.
9. I think one thing I was hearing Sunday night from a couple of people in salary-cap-authority positions is that today could be a huge day for cuts. Teams are trying to get their rosters in order so they can be aggressive early in free agency. To me, it's a license to spend money that teams will regret later on. 
10. I think these are my non-football thoughts of the week:
a. Could we please have a little dignity in this presidential campaign?
b. Please?
c. I was reminded of that the other day when my wife and I took another trip (we had been last summer) to The Tenement Museum in lower Manhattan. This collection of rooms/apartments/bar-restaurants was recreated to show how immigrants of decades past lived very early in their American lives. I kept thinking: Every candidate for president should come to this museum, and see how important immigrants are to the fabric of our society—and how hard they worked to make good lives for themselves and their families. They made this great country what it is.
d. "This American Life." Wow. What a tremendous gift for people who like listening to great radio.
e. Story of the Week, from Maureen Callahan of the New York Post, reporting from York, Pa., on the reunion of an Afghanistan vet and his battle dog. And oh my gosh, what an incredibly human thing for dog-borrower Kim Scarborough to do. Please read and share.
f. Nate Silver, who said Donald Trump had roughly a five percent chance of being the GOP nominee for president, would probably like to have that one back. Silver is brilliant, by the way, and I don't point this out to demean him—rather simply to say the prognostication business is never a sure thing.
g. That's the equivalent of me once picking the Browns to win the AFC title. Good to see the geniuses are human.
h. Coffeenerdness: Changed planes in Detroit on the way out to Denver on Sunday. Had a 17-minute wait in the Starbucks line in the A terminal. (Probably serves me right.) Let's just say you can get cobwebs waiting for a coffee in that line.
i. Beernerdness: I am so boring with the beer lately. Found a spot in Manhattan that sells Allagash White, and I am not being very experimental lately. What can I say? It's my favorite—well, other than The MMQB Saison, of course.
j. Lord, what has happened to the athletic program at Boston College? In the last two months of the football season, BC was 0-8. Since Jan. 1, the basketball team is 0-18. Yikes.
k. Why is Rutgers in the Big Ten? Why is Boston College in the ACC?
l. I get BC, because of the Boston thing. It is absolutely bizarre that a major university located in one of the great cities in America cannot win at the big sports. But why would the ACC powers say yes to BC and no to UConn? Those two schools could have built a great rivalry (they already hated each other) and made the ACC more than just the southern branch of the Atlantic coast.
m. Rutgers. Big Ten? I never got it. Just a dumb, over-reaching move by a conference begging for wider acceptance. And I lived in Jersey for 24 years—and love the place. But Rutgers in a league with Michigan, Ohio State and Penn State? Absurd. Nobody in New York City cares about Rutgers. Nobody.
n. Ridiculously minor media pet peeve of the week: When the Metro Atlantic Athletic Conference is referred to by many, it's called the "MAAC Conference." I don't know why "Conference" gets added on to the end. That'd be like calling the National Football League the "NFL League."
o. I had fun doing this podcast last week with SI.com's Maggie Gray, where we touched on a variety of topics on and off the field.
p. Looking forward to joining former Patriots tackle Matt Light, ESPN Boston writer/analyst Mike Reiss and Boston Marathon race director Dave McGillivray on Wednesday from 6:30 to 10 p.m. at the Harpoon Brewery beer hall in Boston for a Boston Marathon Kickoff Party to benefit Light's foundation, the aptly named Light Foundation. The foundation has been given three race bibs and will use this event (tickets are $50 and $100) and the marathon to help Light fund-raise to help at-risk teenagers through leadership exercises and camps. We'll be talking about football—and whatever else you want to discuss. Free agency starts Wednesday, so I'm sure there will be lots of NFL stuff that'll be topical. Plus, Matt Light's one of the more opinionated players I've covered over the years, and Mike Reiss is a walking Patriots/journalism encyclopedia. Good fun will be had by all. For more information, visit Light's site.
* * *
The Adieu Haiku
One thing I wonder:
What are the odds that Peyton
cries saying goodbye?
• Question or comment? Email us at talkback@themmqb.com.