Osweiler Sets the Market
Brock Osweiler's $18 million-per-year deal with the Texans will play into where Ryan Fitzpatrick ends up, plus more takeaways from a hectic first day of NFL free agency
10 thoughts on Wednesday's wild free-agent movement, and how it will affect the market in the days ahead.
1. Knowing Brock Osweiler's agent, Jimmy Sexton, my sense is he gave the Broncos a target number, likely the $18 million a year that Sam Bradford signed for a week ago, and then just waited Denver to meet it, which never happened. Meanwhile, the Texans certainly knew—as the non-incumbent team—that they would have to at least meet or exceed that number, which they did. There were reports that Osweiler ignored calls from Broncos coaches and teammates lately; when coaches and teammates are calling, that usually means the team knows the money is not what the player wants. As teams always say, "It's not personal; just business." In this case, however, it seemed both business and personal, as Osweiler appeared to be looking for a way out. As for the Broncos, while others fret about where they go at quarterback, they undoubtedly have a plan. The reality of teams losing players is that they panic about replacing them far less than fans and media do.
2. Speaking of Sexton, he is likely playing the same waiting game with quarterback Ryan Fitzpatrick. Sexton and his team have probably given the Jets' the same number, the $18 million average that Bradford and now Osweiler have, and are sitting and waiting. The difference here is that Fitzpatrick may not have that eager outside suitor that Osweiler had with the Texans. Yes, the Broncos could be in play for Fitzpatrick, but my sense is that is not what they are looking for. Thus, the Jets and Fitzpatrick may stare each other down until one blinks.
• GIANT SURPRISE: Peter King on how Olivier Vernon's $85 million deal went down in seven dizzying hours
3. It is an agent's dream to have a player drawing interest from teams such as the Jaguars and Raiders. Those clubs not only had the most money to spend in free agency but were the only two teams that were below the mandatory minimum spending threshold for 2013-16—the Raiders by $41 million entering free agency, and the Jaguars by $28 million, according to the NFLPA. And Jacksonville and Oakland can continue the favorable salary cap situation they have now created by structuring contracts to absorb most or all of the first-year cash number in the first-year cap number. Matching cash and cap is the optimal way to manage a team's finances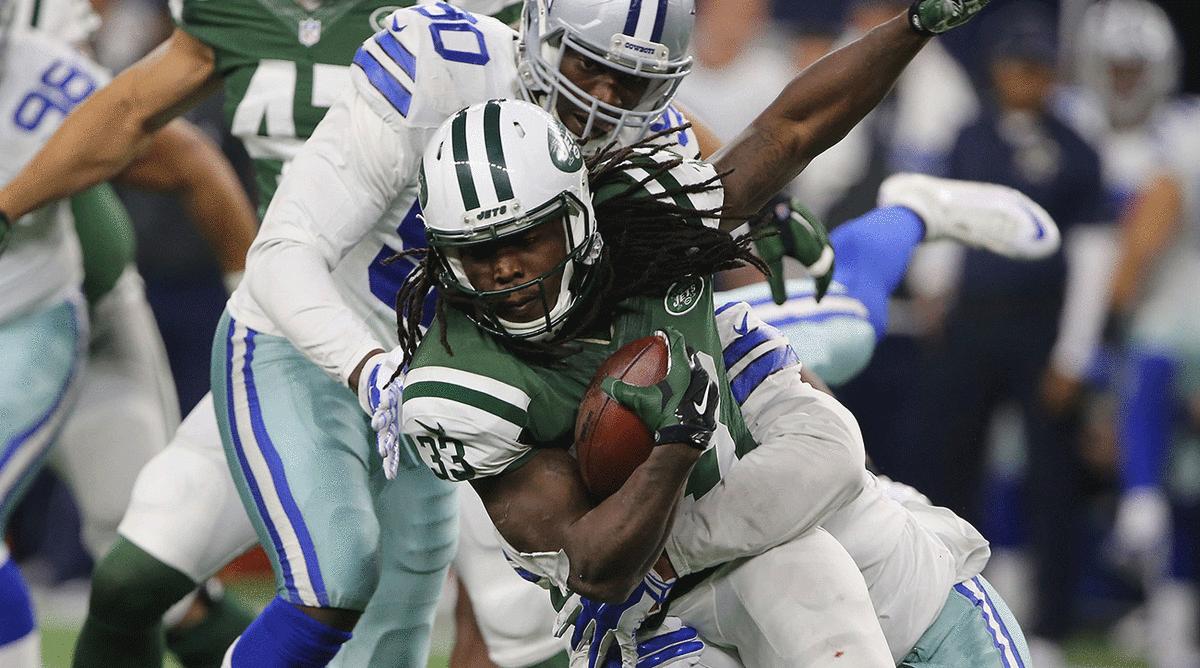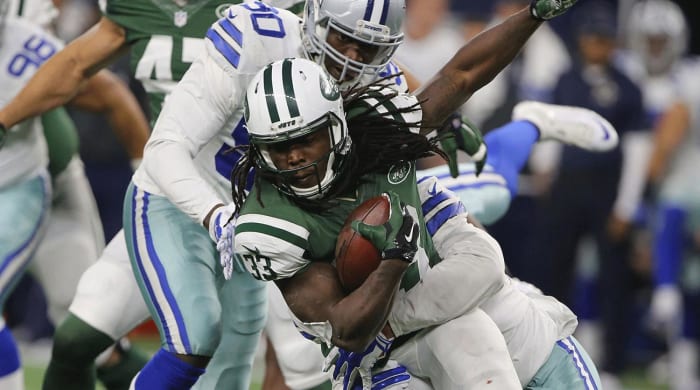 4. The upper-echelon running back market settled among four players. Chris Ivory (Jaguars), Lamar Miller (Texans) and Doug Martin (Buccaneers) dropped in the $6-7 million range, joined by DeMarco Murray in his restructured deal with the Titans. This was certainly not a coincidence with agents talking amongst one another during the legal tampering period. These are strong second contracts for the position with the shortest shelf life in football. I do predict, however, that none of these contracts play out all the way, as teams typically move on to younger and cheaper versions before these second contracts expire. As Matt Forte (allowed to walk by the Bears; signed with the Jets, reportedly for significantly less than the $6-7 million of the upper-echelon backs) and Arian Foster (cut by the Texans; still on the market) recently learned, this is the unfortunate reality for running backs after six to seven years in the league.
5. The Eagles's sell-off of Byron Maxwell and Kiko Alonso to the Dolphins was shrewd, as it (1) moved tens of millions of future dollars for Maxwell off of their books, and (2) allowed them to move from 13th to 8th in the draft to select a blue-chip player they have likely targeted. However, their gifting of Murray to the Titans for the bargain basement price of switching fourth round picks was a "ham sandwich" trade if there ever was one. Murray will certainly be better than he was in Philadelphia, although not the player he was in Dallas.
• MOCK DRAFT MOVES: How free-agent deals and trades have shaken up the top of this year's draft
6. The Dolphins put a transition tag placeholder on Olivier Vernon while surveying the market, eventually signing Mario Williams and rescinding rights to Vernon, allowing him to go to on the unrestricted market. And what a market it was, as Vernon leveraged a massive deal with the Giants with $52.5 million guaranteed and cash flows of $29 million in year one, $41 million through year two and $54 million through year three. Vernon, along with Osweiler, Malik Jackson and Janoris Jenkins, becomes one of the true golden-ticket winners in the 2016 free agent class.
7. Speaking of Vernon, much was noted about his contract zooming past that of J.J. Watt, universally recognized as the top player at their position. While few debate that Watt is "better," he negotiated his deal a year before hitting free agency. Vernon was able to negotiate with multiple interested teams instead of only one, as Watt did. When presented with tens of millions on the table in a game with high injury risk, most players are like Watt and take the deal. For those willing to risk waiting until free agency, they can truly cash in.
• HOW PEYTON CHANGED THE GAME: Peter King on Manning's transformative role and lasting football legacy
8. Players such as Jason Pierre-Paul (Giants), Charles Johnson (Panthers), Tamba Hali (Chiefs) and Richie Incognito (Bills) did get to free agency but turned around and went home. They used the legal tampering period to look behind Door No. 2 and decided what was out there was not better than what they had, thus returning to where they were.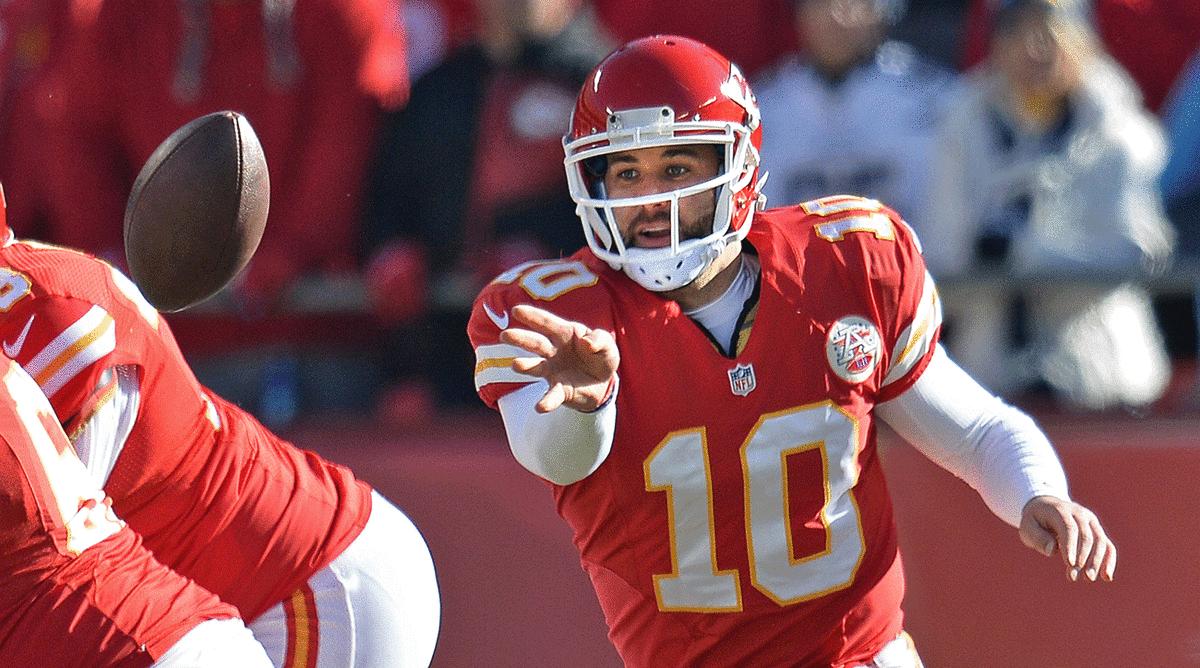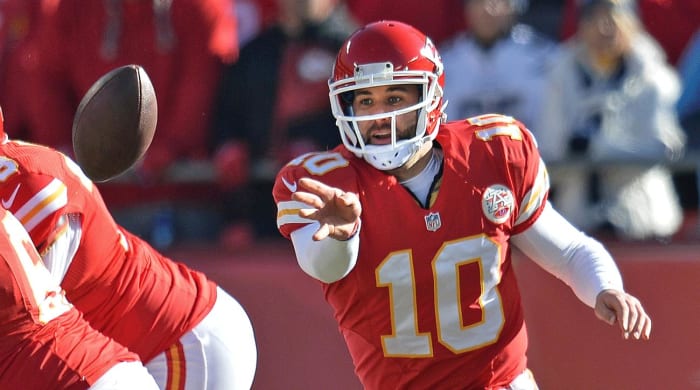 9. Quarterback Chase Daniel hasn't played much in his career but is a winner in the business of football. In 2010 he signed a three-year, $10 million contract with Kansas City, where he appeared in 10 games ($1 million per game appearance). That contract ended yesterday when he signed a three-year $21 million deal with the Eagles, with more guaranteed money—$12 million—than his entire Chiefs contract. Time will tell if Daniel actually plays much in Philadelphia, but he's already won the game off the field.
PODCAST: PETER KING ON MANNING, MANZIEL, MORE
10. Finally, in an unexpected surprise of the day, the NFL imposed significant tampering discipline on the Chiefs (forfeited draft picks) and their coach Andy Reid and general manager John Dorsey (fines) for their deal with Jeremy Maclin when he was still under contract with the Eagles a year ago. The Chiefs will appeal and, as we know, there will be lawyers. Penalties such as this do not come lightly or without significant evidence; this had to come from a party that feels it was wronged, and that party has to be the Eagles. That sounds from the Chiefs offices now is a Jerry Seinfeld voice with a Newmanesque curse directed at the Eagles general manager: "Howie!!"
• Question or comment? Email us at talkback@themmqb.com.