Treadwell Finally Runs
At the biggest pro day in Ole Miss history, all eyes were on star receiver Laquon Treadwell for his 40-yard dash. What his time means, plus, the man who ran a 4.19 steps into the spotlight
OXFORD, Miss. — Fresh off what was his first major disappointment as a professional, Laquon Treadwell fielded the inevitable query about his lackluster 40 time with a few words that might have been spoken by any number of draft prospects this spring.
"I'm proud of myself," he said. "I got it over with."
The former University of Mississippi wide receiver will probably never have to run a 40-yard dash again, but he will have to hear about it over and over until draft night, and maybe for a while after that.
There's a lot to cover this week, with pro days winding down and teams beginning to solidify their draft boards a month away from showtime. We'll get to Treadwell and how his slow time might affect his draft position, but first a note about the biggest pro day in one program's history. Sixty-three NFL personnel showed up Monday to see a trio of Rebs recruited by Hugh Freeze in 2013, the same year not a single Ole Miss player was drafted.
Offensive tackle Laremy Tunsil bolstered the notion that he could end up Tennessee's choice as the No. 1 pick in the draft. With Titans coach Mike Mularkey and GM Jon Robinson in attendance, Tunsil cranked out 34 reps of 225 on the bench and dazzled with his footwork in position drills. Robert Nkemdiche, who is less of a sure thing to be drafted in the first round thanks to some off-field worries, did enough on the field to verify a bevy of tools. Yet more than half the league's clubs are scheduled to meet with him privately this month to decide exactly where to peg the prospect in a stacked defensive line class.
It was a banner day for a program that could influence the first round of the draft unlike any in recent memory.
• X FACTORS AT THE TOP OF THE DRAFT: Growing interest in Paxton Lynch and Jalen Ramsey—and a potential major move by the Rams for a QB—could shake up the first 15
* * *
It's very difficult for a prospect to dramatically raise or lower an NFL team's estimation of him at a pro day. But if you're a wide receiver with top-10 aspirations who runs the 40-yard dash in 4.63 seconds, you're well on your way. That's where Treadwell finds himself after performing on the indoor turf of the Manning Center.
Treadwell earned mixed reviews after a solid workout marred by a slow dash.
Said one high-ranking evaluator in attendance: "The thing is, I think he ran what people expected him to. It's not a good time, but this is the kind of player where all you have to do is turn on the tape to understand that he plays faster than that."
Said another scout from a rival club: "Treadwell hurt himself a little. He looked good in position drills and has strong hands. He can win in contested situations and he'll have to with his speed. He might be a 20 to 32 guy now. Could've been a 10 to 20 guy if he ran in the mid 4.5s."
It seems silly, with hours of game film at our disposal, to make such a categorical assessment based on a single metric, but history supports the notion that Treadwell ran himself out of the Top 10. He might have even slipped out of the Top 15. Here's a list of the 15 wide receivers drafted in the first 15 picks over the last 10 drafts, with their 40 times:
Amari Cooper: 4.42
Kevin White: 4.35
DeVante Parker: 4.45
Sammy Watkins: 4.43
Mike Evans: 4.53
Odell Beckham Jr.: 4.43
Tavon Austin: 4.34
Justin Blackmon: 4.46
Michael Floyd: 4.47
A.J. Green: 4.47
Julio Jones: 4.39
Darrius Heyward-Bey: 4.30
Michael Crabtree: 4.51 (high school; did not run pre-draft)
Calvin Johnson: 4.33
Ted Ginn Jr.: 4.28
The only player who ran slower than 4.5 at a pre-draft workout was the 6-5, 230-pound Mike Evans, who also jumped 37 inches. Treadwell, who is two inches shorter and 15 pounds lighter, leapt 33.5 inches. It would appear there exists a well-defined threshold for athleticism to be drafted in the top half of the first round. To spend that kind of capital on a wide receiver, most teams want a player who can take the top off a defense and present that threat on every down; in other words, a player whom teams are forced to game-plan around.
Houston drafted a guy who many presumed did not fit that bill three years ago. DeAndre Hopkins ran a pre-draft 4.57 at 6-1, 210, before being taken with the 27th pick. And all he's done since is catch 239 passes for 3,533 yards over three seasons. At that spot in the first round, he was a steal for a team in desperate need of offensive firepower. After this week, Treadwell may find himself in the same bargain bin.
• JARED GOFF COULD BE THE NEXT TIM COUCH… IN A GOOD WAY! The links between the (unjustly maligned) quarterback who relaunched the Browns in '99 and the Cal product who could be Cleveland's next presumptive franchise QB
* * *
I had the pleasure of attending the Western Kentucky pro day on Tuesday and saw something I'd never seen in four years covering the NFL. Sitting in the bleachers while the Western Kentucky athletes were warming up was agent Drew Rosenhaus and an undersized wide receiver with a wavy afro and Beats by Dre headphones around his neck.
Wendall Williams, the super-small-school prospect who made headlines for running a ridiculous 4.19 40-yard dash and leaping 45 inches at a regional combine in Minnesota this month, was signing a representation contract on the spot. Williams played NAIA ball three hours down the road at University of the Cumberlands in Williamsburg, Ky., and the folks at WKU agreed to let him run another 40 and catch passes for NFL personnel after the FBS athletes were through.
Williams measured 5-10 and 184 at his regional combine; he was lighter on Tuesday after dropping some weight due to the flu. The Syracuse native is 25 years old, having attended three colleges before dropping out of school to drive trucks. He went to Cumberlands to run track and play football for his final two seasons of eligibility, catching just 31 balls in two seasons.
Right about now you're probably asking yourself, What's the upside? Why is Drew Rosenhaus, one of the NFL's super agents, signing Wendall Williams? For starters, Williams averaged an impressive 30.5 yards on his 15 catches in 2015, with eight touchdowns, and he returned four kicks for touchdowns last season.
Also, don't forget, he ran a freaking 4.19.
So Williams laced up gold cleats and lined up to run another 40 with about two dozen scouts waiting at the finish line, 20 minutes after most WKU athletes had left the premises. He jumped up and down and swung his arms as a scout stood with him at the starting position and joked about his hometown Syracuse men's basketball team making the Final Four. The scout later said Williams didn't need any calming down.
"When I get in situations like this I love competition, so it's a natural thing for the inner athlete to take over," Williams said later. "I don't shy away from situations like that."
Rosenhaus and partner Jason Katz lamented that Williams was coming off a flu for which he required antibiotics. "You still have to take advantage of the opportunity," Rosenhaus said.
With scouts hand-timing him, Williams ran consecutive 40s in the 4.3s.
"At some point, the numbers don't make a difference," said one scout. "I think we can all agree he's fast."
After a series of agility drills, WKU assistant and former NFL quarterback Brian Brohm agreed to toss Williams as many passes as he could run down in his condition. He slipped on the first two routes, a quick cut to the sideline and a short hook. After about a dozen passes Williams had shown nimble if imprecise route-running and reliable hands, but he knew he needed to show something more. On his last route, he sprinted straight down the left sideline and looked up to see a spinning football that would have been out of reach for most of humanity.
Head back, hair blowing, chest out, Williams reached forward and snagged it in stride.
Rosenhaus, standing 20 feet away, called out to his new client: "You just made yourself some money! Good for you!"
After a group interview at the 50-yard line during which scouts and coaches quizzed Williams on his athletic history and family life, Williams sat on the sideline, unlaced his cleats and smiled. "I needed that last one," he said. "God threw me a bone."
• A CHIP-KELLY-JARED GOFF MARRIAGE?: And The MMQB staff touches on other draft topics in this week's roundtable
* * *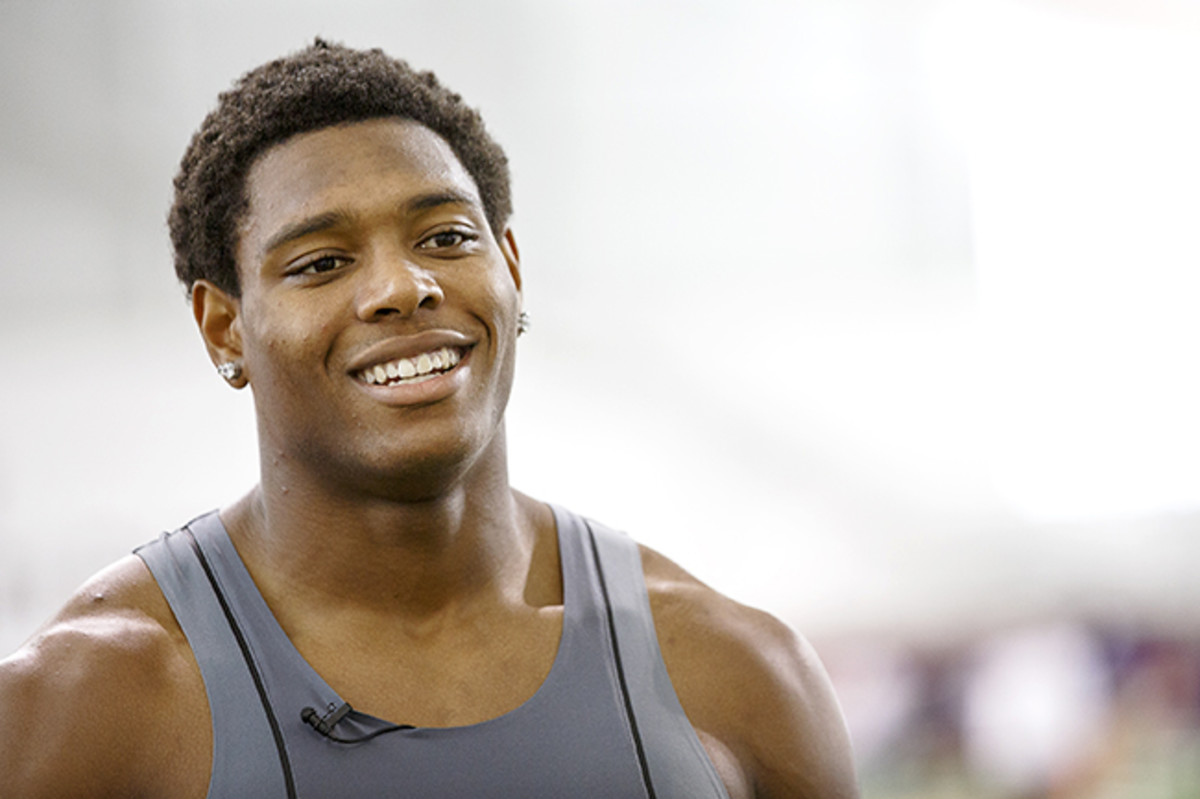 1. Rainstorms in Miami came as a disappointment to representatives from 31 teams hoping to watch Hurricanes cornerback Artie Burns and safety Deon Bush in action on Wednesday. (Alumni in attendance included former Ravens safety Ed Reed, who is now an assistant with the Bills). Miami is the only ACC program without an indoor facility, and Florida, Florida State and Central Florida all have one. Last May, athletic director Blake James said a new facility would require a "significant gift."
2. The scouting world convenes at Notre Dame today for the last of the must-see pro days of this draft season. Three potential first-rounders—offensive tackle Ronnie Stanley, wide receiver Will Fuller and linebacker Jaylon Smith—are expected to participate. The man with the most to prove is Smith, who has reportedly been taken off of several draft boards since it was learned at the combine that his injured knee could require a full season of recovery. The pro day circuit concludes on Wednesday in Memphis, where quarterback Paxton Lynch is expected to make his final case.
3. If the Titans agree with FSU cornerback/safety Jalen Ramsey's assessment that he's the best player in the draft and select him No. 1 overall, Tennessee would make history; not since 1956, when the Steelers chose Gary Glick out of Colorado State, has a defensive back gone No. 1 overall. Glick was the first-ever defensive back taken No. 1, and I believe he'll remain the only one after April 28. The notion that quarterbacks will go 1 and 2 in 2016 is one that's gaining steam.
4. Western Kentucky tight end Tyler Higbee was impressive catching passes at his pro day, from teammate and draft hopeful Brandon Doughty, 15 weeks after knee surgery. Higbee, who caught 38 passes for 583 yards and eight touchdowns in nine games last year, drew tight end coaches from eight teams to Bowling Green, Ky., on Tuesday. The list: Detroit, Arizona, Cincinnati, Indianapolis, Los Angeles, San Diego, Seattle and Tennessee. The Bengals, who were not represented at the Florida State pro day on the same day, sent three reps to the nearby school. At 6-6, 250 pounds, the converted wide receiver projects as a third- or fourth-round pick who has room for growth in his run blocking.
* * *
Quotes of the Week
I
"If you wanted to kill a guy, would you kill him with a gun or a knife?"
—The strangest question LSU safety Jalen Mills says he encountered from a team at the NFL combine. Added Mills: "How they grade it is, if you choose the knife, now you're killing for fun, because you have to continuously stab somebody."
II
"There have been too many teams that have called to set up private workouts, and I think Su'a's body of work on film speaks for itself. Su'a is a football player. He is a playmaker at whatever position he's at, whether it's safety or linebacker. Su'a has three years of film while an All-American at USC, plus he did the combine and did everything at his pro day on March 23 where all 32 NFL clubs were present."
—Fadde Mikhail, agent for USC's linebacker/safety Su'a Cravens, explaining his client's unorthodox decision to turn down individual workouts with teams.
• FOR JIHAD WARD, IT WAS THE JOURNEY: The Illinois defensive lineman is still fueled by his grueling junior college days in New York City
Stat of the Week
87.9
That's the QBR for the top-rated college passer in the FBS in 2015, according to ESPN. It doesn't belong to Jared Goff, Carson Wentz or any of the quarterbacks being discussed as potential first-rounders. In 2011 ESPN's analytics department came up with QBR as an alternative to the more widely accepted passer rating formula, and for 2015 it crowned Arkansas senior Brandon Allen as its most effective passer. Granted, QBR has some well-documented flaws—ProFootballTalk noted that the top-rated passing performance in NFL history according to QBR is Charlie Batch's 186-yard, two-interception performance against Tampa Bay six years ago—yet there just may be something to being judged the top-rated college quarterback by the metric, as an agent pointed out to me at a recent pro day. Here are the last seven highest-rated passers by season. With only one glaring exception, each has enjoyed varying degrees of success in the NFL.
2009: Colin Kaepernick, 80.8
2010: Andrew Luck, 93.8
2011: Russell Wilson, 94.1
2012: Johnny Manziel, 86.3
2013: Jameis Winston, 87
2014: Marcus Mariota, 87.3
2015: Brandon Allen: 87.9
Hot Take of the Week
The geniuses over at Patsfans.com have begun what they're calling the Draft Day Round One Blackout Initiative in protest of the NFL's decision to strip the Patriots of their first-round draft pick as a result of the Deflategate investigation. Basically, they don't intend to watch the first round of the draft, and they put together a YouTube video heavy on the Ken Burns effect to express just how steamed they are.
Jerry Thornton of WEEI Boston passed along the message, adding that the gesture has "some merit." Wrote Thornton: "If it's successful, it will directly affect the NFL's bottom line." A poll on the site showed that 77% of respondents—nearly 500 folks—believe "it will cost the league ratings and money."
I'm confident the suits at Park Avenue, who recently approved construction of a $2.66 billion stadium in the Los Angeles area, are quaking in their Ferragamos.