The Pain of J.J. Watt
With his groin muscle tearing off the bone, the Houston pass rusher still turned in the best season by an NFL defensive player in 2015. The MMQB went to Wisconsin to check on Watt's rehab and get his opinion on the NFL's early retirement trend. Plus draft notes on L.A., Dallas and more
OCONOMOWOC, Wisc. — In J.J. Watt's kitchen, in his luxury log-cabin getaway in the Wisconsin countryside, he has written one of his favorite sayings (he has a few of these) on a circular chalkboard. Watt sees it daily when he's here, which is about four months a year. The three-time NFL Defensive Player of the Year likes it so much he wears the words on a medallion around his neck.
Today I will do what others won't
So tomorrow I can accomplish
What others can't.
"Pretty sure it was Jerry Rice who said it," Watt said. "It's pretty significant."
But after the nightmare of last season—a sports hernia injury, a significantly torn groin, a broken left hand and a herniated disc—the question is whether his body is telling Watt he's pushed the limits too far.
Maybe a better question: "How does one win defensive player of the year with the groin muscle nearly fully detached from the bone?"
Or this: "How does one walk with the groin muscle nearly fully detached from the bone?"
Current events first. Watt is cutting back on his off-season workouts, if going from 10 workouts a week to nine qualifies as a reduction. He said he worked out twice a day five days a week last offseason; this year he said he goes six days a week, with three of those two-a-days and three one workout per day. When he reports for the first day of the Texans' offseason workouts today in Houston, he will be 14 weeks removed from the groin surgery.
"The thing I am working on right now is just my strength and getting it back to where it was—and beyond," Watt said on Thursday afternoon, walking his 36-acre property. "I can go forwards, I can go backwards, I can go side to side, but when I go to cut, that's where I am still working to get back. It's almost there. My explosion is getting there. I am very, very close to being back to 100 percent. But I never want to just get back to where I was. I want to build to be better than where I was."
So, yeah. He's really scaling back.
* * *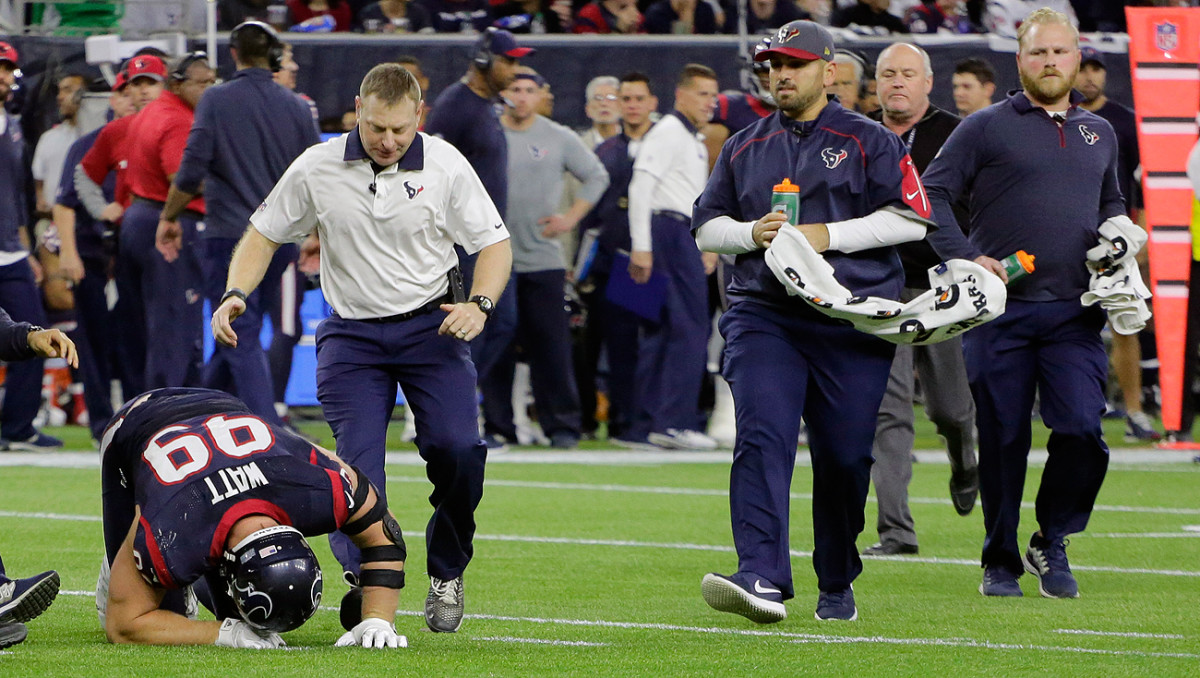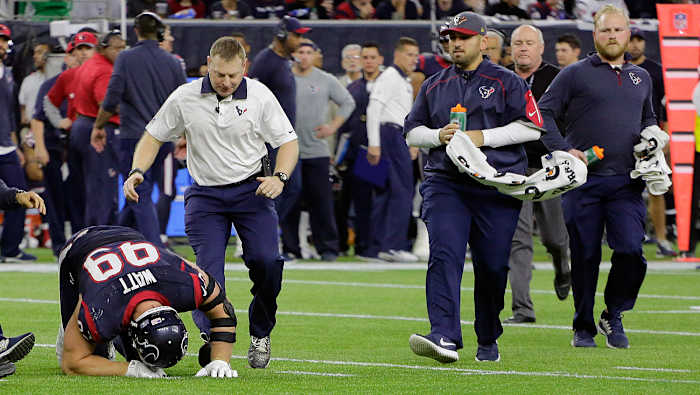 In the past four years, Watt has been the most dangerous defensive player in football. Of that there is little dispute. Playing all over the defensive line, he has a league-high 69 sacks. He's proven he can win with speed outside, and power and speed inside. If you combine, per year, his sacks, quarterback pressures, quarterback hits and passes batted down—the stats that, per Pro Football Focus, really define the impact of a pass-rusher—2015 was his second-best season. The numbers are interesting, combining those four vital pass-affecting categories:
2012: 90.5.
2013: 90.5.
2014: 128.5.
2015: 96.5.
In 2012, 2014 and 2015, Watt was voted NFL Defensive Player of the Year. At 27, after five NFL seasons, he's won the award three times. Lawrence Taylor, who played 13 seasons, won it three times.
Watt, in various and sometimes cryptic interviews in the past month, has hinted at the difficulty of what he accomplished last year, and at how long he'll continue to play football. Last week, on a stroll on his placid acreage in southeastern Wisconsin, 40 minutes west of Milwaukee, he got specific about how tough his 2015 season was.
"I'm sure if the trainers had their way I probably wouldn't have played," Watt said, "but yeah, it was pretty bad. How did I do it originally? Well, there were five of them [tears], so each one kind of went on its own, as it just started to unravel as the season went on. I honestly don't know when the first one happened. We tried to pinpoint it and figure it out, but as it went on, another went and another went and by the end it was just basically patchwork to try and make sure everything stayed together.
"You fight through some excruciating pain, you have very good doctors, and you just grind through it, that's all. Because if I can physically step on the field and play, I'm going to. That's just the way it is."
"It was very serious. Obviously it required a ton of reconstructive surgery. I was never not going to play in the playoff game [against Kansas City Jan. 9]. That would never happen. Obviously they held me out late in the game. But I doubt I would have been able to play past that game. That's when I tore the final one off the bone.
"I played because you have other muscles that compensate, you fight through some excruciating pain, you have very good doctors, and you just grind through it, that's all. ... Because if I can physically step on the field and play, I'm going to. That's just the way it is."
The groin and sports hernia surgery was Jan. 12. Doctors told him the procedure should take an hour. But it took two-and-a-half.
"When I came out, I said, 'How'd it go?' And they were like, 'It was much more than we thought it was going to be. There were more incisions than we thought there was going to be, there was more reconstructing than we thought there was going to be.' But they fixed it all, and that was the main part. And obviously the recovery was going to be longer than we thought it was going to be. That's just the way it goes, that was just a new obstacle. And for me, all the stuff happening was my body's way of saying, Hey, maybe you need a chunk of time to rest your muscles and let them heal. So I took that time."
On Sunday, I asked a surgeon with specialties in sports medicine, orthopedics and groin and sports hernia operations about Watt. Thomas Gill, a team physician with the Patriots from 1998 to 2014, made two things clear: Because he hadn't examined Watt, he didn't know the specifics of his case. And he said he had great respect for the Texans medical staff. He could comment only generally on a player playing with a significant groin and sports hernia injury.
"If he had the kind of significant groin injury, with the kind of surgery you've described," Gill said, "absolutely you could try to get a player to play through that. But seldom would you ever see a player play at the level of a defensive player of the year under those conditions."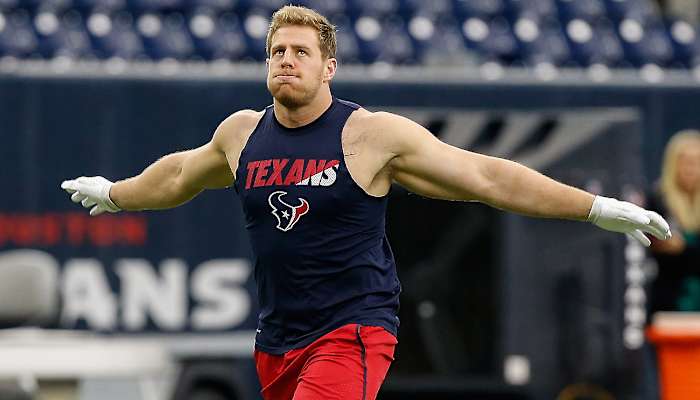 It's hard to tell anything looking at Watt now. He's sculpted in the upper body the way he's always been, his arms and shoulders like those of powerlifters. He doesn't limp or grimace moving around his home, or walking quickly on his property on a brisk, sunny afternoon.
Watt's the kind of person, though, who creates new obstacles when he can. It must get boring being the best at something four years running, and so he actually looks at this post-surgery period with some excitement. Look at the way he approaches his week-to-week life in the league. Last year, his groin barking and his sports hernia getting worse and having to overcome his broken hand, Watt finished the regular season with a three-sack game against Jacksonville. Then he aggravated the groin in the playoff game against Kansas City, and he was out.
He had to take five weeks after surgery with no physical activity. He didn't waste it. He went to Dublin with 10 buddies and they traveled the city and the Irish countryside. In the bar of his log cabin (if that's a log cabin, then Fairfield Inns are Ritz-Carltons), he's got some great souvenirs from the Guinness Brewery: Guinness glasses with "JJ WATT" etched on them. But when the five weeks were up, Watt was back in Wisconsin on his crazy workout routine.
"All this now," he said, "what it did for me is it create a brand new mountain for me to climb. At the end of the season, when you're healthy you take a week and you start training again. So you've been at the top of the mountain, you go a little bit down, but not very far, and then you have to try to create a new mountain to climb. Well, this time I basically went all the way back to the bottom of the mountain. So it gave me a chance to build that fire back up in me to say, 'Okay, now I get to reclimb this entire mountain. And it's exciting. It's kind of like being a young guy again.'
"I'm sure I frustrate the trainers—in fact, I know I frustrate the trainers to no end. But I think there's a very fine line. I listen to their advice. I take their medical expertise very seriously. But then I also, the reason I am where I am, the reason I play the way I play, is because I push beyond normal. I push beyond what's expected, I push beyond what people think is normal to do, so when a doctor tells me, You probably shouldn't be doing this, or I should be doing it this many times, or I should be doing this much weight, I'm like, 'I appreciate that. What are my risks?' And then if it's something I truly feel I can handle, I'm gonna push it as far as I can possible push it."
"I'm not one of those guys who's out here, mad at the world because I'm getting my head hit."
Funny thing: The toughest game he had to play all year—in terms of the physical challenge—was a midseason game at Jacksonville. He caught some kind of virus that made him feeble. "I had been in the hospital the day before the game, and then the night before the game I had the doctors in the room giving me two hours of an antibiotic IV," he said. "We don't really know what I had. On game day at 6 a.m. they came to give me two more hours of IV, and then after the game I got more IV. That was the most draining game I have ever been a part of."
Watt, in recent weeks, has said he doesn't know how much longer he's going to play. Some have taken that to mean he might play only two or three more years. That's true … but he also might play eight or nine.
"I have no idea when it's going to be, when I'll retire," he said. "I'm not saying it's not going to be two, three, four years. But I'm also not saying it's going to be nine, 10, 11 years. I literally do not know the answer. What I do know is I'm going to continue to train my ass off. I'm going to continue to work to be the best player in the world, and whenever that doesn't sound fun to me anymore, that's when it's over."
* * *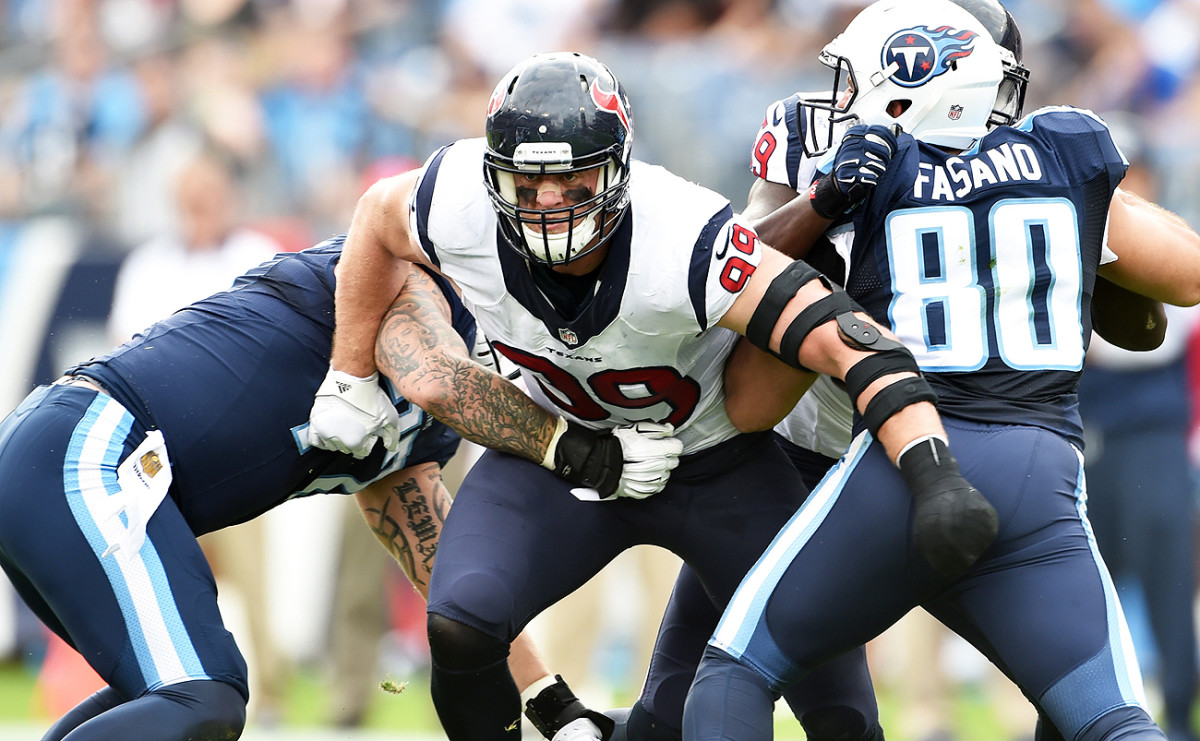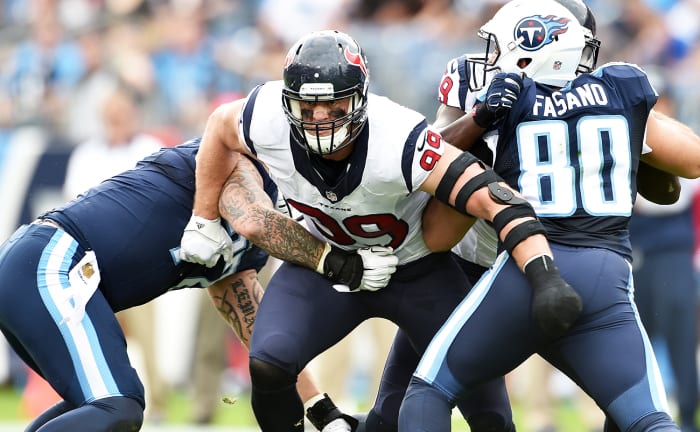 Watt is not exactly matter-of-fact when he talks about all this. But it's routine. To him, there's nothing really extraordinary about a person trying everything possible to do the best job he can.
There was one other thing I wanted to know: how he felt about players leaving this violent game before their time, rightfully concerned about the long-term effects of head trauma on their lives. Has he thought of it?
"So," he said, after thinking about how he wanted to say this, "I respect every guy that has walked away. I think every single guy in this league makes his own decision, and that's perfectly fine. The reason I respect that and the reason I think every guy has his own way of dealing with things, is because in my personal opinion I know what I'm getting into. I know that I'm going out there and I know that I am going to get hit in the head, I know that's part of football. That's like a firefighter knowing he is going to go into a fire at some point. You know you are going to be put in danger's way, and you accept that risk and you do it.
"I choose to continue doing it. That's my choice. If I wanted to walk away, I could.
"But I love the competition. I love everything that comes along with competing on a day-to-day basis. I love my team. And I love what the game does for not only myself, but helping to inspire millions of people. I'm not at that point [of leaving the game]. I can't say that I will never get to that point, but I know the risk going into it and I'm a grown man and I can make my own decisions. So I'm going to continue to play until I feel like that risk is too great. And maybe there is a difference because I am a single 27-year-old, as opposed to having a family and kids to think about. But I think it's one of those situations where you understand the risk and then you use that information to make your own decision.
"So a guy like Chris Borland used that information to make the decision that he didn't want to play. And that is absolutely great for him. I know the information and I continue to play. As long as you have the proper information and you use that, then you can make whatever decision you want. But I'm not one of those guys who's out here, mad at the world because I am getting my head hit.
"Yeah, I play football, I'm going to get my head hit. That's the way it goes. People love it."
Such a complicated subject, with so many tentacles. But not really to J.J. Watt. As with everything else in football, to Watt it comes down to effort. He still loves investing it, and it sounds like he'll play as long as his investment pays off the way it has the past four seasons—good health willing.
• WHY I WALKED AWAY FROM FOOTBALL AT AGE 23: A.J. Tarpley's first-person piece on his recent retirement
* * *
The action at the top of the draft is not done
I'll write more about the Titans-Rams trade in the coming days (if you're a fan of either team, I urge you to check back for it; it's likely to run here at The MMQBonWednesday), but that tops the list of things I'm hearing about the draft, which, mercifully, is just 10 days away.
• "Do we want to be the Chiefs, Texans or Jets?"That's a question that bounced around the Rams' hierarchy over the past three months, as they decided whether to break the bank to move up to No. 1. In other words, three franchises trying to go deep into the playoffs with strong defenses and questionable quarterback situations (though I'd argue Kansas City is better than that, but I'm not the one asking the question). The quest for the quarterback gained momentum as the off-season went on, got very serious at the Ole Miss Pro Day on March 28, and was consummated because it made too much sense for the needs of both teams.
• Goff's the leader in the clubhouse for the top pick, but there is still one other golfer on the course.I get that everyone wants to know who the top pick is, and I believe, as Mike Silver and Adam Schefter have both reported, that Cal's Jared Goff has the edge inside the Rams' organization over Carson Wentz of North Dakota State. But one of the reasons the Rams made this decision now is because they wanted two weeks to cross all the T's before making the pick on April 28. The team will take some of the focus off all the choices between, say, 10 and 75 on its board now (wideout Josh Doctson, safety Karl Joseph, corner Xavien Howard, for example), and laser-focus on the two quarterbacks and the lower-round players on their draft board. I've heard that one of the reasons the decision isn't done with finality is the love of Wentz inside the organization. The Rams think he has rare maturity and would be fine handling the pressure that comes with being the first pick in the draft—and a billboard on Sunset Boulevard. So we'll see.
• INSIDE THE FILM ROOM: Andy Benoit studies game tape alongside Jared Goff, breaking down the subtleties and savvy of the future franchise QB
• So now, effectively, Cleveland's on the clock.I keep hearing Cleveland favors Goff, but I also keep hearing the Browns want to trade back. "Cleveland's active, doing their due diligence," one front-office source said Saturday.
• Spitballing on who might be aggressive in trying to move up. Too much talk around the Eagles (eighth overall pick) trying to get up for a quarterback to dismiss it. So that's one. Two: Dallas (picking fourth), with Jerry Jones and Jason Garrett loving what they saw in Goff, and already liking Wentz a lot from the staff's time coaching him in the Senior Bowl; my guess is Dallas is more of a Goff team. Three: The Jets (20th), though as ESPN's Rich Cimini wisely pointed out, moving up to number two would likely cost them their best defensive player, unsigned defensive end Muhammad Wilkerson. To jump that high would require a high amount of capital, and Cleveland would have to want to take on a huge contract (maybe $18-20 million a year for Wilkerson) and be willing to move from two to 20—and perhaps get another sweetener to do the deal. Wilkerson is 26 and a sure thing, so I wouldn't blame Cleveland for doing it. But if the Browns pass on a quarterback who becomes a star and Robert Griffin III struggles—well, bring on the next front-office crew. Four: Denver (31). It's silly to even think, because it would take so much to move this far. The only way it makes a scintilla of sense for the Browns is if Denver parts with the expensive Von Miller. I just don't see it. But I include Denver here because I can't see John Elway entering camp with, say, Mark Sanchez, Nick Foles and Connor Cook. Doesn't mean it won't happen, but it would surprise me.
* * *
Quotes of the Week
I
"I hate guns."
—New Orleans Saints coach Sean Payton, to Jarrett Bell of USA Today, after former Saint Will Smith was murdered in New Orleans, shot eight times, seven in the back, after a minor traffic accident.
• A SENSELESS DEATH, A BROKEN CITY: As investigators piece together the events that led to Will Smith's death, violence-plagued New Orleans takes stock and asks whether a football hero's loss will make any difference
II
"Two hundred years from now, they're going to look back and say, 'What was that madness about?' The idea that we need [guns] to fend off intruders … People are more apt to draw them [in other situations]. That's some silly stuff we're hanging onto … I'm not an extreme liberal. I find myself leaning to the right on some issues. But on this issue, I can't wrap my brain around it."
—Payton, to Bell.
III
"We tried to use that pick as currency to work the draft and maximize player acquisition. Being able to acquire six picks in the top 76 this year and additional picks next year not only helps our depth but gives us ammunition to move in this year's draft and next. I know we now have the number 15 pick, but I would say it doesn't knock us out of any player except one. We now have the ammunition to work the draft."
—Tennessee GM Jon Robinson, after pulling off one of the biggest draft trades in history, dealing the top pick in the 2016 draft plus two late-round picks for six draft choices in the top three rounds of the next two drafts.
• THE PLAY FOR NO. 1: Peter King goes inside the blockbuster Rams-Titans trade that has shaken up the draft
IV
"Putting up a 60 ball in your last game ... That's the way to go out. I'll try to take notes, if I'm in that position down the road."
—Steph Curry, after Kobe Bryant ended his career with a 60-point game in his farewell to the NBA on Wednesday night in Los Angeles.
V
"No. I've done enough. I have said almost everything. I still have this year left, God willing, and maybe on the final day of my final broadcast I'll come up with the magic words that you deserve. As for now, I have only two magic words: Thank you."
—Vin Scully, who has done Dodger games on the radio and TV for 67 years, in a ceremony before the Dodgers' home opener last week. Scully, 88, has announced this is his last season doing the games. His last broadcast, Los Angeles at San Francisco, will be Oct. 2.
VI
"While I'm only guessing that the team will be Los Angeles that trades up with Tennessee to obtain the No. 1 pick, I do believe two quarterbacks will go 1-2 in this draft. Every year the quarterbacks slowly rise to the top of the draft board. Are they the two best players in the draft class? Probably not, but as a GM you simply can't take the chance that one of them becomes the next Peyton Manning or Tom Brady while playing for another team."
—Cris Collinsworth, on March 15, projecting for his Pro Football Focus site that the Rams would trade up from No. 15 to No. 1 with Tennessee … and select North Dakota State quarterback Carson Wentz with the first pick.
* * *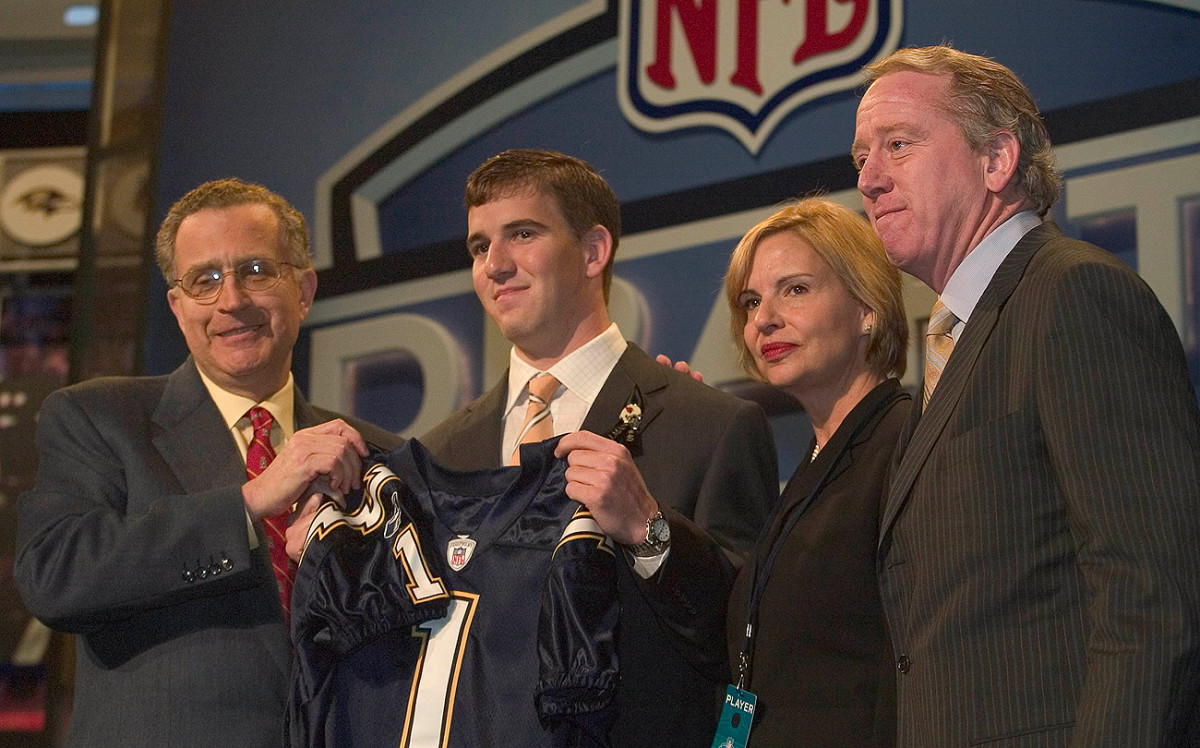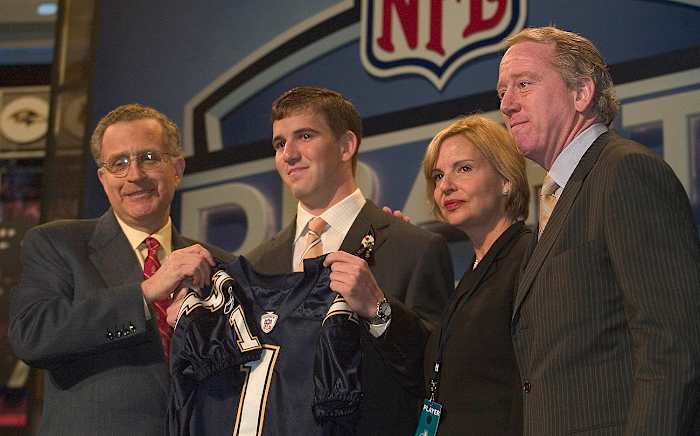 Stats of the Week
I
Ahh, the vagaries of the long-discussed Draft Value Trade Chart. Early in Jimmy Johnson's tenure with the Cowboys, he wanted to figure a way to assign a worth to every slot in the NFL draft, in order to gauge fairness of trade offers. So he had Cowboys executive Mike McCoy work up a chart, with 3,000 points assigned to the first overall pick, 2,600 to the second, all the way down to 2 points for the 224th pick in the draft. Since 1989, every NFL teams has used some version of this for trades.
Though it seemed the Titans fleeced the Rams the other day on the megatrade for the top pick in the draft, it's probably not that way, because the 15th pick in the draft is valued at 1,050 points. And who knows the value of the 2017 picks dealt by the Rams to Tennessee (in the first and third rounds), but for the sake of this exercise, I've assigned the values of the 16th pick of each round, to figure out how the Titans-Rams trade measures … and I've compared it to some recent megadeals in the draft.
• 2016: Tennessee (1) to St. Louis (15). Titans acquire 3,370 points. Rams acquire 3,089. Rams move from 15 to 1 to get a long-term quarterback. Tennessee gets a new roster.
• 2011: Cleveland (6) to Atlanta (26). Browns acquire 1,856 points. Falcons acquire 1,600. Falcons get Julio Jones. Browns get zip: Phil Taylor, Greg Little, Brandon Weeden, Owen Marecic
• 2012: St. Louis (2) to Washington (6). Rams acquire 5,490 points. Washington acquires 2,600. Robert Griffin III to Washington; 8 players to Rams, led by Michael Brockers, Alec Ogletree.
• 2004: San Diego (1) to N.Y. Giants (4). Chargers acquire 3,299. Giants acquire 3,000. Giants get Eli Manning. Chargers do well: Philip Rivers, Shawne Merriman, Nate Kaeding, Roman Oben.
One of my points on megatrades: If the single player produces big for the acquiring team (Julio Jones, Eli Manning), no complaints on the price paid. Though you might argue that Rivers has been nearly as good or maybe better than Manning, Eli has the two Super Bowl wins, and so the argument is moot. The killer in trades like this is when you fail miserably to turn the picks into a backbone for your team, as the Browns did. What a horrible return they got for what was clearly a good haul in return for Jones.
II
Total of 400-yard passing games, in regular season and playoffs, in two notable quarterbacks' careers:
| | | |
| --- | --- | --- |
| Quarterback | Games | 400-yard passing days |
| Terry Bradshaw | 187 | 0 |
| Drew Brees | 229 | 16 |
Brees has thrown for at least 4,300 yards in the past 10 seasons.
Bradshaw never threw for 3,800 yards in a season.
Times change.
* * *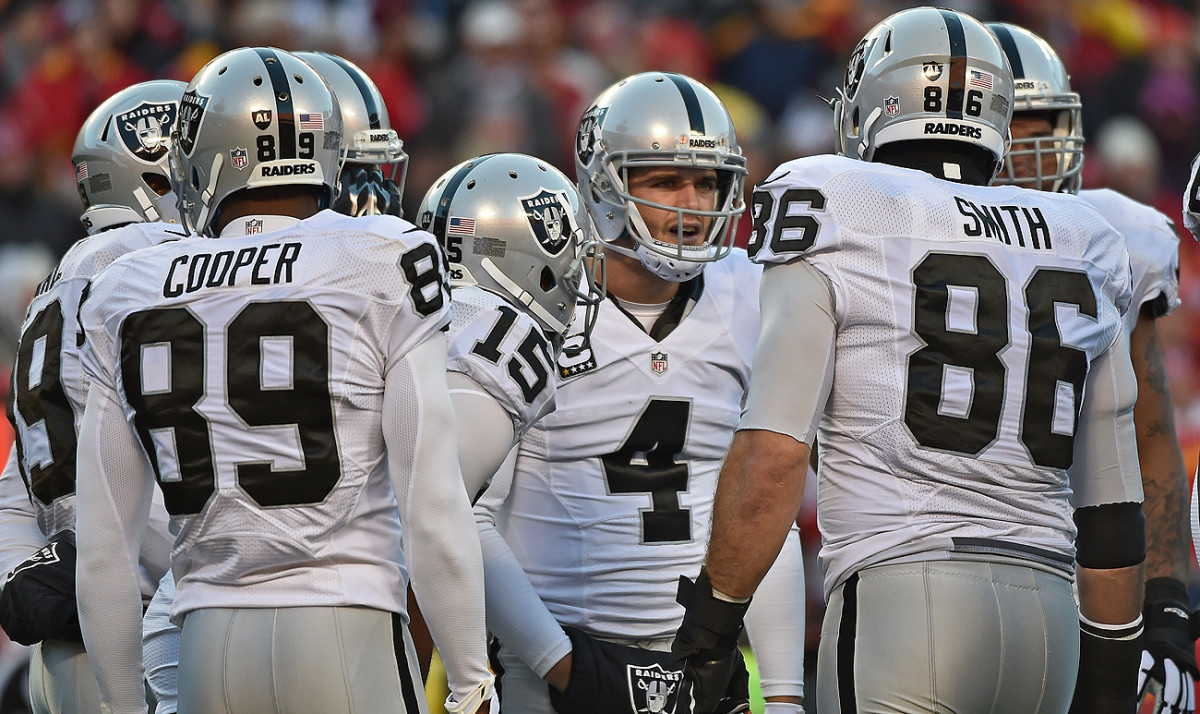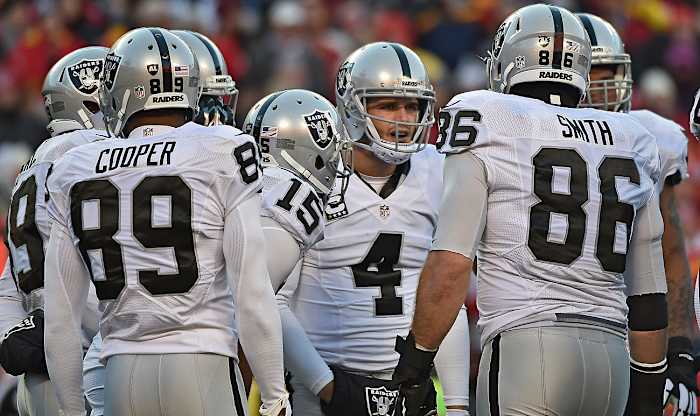 Factoids of the Week That May Interest Only Me
Schedule Factoids Dept.:
• The Raiders have a killer early slate: five 10 a.m. body-clock games in September and October. They're at New Orleans, Tennessee, Baltimore, Jacksonville and Tampa Bay, all with 1 p.m. ET starts, before Halloween. Now, you wonder why the Raiders can't get some late Eastern or Central Time zone starts? When one of the Bay Area teams travels east, and the game is not in prime time, the league tries to play the game at 1 p.m. ET, so the Raiders and Niners are not playing at the same time and diluting the TV audience in that market. This year, the Raiders have five east/central games, and all five are at 1 p.m. ET; the Niners have five, and four are at 1 p.m ET.  
• For the sixth time in the past seven seasons, Cleveland and Pittsburgh will end the regular season against each other. This time it'll be at Heinz Field.
• ​The Chiefs have about as normal a schedule as a contender can have: 15 of 16 games on Sundays.
• MAKING THE 2016 SCHEDULE: The NFL's four-person scheduling team reveals the ins and outs of picking the 17-week slate
• Two teams have four straight home games sandwiching their byes: Green Bay and Miami. The Dolphins go from Sept. 30 to Nov. 12 without straying from south Florida, with a Tennessee/Pittsburgh/Buffalo/bye/Jets run of homeness. The Packers, beginning in Week 3, have Detroit/bye/Giants/Dallas/Chicago. When's the last time it happened? Tennessee, last year, with four home games and a bye between Weeks 3 and 7.
• ​The Cardinals have a bad last two weeks: at Seattle on Christmas Eve, at the Rams (Arizona has trouble with the Rams) on New Year's Day. But before then the slate's pretty good, perhaps missing Tom Brady in Week 1 if he's suspended, and getting three of their four prime-time games at home, with all four in the first seven weeks.
• Great note by ESPN's Bill Barnwell: Carolina has a big edge in the schedule and rest; the Panthers have seven games with eight days' rest or more this year, starting with Week 1, the Thursday-nighter at Denver.
• ​Los Angeles won't like the NFL on Sunday morning, Oct. 23. The Rams and Giants will play a game that kicks off at 6:35 a.m. Pacific Time … eight hours away in London.
• The Steelers have the eyes of America on them, early and often: A Monday night opener at Washington, Thanksgiving night at the Colts, and a late-afternoon Christmas date with the Ravens at home … plus Sunday-nighters with the Chiefs in Week 4 and Bengals in Week 15.
• ​Cleveland has 15 games at 1 p.m. ET Sunday.
II
AFC South Draft Dept.
Picks in the top 80 of the 2016 draft:
Tennessee: 6
Jacksonville: 3
Indianapolis: 2
Houston: 2
* * *
Mr. Starwood Preferred Member Travel Note of the Week
This is the way our business works sometimes, in the new world we're living:
Thursday, 8:54 a.m. On a Delta flight from LaGuardia to Milwaukee, and I am bad. I haven't turned my smart phone to airplane mode, as the flight attendant instructed. The phone was on my seat. I felt it vibrate, looked down, and it said, and I do not quote, something cryptic about the first pick in the draft. I send out a couple of texts. Learn the deal is going to be announced right around 9 a.m. ET by the Titans.
Thursday, 9:01 a.m. On the runway now. In line to take off. I tweet, "Titans have traded the top pick in the draft to the Rams." A few seconds later, I tweet: "Rams are on the clock." Two minutes later, I tweet: "Titans had a great chance to rebuild their roster. Felt they had to take it."
Thursday, 9:02 a.m. Titans announce the trade of the first pick in the draft to the Rams on Twitter. One minute later the Titans issue a press release announcing the trade.
Thursday, 9:17 a.m. We are airborne, and above 10,000 feet. The laptop can go on, Delta has wifi on board, and I have that ability to text from the laptop like it's coming from the phone. So I send out a few fishing texts and emails seeking some info. Some info pings back to me. I write a quickie analysis of the Tennessee-Los Angeles trade.
Thursday, 10:07 a.m. File 900 words to editor Mark Mravic at The MMQB. He turns it around, gets it live on our site at 10:43 a.m. ET.
Thursday, 11:40 a.m. After landing in Wisconsin, videographer John DePetro takes a couple of quick reaction videos—one 28 seconds that we do for Twitter, another that we Greenfly into the air—and we post those.
It's the Wild West in news-gathering and dissemination right now. I kind of like it.
* * *
Tweets of the Week
I
Scully's only 88. Anyone want to start a Scully Can't Retire Petition?
II
III
Agreed. In the last regular-season night of the NBA season, the Lakers looked prehistoric and the Warriors were on fire.
IV
On Wednesday, the Patriots cut 2014 first-round defensive tackle Dominique Easley.
* * *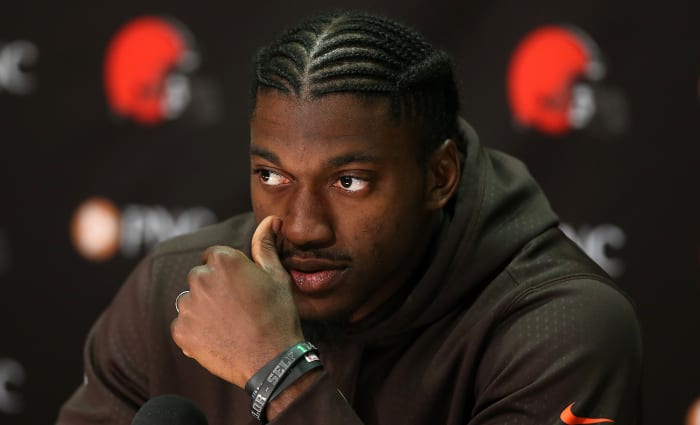 Ten Things I Think I Think
1. I think the Browns have thought seriously—internally—about bypassing a quarterback in the first round, with the second overall pick. This is because of a couple of things: They're high on Robert Griffin III, and they're not sure they want to pick an heir to the quarterback job before giving Griffin a legit chance to win said job. Plus, Hue Jackson is confident he can pick a good quarterback atop the second round as well, whether it be Connor Cook or another one from the bargain bin of this year's quarterback crop.
2. I think the Percy Harvin retirement is a cautionary tale for every GM in the league about trading for talented but brittle players, or signing them in free agency. No one questioned when Seattle GM John Schneider traded for Harvin before the 2013 season that he could be a difference-making player. But there were signs on Harvin that he could be disruptive (Minnesotans were befuddled that he had problems with the genteel Leslie Frazier) and that he might be not be able to withstand NFL punishment with his slight frame. (Harvin missed 10 games in his first four seasons as a Viking.) But for many reasons, starting with a torn hip labrum before he played his first game in Seattle, Harvin played in only 19 of the past 64 regular-season games. For those 19 games, he earned a stunning $31.4 million from Seattle, the Jets and Buffalo … and produced only three touchdowns. It's sad to see him go because he was such an electric player. But in the end he was too difficult to get along with on his first two teams, and simply too brittle to last in such a physical game.
• THE KAEPERNICK TRIANGLE: Andrew Brandt takes a look at the quarterback's bid to get out of San Francisco and explains why Denver has the upper hand
3. I think these two stats are puzzling NFL people who want to love Florida State defensive back Jalen Ramsey:
• Ramsey had no interceptions or forced fumbles in his last 17 collegiate games.
• Ramsey had two interceptions in his last 40 college games. For those who say, well, offenses weren't throwing at him, no. (Pro Football Focushad Ramsey with zero picks in 66 balls thrown at him in 2015 at FSU.) He dropped several catchable balls last season, and his hands are not his strong suit.
4. I think I'm not saying Ramsey won't be a great pro. Dick LeBeau, for one, would love to use him as a movable chess piece—a la Troy Polamalu without the jarring hitting ability—in Tennessee. As a player, Ramsey is remarkably versatile and could fill three or four roles at different times as a pro. He can play corner, either press or off. He can play in the slot. He can play a deep safety role. Or he can play down in the box as almost a hybrid side-to-sideline cover linebacker, the way the Cardinals use their safeties. Ramsey has a chance to be the kind of playmaker teams try to find on the defensive side every year. But his instincts on picks and turnovers in general need to be honed.
5. I think it's interesting that Denver wants to host an NFL draft, as Broncos media czar Patrick Smyth said last week. Denver, Canton (on the Hall of Fame grounds) and Chicago will surely be in contention for future drafts. But the prime threat is Los Angeles. There's no question the NFL would love to put its red carpet in the land that made red carpets famous. I expect there to be a spirited bid by Los Angeles for the 2017 draft.
6. I think it says a lot about Dominique Easley, the 2014 first-round defensive tackle dumped by Bill Belichick last week, that he cleared waivers, despite having a reasonable camp number in 2016 ($1.08 million) for a good player. I'd expect that if he passes some physicals in the coming weeks (a major question with him), Easley will find a new home before training camp, at a discount price.
7. I think when Drew Rosenhaus says he's going to drop you, Johnny Manziel, it's time—actually, we all know it's long past time—to seek professional help. Not to mention having Kathy Griffin call the cops on you for a loud L.A. party in her neighborhood. Yes, that actually happened.
8. I think it just doesn't matter that the contract dispute Von Miller is having with the Broncos will keep him away from the off-season program. First: No one thought he'd have a long-term deal by now. Second: Von Miller doesn't need the off-season program; it will not matter one bit when he lines up to chase Cam Newton in Denver on Sept. 8. Third: John Elway will find a way to get this deal done when it matters. With the exception of Brock Osweiler (and I'm not convinced that Elway is broken up that he missed out on paying Osweiler $16-18 million a year), Elway hasn't lost a very big player yet whom he wanted to keep.
9. I think, still, that Ryan Fitzpatrick will be the Jets quarterback when they line up to play Cincinnati at the Meadowlands on Sept. 11 in the opener. I can't see any other option (barring a trade up to get one of the two biggies at 1-2), and I do not see any serious bidders for Fitzpatrick, unless Denver misses out on a quarterback (or won't settle for Nick Foles) during draft weekend.
10. I think these are my non-football thoughts of the week:
a. Story of the week, by Jarrett Bell of USA Today, with Sean Payton going off about gun violence in America after the murder of former Saints defensive end Will Smith.
b. Good lead by Bell: "Listen to Sean Payton. Carefully. He's mad. Sad. Frustrated. Passionate." Sometimes you just let the angry guy talk on a seminal issue, and that's what Bell did.
c. Many thanks for a strong week from our staff. Andy Benoit broke down game tape with Jared Goff, and look at Benoit, talking football on the same level with Goff. Good closing line by Benoit, at the end of the story: "It's time to part ways. Goff extends one of his much-talked-about hands (size seems fine to me) and, like every professional athlete I've ever met, shakes with an inherent strength that could crush my fingers into a fine powder. Whenever we meet again, he'll be some team's franchise quarterback."
d. Really like Robert Klemko's scene piece from New Orleans after the murder of Will Smith.
e. And this one from Jenny Vrentas, on this NFL draft's German Yao Ming. Boehringer's going to be picked about 150 slots after Ming was in his NBA draft, but read the story and you'll see what I mean.
f. Corey Lewandowski sounds like he's a barrel of fun at parties. Holding local politicians accountable? Fine. But don't touch our fantasy football!
g. Wow, Ken Burns and PBS: The Jackie Robinson two-part documentary, on the 69th anniversary of his breaking the color barrier in baseball, was just tremendously insightful and riveting. I can't say enough good things about it. The most educational stuff: the fact that Jackie won letters in four sports at UCLA; the hatred from Dodgers teammate Dixie Walker that lasted most of his rookie year; the influence of Rachel Robinson on everything good that Jackie did; how enormously important to the civil rights cause Jackie Robinson was, and his relationship with Martin Luther King Jr.; and the Rosa Parks-like story of his discharge from the military just before he signed with the Dodgers.
h. Very impressive, too, the interviewees for the piece. Barack Obama was terrific. And wow—Rachel Robinson, who is 93 and looks and sounds 63, was such a vivid storyteller, and so revealing about her relationship with her husband.
i. How great is Ken Burns? What a storyteller.
j. Driving to J.J. Watt's house the other day in the middle of Wisconsin, I passed a field with wild turkeys just hanging around. I stopped the car and watched them walk around for a few minutes. Sometimes you've just got to stop and smell the turkeys.
k. Coffeenerdness: When Titans GM Jon Robinson walks into work each morning, he's one of the first ones there. And so, good Titans' teammate that he is, his first stop is in the break room near the scouting and coaching offices. He puts on a pot of Starbucks Pike Place blend. There's one of the one-cup machines there too, but as Robinson says: "I'm a coffee pot guy, I like to put the coffee in a filter and let it brew. I just wait for it and get caffeined up."
l. Beernerdness: I'm always in search of a good witbier, and I found one at Eastern Standard, the Kenmore Square restaurant with the great beer list, a couple hours before the Red Sox opener last Monday: Plum Island Belgian White (Newburyport Brewing, Newburyport, Mass.), light and delicious and made 15 percent better with a lemon slice.
m. You're going to love Breanna Stewart, Seattle.
n. Great note from WFAN's Sweeny Murti: So C.C. Sabathia just passed 3,000 innings pitched for his career, which seems like about as much as a pitcher today will ever throw—or close to it. Cy Young threw 7,356.
o. Nick Saban in a bright blue suit, coaching the Alabama spring game? I see.
p. You have my undying respect, Golden State. To go 73-9 in any sport, in any season … that's just one of the great achievements in modern pro sports.
q. Happy Tax Day, America.
r. Finally, thanks to Stephen King for writing a column decrying the netting of major league baseball. You may have noticed teams extending nets behind the plate all the way down to the dugouts. Now some of the interaction between players and fans is gone; more of the view is obfuscated by the grid of black netting. It's just not the pure beauty of sitting behind home plate, a couple sections over, and having a clear view of the action on a beautiful day—or a crappy day. King, who has great seats at Fenway Park, says it's like "paying good money to sit in a cage." My feeling is I'd take the risk of sitting down close just to be able to see an unfiltered game. I realize there is a potential for accidents. I'm not a big fan of enforced shields. And I believe those who sit down near the field should realize the risk, and put their phones away until between innings. Not that this will prevent every dangerous ball hit into the stands. But vigilance will prevent quite a few of the accidents.
* * *
The Adieu Haiku
Just a gut feeling.
Cleveland trades the second pick.
Could Wentz be a Jet?
• Question or comment? Email us at talkback@themmqb.com.