Josh Brown Saga: Kicker, Giants, NFL All Share Blame
There is no shortage of people at fault for what happened in New York, starting with the person doing the abuse and ending with the league that didn't press the issue on punishment. Plus mail on the tie, Odell and more
The New York Giants, as expected, cut ties with kicker Josh Brown on Tuesday, but that won't stop the questions from coming. My first one:
Why did he give a 20-percent different statement to Adam Schefter of ESPN than he gave to the New York Giants to release to the press?
The majority of the words in each statement—164 words to Schefter, 142 words to the Giants—are the same, though organized differently for some reason. But in the Giants statement, Brown said, in part: "In the coming days and weeks I plan on telling more of the pain I had caused and the measures taken to get help so I may be the voice of change and not a statistic."
In the statement to Schefter, which seemed more calculating, Brown was quoted as saying: "I have taken measures to get help so that I may be the voice of change, not a statistic. It is important to share that I never struck my wife, and never would. Abuse takes many forms, and is not a gray area. Through the past several years I have worked to identify and rectify my own behaviors."
• ANOTHER NFL FAILURE ON DOMESTIC VIOLENCE: Albert Breer addresses the Brown situation and how the league's actions continue to fall short
Maybe he was confused. Maybe he was careless. Maybe he had some rationale. Or maybe he was embarrassed to face the Giants and tell them the truth that surfaced last week. The Giants believed the vast majority of Brown's abuse of his wife Molly—before they saw the stunning 165-page journal entries and other evidence released by the King County (Wash.) sheriff last Wednesday—was mental and psychological. However he defines "never struck my wife" is certainly in question after the release of the journal. In the journal, he says, "I have been a liar most of my life," and said he "hurt Molly physically, emotionally and verbally," and said his stepsons "witnessed me abusing their mother." The Giants kept him in part—I believe—because like his father, the late Wellington Mara, club CEO John Mara is a staunch Catholic and a Father Flanagan type who wants to see players turn their lives around.
There's blame enough to go around in this case. Let's divvy it up, now that it's likely the 37-year-old Brown's career is over.
• Brown: He's a liar. He admits it in his journal. (A travesty, by the way, that a private journal meant to contribute to a disturbed person's treatment and rehabilitation would ever be released to the public. As one NFL executive said over the weekend, "That'll set psychiatry back 50 years. Imagine if you think there's any chance everything you do in counseling will be in the paper one day." But you can't unsee what's in there.) So why believe anything he said to police when they arrived to break up the disturbance between him and Molly in May 2015—or anything he says about the case, or anything he says in either statement?
• The Giants: They went out on a limb for Brown, knowing of his arrest in 2015 and Mara admitting they knew he abused his wife. I believe Mara was convinced that the abuse was mostly (if not all) psychological and mental. But after the incident at the Pro Bowl (NFL Security and hotel security were called when Brown pounded on Molly's hotel door and she feared for her safety), the Giants should have known Brown was too big a risk to take, and if he was going through all this counseling, it was falling short. To be clear, pounding on your soon-to-be-ex-wife's door in anger is not a violation of the personal conduct policy. But this was simply a sign that Brown had a deep problem. The Giants should have known—whatever the abuse was. There's no way they knew the extent of what was detailed in the journal (no one outside of him and the immediate family could have), but in this climate today, there was more than enough smoke for them to know they just should have signed another kicker last off-season.
• The NFL: It's absurd to think the NFL wanted to bury this case, or to do a slipshod investigation for whatever reason—Roger Goodell loves and wants to protect John Mara being the primary one pointed to by the conspiracy theorists. The league knows if it's found to have ignored evidence, heads will roll and owners furious that they can't get the domestic violence policy right would demand changes. I'm told at one point during the league's investigation, when Brown was debriefed by the league, he denied multiple charges by Molly Brown of physical abuse; and because Molly Brown would not cooperate in the investigation by the league, league officials knew they wouldn't be able to make a he-said/she-charged-to-the-police-but-not-to-them case stick when it came time for Brown to grieve the case. I don't fault the league for not unearthing the journal; no one was getting that before the sheriff chose to release it last week. But how does Deadspin's Diana Moskovitz get the divorce file in the Brown proceedings, detailing a pattern of abuse, and the NFL either doesn't get it or doesn't use it?
Say the NFL can't prove what it truly believes. Say a suspension of longer than a game or two won't hold up in a grievance proceeding. Both of those in the case were likely. But whatever the abuse was, the Giants simply should have released him.
Not that everything in the league always comes back to the Patriots, but in this case, there's a parallel. The league suspended Tom Brady for four games because a league investigation found it was "more likely than not" that he was involved in a plot to take air out of footballs in the 2014 AFC Championship Game. It is impossible to look at the evidence available in the Brown case even before the release of the damning journal contents and not find it was "more likely than not" that Josh Brown abused Molly Brown.
I think the NFL believes Josh Brown was guilty, but didn't press the case because they know it would be knocked down on appeal.
I just don't think that matters. It's got to be a principle. Six games on a first offense.
And now for your email...
• MONDAY MORNING QUARTERBACK: Peter King on the dramatically incompetent tie and much more from Week 7
* * *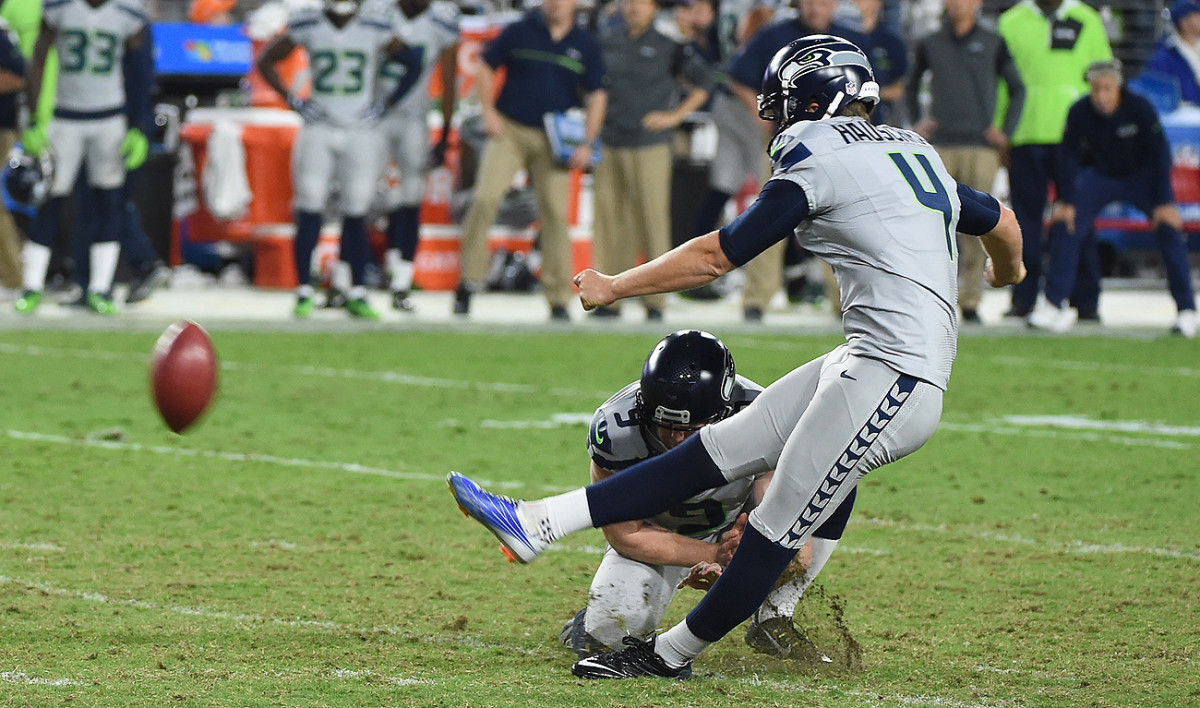 PUH-LEASE… THAT GAME WAS SO BAD
Please don't try and sugarcoat the monstrosity of a football game that I just watched as some kind of titanic defensive struggle in your column this week. It was a putrid incompetent mess of a football game. A 3-3 tie headed in regulation in a primetime football game between what should be two marquee football teams is precisely why ratings are down so badly this year. A 6-6 tie at the end of OT with TWO missed field goals from 10 yards out in the last 3 minutes is just a steaming pile of a game. Both teams should be barred from the playoffs this year for that stinker. And even though I watch pretty much any non AFC South game on TV, I can honestly say that both of those teams have been added to the trash heap of Houston, Jacksonville, Tennessee and Indy as I won't be watching anymore of their games this season. I'd rather watch darts on ESPN3.
—Tom Maltais, Littleton, Colo.
To each his own, Tom. I thought it was the best bad game I've ever seen. There were some big highs and some major lows in the game (more lows than highs). But there was drama. There was no offense. The were tremendous defensive plays made by pass-rushers Cliff Avril and Chandler Jones. There was one of the best special-teams plays you'll ever see (the Bobby Wagner leap over center to block the Arizona field goal). There were 15 punts; that's bad. There was gross special-teams incompetence by Arizona. There was a comedy of errors in overtime, but also two scintillating throws/catches/runs (Carson Palmer to J.J. Nelson, blanketed by Richard Sherman, for 40 yards) and a beautifully dropped-in throw for 31 yards on a big third down from Russell Wilson to Jermaine Kearse. Huge plays. The Keystone Kops field-goal misses were part of the mayhem. I don't know. To me, it was no thing of beauty, but it was fun and dramatic.
BRING BACK SUDDEN DEATH
I know that you really pushed for both teams to get the ball in OT, but do you think that they can make a exception when BOTH teams fail to score a TD in regulation?  That might have mercifully ended the Sunday Night game!
—Steve Evans , Royal Oak, Mich.
Why? I saw the chatter of this being a great example of why the new overtime rules stink. Sudden death ending in a first-possession field goal is the epitome of boring football. You think the game would have better without that incredible throw from Wilson to Kearse on a crucial third down with two minutes left in overtime? Without the Chandler Catanzaro shtoink? Without the equally shocking shank by Steven Hauschka? Without all those things, it would have lost all semblance of being unforgettable.
• THE FINE FIFTEEN: Jenny Vrentas ranks the best through Week 7 and examines the rookie quarterbacks still playing the waiting game
NOT JUST THE KICKERS FAULT…
I don't understand everyone blaming the kickers for the tie. The way I see it, the offense and defense of both teams let the kicking and special teams down! "I thought," said Arians to the press, "that our football team, other than the three plays in the kicking game, was outstanding. Our kicking game let us down a little bit today. We left three field goals out there." Really Bruce?  If your offense had scored one touchdown in the course of the ENTIRE football game, or had the defense gotten a pick-six, or had they pulled off a safety you would have won the game! When there are NO touchdowns scored and no defensive scores made and the game ends in a tie with nothing but field goals, I think it might be time to look in a different direction for blame on this one.
—Adam Ragsdale, Missoula, Mont.
This might be the ultimate contrarian's take I have ever received. You're defending the kickers when one missed a 24-yard field game that would have won the game in overtime, and the other missed a 28-yard field goal that would have won the game in overtime? Adam, I will defend your right to free speech, but man, you've got to think about this one.
THAT'S ALL YOU HAVE TO SAY ABOUT JOSH BROWN?
Completely disappointed with how you addressed the Josh Brown issue. All the emphasis was on how the NFL should come down hard on players like Brown. That I agree with, however not one word on how the NFL and Giants let this go, possibly covered up and somehow reduced his suspension from six games to one! I guess the masters on Park Avenue got to you and all the other league shills to mask over their part of enabling a beast like Josh Brown to continue playing in the league.  
—Don DeBolt, Mansfield, Mass.
While I appreciate you giving credit to Albert Breer for his Brown column, YOU are the main reason people come to The MMQB. YOU have influence. You cannot sit back and not point out the hypocrisy and ignorance of NFL leadership. Mark Cuban is looking like a genius… the NFL is going to be undone by its own hubris.
—Dan
You both have a good point. In retrospect, I should have written more about Brown on Monday.
ODELL'S FINE
Your comparison of Odell Beckham Jr.'s $24K fine to the average American male's salary is just not valid. The fine has to be sufficient enough to be meaningful to the player. A $5K fine for example, would be almost negligible to OBJ, even on the rookie salary scale. Using your logic, would you have advocated for such trivial fines for the bankers who promulgated the 2008 financial crisis when many were making millions, if not tens of millions of dollars? Having said that however, I agree that the league was far too zealous in calling the penalty at all.
—Greg, Calgary
Moot point to me. Fining Beckham five cents for that infraction would have been a miscarriage of justice.
VINATIERI IN THE HALL
I agree that Adam Vinatieri will be wearing a gold jacket in Canton, but does he go in as an Indianapolis Colt or New England Patriot? Adam has been a Colt longer than a Patriot, but won multiply Super Bowls with the Patriots. Thoughts?
—Jason Blythe, Indianapolis
In baseball, players go into the Hall wearing a cap of one team. In football, they don't go in as members of any team; they don't wear a helmet or have their busts emblazoned with any logo. So Vinatieri will simply go in, and I hope there are hundreds from New England and hundreds more from Indiana there to pay respect.
JEFF GEORGE 2.0
Loved the piece comparing Jeff George and Jay Cutler. I've been calling Cutler "Jeff George 2.0" for years now. But you forgot one of the most important stats about these two guys:
Career W-L Record: George 46-78; Cutler 67-69
—Steve Tourek, Peoria, Ariz.
Thought of including it, Steve. But it would have been a bit misleading. Cutler went to a 13-3 team in 2006, and George to a sliding 8-8 Colts team in 1990. Maybe a good point to raise would have been record in first three seasons with team: 24-24 for Cutler in Denver, 17-31 for George in Indy.
QUALITY OF PLAY PROBLEM
Peter, I love your site, and love following the NFL, but it seems like most of the people I talk with feel the quality of play in the NFL is in decline, injuries are on the increase, and the league office is out of control. Three more years of this then a strike. I bet the other leagues are planning their new marketing plans already.
—Jim James, Castaic, Calif.
You're not alone, Jim. The NFL usually comes out of these severe slides, but we'll see. The league has some significant issues.
• Question or comment? Email us at talkback@themmqb.com.