The Week 15 Awards
On Marcus Mariota's three fourth-quarter drives in Kansas City, Matt Moore's first start in five years and receiver-turned-running-back Ty Montgomery's Week 15-best performance
The Award Section
OFFENSIVE PLAYERS OF THE WEEK
Marcus Mariota, quarterback, Tennessee.I don't care about stats—19 of 33, 241 yards, no TDs, one pick, 67.9 rating—because most of Mariota's professional games have been better numerically. I care about Mariota's three fourth-quarter drives, in ungodly cold (-9 wind chill in Kansas City). The quarter started with the Chiefs leading 17-7. Then Mariota led the Titans 51 yards on 11 plays to a field goal; 68 yards on 12 plays to a touchdown; and 40 yards on six plays in the last minute with no timeouts to the winning field goal. That's a game very few quarterbacks could have won. Mariota did.
Matt Moore, quarterback, Miami.In nine years as an NFL backup (mostly), in 46 games, Moore had never had four touchdown passes in a game—until Saturday night. And this was his first start in almost five years. "There was some nerves," he said. Not for long. Moore hit tight end Dion Sims twice from a yard out, and threw one lovely deep ball in stride to the streaking Kenny Stills (52 yards) and another tight throw to Jarvis Landry (66 yards), all in the first 40 minutes of Miami's surprisingly easy 34-13 win over the Jets. For the game, Moore was 12 of 18 for 236 yards and a rating of 126.2. Not bad for a guy who'd been in mothballs behind Ryan Tannnehill.
Ty Montgomery, running back/wide receiver, Green Bay. Two months ago the player whom David Shaw, his former coach at Stanford, called "one of the most versatile players I've ever seen" was forced into duty at running back because of injuries in the Green Bay backfield. The Packers intended for Montgomery to continue to climb the ladder at receiver and become one of Aaron Rodgers' trusted targets for the next few years. But need is need. And Sunday, at frigid Soldier Field, Mike McCarthy's running-back gambit paid off. Montgomery, in the Packers' biggest game of the season, rushed 16 times for a Week 15-best 162 yards. Noted Packers fan Lil Wayne noticed. "I may very well name my next kid or album Ty Montgomery!!" he tweeted.  
DEFENSIVE PLAYERS OF THE WEEK
Wesley Woodyard, linebacker, Tennessee. Pretty pedestrian stat line—four tackles, one for loss, no sacks. But with the Chiefs up 14-7 midway through the second quarter, Kansas City had the chance to take a two-touchdown lead on a day with -9 wind chill and the quarterback on the other team from Hawaii. Third-and-one, Kansas City, at the Titans' one. Power formation. K.C.'s 230-pound running back hit the hole between right guard and tackle, and boom! There was Woodyard, stoning Spencer Ware for a half-yard loss. Next play: Ware again, on fourth-and-goal from the one, and four Titans, led by Woodyard, stoned him again. No gain. Looking back, those were the two biggest defensive players of the game for the 8-6 Titans.
David Irving, defensive end, Dallas. Undrafted out of Iowa State in 2015 and signed off the Chiefs' practice squad 15 months ago, Irving has become a relentless part-time rusher. His two fourth-quarter sacks of Jameis Winston put the Bucs in big holes—second-and-16 with 13 minutes left in a tie game, and second-and-18 with three minutes left with the Bucs down six. Irving also had three more quarterback hits and a pass-defensed in Dallas' 26-20 victory.
SPECIAL TEAMS PLAYER OF THE WEEK
Ryan Succop, kicker, Tennessee. His 39-yard field goal in the Arrowhead igloo brought the Titans to within one score early in the fourth quarter, and his 53-yarder at the final gun won a game that looked very lost. Tennessee 19, Kansas City 17, keeping the Titans alive in the AFC South title hunt. "I don't get very emotional after games," the ex-Chief told me. "But after this, how could I not? Kick of a lifetime."
Marqise Lee, wide receiver/kick returner, Jacksonville.The Jaguars never should have lost at Houston—not after Lee's masterful 100-yard sprint up the right sideline against the Texans' kickoff team, the first Jacksonville kickoff return for a touchdown since 2007. It was an amazing return, partly because Lee was not touched by a Houston defender until he reached the goal line, 100 yards after he started his jaunt.
Walt Aikens, safety, Miami. In the third quarter Saturday night, Miami up only 13-10, Aikens, a third-year special-teams ace from Liberty, burst past a feeble matador block by the Jets' Brandon Wilds, protecting the right wing. Wilds, playing his second game in the NFL as an undrafted free agent running back from South Carolina, is not going to have a long career in the league if he takes his job as cavalierly as he did on this play. Aikens suffocated Lachlan Edwards' punt as much as he blocked it at the New York 41. "Scoop and score, that's what we're taught," Aikens said. The force of the block sent the ball careening backward toward the Jets' goal line. Aikens nabbed it around the 11-yard line and ran it in for the game-turning touchdown. Five minutes later, the Dolphins had a 34-10 lead and sent the crowd heading for the exits in New Jersey a quarter early.
COACH OF THE WEEK
Jack Del Rio, head coach, Oakland.When in 2015 Del Rio got the Raiders' job—his dream; he went to Raiders games as a kid and grew up 25 minutes away—the team was coming off 4-12, 4-12 and 3-13 seasons. On Sunday in San Diego, Oakland's hard-fought 19-16 win ensured a playoff spot for the Raiders, their first after a 13-year drought. And Del Rio, coaching sometimes with guts he didn't have in Jacksonville, has managed to wipe away the stink that stayed on him for years from an unimpressive run coaching the Jaguars. Now he's got the Raiders in position to be the second seed if they take care of business the next two weeks (Indy at home, at Denver). The Raiders are 11-3. Never thought I'd type that sentence again.
Steve Spagnuolo, defensive coordinator, New York Giants. In the past two weeks the Giants have faced division leaders (Dallas, Detroit) with MVP candidates at quarterback (Dak Prescott, Matthew Stafford). The Cowboys and Lions had the ball for 26 possessions in those two games … and scored one touchdown. In the span of one off-season, with defensive players GM Jerry Reese bought, Spagnuolo has constructed a defense rounding into the kind of form eerily reminiscent of the D he built into a Super Bowl winner in 2007 in the Meadowlands. The Giants are a very interesting team right now. The defense is why.
GOAT OF THE WEEK
Blake Bortles, quarterback, Jacksonville. There's no player who let Gus Bradley down more this year than Bortles—and that's saying something on a 2-14 team. Bradley got fired after the disgraceful 21-20 loss to Houston (Jacksonville blew a 20-8 lead late with some of the most feeble offense of the year), and it was just a matter of time before it happened. Bortles needed to make just two or three plays down the stretch to clinch this game, and he couldn't make one. In the last 20 minutes, which started with that 20-8 Jacksonville lead, Bortles had the ball five times. Jacksonville went 11, 8, minus-10, 15 and zero yards, respectively, on those five drives, and the last one ended with an interception that wasn't close to being a smart risk.
* * *
Right Combination of the Week
Devonta Freeman and Tevin Coleman, running backs, Atlanta. All season they've been a lethal combo for the Falcons, the kind of two-headed running threat that gives opposing defensive coordinators fits all week in preparation. In the rout of the 49ers on Sunday, Freeman and Coleman combined for 34 carries, 197 yards, 5.8 yards per rush, and three touchdowns (all from Freeman). Talk about smart drafting by GM Thomas Dimitroff: Freeman came in the fourth round in 2014, Coleman in the third round of 2015—proof that greatness doesn't reside only at the top of the draft. It's the kind of speed-inside running combination that every team in the league is looking for in the backfield. 
* * *
Stats of the Week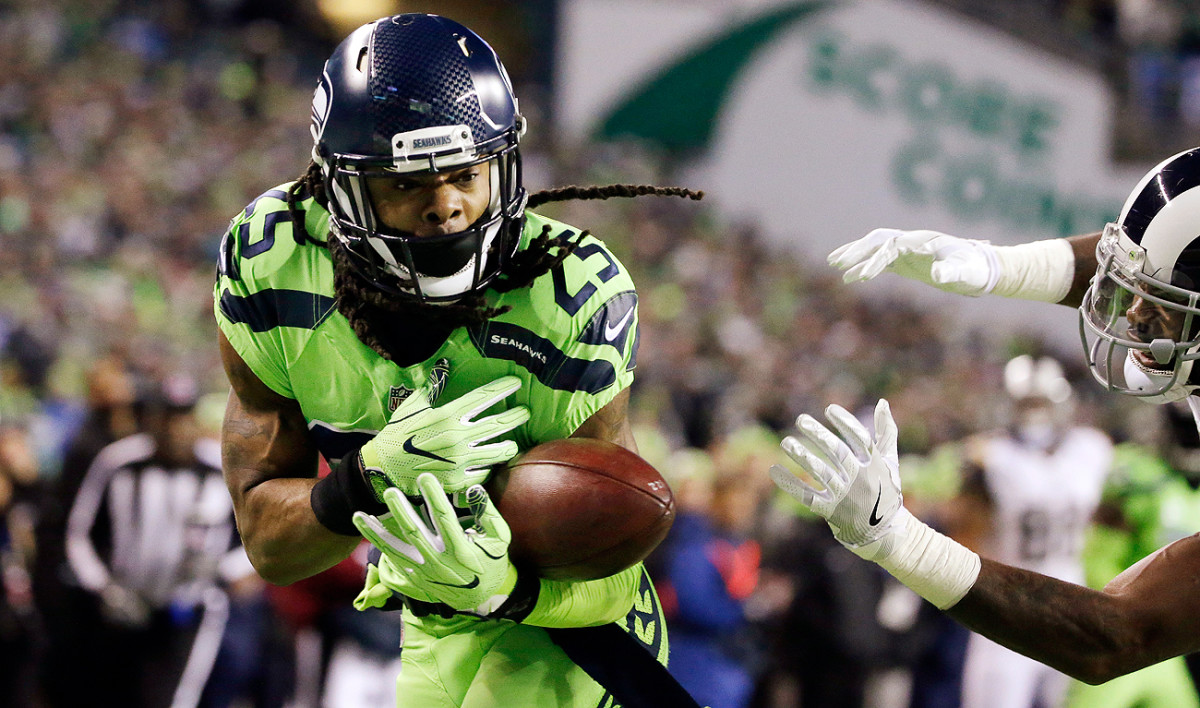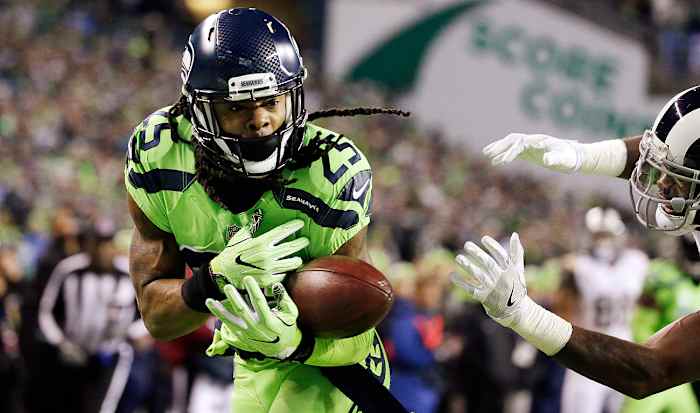 I
The world saw Richard Sherman flip out on the Seattle sideline Thursday, questioning (that is putting it mildly) offensive coordinator Darrell Bevell for calling a pass play at the goal line in the third quarter of the Seahawks' win over the Rams. Afterward, Sherman said he let coach Pete Carroll know that "we're not comfortable with you throwing the ball at the one." Then a Seattle Timescolumnist, Matt Calkins, asked Sherman if, as a player, he should be openly challenging the play-calling on the sidelines. "One hundred percent," Sherman said. "We go out there, we sacrifice, we battle. We don't give away our battle. You honor our sacrifice."
Well, that's absurd. Patently absurd. Remember: It's the other side of the ball that Sherman is questioning. There is no defense for what Sherman did.
So I looked at how two teams with top offenses—New Orleans, ranked first in the league entering Sunday, and New England, with Tom Brady playing at a career peak—handled snaps from the opposing one-yard line this year.
New Orleans has had 15 offensive plays from the opposition's one-yard line. Of those:
• Ten were runs. Five were touchdowns. Four were gains of zero. One was a two-yard loss.
• Five were passes. Three were incomplete. Two were touchdowns.
New England has had 12 snaps from the opposing one-yard line. Of those:
• Eleven were runs. Six were touchdowns. Three were gains of zero. Two were one-yard losses.
• One was a pass, which was incomplete.
So 21 running plays, 11 touchdowns, 10 failures … just about 50-50. I don't believe you can make a definitive judgment about what statistically looks like a coin flip.
Two points: It's ridiculous to say you shouldn't pass from the one-yard line. It's as ridiculous for any players on the sideline to be screaming about whatever is called.
II
Per Pro Football Focus, the Seahawks are fourth in the league in runs for zero or negative yards. They have 89 of them this year—6.4 per game. Only three teams in the league have more.