A Fiery (and Firing) Finish to the NFL Regular Season
What Week 17 lacked in on-field drama it more than made up for on the sidelines. Here's an inside look at all the coaching news and what may be next. Plus notes on a Packer's prophecy, a wild-card breakdown and more
Fairly tumultuous first day of 2017. Black Monday rendered obsolete. Niners blown up. Struggling to keep from breaking down, Denver's Super Bowl coach told his team he's walking away. Picking an MVP is impossible; there should be eight of 'em. Tony Romo stepped on a field for the first time in 57 weeks, and if you blinked, you missed a great moment. The Patriots, starting three quarterbacks this year including a 39-year-old one who is not of this earth, finished a league-best 14-2. Speaking of finishes, Steve Smith finished a career that lasted so long George Seifert coached him as a rookie. The Georgia Dome: finished (in the regular season). Chargers in San Diego: likely finished. Sean Payton: possibly finished … in New Orleans.
Nostradamus Rodgers: definitely not finished.
An hour after the Packers walked off the field with another NFC North title late Sunday night, I told Aaron Rodgers that no one will ever doubt him again, about anything he chooses to forecast. Not after calling his shot with the Packers 4-6, and saying he thought the team could run the table and go unbeaten the rest of the way and win the NFC North. Then they ran the table. So, I said toRodgers, obviously, you'll never be wrong again, about anything.
"Yeah," he said from Detroit, "well, I'm not sure about that. Tell that to my girlfriend."
Rodgers laughed. Then he said: "I just thought at the time we needed a reminder of how good we are, and how close we were to being really good. We needed a jolt. I didn't mind being the one to do it."
• SUPER BOWL 51 PREDICTION: Andy Benoit explains why he's picking a Patriots-Falcons championship matchup next month in Houston
Much more about Rodgers and his playoff-bound team in a bit. And about the other 11 teams, and the four wild-card games this weekend. First: Al Michaels said it Sunday night—Black Monday doesn't exist this year. It got put out of business by Black December. So much to digest from a frantic weekend, starting with the demolition by the Bay.
* * *
Jed York's Silicon Valley startup
"I just think it's time for us to re-establish a championship culture," the 49ers CEO told me Sunday night, a half-hour after the team announced the firing of head coach Chip Kelly and GM Trent Baalke. The latter we saw coming. Kelly, we didn't. "In order to do that, I thought we had to clean house." The Niners look terrible right now, as terrible as their season (2-0 versus the Rams, 0-14 against all others). When they hire a new head coach, it'll be their fourth in the span of 26 months. Think of it:
• December 2014: Jim Harbaugh finishes his fourth season, then he and York mutually part ways.
• 2015: Jim Tomsula era ends with 5-11 record.
• 2016: Chip Kelly era ends with a 2-14 record.
• Early 2017: Another coach is trotted out and says all the right things about returning Niners to glory. Eyes roll.
The 49ers are the first NFL team in the past 30 years to fire coaches after one season in consecutive years. Two reasons why this looks particularly bad: York has now dumped coaches after Week 17 three straight years; who will take this job knowing York's itchy trigger finger, and who will take the GM job? And the Niners had to know Kelly was inheriting a bad defense and no quarterback, so why whack him after one year? The new GM and coach—to be done, likely, in that order—will have one major advantage, as a coaching candidate pointed out to me late Sunday night: York will have to give the new team at least three years, presumably, to get a stunted franchise growing right. It sounded Sunday night like Kelly lost most or all of his allies in the building, including personnel man Tom Gamble.
"What went wrong, I think, was a disconnect at the top," York said. "Not seeing the roster the same way, not being on the same page in personnel. That's why I think it's important to hit the reset button."
I asked York how he thought he could get a good coach now, with the reputation of a team that gave up on the last two so fast. "People have felt like that before," York said, "and we were able to hire a coach of the year, and GM of the year. And we were able to win a championship." He referred to Bill Walsh winning coach of the year and the Super Bowl—35 years ago. Bottom line: Fans won't trust this franchise to put the right people in place until they see wins. Nor should they. These are the most important two hires York has made in his seven years running this franchise. When York goes on the road this month to interview candidates for these jobs, there will be some tarnish on the great Niners name. It's been 24 years since Joe Montana played there, and 17 since Steve Young did. They're not walking back through that door. York's got to find two men—one to mine the next great Niners quarterback, and one to coach him. Excepting Harbaugh, that hasn't been easy for him.
* * *
What Happened in Denver
Gary Kubiak gathered his players in the locker room Sunday after their last game and explained the inevitable: He was stepping away from coaching. Kubiak, 55, had a minor stroke three years ago while coaching the Texans, and he missed a game this season because of a malady called "complex migraine condition." The demands of head-coaching just aren't for him. His doctor didn't tell him to stop, nor did his wife. He just knew it wasn't the right life for him, because he was too obsessive about it. The news had spread after an ESPN report in the morning, so it wasn't a shock.
"If you remember one thing about me, remember this: It's all about the team," Kubiak told the players.
That's what I'll remember about Kubiak in this job. Before the 2015 season, John Elway hired his former backup to do a tough job—to coach a declining Peyton Manning for perhaps one more year in an offense that wasn't perfect for him. As Manning struggled physically, Kubiak yanked him (gracefully) and inserted the green Brock Osweiler, stressing to Manning on the day of the yanking he had no business putting Manning in the game when he wasn't fully healthy. And then, when Osweiler wasn't playing well a month later, and when Manning had improved physically, Kubiak reversed himself. Manning was in, Osweiler out. And Denver won a Super Bowl. Kubiak all along said he would only do what he thought was best for the team, not what the great Manning preferred. And when Denver won the Super Bowl, Kubiak felt such ownership that, on the field as the confetti flew, he said his three sons could have the championship rings he'd won in previous coaching stints. "This one's mine, baby! This one's mine!" he exulted.
The ring meant something more to Kubiak because of the decisions he had to make, hard decisions involving one of the best players in history. And then this year Kubiak cemented his legacy in the eyes of Elway when training camp came around and three quarterbacks were in camp, and everyone assumed that Mark Sanchez would win the job, backed up by first-round pick Paxton Lynch, with 2015 seventh-rounder Trevor Siemian battling just to make the roster. "I'm going to play the best guy," Kubiak said all spring and summer. Just before the start of the season he picked Siemian. And though Siemian just had one of his biggest victories on Sunday, the quarterback looked glum when he met reporters. His champion was walking away.
"I owe him a lot, obviously," Siemian said. "I had no business being drafted, no business really being around, so I owe him a lot for giving me a chance, getting me in the door and giving me a chance to play."
It'll be interesting to see which way Elway goes. It's clear the Broncos want to keep their defensive staff, led by Wade Phillips, intact. It's logical to think top offensive coaches will be candidates to replace Kubiak—son-of-Mike Atlanta coordinator Kyle Shanahan will be considered, and the Broncos are likely to speak with Buffalo interim coach Anthony Lynn and Miami defensive boss Vance Joseph. But it's a wide-open field.
• ROMO IS NOT THE ANSWER IN DENVER: Robert Klemko on what the Broncos need to do in offseason to get back to winning ways
* * *
Three More Coaching Nuggets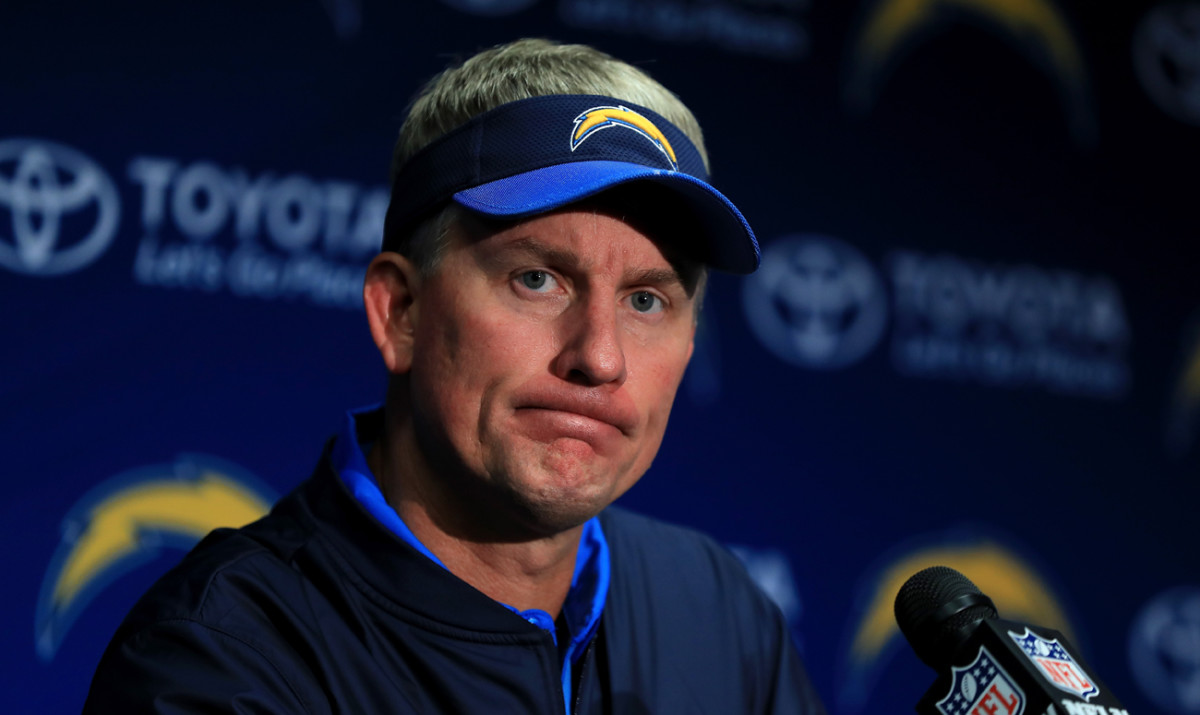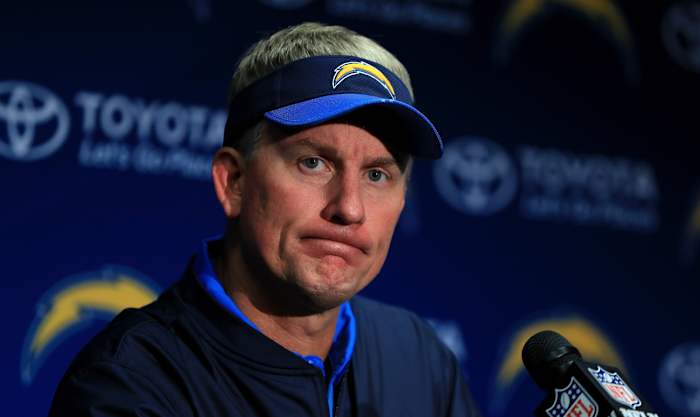 1.No mystery to what the Chargers did. Mike McCoy's a good man, and he'll be someone's offensive coordinator (Baltimore?) in 2017 if he chooses that life. (He's got one year left on his San Diego contract.) But the Chargers want new. They couldn't go to Los Angeles (a move that's highly likely) in 2017 with no major changes on a team that earned the cellar two years running in the AFC West. The problem now, obviously, is finding the right coach for a transient team that's gone 9-23 the past two years … and might play in the minor-league atmosphere of a 27,000-seat stadium in the Los Angeles suburb of Carson for two years. It's going to be a hard sell for a good coach—and for good free agents.
2.You know what struck me about these coach openings? There are no coaches everyone wants. If Stanford's David Shaw were a candidate (he says he doesn't want to leave college football right now), he'd likely get an NFL gig. Same with Nick Saban. I heard things Sunday night from teams like this: "There's nobody out there who's a slam-dunk guy." … "We definitely don't have a leader in the clubhouse." … "Who do you really like?" (You know a team's in trouble when it's asking a sportswriter's opinion.) … And this: "There's no one out there we love." … You know why all that is good? Maybe teams will take their time—Jed York indicated to me he'll be slow and wide-ranging with his two job searches, which he should be—and not rush the way most teams do every January. Teams will do their homework on Shanahan and New England offensive coordinator Josh McDaniels, as well as Joseph, Lynn, Payton, Dallas offensive coordinator Scott Linehan and other NFL assistants. But the fact is, there's not a must-have in the market this year.
3.I'm not sure Josh McDaniels will go anywhere. Some coaches will take a head-coaching offer, almost regardless of the salary or the situation. I can't see McDaniels, 40, doing that. Would you? Would you leave Bill Belichick and Tom Brady to get into what David Shaw calls "the spin cycle?" Make a few million, struggle to find and develop a quarterback in a losing situation, get fired, and then grasp at employment straws. I've always thought McDaniels would take his second (and perhaps last) shot at an NFL job when he found a place with stable ownership/management and a quarterback. And a good chance to win, obviously. Where's that job right now? It might be close in Los Angeles, if he could fall in love with Jared Goff or if he could finagle a way to deal for Jimmy Garoppolo. But I don't see that job out there right now. And who's to say any of these teams would want a coach who failed in his first shot at a head job in Denver?
• REX RYAN'S LAST RODEO: Jenny Vrentas on what's next for Ryan and the Bills
* * *
Rodgers is Hot
When Aaron Rodgers, three days after the Packers lost their fourth in a row on Nov. 20 in Washington, did his weekly meeting with the press, I had no idea the "run the table'' comment was actually a stratagem. But it was, according to what he told me. Remember when Jim Fassel, then coaching the Giants, said he was "shoving his chips to the middle of the table," and he was "all-in" and the Giants were going to the playoffs? That was in 2000. The Giants went all the way to the Super Bowl, and Fassel said after the season it was a ploy designed to take pressure off his pressing team. Maybe the team was relieved. Who knows?  But that's something like what Rodgers did after the Packers got wiped out in midseason, allowed 153 points in a four-game losing streak. The Packers looked dead. Kaput.
"I looked at our schedule," Rodgers said, "and I thought it was possible. Honestly, it was closer to realistic than it was a wing and a prayer. I thought we were close. I knew we were good, and I thought we needed some confidence. I knew it would add some pressure to my shoulders, but I was okay with that. I'm confident in myself. When the pressure's on me, I feel I can lead by example."
I asked Rodgers about a Pro Football Focus stat I'd used in the middle of the season, with him struggling. Usually he's near the top of the league in downfield passing accuracy. But this year he was near the bottom. In the month after the losing streak, that changed. He was back to throwing deep with confidence—abandon, almost—and he was doing it with everyone. He's even using an undrafted free agent now, Geronimo Allison, who's had 14 targets in the past three weeks.
"I just needed to play better," he said. "That's easy to say. I didn't make a conscious change, but if you look at our lineup starting with Washington, I probably hit [Jared] Cook over the top a little more. I had bigger targets. And I just threw it better. [Cook came back from injury against Washington and has caught 24 passes in seven games since.] That was important. It wasn't just a coincidence. Jared's been good for us."
So the little message to his team was accompanied by a structural change to the offense—passing more to bigger targets. Still, Rodgers says he wasn't just throwing out clichés. He thought the confidence from the quarterback, at 4-6, would help. And maybe it did. "If you know me," he said, "I'm not a cliché guy. I'm gonna shoot from the hip."
Since then he's taken some of his best shots downfield. Eighteen touchdowns and no interceptions later (his totals since that night in Washington), Rodgers has the Packers back in the playoffs. And watching them now, they're not a team you want to play in January.
• SASSY AND BRASH: Kalyn Kahler talks football, nerdiness and dictionary definitions with Packers DT Mike Daniels
* * *
Wild-Card Lookahead
Encapsulating the four games in the first round of the NFL playoffs (all times Eastern):
Oakland (AFC fifth seed, 12-4) at Houston (fourth seed, 9-7), Saturday, 4:30 p.m., ESPN. It could be Connor Cook at Tom Savage, depending on injuries and concussion protocols. I bet ESPN's loving that matchup. Of course, if form holds, the winner probably shouldn't celebrate too long. The reward, if Pittsburgh, at home, beats Miami in the other AFC wild-card game, is a trip to play the well-rested Patriots in Foxboro on the Saturday night of the divisional round. Should be nice and frigid on Jan. 14 in Massachusetts.
Detroit (NFC sixth seed, 9-7) at Seattle (third seed, 10-5-1), Saturday, 8:15 p.m., NBC. The Lions need a running game and the explosive Matthew Stafford to show up, and neither has been around much recently. Detroit limps in having lost three straight, by an average of 12.7 points, with their foes scoring 30 a game. If the Lions had a pass-rush going, I'd give them a decent shot, because the Seahawks are struggling to keep Russell Wilson upright. But I think Seattle moves on here.
Miami (AFC sixth seed, 10-6) at Pittsburgh (third seed, 11-5), Sunday, 1:05 p.m., CBS. Ryan Tannehill may be back from his strained knee for this one. The last time Tannehill (and Jay Ajayi) faced Pittsburgh, in October, Miami won by 15, and Ajayi ran for 204 yards. But the Steelers have gotten stingier since that day, and a lot more physical. Pittsburgh could well be the AFC team capable of giving the Patriots their toughest game. That won't mean much if the Steelers can't contact Ajayi on Sunday.
New York Giants (NFC fifth seed, 11-5) at Green Bay (fourth seed, 10-6), Sunday, 4:40 p.m., FOX. Game of the weekend. The Giants have won at Lambeau Field in the playoffs on both of their recent Super Bowl runs—Eli Manning over Brett Favre in 2007, Manning over Aaron Rodgers in 2011. The Packers are so depleted in the secondary that Manning could have the same kind of game he's had in previous trips to Wisconsin—he put up 60 points and turned it over just once in those two games. But Aaron Rodgers has rarely been this hot in his life. Should be a good, strategic game between two smart teams.
• REPLAY REVIEW: The MMQB's best stories from 2016
* * *
The Welcome Matt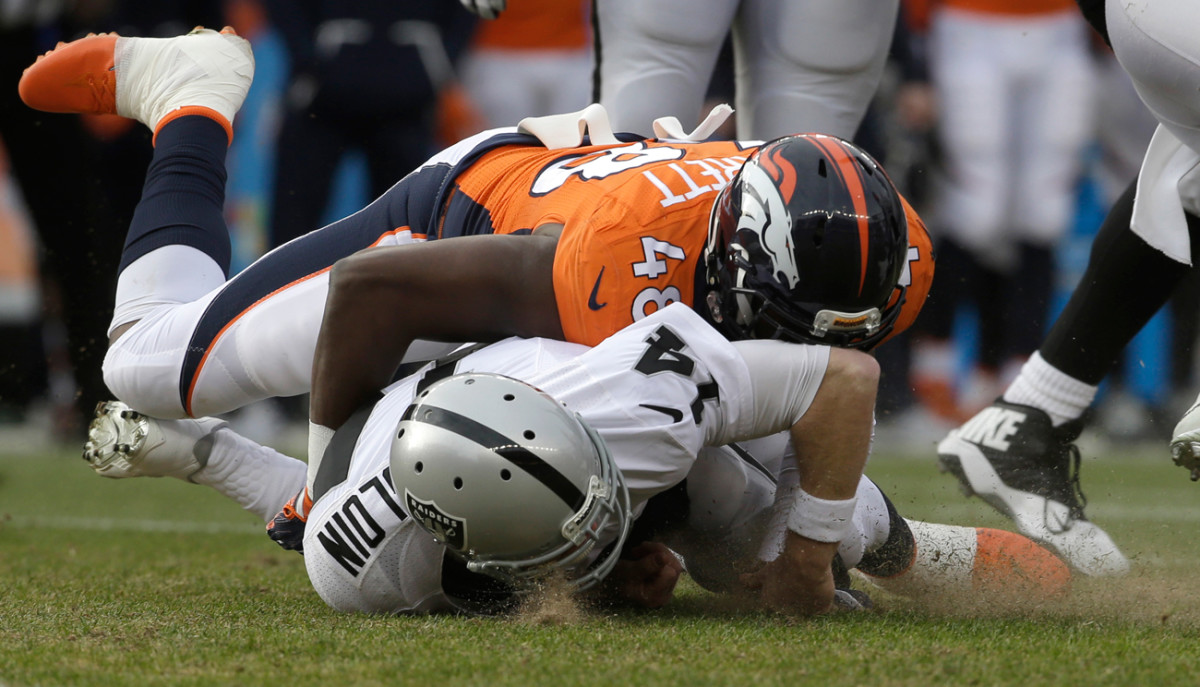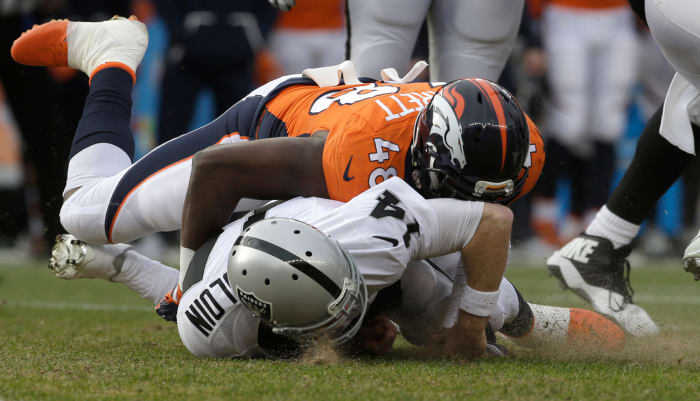 So you want an 18-game schedule? For my case against, I present some of the starting quarterbacks in the 16th games of the regular season:
• Matt McGloin, Oakland; relieved in the first half of a disastrous game by Connor Cook.
• Matt Moore, Miami.
• Matt Cassel, Tennessee.
• Matt Barkley, Chicago; relieved late in the game by David Fales.
• Tom Savage, Houston; relieved in the first half by Brock Osweiler.
• Landry Jones, Pittsburgh.
• E.J. Manuel, Buffalo; relieved in the second half by Cardale Jones.
• Robert Griffin III, Cleveland.
• Trevor Siemian, Denver.
• Ryan Fitzpatrick, New York Jets.
I rest my case.
• BUSINESS OF FOOTBALL—YEAR IN REVIEW: Andrew Brandt takes a look back at the headline-making issues of 2016
* * *
They Are Leaving…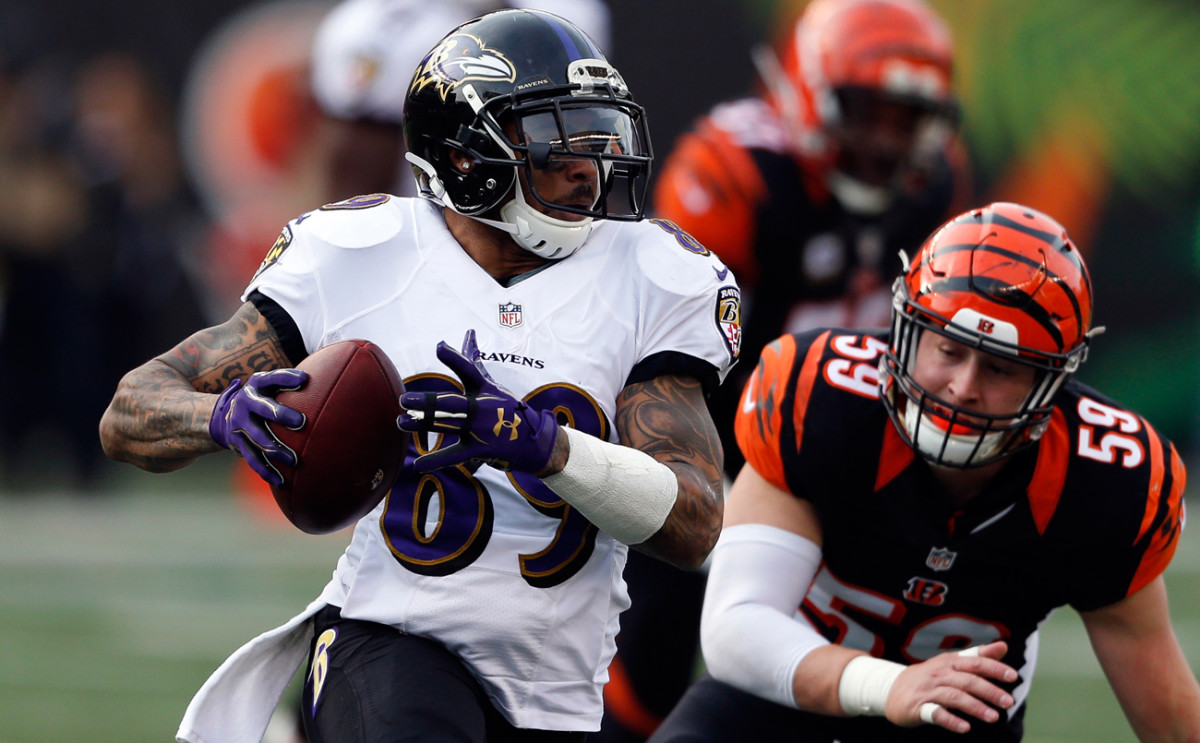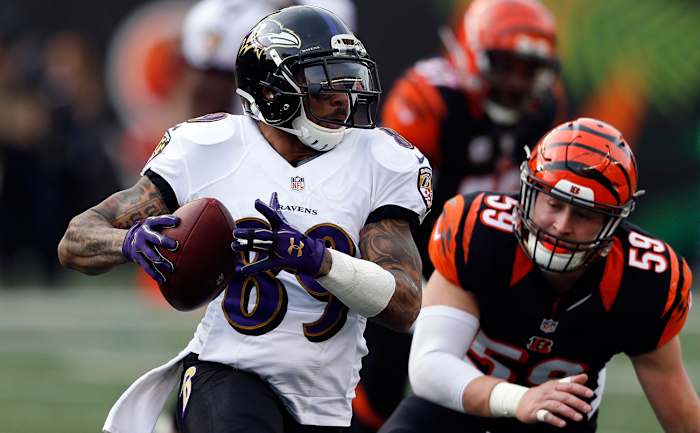 Baltimore wide receiver Steve Smith Sr.
Age: 37. Seasons: 16. Teams: Carolina, Baltimore. Claim to fame: One of the most competitive players in NFL history, Smith finishes seventh all-time in receiving yards.
From an interview with Smith as he rode the team bus to the airport in Cincinnati after Baltimore's 27-10 season-ending loss to the Bengals:
"I got a text from my wife before the game. Meant a lot … I'll read it to you: 'Baby I know today is probably very emotional for you. But if your life is a book, this is just one chapter. It's been one crazy roller coaster of a chapter. There's a lot to be written now. I am excited to see what God has planned for you next. It will be different, but I believe it will be good. I am going to miss watching you play. Do your thing out there, one last time. I am proud and I love you very much.' … Right now, a weight has been lifted. How will it all turn out? I don't know … One thing I know I will like is not trying to jam everything in before July, like, 17th anymore, hurrying to do things before training camp … What I am looking forward to NOT experiencing is the pressure to perform. I get in the huddle so often, and the linemen are like, 'Hey Steve, we need a play.' As you get older, the stress is more. That's the part of the game that's tough … [On his legacy] People are gonna think, 'He's a thug, a punk.' I've been called a lot of things. But I'd rather be known as a competitive guy, a tough guy, than a nice guy or a brown-noser … My kids miss me. I miss them … I am very happy. It's not time for a new life. It's time for a new direction."
Indianapolis pass-rusher Robert Mathis
Age: 35. Seasons: 13. Teams: Indianapolis. Claim to fame: Quiet and classy, Mathis finishes 18th on the all-time sack list.
From his retirement press conference Friday:
"Indy, this is my home. I am a Colt, I am a blue blood, I am a brick-layer at Lucas Oil Stadium … I am here forever … I still hate quarterbacks. I still want to chase them. My passion for chasing quarterbacks is going to always be there, but my body won't … You just have to be smart about it. Reggie Wayne and Edgerrin James, I talked to these guys and they said to listen to my body, and it's time to listen to my body."
Miami senior defensive assistant Jim Washburn
Age: 67. NFL coaching seasons: 18. Teams: Tennessee, Philadelphia, Detroit, Miami. Claim to fame: A colorful guy with a reputation for building great pass-rushes wherever he went.
From our conversation Saturday:
"I didn't know I'd ever coach in the NFL, though I always wanted to be here. I got my first job at age 49, in Tennessee … That first year, we end up in the Super Bowl, and I feel someone jump on my back on the field before the game, and it's Dick Vermeil. I loved that. Dick always was trying to help me get a job in the league … I love Ndamukong Suh. I think he's a Hall of Fame football player, and I love coaching him. … Really, I just love football. Today was my last team meeting with my guys. I talked to them about Alan Page, and about what a great player he was—173 sacks, 23 blocked kicks. I want them to know their heritage, and I don't think players today know it very well."
Minnesota linebacker Chad Greenway*
Age: 32. Seasons: 11. Teams: Minnesota. Claim to fame: Underrated and largely hidden for much his career, Greenway finishes as the fourth-leading tackler in 56-year history of the Vikings, behind Scott Studwell, Matt Blair and Jeff Siemon.
(*Tentative. He has hinted strongly at retirement.)
From our conversation Sunday, after what was likely his last game:
"Today I wanted to enjoy the day, remember the day … nothing official yet. It's been a great 11 years, and now I want to be able to sit down with my wife and some people in the organization and take some time and think. … I love football now for the same reason I loved it when I started playing in seventh grade in South Dakota. It's a team game. You have to rely on everyone else; they have to rely on you. … Just my background—growing up on a farm in South Dakota, I so appreciate that I have had this opportunity. I always wanted to make my parents proud of me, and I still do, the same way I want my four kids to be proud of the way I play. … I want the name on the back of my uniform to stand for something."
* * *
...And They Have Arrived
A.J. Bouye, Texans cornerback. I noticed him when … He tormented the Broncos in Week 7 with daring, physical pass breakups. The 2013 undrafted free-agent from Central Florida emerged out of nowhere as a clinging cover man, unafraid of the physical side of the game. Bouye's gone from invisible to one of the best cornerbacks in football.
Cameron Brate, Bucs tight end.I noticed him when … He had a two-touchdown game against the Rams in Week 3. And then Brate did something in every game to illustrate the soft hands and power body that the great tight ends have. The trust between Jameis Winston and Brate is a great building block for a young team.
Adam Thielen, Vikings wide receiver.I noticed him when … He had a 127-yard game when the Vikings went to 5-0 in October—and the smittenness continued in his incredible 202-yard game in frigid Green Bay last week. He makes every catch: the tight catches in traffic, the boundary toe-tap catches, the diving catches requiring great hands. The most amazing thing about Thielen: He wasn't recruited as a wideout in high school out of Detroit Lakes, Minn., and he ended up going to Minnesota State in Mankato (where the Vikings hold training camp) when the coaches there offered him $250 to buy books his freshman year. And here he is. 
Melvin Ingram, Chargers outside linebacker. I noticed him when … He was in the Denver backfield in Week 8 more than Broncos running backs. Not saying he was unblockable, and not saying this was his first disruptive year, but Ingram was consistently disruptive for the Chargers. He and Joey Bosa will be a good rush tandem.
* * *
Quotes of the Week
I
"They're going to do a 30-for-30 one day on the destruction of the franchise. I've talked to some people there, and there's misery in that building."
—Former 49ers staffer, to me on Sunday, on the state of the 49ers right now.
II
"A few years ago, receivers were fearful of him. Now they go in like, they're like, 'Revis Island? Man, I'm about to kick my feet up and have a daiquiri.' "
—ESPN analyst Damien Woody, a former Jet, in a Periscope video, on the decline of Darrelle Revis.
III
"First time I've ever heard his voice."
—Oakland tackle Donald Penn, to Vic Tafur of the San Francisco Chronicle, on hearing season-long backup rookie quarterback Connor Cook call signals in practice for the first time.
If true, that's a … well, pretty troubling sign for the Raiders' postseason—if the incredibly green Cook has to play in relief of Matt McGloin at any point.
IV
"I'm not going to enjoy dying. There's not much prep for that … I fear dying."
—Actor and author Carrie Fisher, eerily, in the current issue of Rolling Stone. Fisher, who skyrocketed to fame at 21 as Princess Leia in "Star Wars," died Tuesday, with the magazine on the newsstands.
V
"A lot of people were like, 'Derek Jeter has peed in this urinal.'"
—Northwestern running back Justin Jackson, to the New York Post, on being awed with his teammates to play at Yankee Stadium and walk through the Yankees' locker room. Northwestern beat Pitt 31-24 in the Pinstripe Bowl last Wednesday.
VI
"Tom Brady's awesome. I also get frustrated when they say he has no weapons, because Julian Edelman can start for everybody in football."
—CBS analyst Chris Simms, doing the Cincinnati-Baltimore game Sunday.
* * *
The Award Section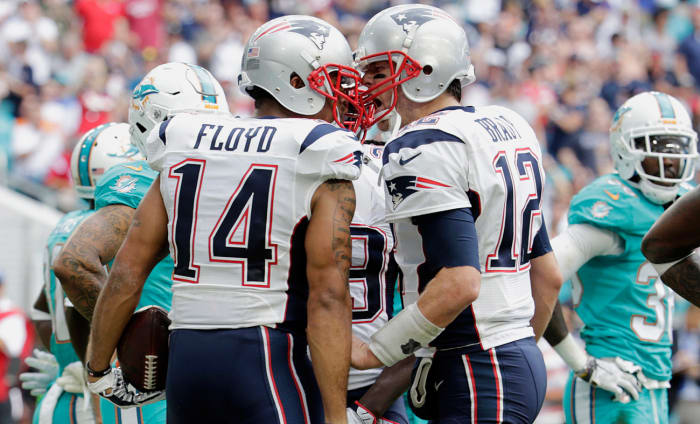 OFFENSIVE PLAYERS OF THE WEEK
Aaron Rodgers, quarterback, Green Bay. In the 31-24 division-clinching win at Detroit on Sunday night, Rodgers was his great self: 27 of 39, 300 yards, four TDs, no picks, a 126.0 rating. Mediocrity seems like so long ago. Six weeks ago Green Bay was 4-6, and Rodgers had played his share of uncharacteristically shaky games. But he said that week he thought they could run the table and win the division, and who are we to doubt this crystal-balling genius? Since then the Packers are 6-0, and Rodgers has thrown 18 touchdowns and zero interceptions … and the Packers are making their sixth straight trip to the playoffs, and Rodgers has forced himself into a very tight race for the MVP.
Tom Brady, quarterback, New England. How incredible is it that Brady has created a contest for the MVP after missing the first four games? He may not be able to overcome missing a quarter of the season, but I doubt he cares much about that right now—not after capping one of the most memorable regular seasons of his life. Brady (25 of 33, 276 yards, three touchdowns, no picks) and the Patriots sprinted to a 20-0 lead at Miami on Sunday, and the only team in the AFC East fit to challenge them this year went down meekly again. For the season, Brady set the league record for best TD-to-interception ratio (28-to-2) and, at age 39, got set to put the team on his back for another postseason run.
DEFENSIVE PLAYERS OF THE WEEK
Damon Harrison, nosetackle, New York Giants. All season, Harrison has shown how valuable he's been to the Giants as a free-agent addition to a vastly improved defense. Sunday, in the 19-10 win at Washington that knocked the home team out of the playoffs, Harrison had four tackles plugging the middle of the line, helped limit Washington to 38 rushing yards, had a sack of Kirk Cousins, and even knocked a pass away in a surprisingly nimble pass-coverage play. What a great signing in free agency he was last March.
Dominique Rodgers-Cromartie, cornerback, New York Giants. Fooling Washington on a disguised blitz and in coverage, Rodgers-Cromartie played a superb game, picking off Kirk Cousins twice and sacking him once in a game the Giants dominated on D. Rodgers-Cromartie, at 30, is showing no signs of wear or slowing down, and he'll be vital for the Giants if they're going to have a good shot to win in Green Bay on Sunday afternoon.
SPECIAL TEAMS PLAYERS OF THE WEEK
Tyreek Hill, punt returner/wide receiver, Kansas City. I've said it several times in the last half of the season: Kansas City will have a chance to beat anyone—even the Patriots in Foxboro—if Tyreek Hill can make a couple of difference-making plays, like the 95-yard punt return through traffic to ice the victory in San Diego on Sunday. What a weapon. Hill finished the season by winning the punt-return crown at 15.2 yards per return, a 3.6-yard edge on second-place returner Brandon Tate of the Bills.
COACH OF THE WEEK
Gary Kubiak, head coach, Denver. There is an adult in the room. Kubiak wasn't forced to quit his dream job, coaching the Broncos in partnership with GM and former teammate John Elway. But at 55 he knew he had some health issues he needed to watch—and he knew a job less all-controlling than this one would be best for his long-term well-being. He was unusually emotional with his players on Saturday night in his weekly pregame speech, and then when they woke up Sunday morning and saw Adam Schefter's report that this would be it for Kubiak, they went out and played the kind of game they knew would make him proud. The Broncos throttled the rival Raiders, 24-6. For his two-year run in Denver, Kubiak finishes 24-11, including a 3-0 playoff record and a Super Bowl title in Peyton Manning's last game. Yes, it was a very good run for Kubiak, who managed his Denver career at the end of it as well as he managed the team during it.
GOATS OF THE WEEK
Graham Gano, kicker, Carolina. Fitting. In game one this year, Carolina got off to a bad start in what would become a lost season: Gano missed a 50-yard field goal with four seconds left, and Denver held on to beat Carolina 21-20 in a Super Bowl 50 rematch. On Sunday, in game 16 at Tampa Bay, he missed field goals of 45, 58 and, with six minutes left, 36 yards. Bucs 17, Panthers 16.
The Buffalo kickoff return team.I have never seen this before. Has anyone? Seriously, has it ever happened that a team kicks off, the ball bounces and bounces and lands a yard deep in the end zone … and the return team stands over it watching as the kicking team recovers it for a touchdown? That's what happened when running back Mike Gillislee of the Bills decided not fall on the live ball on a New York kickoff, and the Jets flopped on it for a score.The lack of awareness by the Bills' return unit is the most startling faux pas by a team I've seen this year.
* * *
Right Combination of the Week
Mike McCarthy, coach, and Aaron Rodgers, quarterback, Green Bay. A month ago, when in Wisconsin for Green Bay Week at The MMQB, I had McCarthy on my podcast and suggested that there might be a mechanical flaw or something else wrong with Aaron Rodgers. It looked to me that Rodgers just wasn't playing at his typical high level of consistency this season, and he wasn't throwing the ball downfield as well as he usually did. There was a split second of a look from McCarthy, like, Man, you're crazy, and then he answered the question politely, while disagreeing firmly. That's the relationship with these guys—they've got each other's backs, as the saying goes. And though Rodgers' wasn't throwing the deep ball as accurately as usual, you'd never get a critical word publicly from McCarthy after all the greatness he'd seen from Rodgers. The right combination for Green Bay missed the playoffs in Rodgers' first year playing (2008) and never again. The Pack has made the postseason eight years running with McCarthy and Rodgers leading the way, capped by a 31-24 win at Detroit on Sunday night in the final game of the NFL's regular season that gave Green Bay another division crown.
* * *
Stats of the Week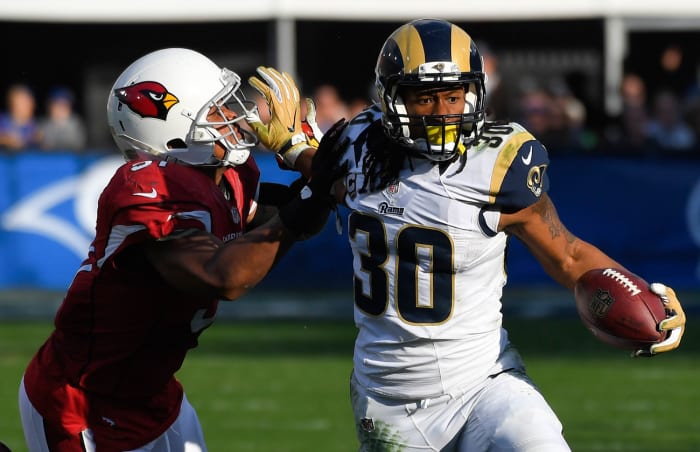 I
Todd Gurley didn't have a 100-yard rushing game in 2016.
In his last 24 games, Gurley has exceeded 90 yards once.
II
The distance between the Patriots and the rest of the AFC East is not narrowing. It's not rare that this season's Patriots won the division they've dominated for 16 years (14 titles in that span), nor that they won it by four games. The aggregate two first halves between New England and second-place Miami this year: Patriots 44, Dolphins 10.
III
Quick: Name the player who had the best year of any player in the league at his position in 2016. It's subjective, obviously, because how can you tell whether the best guard was better than the best wide receiver or best cornerback? You can't. But it's my column, and I'll make this claim: Rams punter Johnny Hekker was the best player at his position in the NFL this year. Compare him to his peers.
• Net punting average: 46.1, and a huge edge over number two Sam Martin of Detroit (43.7).
• Punts inside the 20: 50. Number two: Dustin Colquitt of Kansas City (37).
• Average yards per return (on all punts, not just returned punts): 1.32. No other punter with at least 50 punts had less than 2.0 yards per return.
IV
So we've told you about the no-doubt best punter in the NFL. Now for the best placekicker.
Justin Tucker of the Ravens missed one kick all season—that well-timed leap over center and block of a field goal by Shea McClellin of the Patriots in Week 14. Tucker's other 37 field-goal tries and 26 extra-point kicks … good.
While Tucker was missing one kick all season, the rest of the AFC North missed 24.
* * *
Factoids That May Interest Only Me
I
Horseshoe Twins Forever Dept.:
At 17 and 18 on the NFL's sack list are fitting names.
| | | | | |
| --- | --- | --- | --- | --- |
| Player | Seasons | Age | Sacks | Seasons as Colt |
| 17. Dwight Freeney | 15 | 36 | 122.5 | 11 |
| 18. Robert Mathis | 13 | 35 | 122.0 | 13 |
Also: Forced fumbles has been an official stat for just the past 25 years. According to StatsPass, Mathis (49) and Freeney (47) are numbers one and four on the forced-fumbled list since 1991.
Mathis retired after Sunday's game against Jacksonville. Freeney, now a Falcon, hasn't hinted at retirement.
II
Someone's going to have to coach Cam Newton hard in the offseason.
Last seven games: Newton was a 46.8 percent passer (109 of 233), with five touchdowns and 11 interceptions.
* * *
Mr. Starwood Preferred Member Travel Note
On our flight home from San Francisco, I sat near a woman who I noticed was watching "Gleason," the documentary on the life of former Saints special-teamer Steve Gleason, who is afflicted with ALS. (The film, which is fantastic, is on many critics' short lists to be nominated for Best Documentary for this year's Academy Awards.) Occasionally I'd look over and see her covering her mouth, or looking otherwise emotional. I asked her when it was over what she thought. "Wow," she said. "I was really impressed that someone facing such a devastating illness would make it his mission to help others. Incredibly moving. And it was gratifying to see a bill with his name on it pass Congress to help others."
You can rent or buy "Gleason" here.
* * *
Tweets of the Week
I
II
III
IV
* * *
Pod People
From "The MMQB Podcast With Peter King," available where you download podcasts.
This week's conversations: Dolphins coach Adam Gase and Stanford Cardinal coach David Shaw.
• Gase on the influence of Nick Saban on his life: "I was a student assistant [on Saban's Michigan State staff], and then when he went to LSU I graduated and went down there with him. I always liked the way that he handled players, but also how organized he was, how everything was done so meticulously … there was a regimen every day. You just knew what to expect. You knew what was coming, and it was a grind, it wasn't tough, it wasn't easy, but there was a purpose behind everything. He had a great process, and I gravitated towards that. I've seen him have fun. When we had signing day, that night, you would always see a big old smile. He knew that chapter had ended and he would always take the staff out, which was always a fun night for all of us because we didn't have a lot of time to hang out as a staff, and that was the one time the whole group would go and get to talk and BS a little bit. His process, the way that he handles everything, is so engrained in my DNA now. I don't know if that will ever change."
• Shaw on his former wideout, Doug Baldwin, whom he coached at Stanford: "Anybody who has ever seen Doug knows that he has a big chip on both shoulders, that's just how he came out of the womb. That's just who he is. ... Here's a young guy, undersized, under-recruited, coming across campus, couldn't participate in the first part of training camp his freshman year because he has bad shoulders, but he can't wait to prove himself. He can't wait to compete, he can't wait to fight and get his meat hooks into college football. We went through a lot, and some of it was very loud between the two of us, but the one thing I never let him doubt was how much I cared about him and how much I wanted him to be successful."
• Shaw on Richard Sherman, another Stanford player: "There are two Richard Shermans. There is the Stanford Richard Sherman, which is brilliant. Not just smart; he is brilliant. Thoughtful, intelligent, intellectual, conversational on a variety of topics. And then there is the Compton Richard Sherman, that is ready, willing and able to fight anybody at any battlefield at any time. He is a perfect example of when the world's foremost intellectual university meets Compton, California. They are embodied in one person. At different times, as I tease him sometimes, we get different ones. The Compton Richard Sherman is the guy that we see on Sundays on the battlefield, ready to battle against anybody, the best in the world. And the Stanford Richard Sherman, that's the guy that is supposed to give the interviews and talk to the Peter Kings of the world." 
* * *
Dr. Z Unsung Players of the Week
Each week, in conjunction with Pro Football Focus, I'll point out three players who played well but were under the radar. Paul Zimmerman would have loved this section. This week's trio:​
1. Bears center Cody Whitehair. The rookie was a highly touted tackle at Kansas State, but the Bears asked him to play center, and he has done so admirably. Whitehair has really come into his own the past few weeks and stood out in a losing effort to Minnesota in Week 17. Whitehair didn't allow a sack, hit or hurry on his 23 pass-blocking snaps.
2. Texans defensive end Christian Covington. Covington put together one of the better games by a defensive lineman in Week 17, tallying a sack and a hurry on only 16 pass-rush snaps. Covington also added four run stops and was PFF's top-rated interior defensive linemen in Week 17.
3. Browns linebacker Chris Kirksey. He played his best game of the season on Sunday, earning a sack, hit and two hurries in 11 pass-rush snaps. In coverage, he allowed only two catches for 14 yards. Kirksey ended the day as PFF's top-rated linebacker in Week 17. 
* * *
On Their Night Table
Under Our Skin, by Benjamin Watson with Ken Peterson
Recommended by Saints tackle Zach Strief
Writes Strief, who was teammates with Watson in New Orleans from 2013-15:
"What would it take for me to pick up a book detailing race relations in America? Maybe only that book being written by a good friend. That question and answer infuriates me, but it is the truth. Being honest with yourself isn't always easy, but as Benjamin Watson addresses in this book, it is the first step in our society getting past the epidemic of racism in America. 'The solution to the problem of race in America will be found only by ordinary people, good people, looking inside themselves, being honest about the assumptions and biases that have formed and beginning to change what's in their hearts,' Watson writes. After finishing the book, this is the quote that was underlined and marked that I continue to come back to. Watson challenges us to look inside, to be honest and to start a dialogue with each other to understand the challenges facing us all.
"This book put me through many of the range of emotions that Watson expresses having while explaining his view on race in America: embarrassed, frustrated, fearful and confused, sad and sympathetic, offended, hopeless, hopeful, encouraged and empowered. The power of this book is that I, a white man, experienced all of those emotions while reading. EMBARRASSED, that I never would have read this if Benjamin wasn't a friend. FRUSTRATED by my role in the problem. FEARFUL and CONFUSED that my niece, who is half black, may experience the prejudices that exists in America. SAD and SYMPATHETIC toward all who are affected on a daily basis. OFFENDED that with every tragedy comes people taking sides against one another. HOPELESS that it is a problem that at times feels like it's getting worse. HOPEFUL that the message in this book can change the hearts of many as it has mine. ENCOURAGED that people like Benjamin Watson exist in our country with the power to heal our hearts, and EMPOWERED by the knowledge gained in this book to make a positive change to those around me. For me, this book was a life-changer."
You can purchase Under Our Skin here.
* * *
Photo Op
We visited my daughter Laura and her wife, Kim, in San Francisco over the holidays. They live in Cole Valley, a city neighborhood. Walking their dog one day, I spotted the small structure you see on the right.
I have to say this is the first one of these I've ever seen: a quite civilized outhouse for construction workers out on a sidewalk of a home being renovated. Looks like a powder room on a street corner.
* * *
Ten Things I Think I Think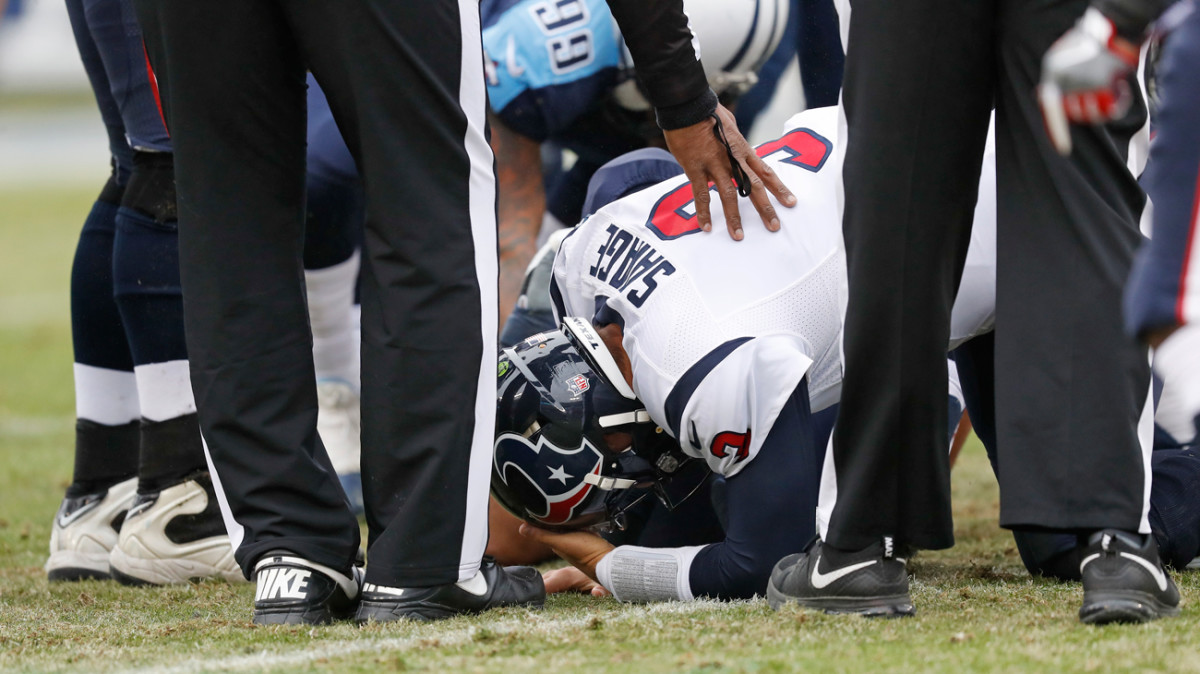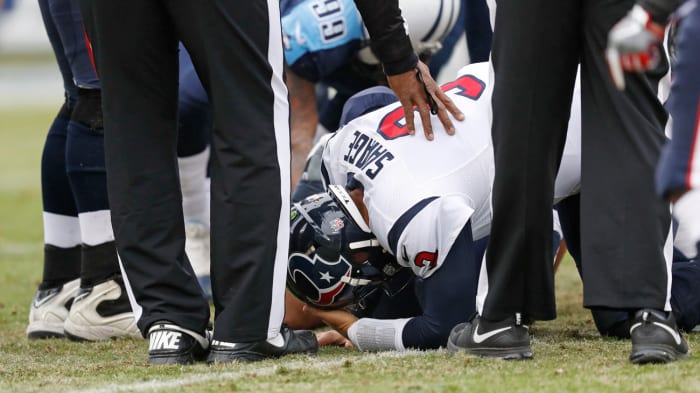 1. I think these are my quick notes of analysis from Week 17:
a. After watching Michael Floyd drag three Dolphins for the final five feet to his first touchdown as a Patriot, I thought he is doing his best to force his way into Josh McDaniels' postseason game plans.
b. Mark Sanchez, 30, is going to need a great agent to have a job in the NFL in 2017.
c. Man, Houston is one weak division champ, and one weak home-field wild-card team.
d. And yet, wouldn't you be surprised if the Texans lose the playoff game to the Derek Carr-less Raiders on Saturday?
e. Whoever John Harbaugh gets to coach the Ravens' quarterbacks or coordinate the offense next season, it needs to be someone who will coach Joe Flacco hard; Flacco throws too many careless, costly picks for a quarterback of his stature.
f. Visual of the day, and maybe of the season: Eagles tight end Zach Ertz making a diving touchdown catch against Dallas at Lincoln Financial Field, getting up and celebrating with his teammates. He gives the ball to Carson Wentz, who finds American League MVP and Eagles season-ticket holder Mike Trout in the end zone seats and hands Trout the ball.
g. Talking about how times have changed in the NFL: Only one back this season carried the ball more than 300 times (Ezekiel Elliott, 322).
h. Sometimes history just rushes by, and we hardly notice: Sunday was the last regular-season game in the history of the Georgia Dome, quite possibly the last game as Saints coach for Sean Payton, and likely the last NFL game at Qualcomm Stadium.
i. Eli Manning is 2-0 in playoff games at Lambeau Field, which is a stat I trust you're already sick of hearing if you live in Wisconsin.
j. By surveying the landscape, I can tell you the Jaguars' head-coaching job is not quite as attractive as many in football might think, because there's so little conviction in Blake Bortles as a long-term answer at quarterback.
2. I think I can't see the Patriots trading Jimmy Garoppolo in the off-season. I can't see Bill Belichick, who has to feel Garoppolo is the best chance for a long-term successor to Tom Brady (whenever that will happen) that he's had, giving that up without trying to sign the third-year quarterback long-term. The trick is how to do that, knowing Garoppolo has to be paid more than your typical insurance policy would be paid at quarterback. Insurance policies don't normally make $10 million a year. This one might.
3. I think that's not going to prevent teams—Cleveland and Chicago at least—from sniffing around the Patriots for Garoppolo very seriously.
4. I think it's amazing that the Patriots started three different quarterbacks this year, had the whole Brady/Deflategate suspension thing to deal with, and dumped their two best front-seven players (Chandler Jones, Jamie Collins) … and won more games than any other team in football this year.
5. I think two things are humorous about what the masses are saying regarding the end of Chip Kelly: that his 26-21 record in Philadelphia was disastrous, and that any rube could see he'd never succeed in San Francisco with his schemes and his coaching. In Philadelphia he inherited a team that had gone 8-8 and 4-12 in Andy Reid's last two years, then went 10-6, 10-6 and 6-9. He oversaw a dumb trade—LeSean McCoy to Buffalo. After Kelly left, it couldn't have been too disastrous, seeing that the Eagles had the pieces to trade up for their quarterback of the future, Carson Wentz, and got back their first-round pick in 2017 by trading the quarterback of the past, Sam Bradford, to Minnesota. Disastrous. Gimme a break. In San Francisco he inherited a team with no quarterback and the 31st-ranked defense in football, and a recent history of bad drafts. He went 2-14. Surprise!
6. I think I know why Nick Saban loves college football, and why he gave the NFL only a two-year trial (other than the fact he listened to his doctors in Miami in 2006 and swerved away from Drew Brees because of shoulder surgery and made Daunte Culpepper his quarterback instead): the fact that he can have teams with such depth at Alabama that a backup running back (third-string early in the season), Bo Scarbrough, could be the best player on the field in the national semifinal rout of Washington. I still think Saban will take the NFL plunge again one day, but it's easy to see why he stays, and why he may stay forever. The number three guy on your depth chart at some positions could be number one on all but a few top college teams.
7. I think the dumbest things filling football Twitter feeds in recent days were the debates over which teams should take which players at the top of the draft. Considering the draft is 115 days away and we don't know which underclassmen will declare, hey, really great use of your time.
8. I think this is the essence of the madness: We've got people debating which quarterback-desperate franchise is going to get fixed for the next 15 years by a one-year starter at North Carolina who hasn't said whether he's coming out and I can guarantee hasn't been vetted even a tenth of what teams will do if and when they need to make a decision on Mitch Trubisky. Is he likely to be a top 10 pick if he comes out? Yes. But no one knows by which team, because those teams have not studied him nearly enough.
9. I think this Tyrod Taylor weirdness in Buffalo—Rex Ryan loved him, the front office didn't, the starting quarterback didn't appear in a season highlight video (pretty hard to accomplish that)—points out how important it is for the personnel side of the building to be at least civil and team-oriented with the coaching side of the building. Strong, opinionated people exist in coaching and scouting and salary-cap areas of a team. That's good; that's true on every team. But when there is such polar disagreement, the coach or the GM or both have to go. It was Rex Ryan's time anyway, but particularly because the building was so divided.
10. I think these are my non-football thoughts of the week:
a. Story of the Week: The man who investigated Donald Trump and his charity for the Washington Post, David Fahrenthold, on the long and very winding road to discovery.
b. I love independent bookstores. I love the smell of them, the feel of them and the browsing ability that makes them so great.
c. Coffeenerdness: Italian Roast, 1:38 a.m. Come on baby. Carry me through.
d. Beernerdness: Had a very interesting Saison while in San Francisco: HenHouse Saison (HenHouse Brewing, Petaluma, Calif.) is almost a light beer, eminently drinkable with a different flavor from that of many Saisons. It's not often a Saison seems a summer beer, but this one is. Spicy too. I'll be back, HenHouse.
e. Man, "On the Media" is maddening. You know from this space that I love NPR, but the show that's supposed to be about the media is about the media about half the time (this weekend it was an hour about Shakespeare), and the rest of the time about very distant cousins of the media.
f. Hey Chuck Todd: Make the wild-card game this weekend at Lambeau your first game ever in Green Bay. It's long past time. These times, they don't come back.
g. RIP, so many from our sports culture in 2016: Muhammad Ali, Ralph Branca, Dennis Byrd, Marion Campbell, Choo Choo Coleman, Bud Collins, Bruce DeHaven, LaVell Edwards, Jose Fernandez, Hokie Gajan, Joe Garagiola, Dennis Green, Jim Ray Hart, Winston Hill, Gordie Howe, Monte Irvin, Ted Marchibroda, Dick McAuliffe, Jim McMillian, Joe McKnight, Arnold Palmer, Milt Pappas, Lawrence Phillips, Tony Phillips, Aaron Pryor, Buddy Ryan, Craig Sager, Rashaan Salaam, John Saunders, Drew Sharp, Blackie Sherrod, Jim Simpson, Will Smith, Pat Summit, Nate Thurmond, Kevin Turner, Pearl Washington, Walt "No Neck" Williams.
h. One last note, sort of about the old days in sportswriting: After I got to the Cincinnati Enquirer in March 1980, I was assigned a couple beats in addition to Xavier basketball and the backup Reds' job. I got the weekly TV/Radio column, and, after a year or so, I got boxing. There was an up-and-coming fighter in town, Aaron Pryor, and I wrote a profile of Pryor, who grew up in a tough part of town and had a checkered background. He didn't like what I wrote. The morning the story came out, Pryor stormed into the newsroom looking to confront me. Glad to say I wasn't there. I liked that about him—he was unfiltered, and he told you precisely what he thought at all times. I covered his giant world championship fight, for the junior welterweight crown against one of the kings of boxing, Alexis Arguello, in November 1982. Sat ringside at the Orange Bowl on a muggy night for the 14-round fight. An electric, vicious, violent event. Pryor won with a 14th-round knockout. When the fight was over, I looked down at my notebook, and there was blood spattered on it, presumably from both fighters. Pryor, one of the most memorable people I've covered, died in October. He did a lot for young people, and fighters, in later years.
i. Hello 2017. Please be nicer than 2016.
* * *
The Adieu Haiku
Folks: Don't doubt Rodgers.
You risk Olivia's wrath.
Do not cross Ms. Munn.
• Question or comment? Email us at talkback@themmqb.com.