Final Four Looks Fantastic
New England. Pittsburgh. Atlanta. Green Bay. How did they get here? Let's start with the best throw of Aaron Rodgers' life, and also get into five new head coaches, one messy franchise relocation and the birth of a new King
An assistant coach for one of the NFL's final four teams summed up Sunday night why the four teams made it … and why the also-rans in the league remain also-rans.
"Look at the four quarterbacks playing next week," Coach X said. "Aaron Rodgers. Tom Brady. Matt Ryan. Ben Roethlisberger. What does that tell you about this game?"
Two things:
1. You have to have a very good quarterback to be playing deep into January.
2. Championship Sunday—Green Bay at Atlanta, Pittsburgh at New England—could be epic.
Passer ratings of the Fine Four, regular season: Ryan, 117.1, Brady, 112.2, Rodgers, 104.2, Roethlisberger, 95.4. Combined touchdown passes: 135. Picks: 29.
* * *
What a week. Five teams name coaches. The Jags name a czar. The Chargers abandon San Diego; a Los Angeles debacle awaits. The Year of the Playoff Rout continues with two Saturday snoozers … and then comes one of the best Sundays of playoff football in a while, with the best throw of Aaron Rodgers' life—and I don't care that he says, "No, no, I've made better ones." No, no, you haven't.
Just as Eli Manning will never make a better throw than the perfect 38-yard rainbow down the left sideline to Mario Manningham five years ago to set up the Giants' Super Bowl win over New England, Rodgers will one day realize this 38-yard line drive (he threw it 38 yards in the air) is his personal best, for many reasons. One: Running left and pausing and then running some more, Rodgers flicked the ball across his body ridiculously accurately, tracing the left sideline to Jared Cook, who got a couple of toenails in while falling out of bounds to make the catch count. Two: It happened with three seconds left in a 31-31 game. Three: Green Bay had blown a 15-point lead in the last 12 minutes.
Aaron Rodgers is playing the position as well as it's ever been played. You don't need stats to know that. You need eyes. That's one of the reasons why this weekend is so special. Is it far-fetched to think we'll be watching three Hall-of-Famers and the 2016 NFL MVP quarterbacking their teams? That's not to say Ryan won't make the Hall of Fame. It's that his career doesn't have the luster of the other three. Yet. Brady and Rodgers could be very, very high on the all-time list. Just ask Dallas coach Jason Garrett, who sounded like Jack Buck on the Kirk Gibson home run ("I don't believe what I … just … saw!") after the game.
"At the end of the day," Garrett said, "they're gonna talk about [Rodgers] as one of the top three quarterbacks who ever laced them up."
One other thing about this week: I had a grandchild. In year 20 of this column, you've gotten used to me pushing my way into the news of the week. It happens again this morning. You'll meet Freddy King, of San Francisco, Calif.
First, the upcoming playoff matchups:
NFC: Green Bay (12-6, fourth seed) at Atlanta (12-5, second seed), Georgia Dome, 3:05 p.m. ET. I'm not a gambler, and I don't pay much attention to gambling things. But Aaron Rodgers at Matt Ryan is why several sports books in Las Vegas, as the clock moved close to midnight Sunday, had the over/under total for this game at 60.5 points—the highest ever for an NFL championship game or Super Bowl. There's a reason for that: Since Nov. 20, the Falcons and Packers (14-2 in that span) have scored an average of 33.6 points per game. But the most stunning note here is that since Nov. 20, in a total of 16 games, the two quarterbacks have combined for this touchdown-to-interception differential: 41-to-3. There's also the fact that they'll play under a dome on Sunday, so weather conditions will be no factor. The key to this game, I believe will be the improving front seven of the Falcons. "We get better every week, because we've got young guys still learning our defense," coach Dan Quinn told me Saturday night. Seven of Atlanta's 12 defensive starters (sort of; I'm counting undrafted rookie Brian Poole, who has started nine games at corner and averages 51 snaps a game) are in their first or second seasons. If Vic Beasley and Brooks Reed, who played off the edge in tandem against Seattle like their hair was on fire, can bug the elusive Rodgers enough, that'll give Atlanta a chance to hold Rodgers out of the end zone or without a field goal on two or three possessions—which may be just enough to win a 38-33 type of game. 
AFC: Pittsburgh (13-5, third seed) at New England (15-2, first seed), Gillette Stadium, 6:40 p.m. ET. The first playoff meeting of Tom Brady and Ben Roethlisberger in 12 years (since Roethlisberger's rookie season) is a fitting battle of the heavyweights to decide the AFC representative in the Super Bowl. Because each quarterback likes to play almost entirely from the pocket, and because each defense has some backfield vulnerability, this could be a game decided by a Bud Dupree or a Rob Ninkovich, an edge rusher who can get free to harass the passer. But this is also a game in which two surging backs could be determining factors. No one has stopped Le'Veon Bell in two months; he's averaging 158 rushing yards in the past five games, when everyone knows he's going to be fed over and over. But don't think New England can't run, just because its backs are a lot less famous. In the regular season New England rushed on 45.6 percent of its snaps, Pittsburgh 39.9 percent. Sort of startling. But the streak Bell is on is one of the greatest by a runner the league has seen. Two weeks in a row he's broken the Steelers' playoff rushing record—the first time surpassing Franco Harris' 42-year-old mark, and Sunday night surpassing his own seven-day-old record. Defensive speed hurt the Patriots against Houston, with Brady struggling to escape Whitney Mercilus and Jadeveon Clowney. But New England usually finds ways to make enough plays on offense when Josh McDaniels and Bill Belichick and Brady put their heads together. This should be a memorable game.
• HOW AARON RODGERS RAISED HIS GAME: Andy Benoit examines the Packers quarterback following Sunday's epic performance
* * *
The Chargers Have to Know What's Ahead
Five points about the Chargers' move up the I-5 to a 27,000-seat stadium they will struggle to fill for the next two years:
1. The owners in the NFL—aside from Dean Spanos of the Chargers—have to be waking up in the days following the decision of the Chargers to relocate to Los Angeles and saying, "What have we done?" Los Angeles doesn't want a second NFL team. Los Angeles doesn't need a second NFL team. There will be embarrassing days ahead for this franchise and this city regarding its NFL teams, but none that couldn't have been predicted. I have not heard a soul saying this is a good idea. Not one. We'll see how smart the NFL's market studies were three or four years down the road. But if this tanks, it will be the kind of pockmark on Roger Goodell's commissionership that will be hard to erase.
2. I've had a couple of NFL officials scoff at this, but we'll see in a few years. The Clippers, after years of ineptitude and second-fiddledom to the Lakers, were sold to Steve Ballmer for $2 billion. If a bad NBA franchise (albeit one turning the corner to competency) is worth $2 billion in Los Angeles, what must a bad NFL team be worth? Four billion? Even if this team performs badly at the box office, Dean Spanos should be able to make a killing on a sale if he chooses.
3. Los Angeles has a history of non-support for losing franchises. It doesn't matter how many people live there; if the product is lousy, people don't go. I'll be surprised if the Chargers can fill the little place in Carson the next two years except for rivalry games.
4. If there's one second-guess about San Diego's move, it's this: The Chargers shouldn't have focused so heavily on the downtown San Diego site that was throttled at the polls last November. I believe had they focused inland (either near the current Qualcomm site or somewhere else, perhaps combining with San Diego State), they could have had a chance at passing a public vote for a more modest project in 2018. Say it failed. Then move. But the Raiders are going to Las Vegas, in all likelihood. If the Chargers took one more swing, even if it was a long shot, at making a lesser project work, and it didn't pass muster in November 2018, they could have relocated to Los Angeles then.
5. I can't indict Spanos on this wholly. I do believe he tried hard to make a new stadium work in San Diego. I'm just not a fan of leaving a place where people love you for one where apathy reigns. I honestly do not recall a situation when an NFL team moved, and the market they moved to responded in such a bored, almost antagonistic way. I'm just still trying to figure out who thought this was a good idea.
​• THE SIREN CALL OF LOS ANGELES: Andrew Brandt looks at the business impact of the Chargers' impending move
* * *
The Play That Deadened Dallas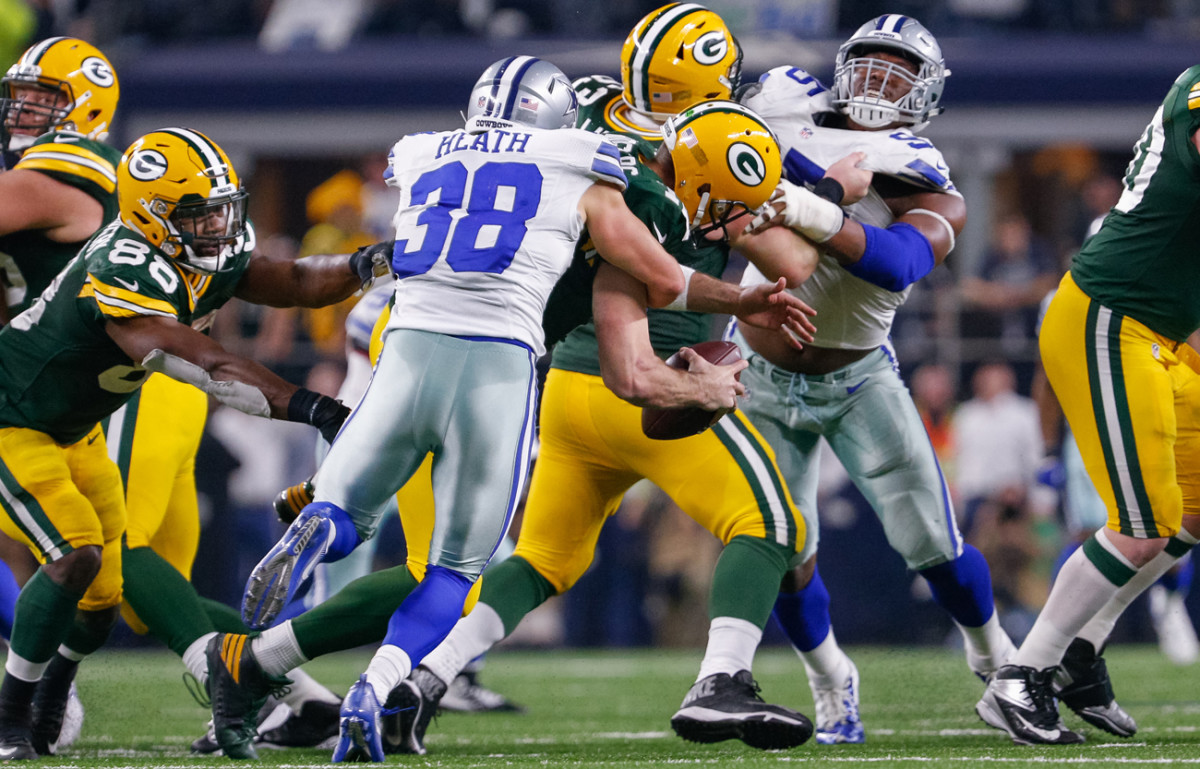 The Cowboys had just stormed back with 18 fourth-quarter points to tie the game, and the Packers were facing the real possibility of going to overtime when they huddled one last time. They had the ball at their own 32-yard line, facing a 3rd-and-20, with 12 seconds on the clock. Aaron Rodgers called the play and looked around the huddle. "Just get open," he said.
That's what Jared Cook, the Packers' tight end, was thinking as he started running his route from the slot, dragging across the field from right to left. Just get open. The Cowboys were only rushing three linemen and had dropped into a deep zone. Rodgers spun away from the pressure and rolled to his left, trying to buy his receivers more time. Cook saw Rodgers roll that way and kept running with him, toward the sideline, trying to "find his eyes."
"With Aaron, you always have to improvise," Cook would say later. "You always just have to keep working. You always have to make sure you're in the right position to see him."
As Cook kept running, he recognized a soft spot in the Cowboys zone. Dallas had safety Byron Jones a few yards in front of him, but no one behind him. If he could get open behind Jones, he figured, Rodgers would find him. Rodgers set his feet and cocked his arm, as if he were going to launch a pass to a receiver further downfield. Then he paused and pulled the ball down and kept moving, having apparently noticed Cook streaking open.
Still rolling and almost falling away, Rodgers fired the ball to Cook, who tapped his feet down, falling out of bounds. On replay, you could see that Cook kept his toes in-bounds by a matter of inches. For a 35-yard gain. "Unbelievable," Joe Buck said on the broadcast, followed by Mason Crosby nailing a 51-yarder as time expired.    
Afterward, Rodgers told Erin Andrews the play reminded him of something from the schoolyard. Cook gave Rodgers the credit. "The ball was thrown perfectly," Cook said. "He put it maybe a half-foot in bounds, to where I could keep my feet in. He made it easy for me." —Tim Rohan
• LE'VEON BELL BREAKS FREE: The best running back in the AFC is also the best rapper in the NFL. Just ask Snoop Dogg
* * *
The Old and the New
Quite a week for the hiring of coaches and revamping of front offices. We'll pay particular attention to the 70-year-old football czar in Jacksonville and the 30-year-old head coach with the Rams in a moment, but check the highlights from a frenzied week:
Monday, 7:32 p.m. Jaguars announce hiring of Tom Coughlin as VP of football operations and Doug Marrone as head coach.
Wednesday, 4:05 p.m. Broncos announce hiring of Vance Joseph as head coach.
Wednesday, 9:15 p.m. Bills announce hiring of Sean McDermott as head coach.
Thursday, 11:21 a.m. Chargers announce move from San Diego to Los Angeles.
Thursday, 4:06 p.m. Rams announce hiring of Sean McVay as head coach.
Friday, 9:13 a.m. Rams announce hiring of Wade Phillips as defensive coordinator.
Friday, 8:05 p.m. Broncos announce hiring of new offensive braintrust: Mike McCoy as coordinator, Bill Musgrave as quarterbacks coach.
Friday, 8:16 p.m. Chargers announce hiring of Anthony Lynn as head coach.
Saturday, 4:02 p.m. Raiders announce hiring of Todd Downing as offensive coordinator.
Sunday. 49ers interview Seattle offensive line coach Tom Cable for head coaching job.
Quick thoughts:
• Niners in a good spot.It's interesting that the musical chairs have stopped now (except maybe for Indianapolis, where the unpredictability of owner Jim Irsay could extend the status quo of coach Chuck Pagano and GM Ryan Grigson or lead to the dismissal of one or both), and still on San Francisco's list are two men who were strongly considered the leading contenders for jobs two weeks ago: Atlanta offensive coordinator Kyle Shanahan and New England offensive coordinator Josh McDaniels. San Francisco seems to be down to those two, plus Cable if he blew away the Jed York team in Sunday's talk. After employing three coaches in the past 25 months, the only way the Niners will get a top candidate now is to start with a very long contract—five or six years—and the power to overhaul the culture. When this process started, I thought there wasn't a team that could provide the 40-year-old McDaniels the strong opportunity to succeed in his second chance, and though I believe the 49ers understand how far they have to stretch to get a coach of this caliber, I'll stick with my December opinion: My gut feeling is that this job, like the others this year, isn't solid in enough areas to be close to a sure thing. So I think it's most likely that McDaniels stays attached to Tom Brady another year, and the job goes to Shanahan (likely) or Cable (less likely).
• Lynn is the big winner. For years, Anthony Lynn has been an impressive behind-the-scenes assistant, most notably for Bill Parcells and Rex Ryan. But he began to rise in 2016 after taking over for Greg Roman as Bills offensive coordinator and then in December as interim head coach when Rex Ryan was dropped. The men who coached with Lynn and played for him talked about his organization, his presence in a room and his intelligence in putting a game plan together against all different kinds of defenses. He goes to the team in the toughest division, the AFC West; and to one in the biggest transition mode, as it moves to Los Angeles. It's a no-win prospect, seemingly, for the next couple of years. But the best existing team out there with a vacancy was the Chargers. The new L.A. team was the only opening with a top-tier quarterback (Philip Rivers), a potential 1,500-yard rusher (Melvin Gordon), a franchise receiver (Keenan Allen, albeit coming off a knee injury), two edge rushers (Joey Bosa, Melvin Ingram) and even a potential top-10 corner (Casey Hayward). No other opening comes close to having six top-tier players of that caliber. Lynn's going to have to make this team better as it emerges from chaos. That will be his biggest task.
• Why a defensive coach in offensively challenged Denver?At first glance Denver's hire of Vance Joseph looks odd. They brought in a one-year coordinator who had Ndamukong Suh and Cam Wake on his defensive front and finished 29th in the league in total defense, and it wasn't the defense that needed fixing in Denver. What GM John Elway thought—and the public missed—was that he didn't mind a major turnover, including defensive coordinator Wade Phillips, so the staff could get younger while keeping a few of the younger standout assistants on the defensive side. Plus: Part of Joseph's sales pitch to Elway was that he'd be able to bring in Mike McCoy as his offensive coordinator, and Elway very much respects McCoy, who was OC with Peyton Manning in 2012 in Denver. And the two young Broncos quarterbacks need hard coaching. Joseph left Miami highly respected by coaches and players, and one of his first jobs will be to patch some cracks in the locker room that surfaced late in the Kubiak regime. In the end it appears Elway judged Joseph a better leader and manager, with better staff vision, than other candidates, including Kyle Shanahan—and better able to manage a locker room full of strong personalities.
• ASSESSING THE NEW HEAD COACHES: Albert Breer breaks down all five hires, and explains why the Niners job is still open
* * *
On Tom Coughlin, 70
When he first interviewed with Jaguars owner Shad Khan in Florida 13 days ago, Coughlin was talking about the coaching job. Six days later—last Monday morning—the conversation shifted to an overarching role in charge of all football operations, including personnel, the 53-man roster and scouting. That's a big jump for Coughlin, 70, who hasn't had such authority since his last coaching/managing season in Jacksonville 15 years ago, in his first go-round there. The natural question for Coughlin: You've really wanted to get one more shot at coaching, so isn't it disappointing not to be on the sideline, where your life in football has been?
"No," Coughlin told me Friday. "No, no, no. As this thing developed, this is what I wanted to do, and this is where I wanted to be. I think I've been able to grow in football in my career. Remember, you're always in personnel. Coaches are in personnel; there's not a great divide there. You grade your team, you grade potential free-agents, you grade players before the draft, and the personnel side tells you their grades. But I think also I've grown in the last year, working for Commissioner [Roger] Goodell [as an adviser to the NFL football operations staff]. I got to see things a little bit differently. I got to be in the officiating command center every Sunday and Monday, and I got to sit on the GM advisory committee. Seeing the game as a whole, instead of just from the coaching side, opened up some new interests for me. I sat with Commissioner Goodell, discussing a range of issues. I think the experience made me better for a job like this."
The issue with Coughlin, of course, will be his age. Khan just put a 70-year-old man, fired by the Giants a year ago, in charge of his young team, with a coach, Marrone, and GM, Dave Caldwell, he hasn't worked with. That's got the potential to be incendiary.
But Coughlin won't fail because of his age. Of the coaches and front-office people in the league, I'd put his memory and recall and organization pretty high. He reminded me of that Saturday. In 1994, while he was scouting and prepping for the Jaguars' inaugural season of 1995, I spent a weekend with him for a Sports Illustratedstory, on the coach who wasn't coaching. There were trailers outside the old Gator Bowl, which was being rebuilt, and Coughlin and I sat in one for a while, talking about the task. He played coy about his plans for quarterback, but I noticed a stack of VCR scouting tapes on a TV stand, and they were labeled with QB names. One was particularly intriguing: Green Bay backup Mark Brunell. I found out that the Packers would dangle Brunell in trade—and that's eventually what happened, a deal from Green Bay to the expansion Jags—and wrote about it. On Friday, Coughlin said: "Coming back here for the second time, the memories rush back. Remember the trailers when we first got here? You remember. You came to write about it. You're the one who picked up on our interest in Brunell. Remember?"
Of course. What's impressive is that a 70-year-old guy rebooting a team remembers something like that from 22 years ago. Now, on an organization that's endured nothing but failure in recent years, he'll have to get three disparate franchise leaders seeing the same vision.
"There's no magic to it," Coughlin said. "We gotta change the culture. That's our job. Mediocrity has set in, and that's got to change. The only way it changes is with hard work."
* * *
On Sean McVay, 30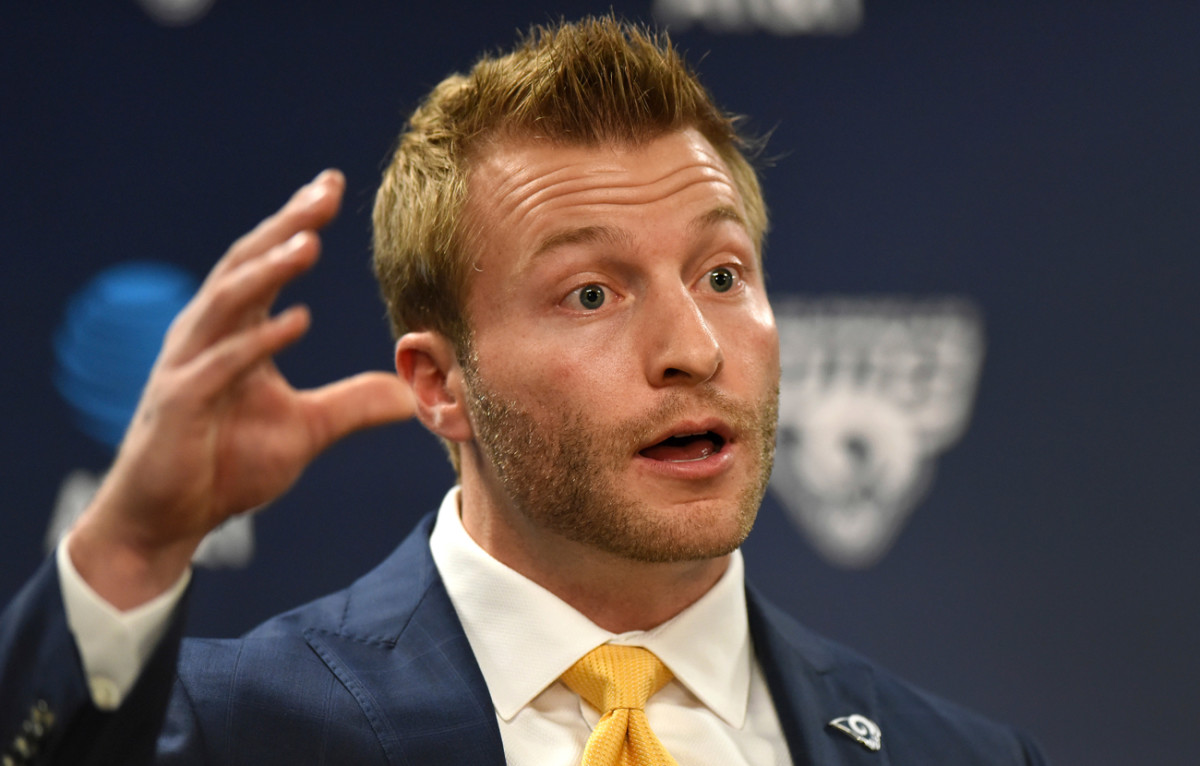 Being the youngest coach in NFL history. Dining at Spago in Hollywood with one of the richest men in America (and now his employer), Stan Kroenke). Seeing Fergie and Josh Duhamel and Wolfgang Puck there. Having this rich man say to him, after three or four meals and meetings, "What do you think? Do you want to do this?"
A decade ago Sean McVay was a junior at Miami University in Oxford, Ohio, watching the NFL playoffs on TV. Now the Los Angeles Rams have hired him, in large part to coach the first pick of the 2016 draft to greatness.
"It hasn't even hit me," McVay said Saturday afternoon from L.A. "I mean, how could it? If I think about it, of course I'm surprised. Who wouldn't be, at this age? But I'm not intimidated, at all. When I was 24 I was coaching tight ends in Washington, and Chris Cooley was really good, and he was 29. What I found is this: If these players think you can help them win, they'll listen. These are men, this is a job, and if you know what you're doing, they're with you."
Case in point: McVay, like all coaches, had some moments with headstrong wideout DeSean Jackson. But when the Rams reached out to get Jackson's opinion about McVay, the receiver raved, saying he loved playing for McVay and would be happy to play for him again someday. McVay was Washington's offensive coordinator and play-caller the past two seasons under Jay Gruden, and his first coaching job was on Jon Gruden's last staff in Tampa in 2008. When the Rams interviewed him, they heard a mini-Gruden. In fact, when I spoke to him, he referred to Jon Gruden in an odd way. "When I met with [rookie quarterback] Jared Goff the other day, I did something I saw on the Coach Gruden Quarterback Camp," McVay said. "I said, 'This play right here, what would you call this in your offense?' I was impressed with his quick recall and personality. You think of him as a laid-back California kid, but he's actually fiery."
In Washington, McVay was responsible for all play calls; though Jay Gruden retained power over the game plan, McVay filtered the input of every offensive staffer into the final plan. "Jay and me would decide on the final list, but it was collaborative," McVay said. "On game day he got to trust me calling the plays. Jay was really great at delegating and empowering his staff."
However … "There is not a chance I would let anyone call the plays, at least at first," McVay said. "It's something I really want to do and feel comfortable doing."
He knows he'll be judged by how he develops Goff, who had a few forgettable weeks commanding the league's worst offense last year. He thinks it's fair. And he also thinks he shouldn't have a honeymoon period. "I expect to be respectable next year," McVay said. "We gotta put our arms around this guy and coach him to be the best he can be. So much of our success is going to be predicated on how quickly we can get Jared going."
At least McVay knows the lay of the land. If his marriage with Goff works, he'll be around for years, long after the next Rams stadium in Los Angeles opens in 2019. If not, he'll join the long line of coaches who went somewhere with a bad or shaky quarterback situation, struggled to turn the team around, and couldn't survive. He might be a kid, but he knows the NFL drill about patience. If you don't win, there isn't any.
* * *
It's Le'Veon's World
Another game, another record night for Le'Veon Bell in Pittsburgh's 18-16 divisional win over Kansas City. Last Wednesday I was in Pittsburgh to do a piece with the Pittsburgh back about his sublime style of running, the style we haven't seen before, the one everyone's trying to figure out.
Here's the NBC "Football Night" piece from last night.
Bell plays chess every day. He's quite good. He plays speed chess mostly, and said he'd love one day to walk through the parks of chess-mad New York City and pick up some games against people who could challenge him. He thinks chess helps makes him a better football player because it makes think two and three moves ahead. Three questions for Bell we didn't use in the NBC story:
How can you be so calm, and wait near the line while the rest of the field is filled with frenetic players?
Bell: Truthfully I can't even put it into words. I think it's just me being confident in my ability and being able to get to my spot when I want to get to my spot. Obviously the offensive line is doing their job. I gotta put a lot of trust in those guys, but it's just me understanding the game of football, and I've been in a lot of football games and got a lot of carries. That's me being confident. I know the hole is gonna eventually open. They can't play it perfectly every time, and I try to make them pay when they don't.
How was your style born?
Bell: It's not something that I thought about or really learned … I think when I was growing up, five years old, when I first starting playing, my uncle always taught me, 'Find your lineman's butt.' When I started getting older—high school, college—I started evolving and understanding what he really meant. Just use your Iinemen, use your blockers so now it's to the point where I'm literally getting to each spot and using my blocker where he's at in between me and the defender. Obviously it makes those guys look amazing [when I go through the hole], and it makes me look good too at the same time, so we're all winning … It's not, Get the ball and hit a hole; it's kind of like gliding a little bit, it's like taking my time, being patient being able to pick my holes, set up holes. Other people I've seen, I ask guys who they compare me to, and there's nobody ... That's what I think makes me different.
You think you're like any other player in sports today?
Bell: I said earlier in the week [to Tyler Dunne of Bleacher Report] that my game, when it comes to be able to change the game and play the game differently in that way, is a lot like Steph Curry. Steph Curry changed the game of basketball; now everybody wants to shoot the three ball, now basketball revolves around the three … I think I'll compare my game to his in that aspect just because I have a touch on running the ball a lot differently but very effectively in a sense of run the football—running between tackles, outside zone, inside zone, catching the ball out of the backfield. I'm just a little different in that aspect.
* * *
There's a New King on Earth
I'm glad the fellow next to me was asleep on the American Airlines flight taxiing down the runway in Dallas late Wednesday night, about to take off for San Francisco. Not a big fan of strangers seeing me cry.
This was at the end of a 48-hour labor for my daughter-in-law, Kim, at a hospital in San Francisco. That's where my daughter Laura—whom readers of this column may recall from field hockey feats in Montclair, N.J., 16 years ago, or from her wedding to Kim in California in 2015—held Kim's hand as she gutted out a tough delivery. I was in Pittsburgh on Wednesday afternoon doing the NBC story on Le'Veon Bell, while the rest of both families were with Kim and Laura at the hospital. And now, I followed by texting with my wife, Ann, as I taxied at 9:59 p.m. Central Time, telling her I'd try to communicate on the plane if I could, and I'd see her on the other side. Just then, she texted:
"I just saw him! He's fine"
Mary Beth, my daughter, added: "He's good! Kim is good!! They're weighing and measuring him now!"
"What happened!!!" I jabbered. "Baby?!!!"
Ann: "Baby! He's beautiful!"
Thankfully, the trip to the runway was long, because 30 seconds before the wheels were off the ground, Ann sent a photo of Laura holding Freddy King (Frederick James King), born by C-section at 7:47 p.m. PT.
I was full-out bawling by then. I can't tell you how many things went through my mind. In some order: Ann's 36-hour labor that brought us Laura in Cincinnati in 1983 … carrying 2- and 3-year-old Laura through ordinary buildings and teaching her everything we saw—"Laura, vending machine"—along the way … refereeing skirmishes between 9-year-old Laura and 6-year-old Mary Beth … hearing Laura order me in the last week of middle school, "Dad, you are NOT going to my graduation!" … taking pride in the friends she chose and the path she took after college, going independently to the West Coast … hearing her tell me one day over dinner in San Francisco, "Dad, I'm gay" … meeting Kim, and developing a love for the person she is and the kindness she radiates, and seeing how happy Kim and Laura were together … being at their joyous wedding in California in May 2015 … beaming to hear Laura tell me last spring, "Dad, you're going to be a grandfather!" … and now life, continuing to happen, in a way it wouldn't have happened a generation ago: two women married, Kim delivering their child with the help of Laura's egg and anonymous donor sperm, and everyone without exception in each extended family filled with joy because they're happy and will be such great parents.
I don't have a lot of parenting advice. My experience with two great daughters, though, is that life takes a lot of twists and turns. Hang in there, and if you're a good person and your partner is a good person, chances are you will raise good people, and the speed bumps will yield some pretty great moments later. A lifetime of them, in fact.
Thursday, Friday and Saturday, I held this swaddled eight-pound gift as much as I could. Everybody says things like, "Your life will change with a grandchild," or "You're going to like the grandchild more than you liked your own children." I don't know about any of that. I'm still a rookie grandfather. But it is amazing to hold an infant in your arms, to see him open his eyes and wonder what he can see and what he thinks of this brighter world after being in a cave for nine months—and being so in control of this trusting boy's life for a few minutes. It's a cool, emotional feeling.
On Saturday night, at Kim and Laura's home in a San Francisco neighborhood, while Freddy napped and the Patriots (evidently, because I didn't see much) did a number on the Texans on the muted TV, I recorded a 45-minute conversation with Laura and Kim. It was on the order of "StoryCorps," the oral-history project that NPR airs pieces of every Friday. We talked about the decision to have a baby, about what the last 10 months have been like, about the name "Freddy," about wanting to have a totally natural delivery and how that got derailed in some late harrowing moments.
And about when Freddy came out, screaming. Four or five nurses and doctors surrounded Freddy as he shrieked, and Laura went from Kim's side to see her son for the first time and try to help.
"Freddy, it's okay," she said, soothingly. "It's okay. Freddy, I'm your mama."
He stopped screaming, for about three seconds.
"But think of this," Laura said. "You're ripped from your home of the last nine months, with bright lights all around you. And then he hears your voice. It's a voice he's heard for the last few months. People say the baby will recognize your voice after hearing it for so long, but you really don't know. And then it happens, and you think, 'It's real. It's real.' "
It sure is. And it's great.
* * *
Quotes of the Week
I
"These ass----- have a day-and-a-half head start on us."
—Pittsburgh coach Mike Tomlin, in his postgame speech to his team in Kansas City on Sunday night, referring to the homestanding Patriots getting an extra day to prepare for the AFC Championship.
Tomlin was caught on tape saying this by wideout Antonio Brown, who recorded the postgame locker room scene and put it up on social media. This, despite Tomlin warning players to keep it "tight" during the week—in other words, don't say anything disrespectful to the press that would get the Patriots riled up.
I doubt Tomlin is mad at the Patriots. Calling them ass----- is locker-room talk that I don't take as a slam. What I would surmise is that Tomlin is mad at the league for giving the top seed a huge advantage. The Patriots play at home on a Saturday and will host the AFC title game eight days later. The Steelers will play on the road a day after New England plays, get home at 4 in the morning, then have to travel to play the Patriots six days later. Not saying there's anything that can be done about it—except mandating that the two AFC games be played one day, and the two NFC games the next so neither team has an extra day of rest and preparation. But I believe that's why Tomlin said that.
II
"Fear? That popped into my mind right away, from day one, when the Giants thing was over. Would people just look the other way because a guy is 70 years old? But I'm actually 55, you know."
—New Jacksonville vice president of football operations Tom Coughlin, when I asked if he feared being passed over for football jobs this year because he was 70 years old.
III
"Fans here in LA responded the same way we respond to opening a Bed Bath and Beyond coupon in the mail."
—Late-night ABC host Jimmy Kimmel, on the Chargers relocating to Los Angeles.
Out of the mouths of comedians …
IV
"Wolfgang kept asking, 'Mr. Kroenke, have we found a coach?' I wanted to say, 'Hey man, I'm right here!' "
—New Rams coach Sean McVay, who at 30 didn't appear very head-coach-like when famed restaurateur Wolfgang Puck approached a dining-room table of Rams officials, including owner Stan Kroenke and McVay, the night before he was introduced as coach. This story was relayed by Los Angeles Times columnist Bill Plaschke.
V
"We had him emcee the early morning event on the day Texas Stadium was blown up. Who else were you going to get who could show up at 5:00 a.m., full of enthusiasm, tell a few jokes, interview Jerry Jones, and then provide play-by-play for a Texas institution being brought to the ground. Very versatile guy. 'Home Run Derby.' 'Gameday.' 'Countdown.' Stadium implosions."
—Cowboys longtime PR man Rich Dalrymple, on the versatility of Chris Berman. I wrote about Berman's impact on football and sports and broadcasting through the voices of those he covered and worked with over the years as he prepared to step back from full-time work at ESPN.
VI
"Thursday's 10 a.m. press conference is scheduled to begin at 9:55 a.m."
—Jacksonville Jaguars press release announcing the public introduction of new coach Doug Marrone and new executive vice president of football operations Tom Coughlin.
If you're not sure why this is cute, google "Coughlin time Giants" and you should be able to glean the meaning.
* * *
The Award Section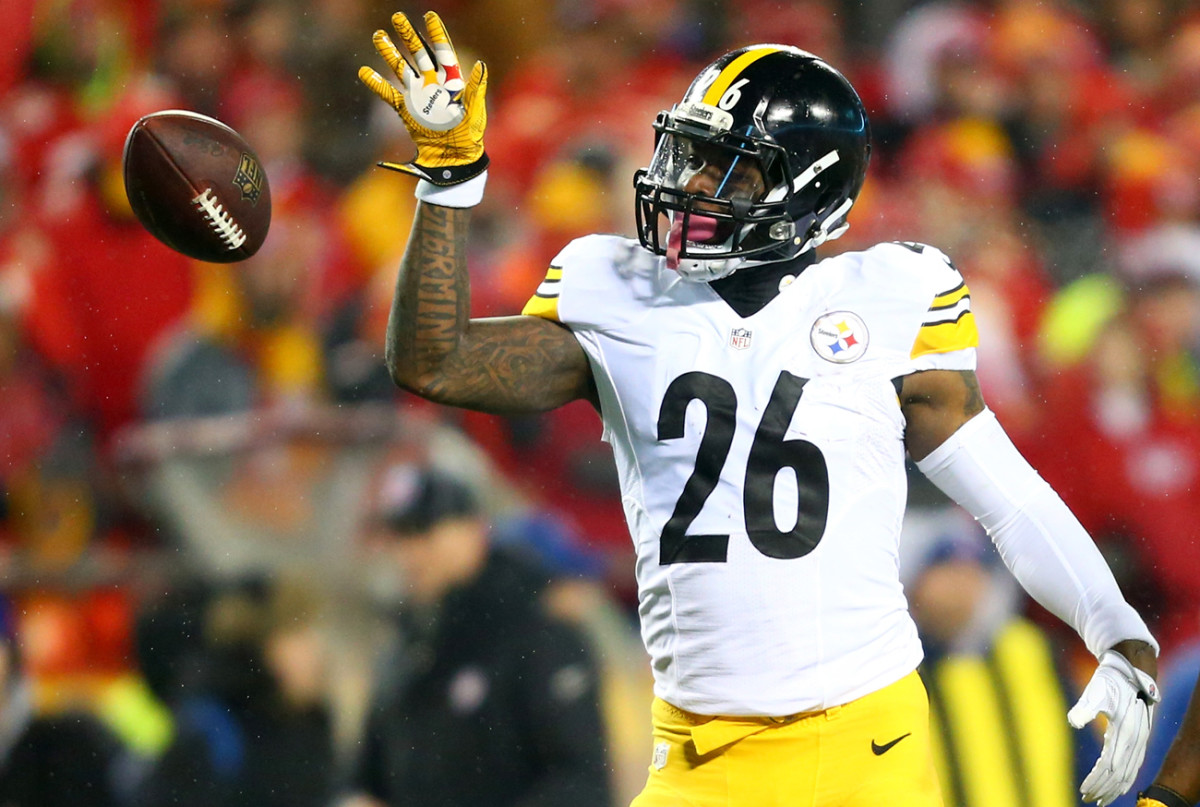 OFFENSIVE PLAYERS OF THE WEEK
Aaron Rodgers, QB, Packers. Rodgers completed 65 percent of his passes for 356 yards, with two touchdowns and one interception. He made a miraculous 35-yard pass to set up the winning field goal. But the second-best play he made might have come two snaps before that, when Cowboys safety Jeff Heath completely blindsided him, and Rodgers somehow had the strength to hold onto the football and the awareness to pop up and call a timeout, preserving a few more precious seconds.
Le'Veon Bell, RB, Steelers. Bell's first two playoff games: 167 yards last week, and then 170 yards this week against the Chiefs. He made headlines this past week with comments comparing himself to Steph Curry, the way he's redefining the running back position, the way he pauses at the line before taking off. It was revealed Sunday night on the NBC broadcast that Mike Tomlin poked fun at Bell during a team meeting this week, essentially saying, Okay, if you're Steph Curry, lead us to a championship. Bell may very well do just that.       
DEFENSIVE PLAYERS OF THE WEEK
James Harrison, LB, Steelers. He's 38 years old and still may be the best player on the Steelers defense. This was his stat line Sunday: six tackles, three tackles for loss, one crucial third-down sack, and one holding penalty drawn that negated the Chiefs' two-point conversion late in the fourth quarter. Since the Steelers inserted Harrison in the starting lineup nine games ago, they haven't lost.
SPECIAL TEAMS PLAYERS OF THE WEEK
Mason Crosby, K, Packers. Crosby made two 50-yard-plus field goals in the final 93 seconds of the game, the first of which gave the Packers the lead and the second of which won the game. On No. 2, he even had to overcome having a successful kick waved off because the Cowboys called a timeout to try to ice him. Crosby stepped up and made it again. That's clutch.
Chris Boswell, K, Steelers. He went six-for-six on field goals, accounted for all 18 Steelers points, and set the record for most field goals in a playoff game. The NFL issued Boswell a "random" drug test after he hit six field goals in a game in December. Maybe the league will want to check him again, just in case.
Dion Lewis, RB, Patriots. No other player in NFL playoff history ever accomplished what Lewis did Saturday night, scoring a touchdown on the ground, on a reception and on a kickoff return. And the return, a 98-yarder, was the first kickoff returned for a touchdown in the playoffs in franchise history. For all the Patriots' playoff success the past 15 years, that's mighty impressive. The return also gave the Pats a 14-3 lead and some breathing room, at a time when their offense wasn't exactly clicking.
COACH OF THE WEEK
Dan Quinn, head coach, Falcons. Atlanta hired away Quinn from Seattle in 2015, hoping he'd remake their defense, which at the time was the worst in football, allowing about 400 yards a game. Two years later Quinn beat his old team in the playoffs with a masterly defensive performance.  The Falcons sacked Russell Wilson three times, intercepted him twice and held him and the Seahawks to just 220 yards over the final three quarters as the Falcons pulled away with a 36-20 win. With that, the transformation of the Falcons defense was complete.
Todd Haley, offensive coordinator, Steelers. Haley coached against a former employer of his, too. The Chiefs fired him midway through his third year coaching the team in 2011, and on Sunday he got a bit of revenge. On the Steelers' final drive, needing one first down to run out the clock and backed up deep in their own end, Haley called two gutsy pass plays: a five-yard pass to Eli Rogers and then a seven-yard crossing route to Antonio Brown for that crucial first down. The Steelers knelt out the clock from there.
GOAT OF THE WEEK
Eric Fisher, OT, Chiefs. Regardless of whether you, Travis Kelce or anyone else thought Fisher held James Harrison on the two-point conversion try, the refs did, and the flag cost the Chiefs two points in what would have been a tie game. Fisher blamed himself. "With the game on the line, for me to let the team down, it's going to be a hard one to let go," he said afterward.
Jason Garrett, head coach, Cowboys. During the Cowboys' final drive, Garrett probably shouldn't have called for Dak Prescott to spike the ball on first down from the Green Bay 40-yard line, with the score tied and the clock running under a minute. Garrett said afterward that they spiked it to preserve their final timeout. The Cowboys didn't end up using that timeout, though. They gained seven more yards, stalled on third down and kicked the tying field goal. That left 35 seconds on the clock, which turned out to be too much time for Aaron Rodgers. —Tim Rohan
* * *
Right Combination of the Week
Aaron Rodgers and Jared Cook, Packers. The Packers were missing Jordy Nelson, their top receiver who was sitting out with a rib injury, and someone had to replace his production. In stepped Cook, the tight end whom the Rams waived this offseason. Aaron Rodgers targeted Cook 11 times on Sunday, more than any other Packer, and it resulted in six catches for 104 yards and a touchdown—plus the most important pass of the game, the 35-yard, toe-tapping sideline grab that set up the game-winning field goal.
* * *
Stats of the Week
I
From Dec. 1 through the end of the regular season, the two NFL franchises now in Los Angeles, the Rams and the Chargers, went 0-10.
II
The number of minority head coaches in the NFL in this century:
Pre-Rooney Rule
2000: 3
2001: 3
2002: 2
Since Rooney Rule was adopted
2003: 3
2004: 5
2005: 6
2006: 7
2007: 6
2008: ​6
2009: ​6
2010: 6
2011: 8
2012: 6
2013: 4
2014: 5
2015: 6
2016: 6
2017: 8 (with San Francisco's hire remaining)
III
Counting the regular season and playoffs, Dallas tight end Jason Witten has 1,133 receptions. The 1,133rd was the first postseason touchdown catch of his life.
* * *
Factoids That May Interest Only Me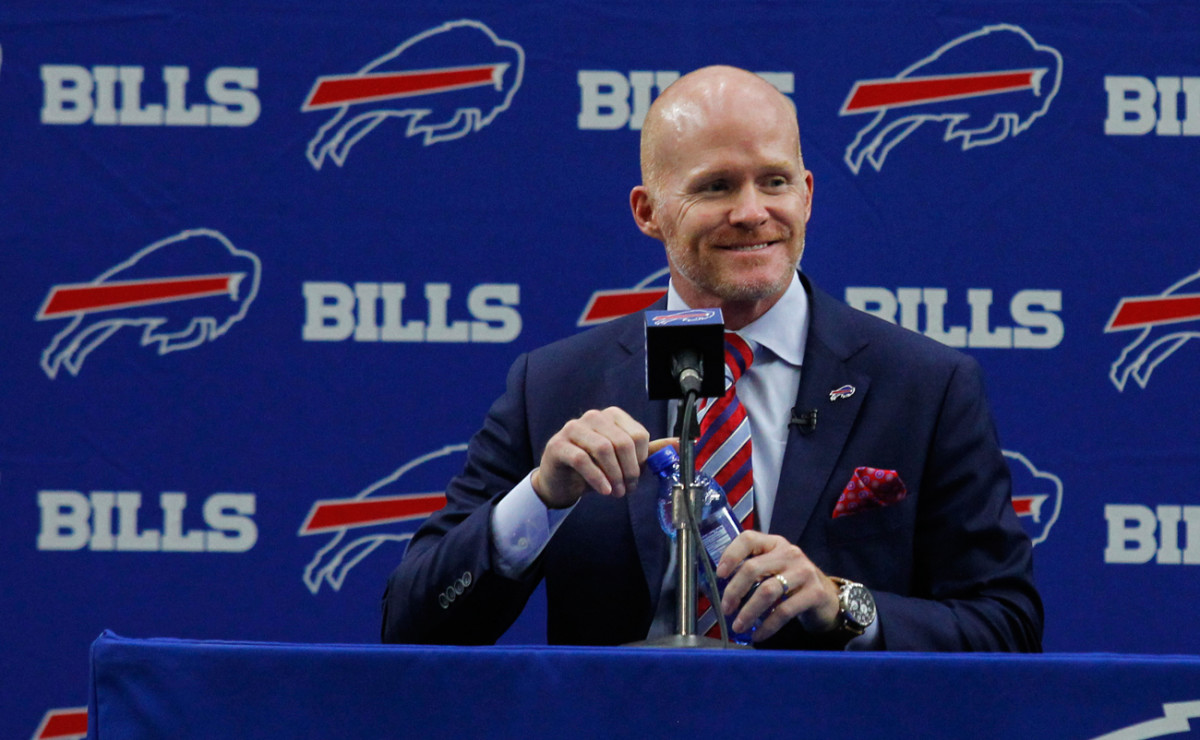 I
Sean McDermott is the ninth head coach the Bills have had since making their last playoff appearance, on Jan. 9, 2000, and since the Patriots hired Bill Belichick 15 days later.
II
Le'Veon Bell was the 211th-rated running back in American high school football as a senior at Groveport (Ohio) Madison High in 2009.
"Oh, I remember that," he told me the other day. "I remember that every day."
Lou Ranalli Commemorative Factoid That May Interest Only Me
Lou is my brother-in-law. Today is his 60th birthday. I doubt sincerely he looks at this column, nor does he hang on the internet much. He lives in Monongahela, Pa., loves the Steelers, loves his sons and is one of the best people I have ever met. How good a person? After my wife, Ann (his sister), had our daughter Laura (referenced above—as a Mom now!) in 1983 while living in Cincinnati, Lou and my father-in-law drove five hours from Pittsburgh to our home in Cincinnati on five consecutive Friday evenings in the late summer and fall to build a bedroom for Laura in the attic/second floor of our home in Cincinnati. They'd arrive at around midnight Friday after both working a full day at their jobs in Pittsburgh, then load up the pickup with building supplies, show up at our house and then sleep for six hours. They'd be up by 6:30 and work all day Saturday, until 7 or 8 at night. Then they'd go to sleep again, get up Sunday, work until 3, then drive back to do their regular jobs on Monday morning.
Laura had one of the prettiest rooms a little princess ever slept in—and she had that room because two men with lives of their own devoted five weekends to build this palace of a bedroom. I've been trying to make that up to him since, and I never will be able.
So to commemorate his birthday, I give you a stat that Lou will love. A reader, Andrew McKenzie of Fort Worth, Texas, recently emailed me with a Steeler/Vatican-centric suggestion. I hope somehow, some way, someone will find a way to get Lou to see this today.
| | |
| --- | --- |
| Pontiffs/Men of Steel | Number |
| Popes Since 1969 | 5 |
| Steelers Coaches Since 1969 | 3 |
* * *
Mr. Starwood Preferred Member Travel Note
Sometimes, a guest travel note cries out. My Freddy King/crying on the plane note could be considered my travel note this week, I suppose. But this one is better. It's how SIfootball writer Greg Bishop got from his home in Seattle to Green Bay the other day, in 17 hours and 40 not-so-easy steps:
6 a.m. (PST): Leave house in Seattle
6:45 a.m.: Arrive at SeaTac Airport to find out that Delta flight to Minneapolis is delayed
8:50 a.m.: Flight to Minneapolis departs late
1:50 p.m. (CST): Flight lands late in Minneapolis
1:51 p.m.: Find out flight to Green Bay is delayed
2:01 p.m.: Find out Delta Lounge is full
2:08 p.m.: Eat pizza
5:10 p.m.: Board flight to Green Bay
5:30 p.m.: Agents ask for three volunteers to take a later flight because plane is "too heavy"
5:31 p.m.: Consider volunteering
5:31.30 p.m.: Raise hand; too late
5:33 p.m.: Discourse among passengers on how airline measures weight; takeaway: no f---ing clue
5:55 p.m.: Flight to Green Bay takes off
6:45 p.m.: Plane begins descent into Green Bay
6:48 p.m.: Plane stops descending
6:49 p.m.: Plane circles
6:55 p.m.: And circles
7:20 p.m.: And circles
7:50 p.m.: And circles
7:52 p.m.: And is diverted to Madison to refuel
8:35 p.m.: Plane lands at Madison airport
8:36 p.m.: Madison airport is empty; also closed
8:45 p.m.: Dinner of goldfish and Swedish fish; neither of these things are actually fish
9:04 p.m.: Passengers told that a second plane will be able to land in Green Bay
9:05 p.m.: Passengers told to hold that thought
9:35 p.m.: Coffee cart materializes
9:45 p.m.: Flight to Green Bay is canceled
9:50 p.m.: Passengers placed in taxi vans for two-hour-plus drive from Madison to Green Bay
10:55 p.m.: Taxi driver pulls out map; like a real map; like a modern-day Magellan
11:35 p.m.: Taxi driver is lost; GPS recovers for the win
12:15 a.m.: Taxi driver drops group at Green Bay airport
12:16 a.m.: Realize that Green Bay airport is closed
12:16 a.m.: Realize that Hertz is closed and thus unable to honor reservation
12:17 a.m.: Call Uber
12:27 a.m.: Uber arrives; driver, incredibly, moved to Green Bay from Seattle a few months ago
12:28 a.m.: Uber driver says, "Why would you come here?"
1 a.m.: Check into hotel
1:01 a.m.: Pen epic customer service email to Delta; think Rambo, via keyboard
1:04 a.m.: Receive form email from Delta saying they appreciate the business
1:25 a.m.: Eat microwave lasagna from hotel gift shop
1:35 a.m.: Sleep
* * *
Tweets of the Week
I
II
III
That's the director of "A Few Good Men" and "When Harry Met Sally," on his thoughts after watching the Steve Gleason documentary "Gleason."
* * *
Pod People
From "The MMQB Podcast With Peter King," available where you download podcasts.
This week's conversations: Atlanta quarterback Matt Ryan and Pro Football Talkfounder Mike Florio.
• Ryan on offensive coordinator Kyle Shanahan bringing the athlete out of him: "Kyle has pushed me to become a better player. He has challenged me in certain ways to expand my game, to do some things differently than I did for a couple of years. He has pushed me to throw more on the run and I think that has helped us as an offense. He has helped me become a better player, but I think he helped our entire offense become better players, and I think that is what good coaches do. One of the things that we talked about early on, and I felt good about it, was he said, 'You know, you're more athletic than people give you credit for and more athletic than I thought you were, and I think that can help us with our offense, to marry you up with our run game and getting you outside of the pocket and making a defense defend the entire field.' From an early-on standpoint, he felt like we could do it and made that a point of emphasis for us to work on in practice. Working on that for the last couple years and really making that a point of emphasis has helped."
• Florio on being a non-traditional media member, having given up his law practice in West Virginia a decade ago to devote all efforts to Pro Football Talk: "I accept the fact that there are certain aspects of how I got into the business that will cause me to be viewed differently by the people who entered the business in a more traditional way, who went to journalism school, who had the appropriate apprenticeships, who worked at real publications, who have a broader base of experience and cover different sports and are in locker rooms all the time. I understand that, and I just embrace it. I am different and nothing is going to change it, and I am going to keep doing things the way I have always done them because it has always worked. And if that means I am never going to have a vote for the AP awards or be on the Hall of Fame selection committee, I'm fine with that. I've got no desire to sit in a room for 10 hours the day before the Super Bowl and listen to a bunch of sportswriters argue about who should or shouldn't be in the Hall of Fame."
* * *
Ten Things I Think I Think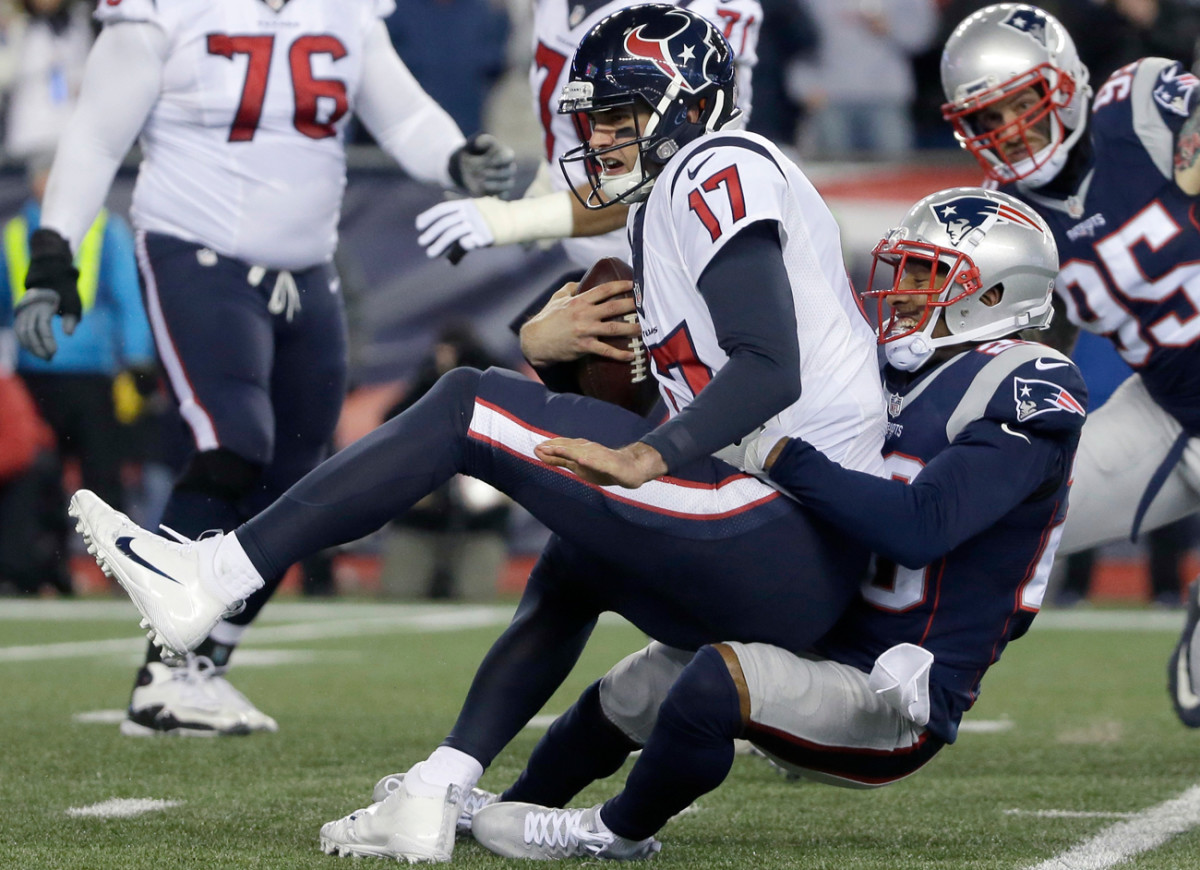 1. I think these are my quick thoughts of analysis from divisional weekend:
a. This is the essence of what's wrong with Brock Osweiler: Second quarter in Foxboro, four minutes left, third-and-three, Texans down 14-13 and making what should have been a rout a real game, Osweiler back to pass at the Texans' four, pats the ball staring over the middle, throws into three Patriots and one Texan, the ball bounces off Rob Ninkovich's hands for what should have been an interception, and the Texans punt.
b. That play, with such flawed judgment, is why my gut feeling is it is more likely than not that the Texans cut ties with Osweiler in the off-season and take the massive cap hit (it would cost Houston $25 million to cut Osweiler after one season) that such a move would engender.
c. If you switched quarterbacks in the Houston-New England game, with Tom Brady playing for Houston and Brock Osweiler for New England, this would have been the final score: Texans 30, Patriots 9 ... and that is not an exaggeration, in the least.
d. There simply is no answer for a broiling-hot quarterback (Aaron Rodgers, Matt Ryan) in January.
e. How, in a playoff game of the magnitude of Green Bay-Dallas, can Aaron Rodgers go to the line and do the trademark of his game twice in the first 25 minutes of the game—quick-snapping to catch the Cowboys with too many men on the field?
f. How, in a playoff game of the magnitude of Green Bay-Dallas, can the officials twice in the first 25 minutes of the game miss clear jersey-grabs by the Cowboys against Packers wideout Davante Adams?
2. I think the moral of the story from game one of the playoff weekend was this: Two years ago, Seattle's speed and athleticism and offensive-front power would have decimated Atlanta. I do not buy that the huge difference Saturday evening was the absence of Earl Thomas for Seattle. I buy that the Seahawks have a terrible offensive line, which makes it impossible for Russell Wilson to play any sort of patient football. Getting Wilson chased all over the field is worse than the absence of Earl Thomas to Seattle's fortunes.
3. I think Mike Pereira broke a bit of news on the Green Bay-Dallas game: "I can pretty much, after seeing the assignments, say that it looks like Carl Cheffers, who has the game tonight in Kansas City, will be the referee that moves on to the Super Bowl." That'd be Cheffers' first Super Bowl refereeing assignment. And yes, for those of you who remember the 2013 Week In the Life of an Officiating Crew series I did with referee Gene Steratore's crew, Pereira's news would seem to portend another bridesmaid year for Steratore, who's still looking for his first Super Bowl assignment.
4. I think one thing you should not forget in the incredible season-saving Aaron Rodgers throw and Jared Cook catch is the decisiveness of side judge Rob Vernatchi. Standing maybe 10 yards from the catch, but right near the white stripe, Vernatchi stared at the spot of Cook's catch and sprinted to the spot, curving his arms in front of him and making the NFL signal for a good catch. As replays showed, Vernatchi was as correct as he was decisive. For as much criticism as the officials take, here's an example of a bold call made absolutely right.
5. I think these are a few thoughts on the Bills:
a. Terry and Kim Pegula, by all reports, are good and loyal people with a strong desire to build a winning organization. So far, they've been very good at cycling through coaches: Doug Marrone in 2014 (the Pegulas were approved as owners in Week 6 of the 2014 season), Rex Ryan in 2015 and 2016, and now Sean McDermott for 2017. Three coaches in 28 months—same number of coaches the Steelers have had in 47 years. The owners will find out soon that changing coaches every couple of years guarantees one thing, and it's not winning.
b. "I've done my research," said McDermott. "In my opinion this was the best job on the market." It very well could be—if there's a winning quarterback on the roster now. Tyrod Taylor can be good enough, if McDermott and his staff can get the greatness he occasionally showed out him consistently.
c. The Bills should keep Taylor. Absolutely. Even at his overbearing cost. He's Buffalo's best chance at breaking the playoff schneid anytime soon.
d. I hope for Western New Yorkers' sakes that the Bills didn't blow it by letting Anthony Lynn walk.
e. The best thing McDermott can do? Be uber-organized, which Rex Ryan wasn't, and be uber-consistent, which Rex Ryan wasn't either. And don't worry about winning the press conference. It sounds cute, but fans don't care, and they actually get angry when the head coach does Seinfeld stuff and doesn't win.
6. I think it's 85-15 the Raiders move to Las Vegas.
7. I think this from Houston coach Bill O'Brien should put to bed some reports he and the Texans were on the rocks. After the 34-18 loss in Foxboro, O'Brien said: "I'll be back next season. I'll be the Texans' coach." Earlier this month owner Bob McNair had said O'Brien certainly would be back in 2017.
8. I think I really wanted to hear a perspective from a boots-on-the-ground San Diegan, to get the emotion of what's being felt in a city that loves its Chargers. So I asked veteran radio reporter and producer Marty Caswell, who also grew up in the city, for her perspective in the wake of the Chargers leaving. She wrote a stinging rebuke of Chargers owner Dean Spanos in return:
Caswell wrote: "Two days after Dean Spanos shocked the NFL and destroyed a 56-year fan base of San Diego Chargers fans, a gentleman stopped me on the Pacific Beach boardwalk in town to ask: Will we ever get another football team? I had no answers for him but told him I was putting together some thoughts for The MMQB. He said: Please tell them that the national perception of San Diego fans is wrong. Why would we support Dean Spanos after he didn't care about us? Why would we vote for him? That sums up overwhelming sentiment from a fan base that grew disenfranchised with Spanos years ago.
"From the failures on the football field to an owner who was soundly rejected by his NFL peers in trying to move to Carson last year, then had to crawl back to San Diego declaring that was where he wanted to be all along … an owner who the mayor of San Diego and the president of San Diego State said "wasn't a good faith partner" and simply refused to negotiate. When Spanos announced his decision to move to Los Angeles with an impersonal four-paragraph statement on his website, crushing devastation, anguish and disbelief from generations of San Diego Chargers fans came through with angry reaction on email, Twitter and callers to my radio station, the Mighty 1090. Many choked back tears. The icing on the cake may be the choreographed media tour Spanos did in Los Angeles, trying to ingratiate himself to his new "fan" base while the corpse of 56 years in San Diego was still warm. What type of difference would it have made on the stadium vote if Dean had sincerely campaigned in San Diego on a stadium plan that most now believe was a farce from the start? If he had put a quarter of the effort he put toward Los Angeles on good-faith negotiations with San Diego officials? We'll never know.
"At best, Dean was incompetent as an owner. At the worst, he was a calculated fraud. San Diego didn't vote against keeping the Chargers. They voted against Dean Spanos. Now, the city is left to mourn over the loss of their beloved Chargers. The revulsion San Diego now feels for the Chargers was conflicted when Philip Rivers called our station to discuss the move, choking back tears when discussing how much San Diego has meant to him. Dan Fouts put it best the day the news broke: 'For me, it's a gut shot. It's hard to imagine San Diego without the Chargers.' Fouts and Rivers got it. Dean Spanos never did."
9. I think The MMQBStaff Clairvoyant of the Week goes to Andy Benoit, for his story last summer saying Washington offensive coordinator Sean McVay deserved to be an NFL head coach, even at the ripe age of 30. "That was amazing when he wrote that," McVay said Saturday. "And then it came true. Andy's pretty good." 
10. I think these are my non-NFL thoughts of the week:
a. Story of the Week: by Ken Belson of the New York Times, on the new Falcons stadium in Atlanta, and the neighborhood that surrounds it, and the pros and cons of mega-stadiums in ravaged inner cities. Really smart piece.
b. Scoop of the Week: SI.com's Richard Deitsch, on the looming death of the Mike and Mike morning-drive show on ESPN radio.
c. What's interesting about this is the rising-star nature of Mike Greenberg's career, and what will happen to the show without him. Most of America can hear Mike and Mike, and it's appointment listening for fans and appearances for stars coming off big events. Greenberg's a great traffic cop, as well as clever and smart and quick. The worrisome thing for ESPN, I would think, is media cannibalism: Does ESPN really want to give Greenberg a TV show that might take viewers/listeners/newsmakers away from the bread-and-butter radio show?
d. What a cool story behind one of the greatest Hollywood movie shots of all time.
e. Take four minutes to listen to this nice family story by NPR's Tom Goldman about the lengths to which he and son Max went to see LeBron James when the Cavaliers came to their snow-ravaged city, Portland. 
f. Liked this from Ben Cohen of the Wall Street Journal, on the coaching combatants in last week's national championship college football game, Nick Saban and Dabo Swinney: Saban wakes up at 6:15 a.m. every day—if he actually sleeps until his alarm. "Which doesn't happen very often,'' he says. He lets out his dogs, Ray Ray and Snoopy, and then he drinks coffee with two Little Debbie oatmeal creme pies. He watches the Weather Channel, drives to his office at 7 a.m. and stays until at least 10 p.m. Swinney hosts Friday movie nights and finds the moral in films that don't have any. He still coaches his son's Little League baseball team. It wasn't long ago that he was introduced to a Wall Street Journal reporter at a football game and responded, 'Man, I'm like George Jefferson—movin' on up!' Vivid picture, Ben. Nice job.
g. Heard from friends about Swinney dressing as Santa Claus for the neighborhood kids in Clemson too. Sounds like Swinney's got some good priorities.
h. Coffeenerdness: The smoked butterscotch latte at Starbucks has a very good chance of being my next go-to, as long as there's an extra shot of espresso to knock down the cloying sweetness.
i. Beernerdness: Full Pint Brewing Festivus Winter Warmer (Full Pint Brewing, North Versailles, Pa.) was the pre-flight 12-ouncer (not even a pint) at Greater Pittsburgh Airport on Wednesday on my way to see my grandchild. I mean, how can you not drink a beer called Festivus if you're a Seinfeld devotee? It wasn't the beer of the year, but it did warm and was a nice winter beer, complete with a cinnamon/nutmeg tinge that tastes great in frigid weather.
j. Guest host Tom Hanks on NPR's "Wait Wait...Don't Tell Me"news quiz show to guest Simone Biles: "You are probably the greatest athlete in the world. Have you ever been tempted to use that for evil?" Hanks might have a future in some form of comedy or other.
k. Please. 
l. Finally, the lottery of the year: Spend $1 for a chance to win a trip to the AFC Championship Game, watching in a luxury suite, with pre-game dinner at nearby Davio's (great place; believe me) and lots of swag. A buck! Check it out, and proceeds help a cause I guarantee is hugely worthy.
* * *
The Adieu Haiku
Tony Romo's fate?
Denver? Hear Elway's nixing.
How about Houston?
• Question or comment? Email us at talkback@themmqb.com.