The Divisional Round Awards
On Aaron Rodger's miraculous 35-yard pass, Le'Veon Bell's Steph Curry-like quest, Mason Crosby's two 50-plus yard field goals and Dion Lewis' one-of-a-kind performance
The Award Section
OFFENSIVE PLAYERS OF THE WEEK
Aaron Rodgers, QB, Packers. Rodgers completed 65 percent of his passes for 356 yards, with two touchdowns and one interception. He made a miraculous 35-yard pass to set up the winning field goal. But the second-best play he made might have come two snaps before that, when Cowboys safety Jeff Heath completely blindsided him, and Rodgers somehow had the strength to hold onto the football and the awareness to pop up and call a timeout, preserving a few more precious seconds.
Le'Veon Bell, RB, Steelers. Bell's first two playoff games: 167 yards last week, and then 170 yards this week against the Chiefs. He made headlines this past week with comments comparing himself to Steph Curry, the way he's redefining the running back position, the way he pauses at the line before taking off. It was revealed Sunday night on the NBC broadcast that Mike Tomlin poked fun at Bell during a team meeting this week, essentially saying, Okay, if you're Steph Curry, lead us to a championship. Bell may very well do just that.       
DEFENSIVE PLAYERS OF THE WEEK
James Harrison, LB, Steelers. He's 38 years old and still may be the best player on the Steelers defense. This was his stat line Sunday: six tackles, three tackles for loss, one crucial third-down sack, and one holding penalty drawn that negated the Chiefs' two-point conversion late in the fourth quarter. Since the Steelers inserted Harrison in the starting lineup nine games ago, they haven't lost.
SPECIAL TEAMS PLAYERS OF THE WEEK
Mason Crosby, K, Packers. Crosby made two 50-yard-plus field goals in the final 93 seconds of the game, the first of which gave the Packers the lead and the second of which won the game. On No. 2, he even had to overcome having a successful kick waved off because the Cowboys called a timeout to try to ice him. Crosby stepped up and made it again. That's clutch.
Chris Boswell, K, Steelers. He went six-for-six on field goals, accounted for all 18 Steelers points, and set the record for most field goals in a playoff game. The NFL issued Boswell a "random" drug test after he hit six field goals in a game in December. Maybe the league will want to check him again, just in case.
Dion Lewis, RB, Patriots. No other player in NFL playoff history ever accomplished what Lewis did Saturday night, scoring a touchdown on the ground, on a reception and on a kickoff return. And the return, a 98-yarder, was the first kickoff returned for a touchdown in the playoffs in franchise history. For all the Patriots' playoff success the past 15 years, that's mighty impressive. The return also gave the Pats a 14-3 lead and some breathing room, at a time when their offense wasn't exactly clicking.
COACH OF THE WEEK
Dan Quinn, head coach, Falcons. Atlanta hired away Quinn from Seattle in 2015, hoping he'd remake their defense, which at the time was the worst in football, allowing about 400 yards a game. Two years later Quinn beat his old team in the playoffs with a masterly defensive performance.  The Falcons sacked Russell Wilson three times, intercepted him twice and held him and the Seahawks to just 220 yards over the final three quarters as the Falcons pulled away with a 36-20 win. With that, the transformation of the Falcons defense was complete.
Todd Haley, offensive coordinator, Steelers. Haley coached against a former employer of his, too. The Chiefs fired him midway through his third year coaching the team in 2011, and on Sunday he got a bit of revenge. On the Steelers' final drive, needing one first down to run out the clock and backed up deep in their own end, Haley called two gutsy pass plays: a five-yard pass to Eli Rogers and then a seven-yard crossing route to Antonio Brown for that crucial first down. The Steelers knelt out the clock from there.
GOAT OF THE WEEK
Eric Fisher, OT, Chiefs. Regardless of whether you, Travis Kelce or anyone else thought Fisher held James Harrison on the two-point conversion try, the refs did, and the flag cost the Chiefs two points in what would have been a tie game. Fisher blamed himself. "With the game on the line, for me to let the team down, it's going to be a hard one to let go," he said afterward.
Jason Garrett, head coach, Cowboys. During the Cowboys' final drive, Garrett probably shouldn't have called for Dak Prescott to spike the ball on first down from the Green Bay 40-yard line, with the score tied and the clock running under a minute. Garrett said afterward that they spiked it to preserve their final timeout. The Cowboys didn't end up using that timeout, though. They gained seven more yards, stalled on third down and kicked the tying field goal. That left 35 seconds on the clock, which turned out to be too much time for Aaron Rodgers. —Tim Rohan
* * *
Right Combination of the Week
Aaron Rodgers and Jared Cook, Packers. The Packers were missing Jordy Nelson, their top receiver who was sitting out with a rib injury, and someone had to replace his production. In stepped Cook, the tight end whom the Rams waived this offseason. Aaron Rodgers targeted Cook 11 times on Sunday, more than any other Packer, and it resulted in six catches for 104 yards and a touchdown—plus the most important pass of the game, the 35-yard, toe-tapping sideline grab that set up the game-winning field goal.
* * *
Stats of the Week
I
From Dec. 1 through the end of the regular season, the two NFL franchises now in Los Angeles, the Rams and the Chargers, went 0-10.
II
The number of minority head coaches in the NFL in this century:
Pre-Rooney Rule
2000: 3
2001: 3
2002: 2
Since Rooney Rule was adopted
2003: 3
2004: 5
2005: 6
2006: 7
2007: 6
2008: ​6
2009: ​6
2010: 6
2011: 8
2012: 6
2013: 4
2014: 5
2015: 6
2016: 6
2017: 8 (with San Francisco's hire remaining)
III
Counting the regular season and playoffs, Dallas tight end Jason Witten has 1,133 receptions. The 1,133rd was the first postseason touchdown catch of his life.
* * *
Factoids That May Interest Only Me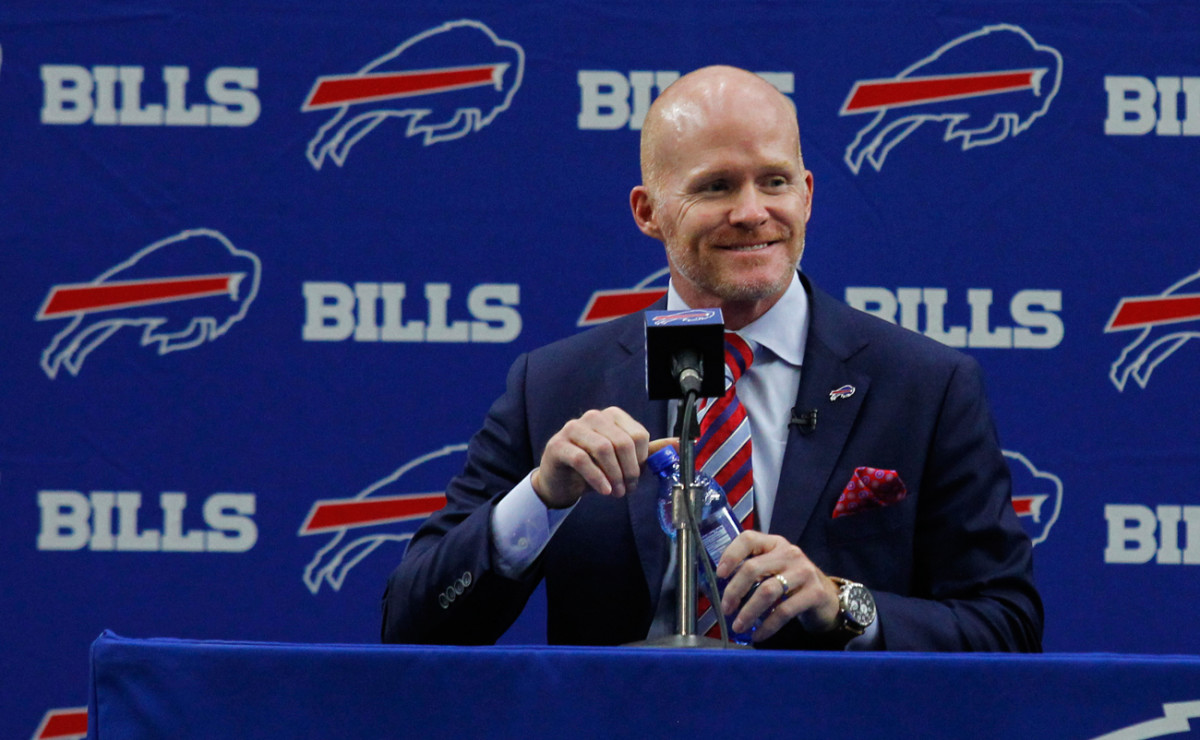 I
Sean McDermott is the ninth head coach the Bills have had since making their last playoff appearance, on Jan. 9, 2000, and since the Patriots hired Bill Belichick 15 days later.
II
Le'Veon Bell was the 211th-rated running back in American high school football as a senior at Groveport (Ohio) Madison High in 2009.
"Oh, I remember that," he told me the other day. "I remember that every day."
Lou Ranalli Commemorative Factoid That May Interest Only Me
Lou is my brother-in-law. Today is his 60th birthday. I doubt sincerely he looks at this column, nor does he hang on the internet much. He lives in Monongahela, Pa., loves the Steelers, loves his sons and is one of the best people I have ever met. How good a person? After my wife, Ann (his sister), had our daughter Laura (referenced above—as a Mom now!) in 1983 while living in Cincinnati, Lou and my father-in-law drove five hours from Pittsburgh to our home in Cincinnati on five consecutive Friday evenings in the late summer and fall to build a bedroom for Laura in the attic/second floor of our home in Cincinnati. They'd arrive at around midnight Friday after both working a full day at their jobs in Pittsburgh, then load up the pickup with building supplies, show up at our house and then sleep for six hours. They'd be up by 6:30 and work all day Saturday, until 7 or 8 at night. Then they'd go to sleep again, get up Sunday, work until 3, then drive back to do their regular jobs on Monday morning.
Laura had one of the prettiest rooms a little princess ever slept in—and she had that room because two men with lives of their own devoted five weekends to build this palace of a bedroom. I've been trying to make that up to him since, and I never will be able.
So to commemorate his birthday, I give you a stat that Lou will love. A reader, Andrew McKenzie of Fort Worth, Texas, recently emailed me with a Steeler/Vatican-centric suggestion. I hope somehow, some way, someone will find a way to get Lou to see this today.
| | |
| --- | --- |
| Pontiffs/Men of Steel | Number |
| Popes Since 1969 | 5 |
| Steelers Coaches Since 1969 | 3 |