The Chosen Twin
Devin McCourty is making his sixth straight trip to the AFC Championship Game while his brother, Titans cornerback Jason McCourty, has never been to the postseason. Here's how the Patriots' safety is getting ready
FOXBOROUGH, Mass. — Moments after beating the Texans in the divisional round last Sunday, Patriots safety Devin McCourty commenced his usual postgame routine. He showered, changed into a goofy, colorful T-shirt (this time a light-blue Mr. Good Burger shirt) and then went to the podium to meet the press. The subdued locker room atmosphere hardly suggested that New England had just advanced to the AFC title game, but McCourty will be making his sixth straight trip to the conference championship. He spoke to The MMQB about his role on the field (he's like an assistant coach out there), his connection with his twin brother, Tennessee cornerback Jason McCourty, how much respect the Patriots' defense gets (not enough), and what it will take to beat the Steelers.
KAHLER: You've been playing here for seven years, your entire career. Your rookie season was the only year you didn't make the AFC title game. Do you ever think about how rare that success is?
MCCOURTY: The crazy thing is that I always think back to my first year. We went 14-2. I was a rookie and I thought everything was great, that we were going to go straight to the Super Bowl. And then we lost in the divisional round and that was it. That always keeps me going and understanding the playoffs and what it takes to win. I try to pass that on to everyone on the team, the younger guys. No matter how you play in the regular season, you have to put your best foot forward in the playoffs, and we've been able to do that. I think it starts with veteran guys being ready to go in the biggest games of the year.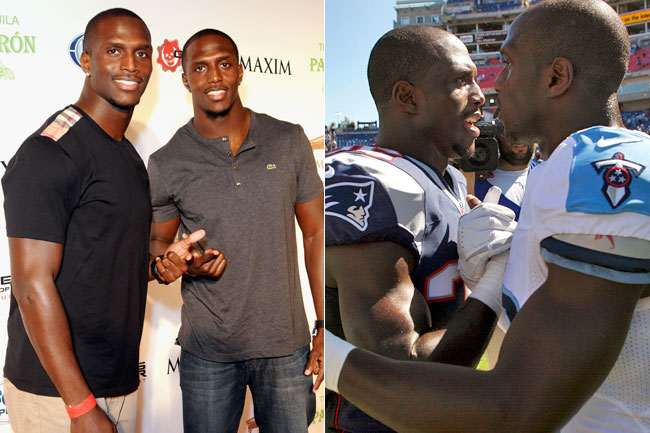 KAHLER: Do you ever feel guilty about being "the chosen" twin? You get to play for a consistent champion, while Jason, the closest person in the world to you, has never been to the playoffs?
MCCOURTY: It's really motivating on both ends. He's motivated to get where I'm at and do those things, and I am motivated by seeing what he goes through and understanding that this isn't guaranteed. This is not something that just automatically happens for you every year. He's a guy I am so close with, we talk every day—so it forces me to see what he goes through and I'm like, well, I have to take advantage of this opportunity. That pushes me and it also pushes him. He is one of the hardest workers. I work out with him in the offseason, we encourage each other and push each other.
KAHLER: It's a little weird that you guys share a Twitter account though… (@mccourtytwins)
MCCOURTY: We're connected. We can't get far apart.
KAHLER: You guys recently tweeted a screenshot of a text message from your mom that was about cheering on the Patriots. What would it mean for her to be able to go to a Titans playoff game?
MCCOURTY: The whole family is waiting for that, they really are. They were close this year. It's been cool to see him be part of a culture change and he continues to be a leader for that team.
KAHLER: Looking back on the midseason trade of linebacker Jamie Collins to Cleveland, what kind of message did that send to your defense?
MCCOURTY: I don't think it really sent a message. We understand that is above our pay grade. We're just here to play football. At that time in the season, we knew we had to play better … we understood what it took to win this season. It wasn't about Jamie no longer being here, because we've seen that happen. Me, as a veteran guy, I've seen guys be here and then gone. I think we all already knew that could happen. It's always tough when you lose a guy that is a great player and a friend and a core guy, but we had to find the way to win and find what our defense was going to be and we did that. We found a way and we got it done.
KAHLER: Patriots coach Bill Belichick has said that he will often ask you for your feedback and observations during a game to inform and adjust the plan. What was your "assistant coach" moment against the Texans?
MCCOURTY: [Cornerback] Logan Ryan's interception. I told him the in-cut was coming and I got a good break. It was a high throw from [Brock] Osweiler, and DeAndre Hopkins went up for it and it bounced up in the air and Logan—he said to me, "I ran right for the in-cut." I told him to do that right before that play, because we made a check. Things like that and then things like, you get in a game and you get a penalty and they drive and get three points. It's a sudden change and the game seems like it's going really poor for the defense, but we weren't playing too bad, so I just talked to guys on the sideline saying, "Keep doing what we're doing." Just having that constant voice.
KAHLER: Do you think coaching might be something you are interested in for the future?
MCCOURTY: No, it's too time-consuming. Once I'm done with football I'll be hanging with the family.
• THE TALE OF TOM BRADY AND JOHNNY FOXBOROUGH: He's won four Super Bowls, two league MVPs, and will be a first-ballot Hall of Famer. So why does Bill Belichick regularly compare his star player to the high school quarterback just down the street?
KAHLER: What would you tell a non-football friend if they asked you about Tom Brady? Do you have a go-to Brady story?
MCCOURTY: One of the coolest things he did was right before [Super Bowl XLIX], he did a great pregame pep talk. It was just great, I think people have heard it, there are sound clips. What he did that day, we all looked at each and said, "We are going to win this game." And also his head butt during pregame, he came at me my rookie year and I swear, my helmet wasn't strapped up, and he almost killed me. He's so intense. I learned a valuable lesson that if he comes by you, be ready. He's a tough guy.
KAHLER: You're turning 30 next year. Have you learned anything about Brady's longevity and the way he trains and prepares for games?
MCCOURTY: Yeah, just watching him, just the time that he puts in. Obviously everyone has to do different things, but as a quarterback, he puts a ton of work into his arm. I don't have to do that, but it's the time and the effort he puts in that sticks out. I've seen him treat himself on the plane and not take it for granted, just trying to get ahead that way too. He is on top of it.
KAHLER: New England's defense was the stingiest defense in the league in terms of points allowed. The storyline is always about Brady and the offense here, but do you think you guys deserve more credit than you get?
MCCOURTY: We're not going to get it. I don't care how much credit we get, all I care about is winning. We're not going to get it. We play with arguably the greatest quarterback to ever play this game. No one is going to say we are good and we don't care. We are going to keep winning and doing what we need to do as a defense and that's what is valuable to us. That's all we care about.
Question? Comment? Story idea? Let us know at talkback@themmqb.com