Terrell Owens and Paul Tagliabue: What the Hall?
I've been contemplating Tagliabue's and Owens' exclusion from the Pro Football Hall of Fame, and I'm still scratching my head ... plus notes on free agency and a looming legal battle for Bears players
Paul Tagliabue was a brilliant lawyer who served as NFL commissioner for much of the time that I was with the Packers. I found him to be a reasoned and consensus-building leader who valued relationships with not only his constituent owners but also the players. Tagliabue and NFLPA leader Gene Upshaw represented the last time the league and the union were truly a partnership; the current relationship between the two is characterized by a palpable lack of trust. Tagliabue showed us that adversaries did not have to be enemies.
According to reports, a label attached to Tagliabue—and a reason for his Hall of Fame denial—was ignoring the science regarding head injuries. From my vantage point as a team executive, I saw a much different picture. I saw Tagliabue form the first committees on head and helmet safety; I saw player safety summits with Upshaw; I saw our team doctors come away impressed with the commissioner's concern for player health. From my up close and personal view, Paul Tagliabue made the NFL more prosperous, more reasoned and more player-friendly.
And perhaps this is the lawyer in me who craves precedent, but the exclusion of Terrell Owens for his "team disruption" pushes Hall of Fame voting down a very slippery slope.
Going forward, what will be the proper mix of performance and off-field drama necessary for induction? What will be the determining factor differentiating merely diva-like behavor and team disruption? Remembering how much both the Vikings and the Raiders wanted to trade Randy Moss, good luck with that production/disruption analysis. If Odell Beckham Jr. goes on to have a wonderful career with occasional pockmarks of selfish behavior, do voters now start accounting for the team disruption factor?
This Owens precedent will hover over Hall of Fame voting with countless future decisions of self-promoting players for decades to come.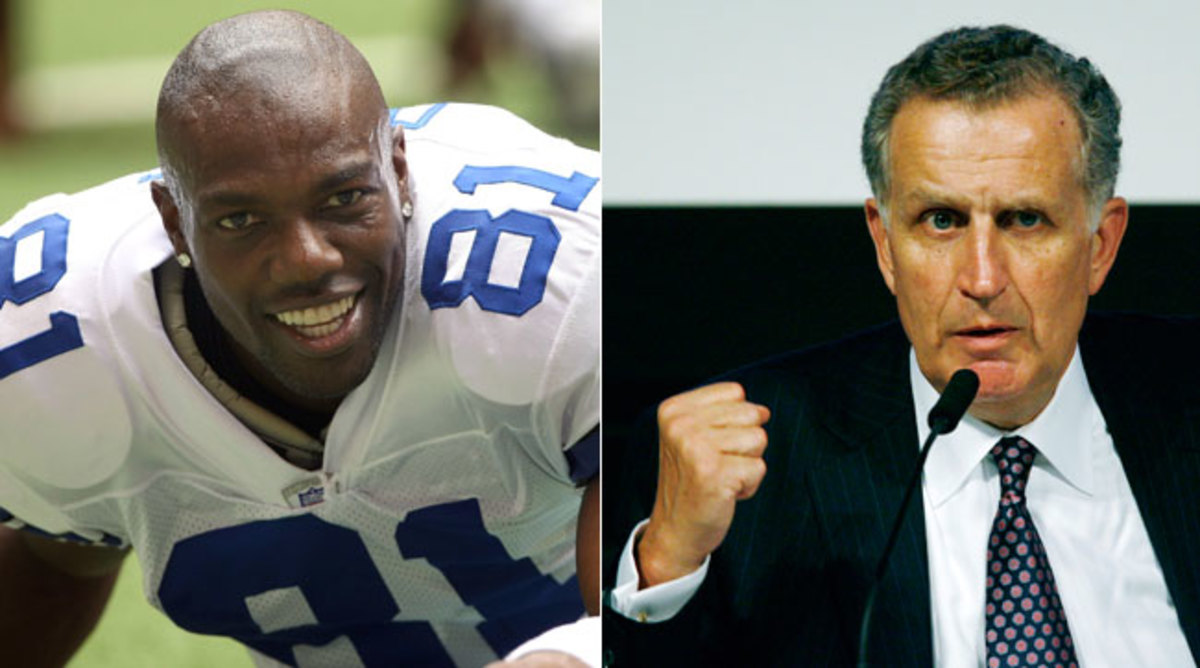 Happy New Year!
Before the new League Year begins on March 9, teams will release dozens of players from existing contracts showing, cumulatively, hundreds of millions of dollars. Those amounts will now turn to dust, as if they never existed.
The names of this year's group of casualties have started pouring in, including Victor Cruz, Rashad Jennings, Josh McCown, Sam Shields and Leodis McKelvin, among others. While many fans and media shrug off these moves as necessary for creating salary cap room for acquisitions ahead, these players will join unrestricted free agents in the upcoming game of musical chairs, anxious to find a new team. And the waiver wire this time of year always includes names who were prize free agents in the past two to three years. It is Exhibit A as to the perils of NFL free agency and why more half the teams routinely sit out at least the early portion of the signing period.
The NBA and Major League Baseball also release players under contract; the difference is that those players are still paid. NFL contracts are mostly illusory after the low-risk first year or two; teams can walk away with no remaining financial obligations. Despite double-digit million cap increases and minimum spending requirements, NFL teams—who left $300 million in unused cap room on the table in 2016—continue to impose their will over players.
Unintended Consequences
One of those players mentioned above, Sam Shields suffered a concussion in the Packers' opening game last season and, after repeated efforts to progress through concussion protocol, was placed on injured reserve. Now Shields and the $9 million he would have counted for in 2017 are gone from the Packers' books.
Shields is a cautionary tale when it comes to the increased awareness about the emotional, financial and even legal risks associated with future brain trauma. NFL clubs are more sensitive to the issue than ever before, creating more risk-aversion in both signing and retaining players with concussion histories. This is the unintended consequence of the new era of awareness and concern about future concussion risk and CTE.
There may be an unfortunate irony here. The NFL's goal to change the "play through" culture of concussions, which has appeared to be changing, may revert as teams and team doctors become more cautious in signing and retaining players with concussion histories. That cautiousness may have the effect of incentivizing players to revert to hiding concussions, the exact opposite of the intentions of heightened concussion awareness.
Ultimately, much of this comes back to what is discussed above: the lack of guaranteed contracts and tenuous job security for NFL players. Like the Packers with Shields, teams are "managing risk" in the best interests of the franchise and, ultimately, the player. It is a scenario that will continue to play out in this era of more sensitivity to head trauma issues.
Ban the Bears
Although I have been critical of NFLPA leadership for not pushing the envelope on spending minimums and guaranteed contracts, I have admired their vigilance in fighting measures that unfairly target NFL players, now evident in their resistance to Illinois State Senate Bill 12. SB 12, as it is called, adversely affects professional athletes by cutting off benefits for sport-related injuries at age 35, compared to a cutoff of age 67 for "normal" workers. NFLPA head DeMaurice Smith has called for pending free agents to eliminate the Bears in weighing their team choices. (Bears ownership supports SB 12.)
While Smith and the NFLPA are well-intentioned, players are focusing on the here and now, not workers' compensation benefits down the road. If the Bears offer a player the most guaranteed money, or opportunity, or (ideally) both, a current player is very unlikely to decline based on of future workers' compensation benefits. On the other end of the spectrum, a player with no other options is certainly not going to pass up the Bears, SB 12 or not.
I applaud the union's advocacy here, and hope I am wrong, but it is unrealistic to expect SB 12 to be a deciding factor for players if their best possible job security and/or opportunity comes from the Bears.
Question? Comment? Story idea? Let us know at talkback@themmqb.com