Grimes Against Humanity: How Brent and Miko navigate their world of social media and the NFL
The world's most underrated cornerback (her opinion) is married to football's most passionate cheerleader (his opinion). Add social media to the equation, and what could possibly go wrong?
Not all love stories begin with a spark. In this one, boy and girl could hardly converse at first; he spoke monosyllabically (when he spoke at all). She was eight years older than him and thought he was a scrub. She towered over him in her heels. And she was convinced that he was gay.
"We were going out for a month, and he wouldn't kiss me, wouldn't grab my ass, wouldn't do anything guys do," says the girl. "I thought: It's Atlanta; lots of guys here have beards. And I'm kind of a tomboy. Maybe he thought I'd be cool with that." So she stopped returning his calls.
But the boy badgered and cajoled, and so did his friends, who explained that he was shy, not gay. He really did like her: She looked good; she was smart and funny. And she was the first girl he'd met who could b.s. and talk sports with him.
Eventually she relented and agreed to the date he'd been asking for since they met: She would play basketball with him. Thing is, she'd played in college and professionally overseas. She warned him that she was "really f------ good" and that she'd be turned off forever if he couldn't match her.
"And he was incredible," she says. "I said, 'This guy should be in the NBA.'" They have been together ever since.
Presumably plenty of wives have gotten their husbands traded or released. Miko is the only one who will brag about it.
That fateful game, played a little more than eight years ago, launched a union that is fascinating by even the escalated nuptial standards of professional athletes. Since then, Brent Grimes, the scrub, has grown into one of the NFL's best cornerbacks, making the Pro Bowl four times in the five full seasons he's been a starter. He has broken up more passes since 2013 than any other player, and among corners he has more total interceptions (17) than anyone but Richard Sherman. In 2016 he was one of the few standouts on a Buccaneers defense that steadied as the season went on, nearly vaulting Tampa Bay into the playoffs. And Miko, his wife now of seven-plus years, has become one of the NFL's most prolific trash talkers, not to mention her husband's personal coach, scout and hype man.
This pairing—which has also produced Aiden, a bubbly, precocious, football-hating six-year-old—naturally prompts a great deal of outside curiosity. "Opposites attract" prepares one for only so much.
The stereotypical star cornerback talks and talks and talks, but Grimes is a reserved, laconic homebody who ducks cameras and stays off social media. When he's not working out or shooting hoops, he's probably playing FIFA or horsing around with Aiden. He hates to travel and only recently warmed to attending his friends' parties. "I had to shove him in so many people's faces," Miko says, "until he got the hang of it."
The stereotypical NFL wife, meanwhile, is rarely seen and never heard, but Miko is everywhere. She loves to talk, not least about the game her husband plays, and she's a natural at it. She's quick to brand opponents bums and scrubs and washed-up. She is given to bursts of the zeal common to sports talkers and televangelists; she speaks intermittently in caps lock. As in: "The biggest contract my husband has ever gotten was for four years and $16 million—AND HE IS INCREDIBLE! No cornerback has a better highlight reel than Brent Grimes! NO ONE!"
That Time a 17-Year-Old Tom Brady Borrowed Ken Griffey Jr.'s Jersey
Before starting her own podcast a year ago, she co-hosted sports-talk radio shows in both of her husband's previous stops, Atlanta and Miami. That vocation posed something of a problem with Miami's owner, Stephen Ross, who said in jettisoning Brent that he "thought it was best that the Dolphins move on from Brent and Miko."
The known universe lacks the asterisks necessary to preserve Miko's most potent rants. Suffice it to say that she is fond of deploying offensive and scatological metaphors toward fans and media members who dare suggest that her husband's best days are behind him or that she is a drag on his career. Or, as she once put it to a trio of Miami reporters:
In December 2015, after the Dolphins lost at home to the Colts, Miko tweeted an only marginally gentler metaphor to describe how Miami fans adored Ryan Tannehill. She also claimed that the franchise quarterback had (allegedly) failed to complete a single throw in a two-minute drill against the practice squad that week. She called him "sorry ass" and said he "stunk." She said the team would never overcome his presence.
That week, reporters hounded Brent about Miko's tweets, asking if he'd put her up to it or told her about the practice. He said he hadn't, that her opinions were her own. He says he also told Tannehill the same thing: "'I didn't say anything about you. I'm sorry if it upset you, but I didn't say it.' And he was cool about it." The Dolphins cut Grimes nine weeks later.
Presumably plenty of wives have gotten their husbands traded or released. Miko is the only one who will brag about it. "People say I got him cut with my mouth," she says. "Duh!That was the goal!" According to Miko, the Dolphins had told Brent he had to take a pay cut; if he declined, they would wait until other teams used up all their cap space and then release him. (A Dolphins spokesman says that these discussions never happened.) At home, Brent said he'd sooner retire. But Miko wasn't going to let that happen—instead she would get him run out of town by going "as wild as possible on social media." Her version of what happened next: "[Brent] said, 'Go for it.' I got his full permission to be as disrespectful to the Dolphins as I wanted to be. And I threw in Tannehill because I don't like him or his wife."
A few days after Brent was released, he signed a two-year deal with the Bucs that guaranteed him a below-market $7 million. Later that off-season Miko directed another broadside toward Miami, first tweeting that the Dolphins "f------ stink" and then blasting Ross for "keeping his jew buddies"—football operations boss Mike Tannenbaum—employed. (The latter post was widely condemned as anti-Semitic; Grimes says she was only commenting on "how a lot of communities . . . hire their 'own people' for jobs before others.")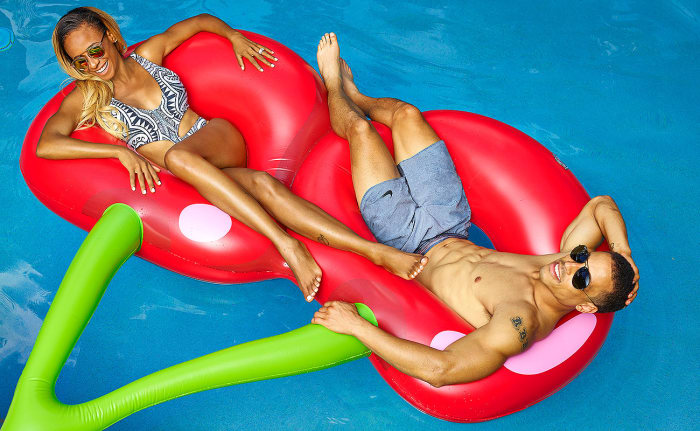 Occasionally, people will bring Miko's new tweets to Brent's attention. He says, "I'm like, What'd she say? And then I'm like, Oh, goddam. All right, she be getting mad. People talk crazy to her all the time, and sometimes she just snaps, I guess." As to whether he indeed sanctioned the tweets for which the Dolphins ran him and Miko out of town: "Oh, uh, I don't know about that. . . ."
Brent says he has rarely quarreled with Miko over anything she has tweeted—nothing more than a Damn, Meek! here or there. He also says he's almost never heard from coaches or teammates about her online persona . . . with one large exception. Every July 19, for Brent's birthday, Miko buys a progressively outrageous erotic cake that usually depicts the couple in some form of coitus. Joe Philbin, the Dolphins' coach from 2012 into '15, asked Brent if Miko could please stop posting them on Instagram. After Brent's release, Miko tweeted:
Brent also says he doesn't understand why his wife's tweets should reflect on him. "People [act] like I have a battery in Miko's back and the words go straight from my mouth to her fingers and onto Twitter. Where does it stop? Can my mom go on Twitter and talk about football? My cousin?"
"What about me?" Aiden pipes up.
"Yeah, what if Aiden goes online tomorrow and tweets that green is yellow?" Brent asks. "I could tell Miko to shut up, but then she wouldn't be Miko. Would you tell someone you love to shut up 'cause of the media?"
Grimes Against Humanity
Brent and Miko Grimes
Brent and Miko Grimes
Brent and Miko Grimes
Brent and Miko Grimes
Brent and Miko Grimes
Brent and Miko Grimes
Brent and Miko Grimes
Brent and Miko Grimes
Brent and Miko Grimes
Brent and Miko Grimes
Brent and Miko Grimes
There is a reason they call themselves Team Grimey. Each is the other's best friend; it has been that way more or less since the basketball game. And that closeness owes much to where Brent and Miko were when they met. She was bartending to put herself through classes at the Complete Game Broadcasting school in Atlanta; he was an undrafted free agent hopelessly mired at the bottom of the Falcons' depth chart.
Brent had a modest upbringing in north Philadelphia, where he was the only child of a single mother. He was an indifferent student but a great running back, modeling himself on Barry Sanders. What self-respecting college, though, would find any use for a 155-pound runner on an inner-city school that played its games on Wednesdayafternoons?
One offer came from D-II Shippensburg, but then they told Grimes he should move to corner. Grudgingly he switched, and he became one of the best DBs the Pennsylvania State Athletic Conference had ever seen. The Falcons snapped up Grimes as an undrafted free agent in 2006, then allocated him to NFL Europa, where he played for the Hamburg (Germany) Sea Devils. It was there, playing against prospects and misfits, Grimes says, that he learned he'd be able to handle the NFL.
The Falcons had other plans. In 2007 they drafted a corner, Chris Houston, in the second round. In '08 they took Chevis Jackson in the third and traded for Domonique Foxworth, who won the job opposite Houston. Even when Foxworth left, in 2009, Atlanta signed Brian Williams and drafted Chris Owens in round 3. Three years in, Grimes was getting further and further from a starting job.
This is the life to which every undrafted player is condemned, Brent says. "You can do horrible in practice as a first-round pick, and the coaches say, 'We'll just coach him up. He's got the talent.' If you're undrafted and you have a bad practice? You're lucky if they let you come back the next day."
Ten things you (probably) didn't know about Bruce Arians, the Cardinals' head coach
Miko knew a little bit about the machinery of the league. Her great uncle Haven Moses was a Pro Bowler with the Bills and the Broncos in the 1960s and '70s, and when Miko, the middle of five children in Inglewood, Calif., ran away from a fractious home at age 12, she moved in with Moses's nephew, her uncle.
Miko's own mother, she says, discouraged her from playing sports. "She always wanted me in dresses and bows. She wanted me to be girly, and we fought. She'd say I was sweaty, that I stunk, that girls aren't supposed to look like that." One day, Miko says, she got in a fight with her mother's boyfriend, who hit her. She never went back.
Her new residence was in Pomona, where the demanding schools were more her speed. "I was a perfect-attendance student," she says. "I didn't just want to be somebody's baby mama, having kids, on welfare. I saw a lot of that in my family. I said, I want more."
What that meant, at first, was that she wanted the chance to play high-level basketball as a point guard. She started at Citrus Community College, transferred to Cal State–L.A. and then played overseas, in New Zealand and China and Turkey and Spain. She returned to the U.S. in 2006, at 31, with a sense that her playing days were finished. She discovered, though, that sports broadcasting was a tough field to break into. She did some radio work with NBA veteran Dennis Scott in Atlanta, but when he got the call to join NBATV, she didn't. Instead she was stuck slinging drinks and wings at Dugans bar and grill, picking up odd radio shifts and local sideline-reporter gigs, waiting for a bigger opportunity.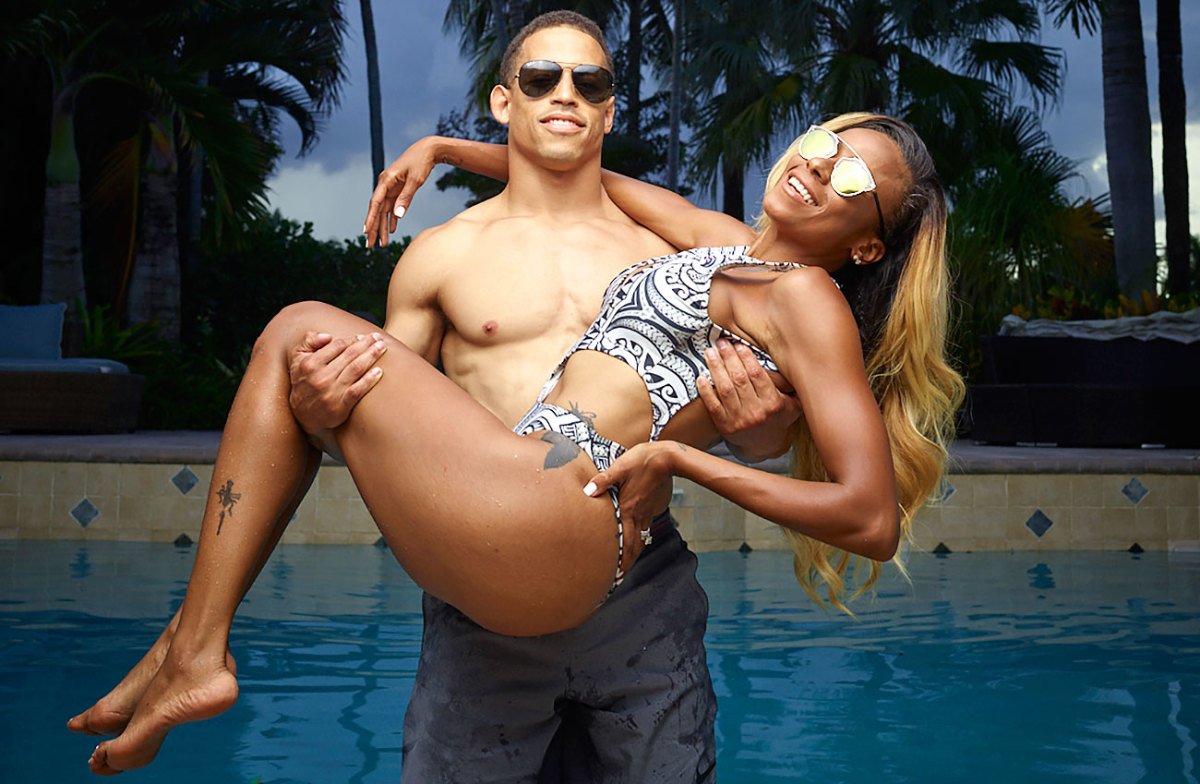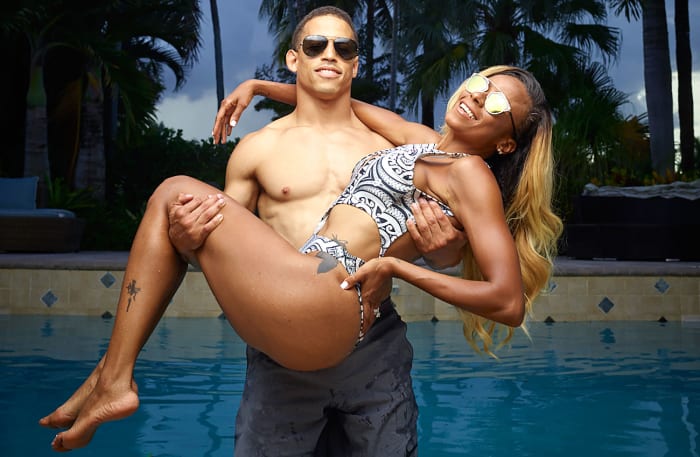 Enter Brent. He and Miko moved in together shortly after that basketball game—them in one room, Falcons teammate Antoine Harris and his girlfriend in another. "Then we had to move out 'cause I beat her up," Miko says. "Brent dated her best friend before me. She had too many words and got in my face with a curling iron. I had to beat her up." (Asked how Miko has changed since they first met, Brent says, "She's the same, pretty much . . . but she doesn't beat people up anymore." Just how many people did she beat up? "Since I met Brent," she says, "three people. But none since Aiden was born." She credits marijuana, and her husband and son, for mellowing her out.)
That summer at training camp, in 2009, Brent was again passed over for a starting job. The early days in their new town house were gloomy ones, Miko having to drag Brent out of bed in the mornings before practice. He wanted to quit. "I was doing well, but they kept telling me to wait," he says. "I figured I'd be riding pine no matter how well I played." Miko told him he had a gift, that he was destined to make it.
Then fortune backed her up. With four games remaining that season, injuries throughout the secondary gave Grimes another crack. He couldn't believe it, Miko says. "He said, 'No, they'll sign someone else.' Then he called me after practice the next day, saying he was gonna start, and I almost lost my s---. I was so excited."
Starter, sure—but what could he do with that when, according to Miko, Falcons defensive coordinator Brian VanGorder told Brent that he wasn't to take any great risks on the field? After the months of motivational work she'd put in, Miko wasn't happy.
"I said, 'BRENT GRIMES, you have one shot! You really gonna listen to the coach? What are they gonna do, cut you? They have no corners left! F--- him. Jump some routes and go get me a f-----' ball!' He didn't need me after that." Grimes had four picks in the Falcons' last three games. Could the coaches really complain?
To this day, Miko still texts Brent from the stands every game at halftime, relaying her scouting report and suggesting adjustments. In the Bucs' final game last season, against the Panthers, she texted Brent to say that Cam Newton would try to pick on him in the second half: "U look bored . . . Stay ready bc u know Cam aint got no sense. Been hit too many times upside the head." In the third quarter Grimes jumped a comeback route and returned Newton's throw 31 yards for a touchdown. Afterward, Miko posted their texts along with video of the play on social media and scored it with B-Rock and the Bizz's novelty rap song from 1997, "My Baby Daddy."
The Grimes's current mansion in Davie, Fla. betrays some of the blue notes in Brent's career. He has wall-mounted signed jerseys belonging to old Falcons teammates, even though Atlanta let him walk after 2012 because of his torn left Achilles. There are signs, too, of his Dolphins days, despite the way things ended in Miami.
Everything had started so well. Grimes arrived in 2013 on a one-year prove-it deal, and he made the Pro Bowl right away. The team kept him around with a contract that guaranteed him $16 million the same off-season he would turn 31. In Year 2, covering the Lions' Calvin Johnson some 40 yards downfield, he made a one-handed interception that ranks among the most acrobatic defensive plays in recent NFL history.
The situation turned fast in 2015, though, when Miko was less than effusive about Tannehill on her radio show. She said he was "average" but thought worse. She didn't care for his wife, Lauren, either. "She didn't like that I had a job on the radio," says Miko, "and she was pissed that Diane Philbin [Joe's wife] made me co-head of the women's association."
Miko says she held back out of respect for Coach Philbin, whom she knew and liked. "The whole team came to the coaches and asked for Tannehill to be benched for Matt Moore," she says. "Philbin said he couldn't do it. It was out of his hands." (Philbin declined to comment.)
Dak Prescott Q&A: Talking off-season, tattoos, his charity and more with the Cowboys' QB
The Dolphins started that season 1–3, and Philbin was fired following a game in which Tannehill threw two interceptions. But Miko couldn't go on the radio that week to defend the coach or blame the QB because she'd been fired from that gig after being arrested one hour before the home opener. She was charged with disorderly conduct, battery on a police officer and resisting arrest with violence. A video of the scene went viral; so too did Miko's mugshot, in which she was wearing Brent's jersey. This is what everyone saw.
What everyone didn't see, Miko says, is that officers "beat the s--- out of her" without provocation. (When prosecutors dropped the charges against her, they cited among other explanations "the likelihood that a jury would find that the force used by the officers was beyond that necessary.") She says one officer told her that she needed to stop talking about cops on her radio show; she says others told her she wouldn't be charged if she agreed not to sue. And she says that the Dolphins had told Brent before the game that she had gotten into it with rowdy Bills fans—not police—when he wondered why she wasn't in her seat.
"I was mad," Brent says now. "I felt like they did something to my wife just to do it."
The Grimeses are happy to be playing in Tampa now for coach Dirk Koetter and defensive coordinator Mike Smith, Brent's old coach with the Falcons. Miko says, "I told Mike Smith, 'This is an opportunity for you to right your wrongs from Atlanta. You f----- up, Mike Smith! You didn't play him; you didn't pay him!'" Brent says he's excited about the Bucs' young defense. Jameis Winston has Miko swooning.
In the off-season, though, Brent did consider retiring and trying out for the NBA's developmental league—or, as Miko puts it, "going to a real league." Says Brent, "The NFL doesn't have a cool vibe. They make everyone look the same, with their shoes and socks the same way." He says that whenever he does retire, he'll join a bunch of rec basketball leagues, if not the newly branded G League, and he'll never play any kind of football again.
Miko goes further. "This sport is weak," she says, citing the "f----- up contracts and dirty owners." She says she fears that many of the women in her shoes will one day "be feeding their husbands through straws." She cites what she believes to be a rampant problem of domestic violence; she says she knows from talking to other wives around the league that the situation hasn't improved since the Ray Rice tape.
What bothers her most about the league, though, is that her husband does not have the profile he deserves. She says he flies under the radar because he's light-skinned, quiet and went undrafted. "That interception against the Lions should be on so many billboards. If that was Richard Sherman, if that was Aqib Talib, if that was a whole bunch of other mother-------, it'd be a staple. But because it was Brent Grimes, nothing."
Miko recently had an acquaintance cut a highlight reel of Brent's best plays. She cues it up for a visitor and marvels at his athleticism. Then she distills and spills the essence of their love: "You see now why I talk so much s---? I'm sick of him not getting any props. Why does everyone know me? Know the person I'm yelling about."