Monday Morning QB: Aaron Rodgers Never Wants to Retire (While Jay Cutler Changes His Mind)
Peter King's whirlwind camp tour swings through Green Bay, where the Packers quarterback is working to keep his body healthy so he can play another 'seven, eight, nine, 10 years'
GREEN BAY, Wis. — Look around this classic old football town. It's changing—in a big way. There's a new luxury hotel, Lodge Kohler, across the street from Lambeau Field, a cornerstone to a new year-round fun-and-games Titletown District. (Bocce. Sled hill. Big park. Apartment complex. Medical complex.) Amazing hotel. You order room-service on the in-room bedside tablet; there are ground-floor suites with terraces and grills and fire pits, less than 100 yards from admission gates to Lambeau Field. Shiny and huge Hinterland Brewery has relocated here, with a couple of highbrow restaurants (there's venison meatloaf) and 12 local brews on tap. There's also an indoor Johnsonville tailgate house in the Lambeau lot, impressive and logical for frigid days.
As I looked over the lush landscape Friday, I couldn't help but think: I hope the Packers thank their lucky stars for Aaron Rodgers.
And I hope they continue to thank those stars.
"I want to play another seven, eight, nine, 10 years," the 33-year-old Rodgers told me in a quiet locker room Friday afternoon.
Much more about Rodgers and the Packers, and the pressure that lies on them, in a few moments. But news happened Sunday. The quarterback America loves to loathe walked out of retirement and into an impossible dream. Jay Cutler has to find a way to beat New England. That's only the hardest assignment in football.
Jay Cutler is a Dolphin
Aug. 6, 2008: Mike Tannenbaum of the Jets finishes negotiations with agent Bus Cook to bring an NFC North alum, Brett Favre, out of retirement to try to save the Jets' season. 
Aug. 6, 2017: Mike Tannenbaum of the Dolphins finishes negotiation with agent Bus Cook to bring an NFC North alum, Jay Cutler, out of retirement to try to save the Dolphins' season.
The news: Cutler will fly to Miami this morning—he had a personal commitment Sunday night that he could not break—and take a physical he is certain to pass. (His diet and lifestyle have changed significantly from his early days in Denver.) He should sign his one-year, $10 million deal, with $3 million in reachable incentives, by this afternoon, and practice with the Dolphins tomorrow for the first time. By the way, I have heard that the incentive package is $2 million for playoff-related team goals, and $1 million comes if Miami is a top-10 offense.
This is a pretty logical deal. The Dolphins told Cutler either late Thursday or early Friday that they wanted him to replace Ryan Tannehill, who suffered a likely season-ending knee injury at practice Thursday. Cutler took 48 hours to think hard about it; I was told he was interested in making a serious run at doing TV on FOX's number two team, led by Kevin Burkhardt, and Cutler was looking forward to life after football. This came out of the blue. So he needed time to process it. Said someone who knows Cutler on Sunday night: "He might have come back to another situation anyway. But when [Miami coach] Adam Gase called, that was his number one guy. No one's had his back like Adam. I don't think the decision was that hard."
In Chicago in 2015, under offensive coordinator Gase, Cutler had his highest rating as an NFL passer (92.3). He was disciplined. Gase makes his quarterbacks play disciplined football, and makes them explain on Monday why they made a dumb read on a certain play on Sunday. Gase values balance, too, which is a quarterback's best friend. Chicago was a 44 percent run team in 2015 with Cutler, and with better receivers last year in Miami, Gase called runs on 48 percent of the snaps over the last 11 weeks. That's huge. As long as Jay Ajayi is healthy, and with center Mike Pouncey back from injury, Cutler can count on Gase not putting the whole load on his shoulders.
So two questions persist: Isn't Cutler a bad locker-room guy? And why not Colin Kaepernick ahead of Cutler? On the first question, Cutler does not have a more passionate ally in the NFL right now than Gase. Three months ago, after Cutler signed a deal to do the FOX games, Gase was asked in a press conference if he thought Cutler would do well on TV. "I wouldn't be surprised," Gase said. "I guess I know a different guy than what everybody else portrays. I think a lot of things that have been said about him in the past have really been [BS]." While many in the league burn Cutler at the stake for being a laconic, downer type, Gase loves him. Gase wouldn't have gone along with the signing if he didn't think Cutler would fit in the locker room.
Jay Cutler Is Miami's Present, and the Future Just Got Interesting
I'm told if Cutler didn't sign, Miami would have considered Christian Ponder, Robert Griffin III and Kaepernick. I think the Dolphins are happy they didn't have to go Kaepernick. Gase is a communicator, but he's also a football nerd. My guess is he didn't want to deal with the initial sideshow that would have come with Kaepernick … though I also think the initial public outcry for signing him would have died down once the games started and he played. But in the case of Kaepernick, there's a chance Miami would have started backup Matt Moore and used Kaepernick as insurance. Cutler will start because he's played well under Gase, and because Gase would trust him more than Moore.
This story, really, is more similar to the Vikings last year than the Jets nine years ago. Eleven months ago Minnesota didn't want to waste a contending season with a strong defense after it lost Teddy Bridgewater, and it dealt a first-round pick to the Eagles for Sam Bradford. Here, Miami traded nothing, and is obligated for one year only. Our Albert Breer wrote about the future of Tannehill and Miami, and how Tannehill cannot see his 2018 roster spot in Miami as a lock anymore.
So Gase gets a quarterback who has had some great days in the NFL—just not enough of them. He gets Cutler, presumably at his most disciplined self. And the Dolphins get a chance, the way Minnesota had one last year. The Vikings with Bradford, by the way, went 8-8 last year, averaging a paltry 20.5 points per game. If Cutler and the Dolphins go 8-8, Gase, and all of the Miami organization, will be bitterly disappointed.
Aaron Rodgers and the Packers Pressure Cooker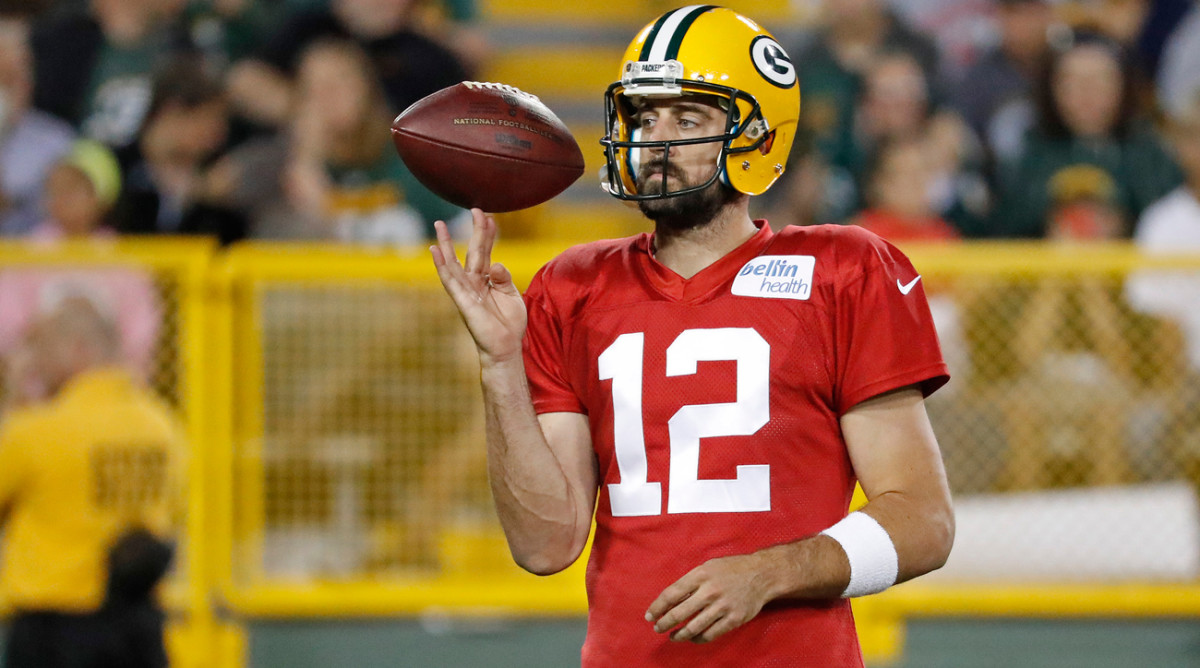 More on my camp tour now—on stops in Seattle, San Francisco, Minnesota and Green Bay. I was in Kansas City, too, and I'll report on the Chiefs on Wednesday. Let's start with Rodgers and what he's doing to be better this season, and for a long time.
Great quarterbacks give you a chance every year. Great quarterbacks may not win the Big One, but they allow your team, whatever its foibles, to play into January annually. With hope and a good chance and 11 or 12 wins every year comes people flooding into your stadium and your city and your hotels, enjoying your new bells and whistles. Green Bay has five, seven, eight more years of Rodgers-related goodness, if I read it right. Maybe eight more years to build the franchise to record levels of prosperity. So … you come to Green Bay, to all this tradition and all the newness, and you see the excitement for another season. And you feel the pressure to win it all, to be the Patriots of the NFC. It's sort of omnipresent.
"Of course you hear about it," Rodgers said. "I get asked about it, I got asked about it last week—this idea that the Packers embrace mediocrity. I think what we've done the last eight years`making the playoffs, there's only a couple other teams that have ever done that. New England, actually, currently is on the same streak as us, making the playoff for eight straight years. That's tough to do, especially with the parity of this league and how they pair up division champions each year to play each other in the same conference. We've sustained success, we just haven't sustained it on the top level. We haven't won more than one Super Bowl. We've also been to three NFC championship games and none of them at home. So that's how we look at it. We've got to get one of those at home, because we are tough to beat at home.
"I don't feel like our window is closing here. I feel like this window is going to be open for a while. And in order for some of that stuff to go away, the outside noise, we're going to have to win another Super Bowl. It would be disappointing if we were only able to win one in my time here. Hopefully we can get one of those done."
Mike McCarthy's Keys To Coaching Longevity
Rodgers had a pretty peaceful offseason. He stayed off Page Six after his breakup with star Olivia Munn, and no one saw much of him … which is the way he likes it. He went fly fishing in Montana for a week, and spent some time getting to know New York City—anonymously.
"Mostly," he said, "I think I did a really good job of pairing my workout mode with better eating habits. Now I've put together a year where I've sustained positive eating habits, and I really notice a difference in my performance. I did a lot of stretching and yoga this offseason, which I have always felt has helped me to sustain my legs and my athleticism and just taking off in practice on some scrambles. Yoga is just wonderful for me. I feel like I am moving as well as I did when I was 23 and I'm 33. Stretching, for me, is amazing. Flexibility can add years to your life, and in our life, football, it adds years to your career. The way I want to play even when I am 40-plus, I want to be moving around, and making plays outside the pocket like I still am, so I have to keep up with the yoga."
We spoke the day after Tom Brady's 40th birthday, and Rodgers said he emailed Brady on Thursday to wish him a happy birthday. "And I said to him, 'Is it just me, or does it seem like you are getting more mobile with age? You're running around good! You weren't doing that when you were younger!' I feel the same way at practice the last couple days."
Off the field, Rodgers seems more placid. "His overall quality of life is at a high, since I've known him," said coach Mike McCarthy.
In the Packer Pro Shop inside Lambeau Field on Friday afternoon, I saw a scrum of people around the replica team jerseys. The place was mobbed, just before a cool evening's practice with a packed house across the street at the Don Hutson Center. The money was flowing. The crowd was eight-deep at the Rodgers rack.
The Coach With Guts, and the Missing Man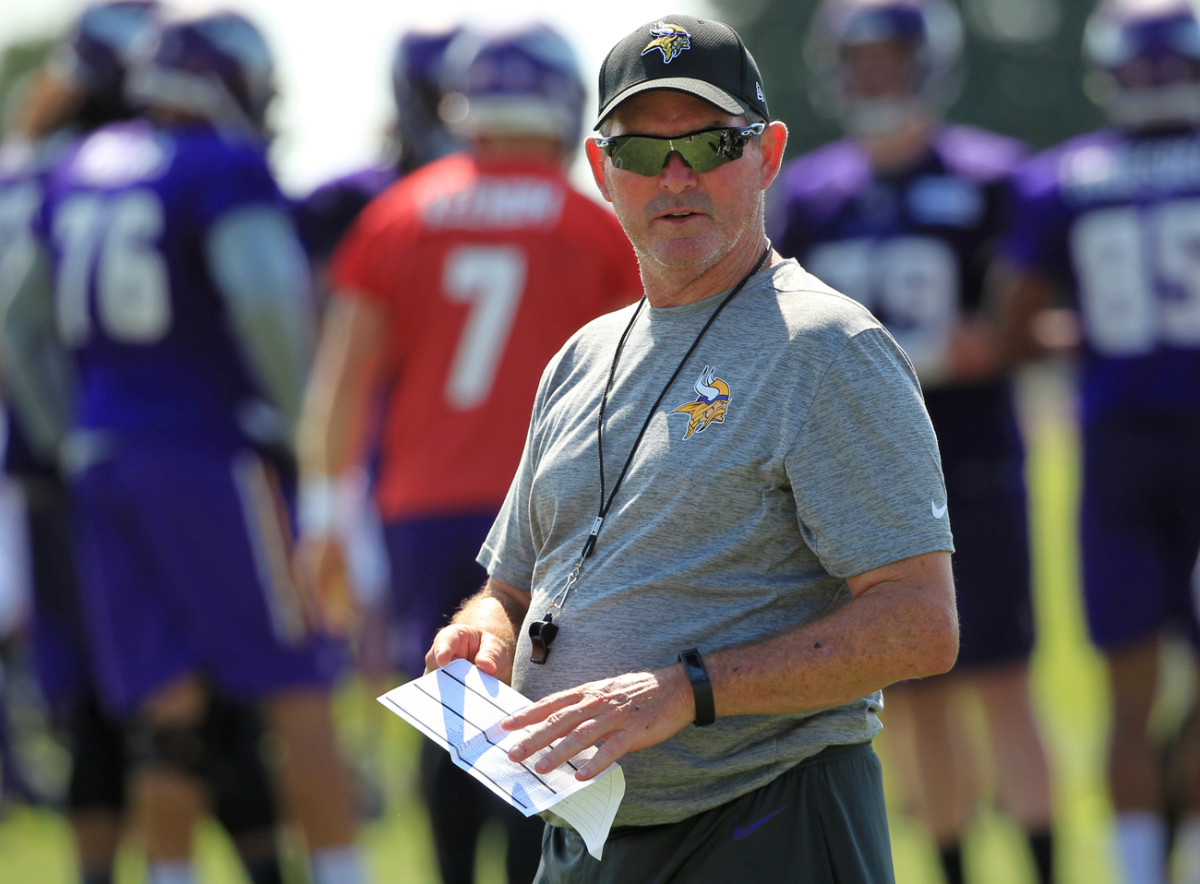 MANKATO, Minn. — What I found odd at the last of 52 Mankato training camps (the Vikings will move to their new suburban Minneapolis facility): no Adrian Peterson. I just got so used to coming here for a decade and seeing the crowds flock to see the best back in team history. I'm not alone. "It is totally weird to not see Adrian Peterson here," said defensive end Everson Griffen, who shared this camp with Peterson for seven of the back's 10 Vikings seasons. (Peterson, a cap casualty in the offseason, signed with the Saints.) "It feels like he should have finished his career here, but it's a business."
Odder still: Peterson will walk into Minnesota on opening night with the Saints. "Pretty big coincidence," Griffen said with some skepticism. Now I had a question for Griffen, in these days of milder training camps, that I was genuinely curious about.
"Have you ever tackled Adrian Peterson? Once?" I asked.
"Never," said Griffen. "NEH-ver. Not once! I thudded him up a few times, but never tackled him to the ground. He was off limits. He was a golden child. So to tackle him, it's going to be weird, but it's going to feel so good. I miss him."
Dalvin Cook: The Vikings Rookie Is For Real
Of more importance this season: the health of coach Mike Zimmer. After eight surgeries related to a detached retina in his right eye, Zimmer told me here: "I'm done with the surgeries. The doctor said there was less than 1 percent chance that it would detach again. I have a contact lens now in my bad eye, my right eye. Without the contact, I can hardly see anything. With the contact, I can see kind of good. But it doesn't really affect me that much. It's more of a nuisance. My other eye is really good. It's really not an issue. The doctor is only concerned if something happens to my left eye. I feel really strongly that I do this for the fans, for the team, for the organization—I have to do what's best for the team, not just what's best for me. Depth perception, close up work, is hard, but people in all walks of life do it all the time. It's just part of life."
There was a pause, Zimmer sitting on his golf cart before practice, squinting a bit.
"It's a little hard," he said. "But losing games, that's worse."
Seahawks Fight (Everybody) to Stay on Top
RENTON, Wash. — This didn't seem like a happy team the day I was there (last Tuesday). Two skirmishes at practice. One carried over, with coach Pete Carroll banning hothead defensive end Frank Clark for a day of practice when he slugged offensive lineman Germain Ifedi later in the week. Richard Sherman still obviously feeling pissed off over Seth Wickersham's ESPN story about Sherman being unable to drop his feelings over the Super Bowl loss to New England—and, as Wickersham reported, Sherman's feelings that the coaching staff was too soft on Russell Wilson. Sherman, according to Wickersham, also boiled over one day in practice after the Super Bowl loss, cursing at Wilson.
"Did you see me out there today?" Sherman told me after a feisty practice in pads. "I was saying a lot worse things out there than they [ESPN] had me saying!"
Perhaps. But with the decibel level so high at practice, the only thing you can hear other than the music is … well, nothing. You cannot hear a thing out here. And maybe that's the way Pete Carroll wants it, so we can't hear what Sherman is saying out here to Wilson, and, on this day, to wideout and longtime friend from Stanford Doug Baldwin.
"We practice at a level where we always want to restrain ourselves," said Carroll.
"We always want to go to that edge, and look over that edge, and almost tip over that edge, and come so close that you almost fall over," Wilson said. "Because if you don't go there, you'll never be great. But we have to be really smart too."
Seattle Seahawks Get Chippy in Practice Befitting Their Competitive Culture
I'm not a big fan of fighting at training camp. I've seen a lot of fights over the years. When I covered the Giants in the '80s, I saw two teammates on the defensive line, Eric Dorsey and Erik Howard, fight so violently that helmets got swung in the direction of bare heads. And skirmishes are going to happen at training camp. I get that Carroll likes a feisty practice. But I don't get the encouragement to go to that edge and peer over the side. How can a Frank Clark or a Thomas Rawls, two young guys trying to earn their spurs, control themselves when the tenor of practice gets so hot? They couldn't the other day.
Everything's great when you win—and that's the case here too. But there is no team in the NFL with a tougher road slate early than Seattle. And keep in mind there is no normal or easy roadie for this team; everything's more than 1,000 miles, seemingly. In the first six games, Seattle plays at Green Bay, at Tennessee, at Oakland, and at the Giants. Sherman didn't take adversity well last year, barking at offensive coordinator Darrell Bevell during a game with the nation watching. And he was dangled in trade talks before the draft; he's back this year, in large part, because no team would pay two high draft choices for him.
So this is a big year for this franchise. Those in the crosshairs don't seem bothered by what the outside world thinks.
"We're only bothered by things that can affect us," Wilson said. "It's all love here."
LookieHere—It's Brian Hoyer
SANTA CLARA, Calif. — Do you remember Brian Hoyer's pitiable show in the 2015 wild-card game for Houston? That's not exaggerating. His zero-TD, four-interception nightmare in the 30-0 loss to Kansas City (it was over after 22 minutes) was just that. You felt sorry for Hoyer, he was so awful. Five straight first-half drives ended: pick, Hoyer fumble, punt, pick, pick. The Texans, desperate to move on from Hoyer in 2016, vastly overpaid for Brock Osweiler, and you know how that turned out.
Hoyer landed in Chicago to back up Jay Cutler, and he was actually pretty good in the six games he played: 67 percent passing, six touchdowns, no interceptions. Among quarterbacks who threw at least 200 passes last year (Hoyer threw exactly 200), he was seventh in the league with a 98.0 rating. His former coach from Cleveland in 2014, Kyle Shanahan, thought enough of Hoyer to bring him to San Francisco as a bridge to the future this offseason, and so there he was Wednesday at practice, firing a 20-yard strike up the seam to fellow first-year Niner Pierre Garçon at practice. Hoyer is the likely starter, with Matt Barkley the backup.
San Francisco 49ers Preview: 10 Things You Need To Know
Hoyer, I thought, was cooked after that playoff game. But he saved himself last season, and he has a chance this year—nothing's certain, but Shanahan's quarterbacks often put up killer numbers in his system. Hoyer went on a riff with me post-practice about why he's still standing.
"For me, I have handled a lot of adversity," Hoyer said in a quiet room under Levi's Stadium. "Not getting drafted, getting cut, having a bad playoff game. I think you respond the same way you do always: You pick yourself back up. My dad always used to tell me growing up, when it was a big deal to lose a baseball game, the sun is going to come up tomorrow. So that night after the loss to the Chiefs, the sun came up the next day. Then I ended up in Chicago. I think I played really well.
"There is a way to go on this roller coaster of the NFL and deal with the highs and deal with the lows and try to stay right in the middle. It's okay to be upset or hurt and then pick yourself back up and attack. What else are you going to do? As I got further and further away from that playoff game, I realized it was just an anomaly. I never had a game in my entire life that I played that bad. But it was just one day. One day. And I was not going to let that day define me as a player or as a person."
Good lesson in football, and in life.
Three camp scenes from The MMQB Team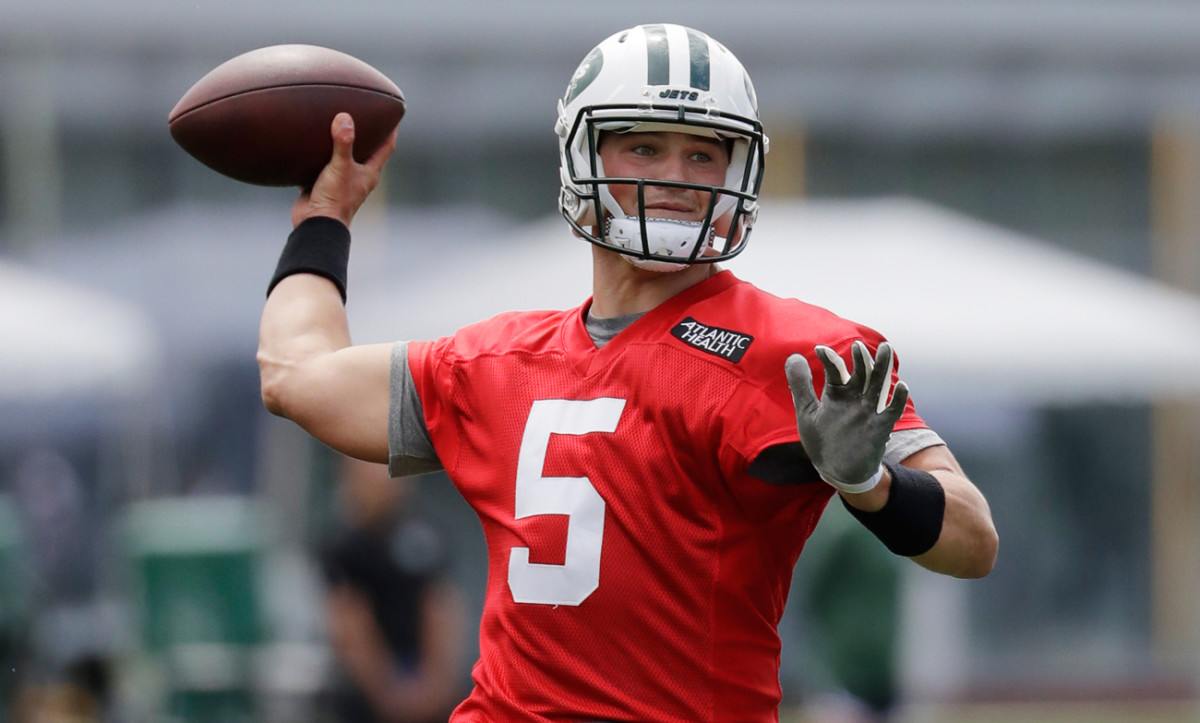 While I've been out west for the first two weeks of training camp, The MMQBhas dispatched other staffers east of the Mississippi. Three things they've seen that will educate you a bit:
• FLORHAM PARK, N.J. (New York Jets), Monday, from Tim Rohan: On Monday at Jets' camp, Christian Hackenberg was having trouble just breaking the huddle correctly. During one rep in seven-on-seven drills, as he approached the line of scrimmage, a coach ordered him to re-huddle. When he broke the huddle again—in the wrong fashion for a second time—he was ordered off the field. No one expects the Jets to contend this season, but at some point, they will have to decide whether Hackenberg is the answer at quarterback, a decision that could affect their 2018 draft plans and their franchise for years to come. So for now, all eyes are on him. The next time Hackenberg took the field, he broke the huddle correctly and threaded a pass about 20 yards downfield for a completion. That kind of resilience will serve him well, if he wants to be the Jets' long-term quarterback answer.
The New York Jets Are Playing on a Full Tank
• PITTSFORD, N.Y. (Buffalo), Wednesday, from Kalyn Kahler:Sometimes watching the sidelines can be more interesting than watching the action on the practice field. While at Bills practice, I was distracted by defensive linemen Jerry Hughes and Shaq Lawson, standing just a few feet away from me on the sideline. The two defensive ends were working on pass rush techniques with defensive line coach Mike Waufle. The coach had Hughes and Lawson drill their club moves with slowed-down timing. With each repetition of the punching motion, Waufle sped it up, instructing Hughes and Lawson to eliminate any wasted time. "It's all about the milliseconds!" Waufle shouted over the DJ's music piped into practice. It was fascinating to watch players take a common pass rush move and put it under a microscope.
Sammy Watkins Is Done Talking; He's Ready to Play
• RICHMOND, Va. (Washington), Sunday, from Jenny Vrentas: The practice field was baking under the late-morning sun, but after Washington's walkthrough on Sunday, not everyone retreated inside the team's training facility for some shade. For a full 30 minutes, five young offensive linemen—all with a season or less of NFL experience—stayed out on the field with a stand-up blocking dummy and position coach Bill Callahan. They rolled through different techniques during the session. Sometimes, they went up against each other; other times, assistant offensive line coach Kevin Carberry would demonstrate a specific technique against the blocking dummy, and they'd line up to mimic his hand and foot movements. A major part of Washington's offensive success the past two seasons has been strong play up front, and that includes both versatility and depth at that part of the roster. Success on offense starts up front, and while none of the players who lingered on the field are pegged for a starting role this season, this is the kind of behind-the-scenes, extra work that readies them in case they are called upon to do more.
32 Teams, 32 Tattoos
If you go to The MMQB's Instagram account, you'll see a fun training-camp series we're doing. We're finding a player in each training camp to show us his favorite tattoo, and explain why he got it. From the lion on Dak Prescott's left shoulder to Marilyn Monroe on Rodger Saffold's left forearm (I am not lying), you'll see and read about 32 pretty interesting stories.
I did a bonus one in Dallas, to give you an idea of what we're aiming. Rookie wideout Ryan Switzer has the word "Believe" indelibly inked on the inside of his lower lip. (Bet that felt good.)
Switzer on why: "I had just turned 18. My mom does not like tattoos, and I wasn't a very rebellious kid, sort of always on the straight and narrow, but I wanted to get one and not make her too mad. So I got a tattoo on the inside of my lip. How did she find out? Well, as any kid would, I told a few of my buddies about it. I showed them. They told their parents. And so I was out with my mom eating dinner one night and one of those parents comes up and says, 'Let me see your tattoo!' Right in front of my mom. She wasn't too happy. It was tough sledding for me for a while. What does she think now? Well, she loves her baby boy. So I think she's forgiven me."
Quotes of the Week
I
"Deshaun is ahead of any rookie quarterback I've ever been around."
—Houston coach Bill O'Brien, on first-round quarterback Deshaun Watson, after his fourth training-camp practice.
II
"We played up at Buffalo, and we couldn't fly back into Boston because the weather was so bad, so we had to stay the night in Rochester. We drove there, and we all decided we'd go out to dinner together. Tom being who he was, he usually couldn't come to a team event like that. We might be at Capital Grille and he is sneaking in the back door and then people realize he's there and he has to leave. But this was impromptu at Dinosaur Bar-B-Q in Rochester. The whole team is there. And it turns into a beer-chugging contest. You have linemen, Julian Edelman, they all think they are going to win. Then someone says, 'I heard Tom is really great at chugging a beer.' We don't usually get to experience him like this, but we finally coax him into doing it. He does it, and let me tell you, you couldn't have poured out the beer faster into a glass. It was unbelievable. And he slams the mug on the table and puts both fists in the air. He walks away with a look on his face that said, 'You really thought you were going to beat me on this?' The place went nuts."
—Former Tom Brady teammate Brian Hoyer on the occasion of Brady's 40th birthday last Thursday, in a cool collection of tales by ESPN's Mike Reiss.
III
"I was young and dumb."
—Steelers wide receiver Martavis Bryant, who was suspended for the 2016 season for substance-abuse violations, on what led to his problems, to Jacob Feldman of Sports Illustrated.
The Steelers can only hope the use of the word "was" stays in play for the historically troubled Bryant.
Hall of Fame Quotes of the Week
I
"I had a good talk with Dan [Snyder] last night. I know I didn't give you much—two and a half sacks. Stole a lot of money from you, but I appreciate it. Hey, I'm just being honest with you, all right?"
—Jason Taylor, who actually had 3.5 sacks in his abbreviated Washington tenure.
II
"Football found me. Football rescued me."
—Jason Taylor, on the effect football had on him in high school.
III
"I wanted someone that could get it done to be our coach. I wanted Jimmy Johnson. I said he'd be worth five first-round draft choices or five Heisman Trophy winners. Of course, I sure did get laughed out of town when I said it. It was my first experience as an owner and general manager making a difficult and very unpopular decision. Jimmy, it was a great decision. You were a great teammate, you were a great partner. To the contrary of popular belief, we worked so well together for five years and restored the Cowboys' credibility with our fans. We were back-to-back [Super Bowl champions], we were driven, we had thick skin, we took all the criticism they could dish out. I thank you."
—Jerry Jones, with the olive branch to Jimmy Johnson in his speech.
IV
"Trent Green: Our paths crossed in the most incredible of ways, and I acknowledge, you could easily be the one standing up here tonight. But the class that you showed while dealing with the toughest of situations is etched in my mind. Your willingness to share your football secrets so I could succeed was incredibly valuable. But the character displayed and the way you modeled the definition of teammate was priceless. Those lessons followed me the rest of my career. Thanks for sharpening my character with your own."
—Kurt Warner, to the man whose season-ending knee injury opened the door for Warner in St. Louis in 1999.
V
"Good evening, Canton, Ohio. Good morning, Denmark."
—Morten Andersen, whose speech began in his native country after 2 a.m. Denmark time.
VI
"I can't lie. We're all scared. We're concerned because we don't know what the future holds."
—Terrell Davis, to Nicki Jhabvala of the Denver Post, on the specter of CTE following players into retirement.
Hall of Fame 2017: The Terrell Davis Effect
​
Hall of Fame Rant of the Week
If I know David Baker and Joe Horrigan, the two men most in charge of Hall of Fame weekend, they had to be sitting there in Tom Benson Stadium at 11:40 Saturday night thinking: We have to lasso this ceremony. We can't have five-hour ceremonies anymore.
If they are not thinking that, they should be. I enjoyed the speeches, sitting in a Kansas City hotel for much of them on Saturday evening. But my Lord: 37 minutes for Jerry Jones (enjoyable though it was), 33 minutes for Kurt Warner, 32 for Jason Taylor. With his talk winding down, Kenny Easley (22 minutes) said, at first inexplicably: "Blah blah blah, blah blah blah. My teleprompter just went off. So I have to cut it short." No one mourned.
This is a sensitive thing, because—as I'm sure Jones thought—how can I encapsulate my life in football without going point by point, big moment by big moment, and telling great stories along the way? But if everyone goes microscopically through his life in the game, then seven men are going to take five hours to do the show. Does anyone except seven families want a five-hour Hall of Fame show?
Here's the most sensible way to do it: Figure a time. Say, 22 minutes. Each person has his speech written out, and practiced, anyway. Tell each new Hall of Famer he's got 22 minutes, and at the 23-minute mark, NFL Network's going to commercial. At the 24-minute mark, the teleprompter is shut off. Something's got to be done. I enjoy a good speech as much as the next football follower, and there were some gems Saturday night. But this cannot drone on for five hours. It's just too much.
Stat of the Week
Enough, please, of this narrative: Now that Terrell Davis parlayed three supernova seasons into the Pro Football Hall of Fame, let's get a campaign going for Priest Holmes.
Apples, pomegranates.
In the regular season, the three great seasons of the two men are wholly comparable, and Holmes even has an edge: 6,566 yards from scrimmage from Holmes in 2001-03, as opposed to 6,010 for Davis in 1996-98.
But Davis never would have made the Hall of Fame without his playoff résumé in those three seasons, particularly his seven 100-yard performances in seven postseason games in 1997 and 1998, an unprecedented run of rushing success that almost certainly will never be repeated. Davis is the best playoff running back of all time, averaging 142.5 yards per game. Comparing Davis and Holmes in the postseason:
| | | | | | | | |
| --- | --- | --- | --- | --- | --- | --- | --- |
| RB | Playoff Years | G | 100-Yard Performances | Att. | Yards | Avg. | Rush TDs |
| Davis | 1996-98 | 8 | 7 | 204 | 1,140 | 5.6 | 12 |
| Holmes | 2000-03 | 5 | 1 | 42 | 221 | 5.3 | 2 |
Factoid That May Interest Only Me
I
Every day for practice, Packers coach Mike McCarthy drives from his parking spot at the stadium named after Curly Lambeau, drives across the street to Ray Nitschke Field at the practice facility known as the Don Hutson Center. To get there, he drives on Mike McCarthy Way. If Mike McCarthy kept driving on Mike McCarthy Way one block past Ray Nitschke Field at the Don Hutson Center, he'd come to a stoplight at Mike Holmgren Way, just down the street from Brett Favre Pass and Reggie White Way.
Green Bay.
II
Kade Warner, son of Kurt and Brenda, is a preferred walk-on wide receiver at the University of Nebraska.
Mr. Starwood Preferred Member Travel Notes
Scenes from the road:
• Napa, Calif., Monday, 10:05 a.m.: The Raiders have been holding training camp at the Napa Marriott for 22 summers. I have come here maybe eight or 10 times over the years. Usually you pull into the parking lot of the hotel, pick out a nice spot near the front door, park, walk in and find the PR staff to get a media credential and start the day. No parking available on this day. Nothing. Security for a back lot. Nothing there. So I parked in a BART commuter lot across and down the street. Once in the lobby, I saw it was teeming with fans eating and waiting for practice to begin—scores of them, most in beer-and-eggs-for-breakfast mode. This is what happens when your team gets good. Camp gets swarmed.
• Renton, Wash., Tuesday, 8:20 a.m.: A female barista behind the counter at the Seahawks' home Starbucks—just across the I-405 overpass from their training facility—is working the morning shift with a Marshawn Lynch 24 replica Seahawks jersey.
"Gone but not forgotten, huh?" I say.
"NEVER forgotten," she said. "I'll be rooting for him in Oakland."
• Renton, Tuesday, 1:50 p.m.: The obligatory Turf The Dog photo:
Most unique camp in the league. Turf is the team dog, lives out here on the practice fields, and has his own Twitter account. The chocolate lab's a hefty guy. Later in the day I look out a window on the second floor of the Seahawks' facility, and there's Turf, sprinting toward a sprinkler, running through the jetting water, then turning back to pirouette in the jet spray, mouth wide open, capturing a drink. Pure joy.
Next to the field, hard by Lake Washington, is a bald eagle nest. Two of them came out during practice today. And there were no boats pulling up on the lake to watch practice, maybe because it was a weekday, but sometimes there are. 
"You didn't see it today," Cliff Avril told me, "but sometimes Jimmy Graham flies a seaplane here, lands out in the water, and just walks up here to the facility."
• Mankato, Minn., Thursday, 2 p.m.: You are going to need to see this old menu. Sixty ounces of beer: $1.20! The proprietor of Jake's Stadium Pizza, Wally Boyer, has been making pies for the Vikings since 1973.
There was the night Carl Eller walked over from the players' dorm to order a pizza, pronto, before 11 p.m. curfew. At 10:57, he demanded it. It wasn't finished. He still demanded it. "You don't say no to Carl Eller," Boyer said over a thin-crust pepperoni pie.
There was the time in the late '70s, after curfew, when a call came to deliver multiple pizzas to the players' dorm, Gage Hall. But surreptitiously. The pizzas came, and players tossed a few tied-together bedsheets down, holding on to one end. The pizzas were attached to the bed sheet and rappelled up. The money was tossed down.
But this is my favorite note about Jake's Stadium Pizza: Burnett Dairy, a small dairy in Grantsburg, Wis., makes cheese exclusively for Jake's. About every two weeks, a truck from Burnett comes by.
With 4,000 pounds of cheese.
• St. Joseph, Mo., Sunday, 10:20 a.m.: Michael Vick is a volunteer quarterbacks coach for part of Chiefs camp, and this is a competitive group of QBs. Each day, three or four times, when the quarterbacks have a break, they and the coaches line up maybe 45 or 50 yards from the end zone and take turns throwing and trying to hit the crossbar.
Of all the eight people in the contest Sunday, Vick's motion and effort was the most effortless. And one day last week, he won the contest, pinging a spiral off the crossbar.
Tweets of the Week
I
Regarding the Brenda Warner High Silver Mohawk. (I just invented that phrase.)
II
The Arizona first baseman beat Chicago with three home runs Thursday.
III
IV
Pod People
From the new season of "The MMQB Podcast With Peter King," available where you download podcasts.
This week: Oakland linebacker Khalil Mack, the NFL's defensive player of the year in 2016, and rookie Denver coach Vance Joseph.
• Mack on attending the "pass rush summit" organized by Von Miller for pass rushers in June: "I really didn't know if it was a pass rush summit for us or for college kids. I went to support that and when I got there, I was like, 'Where all the kids at?' And [Von Miller] was like, 'Bro, it's just us.' And I'm like, well, luckily I have my cleats in the trunk! I'm thinking I'm coming out here just to teach, but the way he broke it down, he wanted us to come in and learn from each other. I thought it was pretty cool. He was like, 'The guys in the NBA do it all the time, so why can't we do it?' As pass rushers, it's hard out here in these streets, pass rushing and doing all those different things, when you get all those double teams and different things. It only makes sense for us to come together and learn from one another. I didn't know many of the [other players there] at all. I ran into Von a few times. I've been playing against him since I first got in the league. All the other guys that were there, I didn't know too many of them. When you think about being in the film room with DeMarcus Ware, it was like, Okay, are you sure you want to tell me these things? It was fun, knowing the way he broke down the game, and it made it that much easier for me. I enjoyed that, and I enjoyed that process very much.
• Joseph on being self-conscious as a head coach versus being an assistant coach: "How do you say no to a fan who wants to say hi to you or wants a picture with you? The part about being on all the time … I am aware of like, if I am going to the store with my kid, what I'm wearing, if I'm wearing this T-shirt or this hat, or my flip flops. You kind of think twice about what you're wearing leaving the house now. Years ago I wouldn't care, I would go out in my T-shirt and my flip-flops and my hat turned to the back, relaxing. But now I am aware of what I'm wearing. You don't want certain perceptions to be out there about who you are, and that is just the reality of it."
Ten Things I Think I Think
1. I think Peyton Manning is preparing for a career as the next John Elway. Now, I said "preparing." It's not any sure thing he'll do it. But he's doing his homework, getting to know different teams, different ways of doing things. He had dinner with coach Sean McVay and GM Les Snead and COO Kevin Demoff of the Rams recently. "He's very curious," McVay told me. Manning as a GM and franchise architect would be quite interesting, obviously. He'd be a formidable foe, wherever he lands, if he chooses to do it.
2. I think it's always a good week when the Football Outsiders almanac arrives in the email box. (Here's the link to the 2017 almanac.) Every year, FO impresario Aaron Schatz and his staff mine a slew of data to tell you things you didn't know about even your favorite team. Here are some of the tidbits that should make you eager to dive in:
a. Chicago led the NFL last year with 155.1 Adjusted Games Lost. That's a metric that accounts for injuries to starters and important situational players by counting not only games missed but also games where players were at less than 100 percent because of injury. Chicago had the highest total in FO's entire injury database, dating back to 2000.
b. Worried about Atlanta losing offensive coordinator Kyle Shanahan? Expect the Falcons to take a step back on offense because of regression towards the mean. But on average, top offenses that lose their offensive coordinator decline by the same amount as top offenses that don't lose their offensive coordinator.
c. Dallas led the league with 8.2 yards per pass and 11.2 average yards after the catch on passes thrown behind the line of scrimmage. Even without Ezekiel Elliott's 83-yard touchdown against Pittsburgh, the Cowboys still would have ranked third.
d. The Denver pass defense has been more than 20 percent better than average for two straight years. The only defense since 1986 to reach this baseline for more than two straight years was Tampa Bay from 1999 to 2003.
e. All 32 NFL teams had "11 personnel" (three wideouts, one back, one tight end) as their most common personnel grouping last year, but the Giants took it to another level. The Giants ran 11 personnel on an astonishing 92 percent of plays. No other team was above 76 percent.
f. The Raiders had the lowest scoring differential (plus-31) of any 12-4 team in NFL history. The other seven teams that went 12-4 with a scoring differential of plus-70 or lower averaged a 9-7 record the next year.
g. Without Marshawn Lynch or a healthy Thomas Rawls, the Seattle offense plummeted from second in broken tackles in 2015 to 29th in 2016.
3. I think the Jags shouldn't be too concerned about the retirement of Branden Albert. His heart wasn't into football; better that he goes now than when the games are happening. Cam Robinson, the rookie picked to be Albert's heir, will be the beneficiary. He'll play earlier than expected, but he's got the drive Albert doesn't. We'll see if Robinson's good enough.
4. I think I don't love to make any judgment whatsoever on a first preseason game. But Blaine Gabbert, if a judgment is to be made of any kind, looked good against the Dallas Schmoes on Thursday night in Canton, starting seven of seven for 136 yards.
5. I think I don't want to alarm Panther fans, but at one of their major practices of camp, at Bank of America Stadium in Charlotte on Friday night (in front of 58,000 fans), five weeks and two days before the team's regular-season opener, Cam Newton didn't throw because of a sore right shoulder. It was his fourth straight missed practice with the bum shoulder, surgically repaired in the offseason. The team still thinks Newton will play opening day, and it's better to be safe right now. But Newton's so important to the team, and to the development of a different style of offense with some young weapons, that he needs to play a lot this summer so the Panthers don't sputter coming out of the gate. 
6. I think I could not be more impressed with Kyle Shanahan the football-explainer. His press conferences, early in training camp, have become classrooms. I appreciate his explanations so much because many coaches view meetings with reporters as trips to the dentist without Novocain. They don't like media stuff and just try to get it done as quickly and painlessly as possible. But listen to Shanahan's responses to some involved questions. See how he actually tries to educate the reporters and the public:
• On tight ends working extra time on receiving the ball before practice: "We usually give all the position coaches about half an hour with the guys before practice. Most of the guys use it as meeting time and script review. [Assistant head coach/tight ends coach Jon] Embree likes to go out there and get on the sled and do some extra work, stuff they don't really get. Tight ends, their individual time always gets taken from them because half the time they've got to go with the quarterbacks to work on the pass game. Then they've got to go with the O-linemen to work on the blocking stuff. It's hard for them to really get their own time, so that's where Embree finds it."
• On why his quarterbacks don't wear wristbands for play-calling purposes: "I think you'd have to ask other people why they have their quarterbacks use wristbands. It depends. A lot of teams that I know of … their quarterbacks use wristbands because their play-caller doesn't call the formation and doesn't say the whole play. They just say a number and put it on the quarterback to then look down and then he reads it to them. Those are most of the people that I've found out, but we don't need to do that. I just call the whole play and they repeat it. I don't just say '14,' I say the formation and the play, and they read it. So, there's no need to look down and have a cheat sheet. They just have to repeat what they hear in their helmet. I really don't know the other reasons why people would have a wristband, but that's why we don't. If the headset ever went down, we would try to run one out to him very fast. I want him to get in the huddle together not looking down at his arm, and there's more than 10 plays. I don't want him to have to flip through a bunch of stuff. It takes time. We want to go as fast as we can. I want to say it, I want him to repeat it after me and get to the line of scrimmage. Sometimes when you put that on quarterbacks and you put more pressure on 'Hey here's the number, but if you're on the right hash you've got to say all this stuff the other way. You've got to say it left instead of right, you've got to say 'Three Jet' instead of 'Two Jet,' you've got to say 19 instead of 18.' In the heat of battle, sometimes that can get tough for a guy."
• On whether, as a play-designer and play-caller, he scripts the first 15 of the game as some offensive coaches do: "I've always scripted. I usually try to give an opening 24. But I don't think ever in my life have I gone one through 24. You just try to give guys an idea of what the game plan is, and where you plan on going with it. It's mainly more so players can feel comfortable with what the play-caller's thinking so they can prepare. I always start out with the first play, and I usually go with the second play too. But, very quickly when you see what you're getting on defense, how they're playing, formations, how they're playing personnel groupings, after a series we might've just finished plays one through five but I'll tell the coaches, 'Hey we're skipping to 19. They're playing this differently and we want to get in this personnel group, we'll go there.' Then I might come back later to play seven. It just gives players an idea of how to prepare—kind of what you're thinking so they don't have to read your mind. But by no means are we just going to stick with it and go, it's always set on what we're going against."
This stuff is just fantastic. It makes for smarter writing and communicating. Where in those previous three paragraphs is anything about Shanahan giving away anything to opponents? There's nothing there, except education.
7. I think rising-star Minnesota pass rusher Danielle Hunter will finish this year in the top three in the NFL in sacks.
8. I think there's only one thing to do if you're the Falcons and Jalen Collins gets whacked for his second PED suspension in two seasons: Cut him loose. It'd be one thing if he were a great cornerback. But he's not. He got torched by Tom Brady in the Patriots' comeback in the Super Bowl, and now he's proven not to be remotely reliable off the field. I know third and fourth corners have value, but not if you don't know if they're going to stay clean.
9. I think the one thing we do in this business is obsess over players' salaries. And at the end of the day, I believe the stories are overplayed. The Matthew Stafford story, for instance. So he's going to leapfrog Derek Carr (listen to Carr talk about that on The MMQB Podcast With Peter King soon, and you'll see he shares my shrugging attitude about said salary discussion) and make, whatever, $26 million a year on average when he signs his new deal. The bottom line is that he's not going to move from Detroit, and we know the general neighborhood of where the deal will end up in dollars. So I'll be skipping the play-by-play about "we're not close" until the story breaks that the Lions and Stafford are at an impasse and they're going to get rid of him. Which is a story we're never going to read.
The 2018 QB Market: Tricky Situations Coming Up for Five Teams and Six QBs
10. I think these are my non-football thoughts of the week:
a. I'm a week late with this, but happy 70th birthday to Dick Ebersol, one of the greats in the history of sports TV (that is no puffery), and one of the most influential people in my career. I'm lucky to know him.
b. Baseball Story of the Week: Ben Reiter of Sports Illustratedon the life and death (and found biological father) of Hideki Irabu. Excellent reporting and prose, Ben. 
c. Football Story of the Week: "My Life Sucks," by Elliott Almond of the San Jose Mercury News, on the daily physical struggles of former quarterback Jim Plunkett.
d. Story of the Week: There is, seemingly, a growing science studying procrastination, by Heather Murphy of the New York Times.
e. Looked up the other day and saw that the Dodgers were 45 games over .500, with Yu Darvish on the bump. I am going to go out on a limb and say this might be the Dodgers' year.
f. If you'd told any baseball fan—never mind any New Englander—in April that the American League East-leading Red Sox would have Eduardo Nunez batting third and Rafael Devers batting fifth (which happened Thursday and Friday nights against the Pale Hose), he'd have told you that you were quite daft.
g. What a treat, getting to watch Corey Kluber in his prime.
h. Bartolo Colon threw a complete game the other day at 98 years old. Quite a feat.
i. RIP, Darren Daulton. A hero for Philadelphia, a catcher for the generation. 
j. Coffeenerdness: Treat yourself when you're in Green Bay. Go to Lodge Kohler and ask for the cold brew.
k. Beernerdness I: Got a quick tour of the new Hinterland Brewery in Green Bay on Friday night, and was gifted a stein of the Berliner Weisse. Splendid. Smooth, tasty. Reminded me of the only time I was at a German-style beer garden, in Vienna, and the ladies delivered six of these monster steins at once. A nice beer. 
l. Beernerdness II: Do not sleep on Minnesota as a beer state. With lunch Thursday in Mankato, I had a bottle of the Kato Lager (Mankato Brewery, Mankato, Minn.), which was so tasty and full-flavored for what I wrongly assumed would be just another local lager. I really liked it. At the airport on the way out of town, I had a Farm Girl Saison (Lift Bridge Brewing Company, Stillwater, Minn.). That was a gem, spicy and verging on a witbier.
m. "Hard Knocks" (with the Bucs) starts Tuesday at 9 p.m. on HBO, and NFL Films and HBO have done so much of this inside-the-team stuff (with the "Hard Knocks" and now the "All or Nothing" franchises) that there's virtually no buzz about this year's series. HBO is going to have to have a killer show for this to get the attention it's had in previous years.
n. Greatest "Hard Knocks" moment: Rex Ryan ripping his Jets in a team meeting, then telling them, "Let's go get a godd----- snack!"
o. My training camp tour plans: Home for three days, then off to Cleveland, Indianapolis, Cincinnati, Atlanta and Nashville on the next leg. Keep coming to The MMQB for the content of your dreams, from our team.
The Adieu Haiku
Cutler to the Fish.
Helpful for Adam Gase, but...
Kevin Burkhardt weeps.
Question or comment? Email us at talkback@themmqb.com.