Four Downs: Cleveland Browns' Creative Approach to Finding Quarterback Paying Off
Cleveland Browns' creative method to finding a quarterback is paying off with how DeShone Kizer and Brock Osweiler have responded.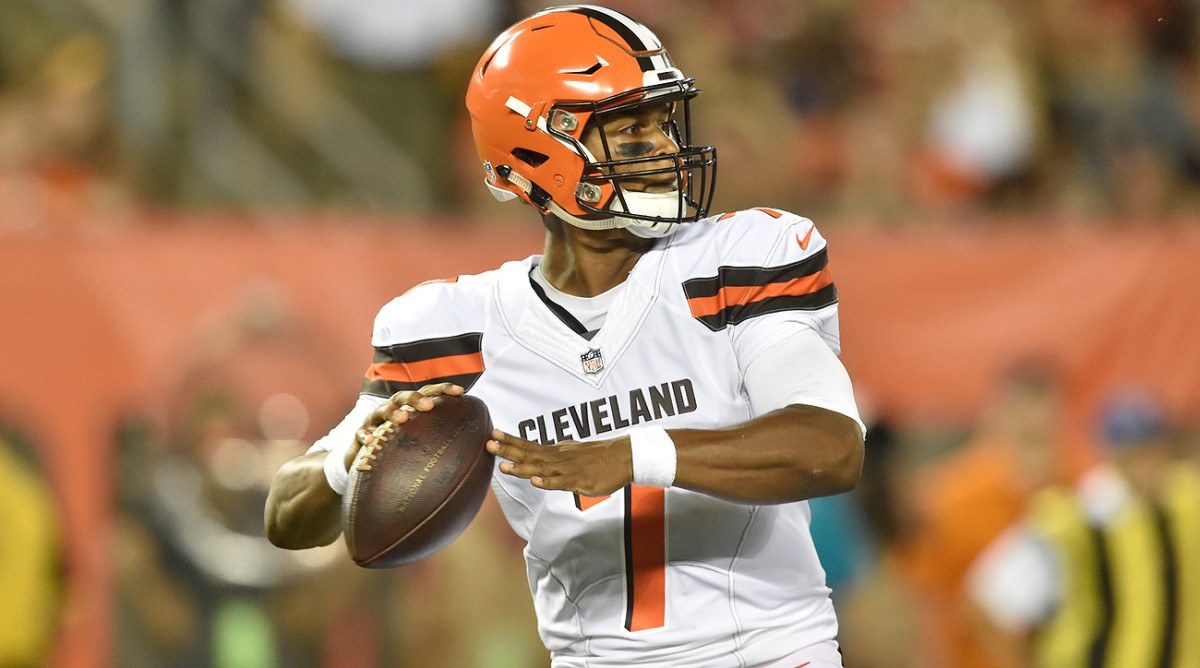 1. Browns in business at quarterback. No matter what Cleveland coach Hue Jackson decides to do at quarterback—and DeShone Kizer certainly appears to have the inside track to the starting job—there's little question that the Browns have been thrilled by how that room has come together, considering the middling investment the team made at the position. Why? Well, to put it bluntly, both Kizer and Brock Osweiler came with checkered reputations, and each guy put to rest quickly all the concerns the Browns may have had.
Creativity from Sashi Brown and the front office had the Texans actually paying Cleveland a toll to take Osweiler, which was a sign of just how quickly the quarterback's relationship with the staff and the organization in Houston had rotted. So the concern, and a reason why there was a chance that Cleveland would just release Osweiler in the spring (even with the money owed), was how he would respond to the tough love approach of Jackson and his staff. As it turns out, he's been great in that regard, and that's something that stands to help him get another shot elsewhere, should Kizer seize his opportunity Saturday night.
As for Kizer, his slump of a redshirt sophomore year and his Notre Dame team's 4-8 record certainly were a big part of his plummet from prospective Top 5 pick to 52nd overall between last fall and draft weekend. But another piece was how word spread in the scouting community that he was spoiled and entitled, and that explained the rocky relationship he had with Brian Kelly and the Irish coaching staff. The feeling was that he had a lot of growing up to do. Well … either those concerns were overblown, or Kizer has matured after his fall down the board in April. Either way, he proved himself as early as May to be: A) the most talented quarterback on Cleveland's roster, and B) a pretty good kid. That put him in position to compete for the job, and now he's in a spot to win it.
Maybe the Browns don't have the long-term quarterback that Brown and Jackson are going to hitch their wagons on the roster, and maybe they'll be looking at Sam Darnold and Josh Rosen next spring. But the fact that there's even a chance they might not have to is a great development, and there's no question the situation they're staring at now is a lot better than the one they were sorting through in early March. And because they handled it this way, they've got Myles Garrett to boot.
Will DeShone Kizer Step Up and Take the Starting QB Job? Browns About to Find Out
2. Eagles' fortified along the lines.There has been lots of chatter in Philly about the skill positions and secondary, and certainly there are questions for the Eagles to answer in those areas. (Getting the most out of Alshon Jeffrey and Ronald Darby would be a good start to that.) But I'm becoming convinced they'll be able to manage those because they're strong in more important areas. And not just at quarterback, where fledging 24-year-old Carson Wentz may be on the edge of stardom. The reason I'd be optimistic on the Eagles is a little harder to see on the surface—I think they'll be able to stand up to anyone at the line of scrimmage.
The trade of Matt Tobin to Seattle this week was an implicit signal of their confidence in the quality and depth of the offensive front, particularly with Lane Johnson (health permitting) set to be back in the lineup for a full season. And the sense I've gotten coming out of their camp is that the defensive line should be a lot better, which is significant considering how Jim Schwartz's scheme, which is simple in an effort to get guys playing fast, relies on the linemen to disrupt both the running game and the passing game. Brandon Graham, Vinny Curry and Fletcher Cox are back, and there's confidence that incoming vet Timmy Jernigan and rookie Derek Barnett can dial it up a notch in replacing, as a practical matter, Bennie Logan and Connor Barwin on the roster.
Jernigan, who arrived via trade from Baltimore, will be deployed in an attacking, up-field way closer to what made him a star at Florida State. And Barnett is polished for a rookie—he played a lot of productive football in the SEC—and has taken quickly to Schwartz's defense. The idea, for both, will be to take advantage of the one-on-one matchups that attention for Cox and Graham should generate. If that happens, and the Philly D-line shouldn't be far off from where the O-line will be performance-wise. And being that good on both fronts (like Dallas last year) is a pretty good place for any team to lay its foundation.
3. The good kind of pressure.I love Patriots coach Bill Belichick's answer when he was asked about guys feeling pressure to make the roster this time of year. Here it is:
"There is pressure this week. There is going to be pressure in October. There is going to be pressure in November. We're going to be under stress all year every week. We're going to be under stress out on the field every week against every opponent. Playing in the National Football League, that's what you sign up for. If you're looking for vacation weeks and weeks off where we play some Division 4 team and all of that, that doesn't happen in this league. There is stress every week. So is there stress in training camp? Yeah, there is plenty of it. There is stress on the coaching staff to get the team ready, to pick the right players. There is stress on each player to establish his role, or to make the team or play for playing time, whatever it is. There is stress on everybody and there is stress on every team. We're not in any different situation than any other team in the league is and every player on every one of those teams is having the same thoughts that our players are having, I'm sure. One way or the other, either the guys who think they're on the team are trying to get ready to have a good year, and there are a lot of guys who aren't sure whether they're on or they're not or what their role is, and there are a lot of coaches who don't know the answer to that question either. We're trying to figure it out, so there is no right answer. At this point it's still a process. But there is pressure every week in this league. If there's too much pressure in August, it's probably going to be too much pressure in November. This is the world we live in."
Want know why it makes sense for Hue Jackson to start DeShone Kizer on Saturday? Why the Bears might want to check out Mitch Trubisky with the first team on Sunday? It's easy. Play those guys and see how they compete with a one-off shot at playing time. If they can't handle it, like Belichick intimated, it probably isn't a good sign on how they'll handle October or November as a starting quarterback.
4. Offensive linemen at a premium.In the spring, we detailed the 2017 draft class's offensive line issue—and for the first time ever, not a single offensive lineman went in the first 15 picks. Two weeks ago, we explained how many teams' seasons figured to swing on how their offensive lines come together. And now we can give you proof on how the league's big burgeoning problem in developing players at those positions has affected the NFL's economics.
On Wednesday, Raiders tackle Donald Penn reported to camp with the hope that he'd be able to work out a new deal with the team after a four-week holdout. He was just one of four players to stage a true holdout (under contract and didn't report for mandatory duty) this summer. Three of the four—now retired OT Branden Albert, Texans OT Duane Brown and Penn—are offensive linemen. The fourth, Rams DL Aaron Donald, is probably one of the top 10 players in football.
What does that tell you? The really proficient O-linemen now have leverage, because: 1) they bring great value (remember who they protect), and 2) there's a scarcity of them. Just think about it. You can follow the money trail. The lackluster draft class led to Denver washout Russell Okung getting $13 million per with the Chargers, Vikings semi-bust Matt Kalil getting $11 million per in Carolina, and Mike Remmers, a liability at left tackle in Carolina last year, getting $6 million per to return to his natural right tackle spot in Minnesota. Albert, Brown and Penn, all in their 30s, saw that, could see the depth issues on their own teams, and took their shot.
I think Penn's got a good chance at cashing in as a result. The Texans have maintained Brown won't get a bump, but we'll see what happens. And Albert made a run at it before deciding (for now) to hang 'em up. The commonality? All three are leveraging an NFL problem to which there's no foreseeable fix.