Four Downs: Chicago Bears Remain Enamored With Rookie Mitch Trubisky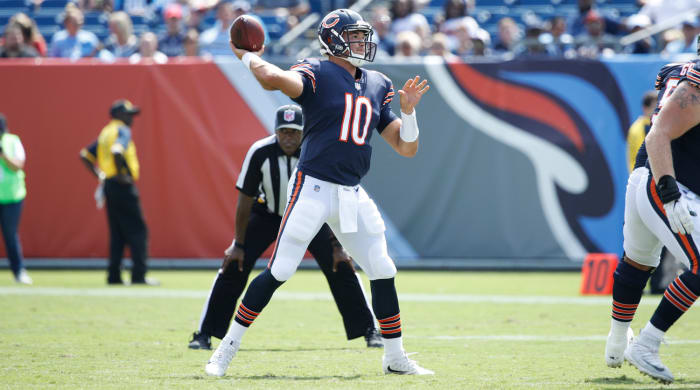 1. Tru love in Chicago. The Bears were plenty optimistic about Mitch Trubisky's future already, but the rookie has given them more reason by the week. In each game they've seen something that's buoyed their confidence in him. And we've got another example from Sunday's game against the Titans. 
With 4:14 left, and facing a third-and-12, Trubisky took a snap from the shotgun. Titans rookie safety Denzel Johnson came free on a blitz. Trubisky calmly moved to protect the ball while sidestepping him, then broke the pocket to the right, ran down the line, and laced one, off-balance, 15 yards downfield and between the "8" and the "0" on Victor Cruz's jersey. Cruz dropped the ball, but the impression Trubisky made in showing poise, again, under duress remained. As one staffer put it, "It's like every time out, he does one more thing where you say, 'that was really good.'" 
The numbers tell you part of the story: Trubisky has completed 70 percent of his throws for 354 yards, three touchdowns, zero interceptions and 112.7 passer rating. The rest may be harder to see, but it's coming. In May, Trubisky had to learn to take a snap from center, and spit out a playcall in the huddle, since those were things he'd never been asked to do before. Now? He's showing the ability he did at North Carolina to go through progressions, and maintain great accuracy. And he's made great progress in the areas where he's needed to grow—even showing proficiency in running the offense from the line of scrimmage, which he was never asked to do in college. 
As John Fox said this week, Mike Glennon is still the starter. But know this: The Bears wouldn't be skittish about playing Trubisky like they may have been a month or two ago, and the staff will come up with a plan to continue his development in-season, likely by figuring creative ways to get him reps with the starters, in addition to his scout-team work, during game weeks. Clearly, the dynamic here has changed a little bit and that's a credit to the work the rookie has done.
Joe Haden's Days in Cleveland Were Numbered, So Browns Decided to Move On
2. Texans pulling together.The number will probably have changed again by the time you read this, but when I went to bed early Thursday morning, Texans star JJ Watt had raised over $8.6 million to help those affected by Hurricane Harvey—three days after setting an initial goal to bring $200,000 to the relief effort. And the great thing is that it feels Watt's work has been a bellwether for the entire organization rallying to help each other and the city.
The plan for now is for the team to participate in outreach efforts Thursday night—the players are likely to visit children in an area shelter—in place of the game that they were slated to play against the Cowboys. More of that sort of thing is in the works for Saturday, as well. And on Sunday, the whole organization has been invited to volunteer with Watt and help unload trucks packed with supplies that will be arriving from the three-time defensive player of the year's native Wisconsin.
Meanwhile, there are plenty of guys who will be taking care of their own situations. Scores of players, coaches and staff have had their families evacuated from their homes, and are experiencing the bad fortune that a lot of us are only seeing on TV. Linebacker Brian Peters had two feet of water in his house. Head trainer Geoff Kaplan's family had to be rescued by boat, with alligators—yes, alligators—confirmed to be lurking in the waters around the house. And defensive coordinator Mike Vrabel's wife, Jen, opened the family's home to about 15 of their storm-affected sons' friends.
No doubt, there'll be plenty of stories to come like these over the next few days, both good and bad. What's for certain now is that the worst of times have brought out the best in a lot of people that work in that building. "We have a great group of guys," coach Bill O'Brien said, via text Wednesday night. "They've concentrated on football when we asked them to, and then supported each other during time off. We have coaches' families and players' families that needed to be evacuated—we're all home now and we'll begin preparation for Jacksonville and also do our part to help the people of Houston as much as we can."
The Texans Head Home to Flooded Houston, a City in Need
3. Mahomes getting in his work, too.Of all the rookie quarterbacks, things seem to be quietest around Kansas City's Patrick Mahomes. That makes sense since his chances of starting were probably bleakest of the four guys who were drafted in the first 50 picks. Coming from Texas Tech, his learning curve was steep, for sure, but he also landed with a playoff team that had a veteran going into his fifth year as starter there. And nothing has changed there, of course. Alex Smith will be Andy Reid's starter next Thursday in Foxboro. But that doesn't mean progress hasn't come.
The biggest area where it's been visible to coaches has been in Mahomes' ability to recognize what the defense is throwing at him. As one coach explained it to me, Mahomes would break the huddle in May and just see 11 defenders. At this point, in late August, he's identifying the front, and the number of defensive backs and linebackers and defensive linemen on the field, while also taking steps in making protection calls. And there's also fundamental work happening, with the coaches focused on revamping his footwork. There's a ways to go there, as he gets more comfortable taking a snap from center—he's had to learn basics like separating after getting the ball, so you don't get stepped on by a lineman—and learns to time up his drops with receivers' routes.
All of this is to say that Mahomes has come as advertised. He's a gym rat, and a willing player, but one that would take some time. He'll start Thursday night in the Chiefs' preseason finale. The staff wants him to have the experience of going through the game day process as starter, which he'll get. Then, barring a disaster in front of him on the depth chart, Mahomes will fade into the background for the rest of the season, getting his reps on the scout team and doing the same classroom work that every quarterback does. Based on his first four months in the building, there's every reason to believe he'll handle that fine.
NFL Technology: What's New for the 2017 Season
4. Hardest thing for New England to replace.I don't think the Patriots' win/loss record will be effected much by the loss of Julian Edelman, nor do I think it will lead to any sort of statistical decline for Tom Brady, even if it did during the seven-game stretch the team played without their slot machine (out with a broken foot then) in 2015. But that doesn't mean I don't think it'll effect that team and its quarterback.
Just look at the two iconic Super Bowl catches Edelman made to help beat the Seahawks (he caught the ball while taking a kill shot from Seattle enforcer Kam Chancellor) and Falcons (he plucked a deflection off the ground). In both cases, Brady was on the biggest of stages, playing from behind, with very little margin for error. And yet, both times, he threw the ball right into traffic, because he trusted Edelman to come away with it. That's a trust that's not easy to come by and isn't there by mistake.
"Brady and Jules have an unbelievable connection and both work constantly to things together the same way," texted one rival coach who knows them both. "That is going to be hard to replace, it may just be (Rob Gronkowski), (Danny) Amendola and (James) White that have it now." Another former co-worker on the two, this one a player, mentioned how the whole offense had taken on Edelman's personality over the years—competitive, edgy and spoiling for a fight—and said he felt that would be tough to replace, as well.
So will you see it? I don't think it'll be obvious during the regular season. The Patriots are too good, and too adept at adjusting. But when we get to January and potentially February, it'll be interesting to see where the ball goes when things are dialed up, with Edelman out of the mix.