Monday Morning QB: Marshawn Lynch Dances for Oakland; Slighted Raiders Fans Join the Party
The mood was surprisingly joyous in Oakland for the first regular-season home game since the Las Vegas relocation announcement, and Beast Mode led the party
OAKLAND — So everyone wondered (including Derek Carr, to be honest) how the Raiders would be received by a crowd of loyal Black Holers on Sunday in the first regular-season game since owner Mark Davis announced in March that the team would move to Las Vegas in two or three years.
"We got stabbed in the back," said a fan dressed in a Raiders Hawaiian shirt who identified himself as Mark T., from the Oakland 'burb of San Lorenzo. He was the cook in the family tailgate in the heart of the Oakland Coliseum parking lot, distinctive because the tailgate had a skeleton dressed in Raiders headgear in front, holding a can of Stella Artois and "Al Davis" written on his right shoulder. "You want us to be the fans, and you want us to buy season tickets, but you know what they tell you at the end of the day? They give you the middle finger and say, 'We don't care about you.' They want the corporate money. You and I are nobody."
Imagine if this was three years ago, when the Raiders lost their first 10 games. Imagine the 2014 Raiders as lame ducks. How would this crowd have reacted to a crap team like that losing by 16 in the home opener, or 24 in the second home game, knowing they were counting the days to Vegas? Now that would have been ugly.
Not Sunday. I've covered the NFL for 34 seasons, and I haven't seen many love fests between fans and team like I saw inside this run-down old barn during Raiders 45, Jets 20. Did you see Marshawn Lynch, game in hand late, dancing on the sidelines like he was trying to win "America's Got Talent?" Did you see the happiness? At one point in his dance, I looked down at the stands, and the people were swaying in unison, dancing with Lynch.
"It was just joy," said GM Reggie McKenzie, still beaming in the locker room afterward. "So much fun. And it was all natural. It just happened. Football needs more fun like that."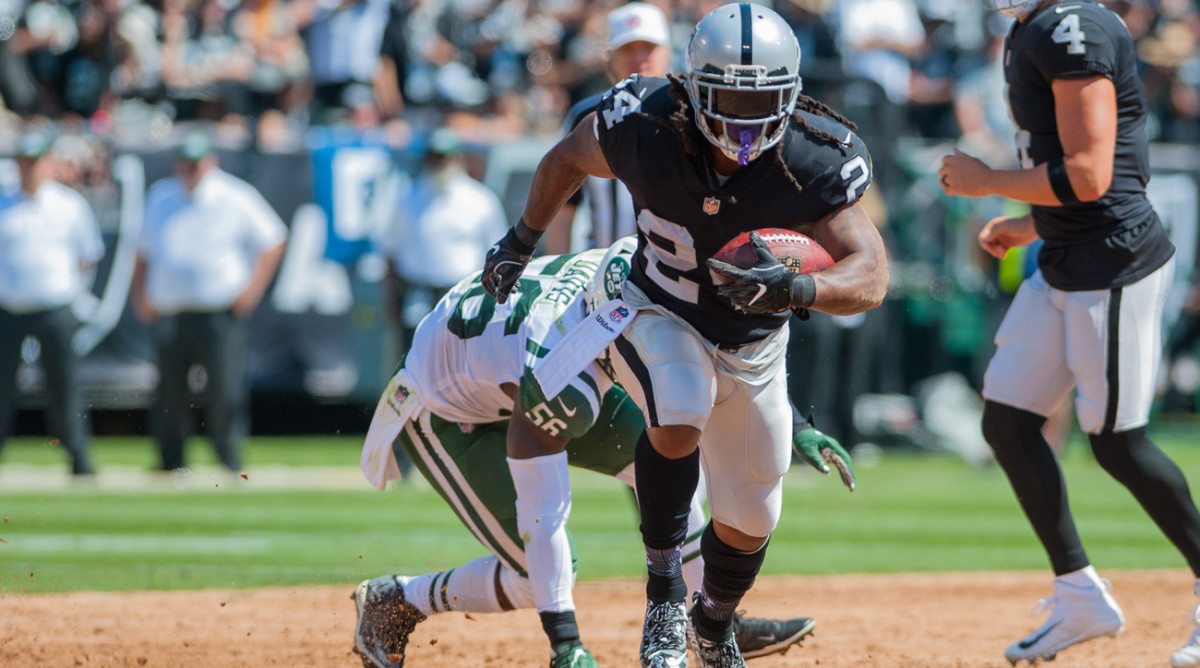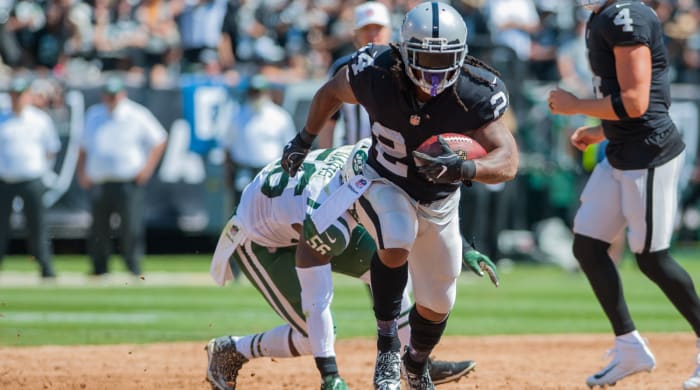 Marshawn Irony Dept.: At the Beast Mode Store in downtown Oakland (Beast Mode bras can be purchased), staff members there would not do interviews Sunday. On this joyous occasion of Lynch's first home game ever as a Raider, they had no comment.
How cool is that?
Truthfully, it was going to be hard to hate the Raiders on Sunday if you were in the Coliseum, no matter how mad you were at Mark Davis, or Oakland mayor Libby Schaaf, or Roger Goodell, or Vegas. Because the Raiders looked like Super Bowl contenders, and because Lynch did everything right all day, starting with bringing his much less famous backup backs Jalen Richard and DeAndre Washington out on his flanks when he got the loudest ovation in years during pregame introductions.
That decision was pure Lynch. When he told Richard and Washington he wanted them to take the field on either side of him, Richard said: "I was like, 'They cool with this?' Lynch said, 'It doesn't matter what they say. You boys are coming out with me.' That just got me pumped from the get-go."
The Jets have a good run defense but got gashed by long gainers here. No one should be surprised positively or negatively by Lynch's pedestrian rushing line Sunday—12 carries, 45 yards—because he was the tough-yardage back. Richard and Cordarrelle Patterson, the hybrid wideout/back in Oakland's offense, were the changeup pitchers, and they combined to rush nine times for 115 yards. Near the end of the first half, the Raiders nursing a 14–10 lead at the Jets 4, Lynch was the lone setback behind Derek Carr. Everyone knew where the ball was going. Lynch over right tackle in a pileup; no gain. Lynch slamming behind left tackle Donald Penn; gain of two. On third down, with interior linemen Gabe Jackson and Rodney Hudson parting the Jets' big middle, Lynch torpedoed through the hole for a touchdown.
The Raiders have some great weaponry. Carr to the back shoulder of Michael Crabtree is football artistry. Patterson as a back, a la Ty Montgomery, is a revelation. Amari Cooper is the franchise receiver. Richard is sneaky fast and instinctive.
But no matter how many weapons you've got, you're never going to win everything without being able to make third-and-2s with some consistency. Lynch is 31, and he had 600 days between NFL games with his two-season retirement. So who knows how long he can last playing at the level he's played for the first two weeks? He is a dangerous, physical back. You can't buy 16-game insurance for backs like that. So offensive coordinator Todd Downing will continue to spread around the carries ; Lynch is on pace for a 240-attempt season, and the Raiders would probably like that to be a little less. Whatever, it's no sure thing Lynch will make it through a full season, especially considering how battered he was late in his Seattle career.
However long it lasts, Lynch is going to love it. For 45 seconds in the fourth quarter, the game clinched, Lynch danced on the Raiders sideline to a rap song called "Oakland," by Vell featuring D.J. Mustard. The team gave him his space, he danced with the same vigor with which he ran over Jets defenders earlier in the afternoon, and the crowd went absolutely batcrap.
"After that," linebacker Marquel Lee told The MMQB's Kalyn Kahler, "the crowd was 'turnt,' and we were 'turnt' because of the crowd."
"It is Marshawn being Marshawn," Penn said. "That's him. He's playing in front of his hometown team. If you grew up cheering for a team, and you get to play for them, I mean, wouldn't that make you so happy?"
Lynch spoke after the game, a rarity for him. But this response from the Raiders' post-game quote sheet was more Lynch than anything he uttered.
Q: Was it what you imagined it would be like in your head?
Lynch: (Nods head yes.)
And so what of the relationship between team and city, team and fans, fans and their bittersweet love/hate that Mark T. of San Lorenzo tried to put into words in the parking lot before the game? I will add that Mark T. wasn't the only one we met who is conflicted about the situation.
The quarterback is too.
"Our true fans are hurting just like we are," Carr told me just off the locker room, in a taping for The MMQB Podcast With Peter King set to air this week. "The city of Oakland is hurting because we're leaving, and we're hurting because we're leaving, you know? But that's out of our control, that's out of the players' control, it's out of our fans' control. And what you see is people who are hurting are coming together. We're not turning on each other. I think there's really a bigger story there … amongst people."
"The fans were incredible today," Penn said. "I didn't sense they were thinking about Vegas today. Did you?"
Not for the three hours that counted in the standings. Lynch scored. The franchise players played like franchise players. The Raiders put up 45 in their home opener. The crowd, as Lee said, was turnt. There might be better teams in the NFL in 2017—and I stress might—but there won't be more compelling ones.