Game Plan: 'Statement Game' Has Cowboys' Confidence High For Rest of Season
The deck was stacked against Dallas in Week 3, but players responded in a way previous Cowboys teams had not, bolstering the 2017 outlook
It was only Week 3. We hear that from coaches who won last weekend. We hear it from players who lost last weekend. Just don't apply it, this September, to the Cowboys. Monday night in Arizona meant more than that for them. You can count the reasons why.​
• First, there are the hovering legal machinations of the Ezekiel Elliott case, and the possibility that the Fifth Circuit Court of Appeals could send him to the sidelines for six games at any point.
• Second, the Cowboys were coming off a 42-17 blowout loss in Denver.
• Third, in aftermath of that loss, and for the first time as pros, Elliott and Dak Prescott—the Cowboys' sophomore stars—were facing criticism for their on-field work.
• Fourth, the Cowboys' recent history of handling prosperity has been shaky. The team's 13-3 year of 2007 led into a circus of a 2008 season. Their playoff win of 2009 was the precursor for a 2010 meltdown that then-coach Wade Phillips didn't survive. And the 12-4 campaign of 2014 fronted a disastrous 2015. So 2016 would lead into … what exactly?
• Fifth, the Cowboys had more time to mull the Donald Trump mess than anyone else, were among the seven teams with an owner who was a major Trump donor, and were one of two, joining the Cardinals, saddled with the responsibility of carrying the NFL's final word for the weekend.
And then, with all that in play, Jason Garrett's troops stumbled badly at the start, out-gained 140-3 in scrimmage yards by Arizona in the first quarter.
So yes, it was only Week 3. But roll it together, and this qualified as an early-season gut check in front of a national television audience. And you can now consider that particular test passed. Elliott and Prescott found their way, and Dallas outscored Arizona 28-10 and out-gained the Cardinals 270-192 the rest of the night en route to a 28-17 win. And now the Cowboys can turn their attention to the rest of the season.
"I just think it was a statement game, a big game for our football team," Dallas COO Stephen Jones said Wednesday night. "Arizona's a good football team, well thought of, well-coached. Monday Night Football. It could've easily gone the other way. But I give our whole team credit. They handled it like the professionals they are. Jason (Garrett) did a great job, the coaching staff—it was a big-time win for us."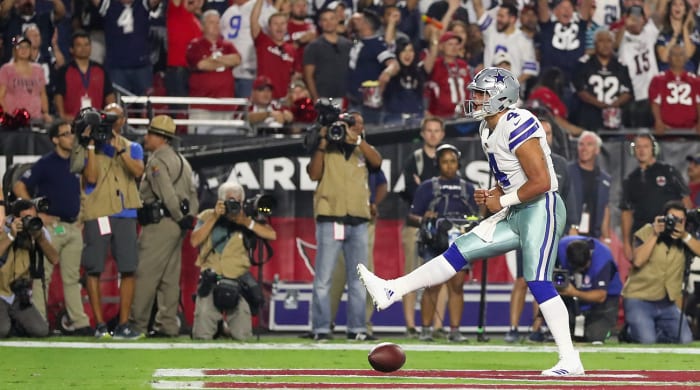 In this week's Game Plan, we're going to look back and ahead at the anthem situation, while trying not to hit you over the head with it. We'll also dive deep into the Giants' Odell Beckham dilemma, the Jets' rebuilding plan actually showing some signs of success, the Redskins' survival of a tumultuous offseason and so much more.
But this week, fittingly, we'll begin with America's team, and why the Cowboys' power brokers believe they won't fall into that old familiar trap.
Start with the lessons they learned from studying all that went wrong the last time around, coming out of 2014. There are easy things to point to there. Tony Romo got hurt in 2015, and the Greg Hardy signing was a far-reaching disaster. But they also found a systemic issue that eventually helped them get through the Romo-to-Prescott transition in 2016.
"We dwelled too much on when people were going to get back and who was not there, rather than focusing on who's playing right now, and counting on the people who are here," Jones said. "I think that was probably true as an organization. (Offensive coordinator Scott Linehan) struggled a little bit to customize things, knowing we didn't have Tony, but feeling like we were going to get Tony back. In general, that's where we thought we came up short."
The Morning Huddle: Mike Glennon Is Playing the Tim Tebow Role in Chicago—For Now
To change that, last season, the Cowboys looked to build resiliency into their program on every level—in the roster, the schemes, and into the ethos of the team. It showed up when Romo got hurt again. And through the early parts of 2017, it's been every bit as valuable.
In 2015, things snowballed. Two years later, a group made of many of the same players was more equipped to take the kind of shiner the Broncos put on them, and keep the train moving. Internally, that part wasn't really surprising. As Jones said, "Our team had confidence it was going to rebound."
What was encouraging was that it was the two young faces of the franchises who were behind the wheel for the comeback. Elliott's 30-yard run midway through the second quarter broke Dallas' offensive funk, and Prescott's scintillating somersault into the end zone represented the Cowboys' first points. Those two, and the other 44 guys dressed for the game, never looked back.
"They answered the bell," Jones said. "Obviously, Zeke in particular, he'd had a tough game, he'd been criticized all week. Zeke's going through a lot. If you really try to put yourself in his shoes, what he's been through, he's not a human being if he doesn't have some things weighing on him. He's pretty much won and been successful everywhere he's been. He hasn't been in lopsided losses. He's won and been the best player on the field.
"There's no question he responded as a true pro. He got hit in the mouth early too, and responded. That running game wasn't going early, and he kept firing at them. And Dak, I never worried about him, because I know what type of man he is."
Now, it's not like the 2-1 Cowboys are totally out of the woods. They get the resurgent Rams on Sunday at home, and the Packers, Redskins, Chiefs, Falcons and Eagles are all on the schedule between now and Thanksgiving. The offensive line is still getting its bearings after offseason transition at left guard and right tackle, and a lot of young guys are playing prominent roles on defense. But to those there, Monday was proof positive that this group is more ready for what's in front of them than some of its more recent Cowboys predecessors.
Three & Out: The Dak Prescott Show
"You're coming off not just a loss, but a lopsided loss, and you're kind of checking your hole card there, and then you add the issues that all 32 deal with," Jones said. "There's no question, between coming off a loss, being on the road, the emotions that were involved in the weekend, you could see we obviously didn't come right out responding. And we were able to hang in there, reload, re-gather. They had that mentality, that they were in a corner, and they had to fight their way out of the corner. And there's no question they did."
Now they just have to find a way to make it last.