Browns Tackle Joe Thomas: New MMQB Columnist
Cleveland Browns tackle Joe Thomas will be a guest columnist for The MMQB for the rest of the 2017 NFL season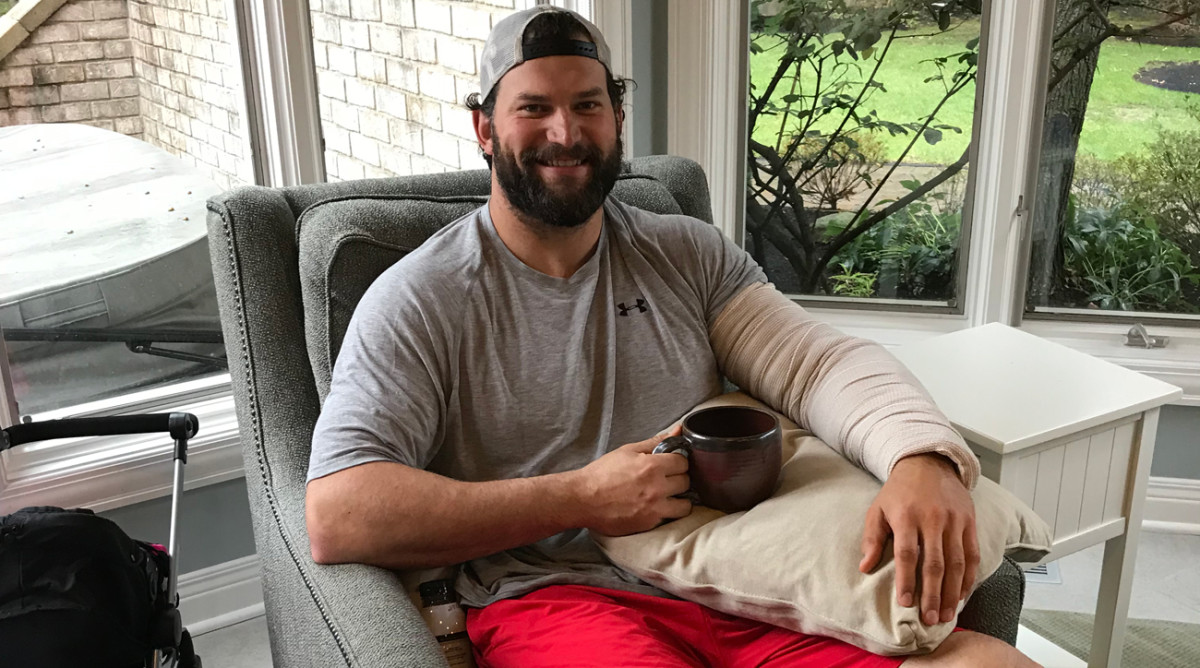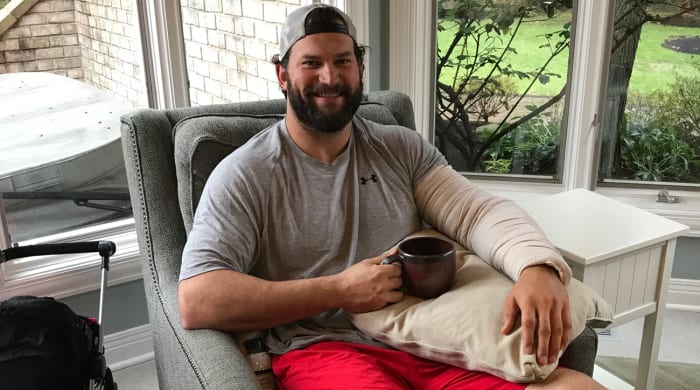 We have a new columnist at The MMQB. Browns tackle Joe Thomas, who sat for the first time in his 11-year NFL career on Sunday, will be giving us some observations, semi-regularly, between now and the Super Bowl. I've always admired Thomas, going back to the spring of 2007, when I went to Madison, Wisc., to write about him as one of the top five prospects in the 2007 draft—and found several interesting things in his off-campus home: a keg in the kitchen sink, a deer head with a red padded bra hung on an antler, and Thomas's laptop elevated by four rolls of toilet paper on the desk in his unkempt bedroom.​
I asked Thomas to write about what it was like to get hurt and see his NFL-record streak of 10,363 straight plays snapped—and about what it was like to watch the Browns on TV for the first time since he was drafted 10-and-a-half years ago.
Below is a quick taste of his first column. For the column in full, click here.
CLEVELAND — It's strange what you think about when your season is over prematurely—really strange for me, considering in 10-and-a-half seasons with the Browns, since opening day 2007, I never missed a single play. That's 10,363 consecutive plays, the longest streak in NFL history. That changed last week. I tore my left triceps trying to push away linebacker Brian Orakpo on a running play against Tennessee.
Over and over in the day or two after my tendon snapped, the same words kept coming into my mind: "Move the drill."
I thought of those words Sunday night, processing the injury. I thought of them when the pain woke me up Monday morning, and before I went into surgery Tuesday to have the tendon repaired. Move the drill.
In high school in Wisconsin, I remember a teammate getting hurt in practice, and laying on the field in the middle of a team drill. The whole practice stopped. Everyone wanted to see how the injured guy was doing. When that happens in high school, when someone is hurt seriously, sometimes the practice just ends. But my first year at the University of Wisconsin, I remember a guy going down in practice, and he was in pain laying there on the field, and everybody stopped to look. After a couple of seconds, one of the coaches hollered:
"MOVE THE DRILL!"
We all just moved about 30 yards down the field and continued practice. I thought to myself: "This is the most savage thing I've ever seen in my life!" That was my welcome to big-time football. As a human being, that is really rough. That's the day I learned: The train keeps going. I'm not the train, I'm a passenger.
Last Monday, I was at our team facility, but I wasn't in the meetings; I was getting tests, and getting ready to have surgery Tuesday. But the team had to go on. They now have a new left tackle, Spencer Drango. I saw him. I said, "You'll do a great job Sunday against Minnesota. Let me know if there's anything I can do to help." But everyone in there … they were just moving on. Here I am, confronting my career mortality, and no matter how you prepare yourself, it comes down to this: You're not that important. When you're one of the biggest guys on the team, you can think, I'm more train than passenger. As much as your teammates, coaches and friends reach out to you to tell you they'll miss you, the show goes on. They're playing. I'm not. Over the years, I've seen it: It's the thing players have the toughest time accepting.
They moved the drill. I'm 32, and I'm the one who's left behind now. (For the rest of the column, click here.)
Football in America: Episode VI—Chicago
We're in week six of our eight-episode series (in partnership with State Farm) examining all levels of football—youth, high school, college and pro. This week, Kalyn Kahler, Mark Mravic and videographer John DePetro take us to Chicagoland and, as part of the coverage, a look at football in the place where the first Heisman Trophy was won, the University of Chicago. Kahler writes after Chicago's 55-12 win over Beloit (Wisc.):
After the game the players run off the field into the small locker room.
"We chose to come to the University of Chicago!" [coach Chris] Wilkerson shouts inside the cramped space, voice hoarse from yelling during the game. The players shush each other in anticipation and look to Wilkerson, standing in the middle of the huddle. Someone shouts, "Tell 'em coach!" They all know what comes next. Wilkerson pauses for a few seconds, then yells, "It ain't where fun comes to die—"
"NO!" the players shout back.
"—it's where excellence comes to thrive!"
The players erupt in cheers, jumping up and down, banging their helmets on the metal air ducts overhead.
I love this series. The rest:
Episode I: The Bay Area
Episode II: Carolina
Episode III: Minnesota
Episode IV: Dallas
Episode V: Arizona