Four Downs: How the Cowboys Will Cope Without Ezekiel Elliott; Why Dolphins Dealt Jay Ajayi
Dallas will turn to running backs Alfred Morris, Darren McFadden and Rod Smith in Ezekiel Elliott's absence.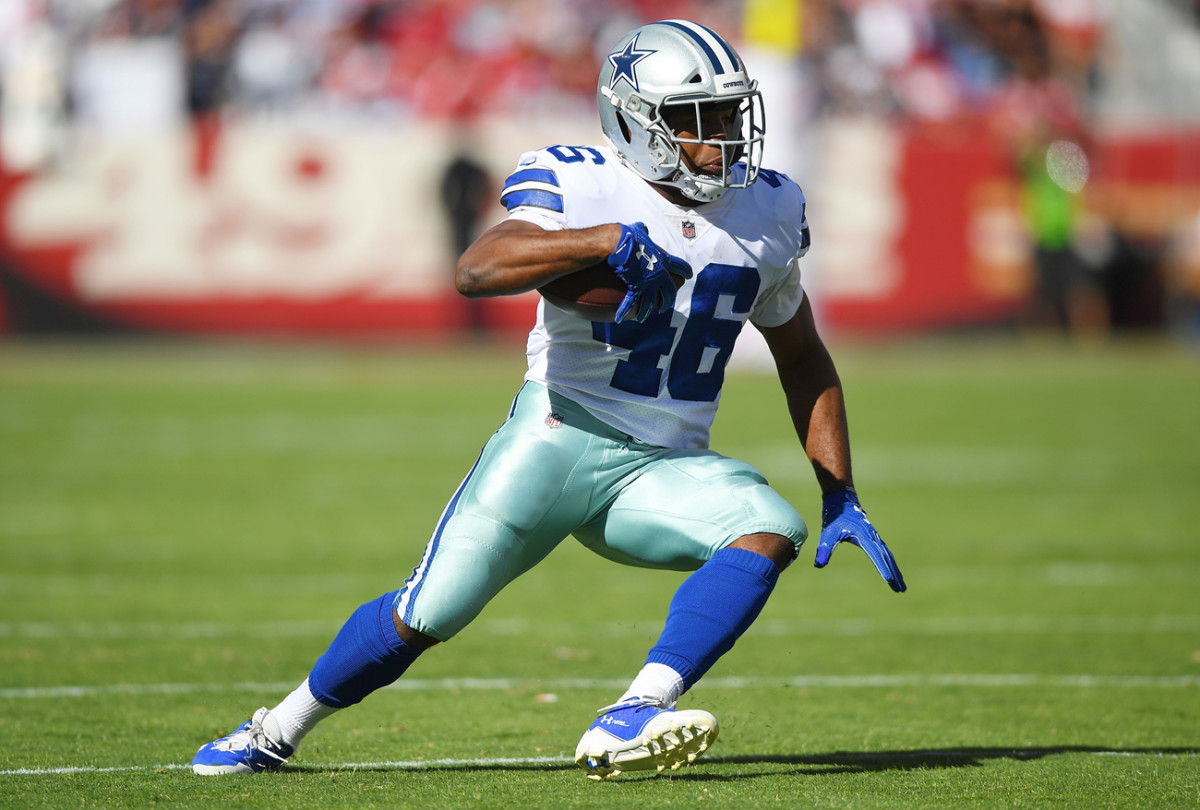 1. What the Cowboys will do without Zeke. Because the situation is fluid—and has been for months—it has to be mentioned that the Second Circuit could grant Ezekiel Elliott an injunction before this weekend, and he could, hypothetically, still not miss a game. But the likelihood is that he will, and that means the makeup of the Cowboys team will change to some degree. How much depends on how the backs in his place perform.
For right now, the expectation internally is that Alfred Morris will be the lead back, with Darren McFadden platooning on run downs, and Rod Smith playing a role on passing downs. The real difference, as the Dallas staff sees it, will come from a game management standpoint. For all Elliott's strengths, the coaches see his efficiency as a runner. "If you run on first down," one staffer says, "you're almost guaranteed 3-4 yards."
To translate, that means that the coaches, for the last year-and-a-half, could pretty much pull a lever and create 2nd-and-6. For a young quarterback like Dak Prescott, that's enormous, because it limits a defense's ability to be creative in pressuring him and keeps them off-balance in general. For a play-caller, it means having an open playbook on a down-to-down basis, without having to worry about getting into third-and-manageable or out of third-and-long nearly as much. And yes, the offensive line is still intact, and the backs remaining are hardly incompetent. But pending appeal, this is a loss for sure.
From Staubach to Dak: An Oral History of the Cowboys' Quarterbacks
2. Miami isn't broken but … The Dolphins' move to dump Jay Ajayi to the Eagles has more than one layer to it. One part was the question of how long his knees will hold up—a bone-on-bone knee condition was a big reason why he fell to the fifth round in 2015. Next year will be a contract year for Ajayi, and Miami was pretty certain it'd be moving on from him after that anyway, so this just moves up the date of that impending divorce. But they still could've gotten something out of him now, because while he's only averaged 3.4 yards per carry this year, he has talent, and so that calls the timing of the move into question.
It's clear Adam Gase felt like his team needed a jolt, which isn't an unusual feeling for an offensive-minded coach who's had to endure two shutouts in a month. And to send it, it'd take more than whacking someone at the bottom of the roster. And Ajayi may not have been off the reservation, but he was pretty familiar with its outskirts. During the team's furious second-half comeback against the Jets 11 days ago, coaches noticed that Ajayi was pouting on the sidelines. This wasn't new, either. He'd grown a rep within the building of being selfish, which partly stemmed from how his 2016 season started. That summer, ahead of his second NFL season, Ajayi carried himself as if he'd arrived, and as such showed his displeasure in having to play in the final preseason game, a game in which he fumbled his carry and had a bad drop soon after. Gase came down on him, leaving him home when the team went to Seattle for Week 1, and Ajayi responded with a 1,272-yard season.
But the lingering feeling Ajayi was a "me" guy didn't dissipate when things went sideways this year. That made him an easy piece for Miami to use to get its point across. Will it work? We'll see. I can also say the Eagles are excited. They know there's talent there, and their feeling is the right environment should help Ajayi.
3. Buffalo keeps chipping away. So in the past three months, the Bills have traded away their most talented receiver (Sammy Watkins), corner (Ronald Darby) and perhaps player (Marcell Dareus). And coach Sean McDermott and GM Brandon Beane have done it in the name of culture. The truth is, anyone could trade talented players. What separates Buffalo from some others here is the response from the remaining players. These kinds of moves don't always go over well in the locker room. And yet, here the Bills are at 5-2. Buffalo's 34-14 win over the Raiders came two days after Dareus was dealt to Jacksonville for a measly sixth-round pick that can become a fifth-rounder.
So how this is happening? "By bringing is the right type of players, and through good leadership from him and from players," said one Bills vet, over text. "Making it so you understand that if you're not accountable daily, then you'll be on your way out. There's a few that come to mind quickly."
This player wouldn't name names, but it's clear who he was talking about, and just as clear that the results are, in part, a result of the organization being in lockstep on these more difficult calls. Having discussed that with McDermott, I know it's something he clearly feels strongly about, and his actions show that. "Where we are, the numbers are higher, because we're new, and we're adding to the roster, and taking away from the roster," he said to me a few weeks back. "It's a little more of a constant, constant, constant focus on the standard. Because if you don't, that culture's gonna grow up around you in the form of weeds; If you don't manage the culture, develop the culture on a daily basis, it's going to grow around you whether you like it or not."
There's little question the Bills aren't letting that happen.
4. Duane Brown-to-Seattle signals more than one thing. Yes, the Seahawks have needed a left tackle forever, but there are a couple other things that we've figured for a while that were confirmed here. First, GM John Schneider and coach Pete Carroll are very much in win-now mode. The team has traded its second-round picks in the next two drafts (2018 for Sheldon Richardson; 2019 for Brown), and this year's third-rounder (for Brown), which tells you it is living for the now, the same way trades in the past for Percy Harvin and Jimmy Graham did. And given the age of the defensive core, that makes sense. Michael Bennett's 31, Kam Chancellor and Richard Sherman are 29, Earl Thomas and KJ Wright are 28, and Bobby Wagner is 27, so for those guys, the time is now.
The second part of this is an acknowledgement of where the NFL is from an offensive line standpoint in 2017—demand is high and supply is low. Drafting one in the first round is no longer as safe as it once was (though this year's class should be markedly better than last year's), and average free agents get paid (see: Matt Kalil, Riley Reiff, etc.). The Seahawks have examples of that on their roster, given the ups and downs of former first-rounder Germain Ifedi and the paycheck of now-injured import guard, and former second overall pick Luke Joeckel.  So the value of a player of Brown's caliber at left tackle may never have been higher because of the scarcity of great ones. And all signs are that he still has it.
"I think he'll stabilize that offensive line," said one rival pro scouting director. "He's been one of the more underrated guys in the game, and he'll bring a veteran leadership and presence, which is good given all the young guys they have. … And from the one game I saw him play, you really couldn't tell that he missed camp and the start of the season. He still looks good." And since Brown is only 32, you can certainly envision a scenario where he's the guy protecting Russell Wilson's blind side for more than just the balance of this season.