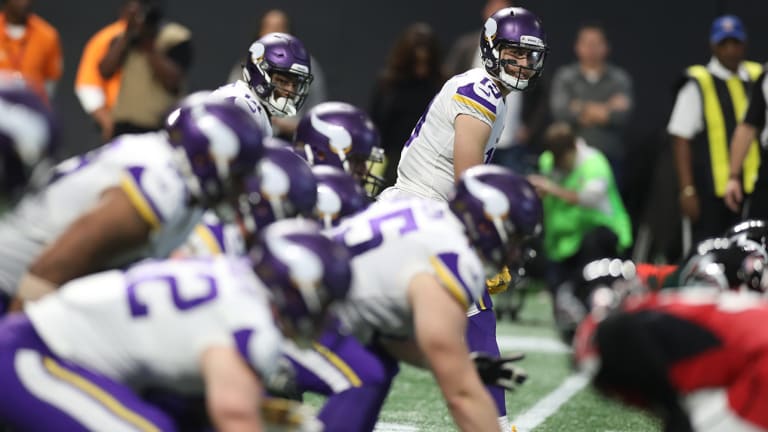 Adam Thielen and Stefon Diggs Just Need Someone to Throw Them the Damn Ball
Lose your quarterback, lose all hope. Lose two? Gulp. But in Stefon Diggs and Adam Thielen the Vikings have two rabid receivers who couldn't care less who's delivering their slants and curls and outs.
Lose your quarterback, lose all hope. Lose two? Gulp. But in Stefon Diggs and Adam Thielen the Vikings have two rabid receivers who couldn't care less who's delivering their slants and curls and outs.
This task of game-plan installation can be tedious—sitting in the dark, listening to a coach drone on about route combos—but at least the Vikings' receivers get live entertainment every Wednesday.
The meeting room's lights dim. A play flashes onto the projection screen. From the front, offensive coordinator Pat Shurmur ticks off the assignments—Quick slant for the Z, and so on. And then, says receivers coach Darrell Hazell, the "demonstrative gyrations" begin. Gyrations and comic book sound effects.
"I'm gonna run up and—EHH! AHH! POW!"
Stefon Diggs bobs and bounces, feigning a cut in his second-row chair. He has always viewed the world as his football field, treating each sidewalk crack like the line of scrimmage, every stranger as another cornerback in press coverage. He swims around coaches outside the team's Eden Prairie offices and loses friends at the mall running five-and-outs. Even tagging along with his mother, Stephanie, at her job as an Amtrak attendant, young Stefon would startle train passengers by stutter-stepping down the aisles. "I see them routes, I see me," Diggs says. "I need to feel football."
Across the Vikings' meeting room, from the third row: "Then I'm gonna—DEH-DEH-DEH!"
Adam Thielen jukes over an armrest. Like Diggs, it takes a little extra involvement for him to commit concepts to memory. Before Thielen's first rookie camp, in 2013, he learned Minnesota's entire playbook—for all three receiving positions, over a single weekend—by methodically diagramming routes on a dry-erase board, tracing his movements again and again with a marker. When Diggs arrived two years later, Thielen joined his fellow receivers in ribbing the new guy for his film-session spasms—until it dawned on Thielen that he was twitching the exact same way. "Sometimes we'll look at each other," he says. "We don't say anything, but we know what the other is thinking, 'I'm going to kill this guy because I'm going to—HAA! HAA! CHH!" (Diggs: "Adam makes the funniest noises.")
"My brain processes [routes] weird, like Diggsy," Thielen elaborates. "We're visualizing, thinking: BOOM!"
The duo's 2017 success story reads like a buddy cop script—clearly a comedy. Diggs, 24, is a former five-star phenom from outside D.C., a camera darling with a flavor for F-bombs. Thielen, 27, was raised in northern Minnesota lake country (during a recent visit he offered this writer the use of his car while he was at a charity event—he's that Minnesota), and after playing Division II ball almost became a dental equipment salesman. Occasionally he'll let loose a goshdarnit or shoot.
Few receiving partners are casing and solving NFL secondaries better than these two, who've had 19 games of 80 or more yards over the past two years (12 by Thielen, seven by Diggs), third in the league. Which is a pretty big deal in these parts. When Diggs passed 900 yards in Week 16 last year, they became the franchise's first 900-yard couple since Randy Moss and Cris Carter, in 2000. And if mentioning the new guys in the same breath as those Minnesota legends feels like heresy, consider Moss's testimony: "Vikings fans have been waiting a long time for this moment to come back."
Plugging that manpower into Shurmur's rhythmic attack and pairing it with the league's best defense, the Vikings earned a playoff bye for the first time since 2009—even with career backup Case Keenum at the helm following Sam Bradford's Week 1 knee injury. Credit to Keenum: With the previous previous QB, Teddy Bridgewater, pacing the sidelines, ready to reclaim the job after recovering from his own knee injury, Keenum took an offense that finished 27th, 29th and 28th in total yards over the past three seasons and turned it into a top-11 unit.
Is all this enough for the horn-helmeted denizens of lakes Minnetonka and Minnewaska to start dreaming big? Can the Vikings become the first team to reach the Super Bowl at its home stadium and then end the franchise's 57-year titleless drought?
Maybe such talk feels premature. Or perhaps Diggsy and Thielen, shimmying in their chairs, can turn this vision into reality too.
It's a sleepy morning on a Twin Cities cul-de-sac, a few days before the Vikings' Week 10 game at Washington. The doormat to the Thielen household informs guests IT'S FALL. LET'S PLAY SOME FOOTBALL. In the living room Thielen slumps into a recliner. Clomping around and wielding a plastic golf club is one-year-old Asher, wearing but a diaper and a baby T from ETS Elite Performance, the gym in which Adam and his wife, Caitlin, hold partial ownership. (Slogan: Commit. Overcome. Conquer.) As the couple happily notes, Asher was a bye-week baby, born shortly after Dad's seven-catch, 127-yard breakout against the Texans last season. Perfect timing, except . . .
"We were sitting in the hospital," Adam says. "She's in labor, and I'm watching Monday Night Football."
"That was so annoying," says Caitlin, a former soccer midfielder at D-II Minnesota State.
Adam: "Because labor takes forever."
Caitlin: "I'm dying over here, and you're like, 'Ohhh, this game is so good!'" (In his defense, the Bucs did kick a last-second field goal to beat the Panthers that evening.)
They laugh. As if Adam was ever anything but obsessed with this sport. Tackle football didn't start until seventh grade around Detroit Lakes, Minn., so Thielen would gather up ratty old pads discarded by the local middle school, slip into a Moss or Carter jersey, and play full-contact against his friends in the snow. "Nothing better than that," he says. "It's crazy how things worked out."
Crazy. This word comes up a lot. Crazy how, throughout his Detroit Lakes High career he planned to play D-III basketball—right up until a scout from Minnesota State discovered him at a summer all-star game and offered a $500 football scholarship. Crazy how, after going undrafted, he had a rookie minicamp with the Vikings, and one more planned after that, with the Panthers—and if he didn't stick with one of those teams he was gonna call it quits. Crazy how last spring he signed a four-year, $19.2 million contract extension, which is how he got this spacious new home with the basketball court and movie theater. Crazy.
Even so, the 6' 2", 200-pound Thielen senses his long-shot origin story is becoming well worn. "Every broadcaster wants to talk about that," he says. "It gets a little annoying. I want to be respected based on how I play, not what I had to overcome."
If nothing else, understand this part: At every crossroad Thielen kept betting on himself, whether he was spurning postgrad job offers (coaching on MSU's staff, interning at that dental outfit) or paying $275 out of pocket for a regional combine in Chicago, where he turned heads with a 4.45 40. "I don't think anybody besides Adam saw this all happening," says Aaron Keen, Thielen's offensive coordinator at MSU. "He had a vision for what he wanted."
Which suggests that pretty much everyone else was blind to the signs of his potential. After all, this was a perfectionist who chucked his helmet if he so much as dropped a pass; a leader who asked his college coaches for every offensive player's phone number to arrange summer throwing sessions; a receiver with a ring size dwarfing that of most MSU linemen. "Sausage fingers," says Bryan Schmid, one of Thielen's college roommates, explaining how in 2017 this D-II gem just became the first Minnesota receiver to make the Pro Bowl in eight years. "That's how he does it."
Stefon Diggs was destined for the NFL. At least, that's what his father, Aron, told Stephanie one Halloween, motioning toward the five-year-old red Power Ranger with an overflowing bag of candy.
As a parent raising a budding athlete in the suburbs of D.C., Aron cut a familiar sporting figure—"like a boxer's father," Stephanie says. If they drove by a park, Dad might pull over and have Stefon run cones or bleachers. If the boy dropped a pass in a game, Aron would have him sleep cradling a football. "When my mom was home," says Stefon, "[my dad] would ask me before bed, 'Did you do your homework?' But [if it was just] me and him, it was, 'Did you do your pushups and situps?' " Two hundred apiece.
"Be your own man," Aron implored his son. "Never be a follower." And Stefon would define himself by those words—even more than by his ability to change direction at top speed or execute ankle-breaking stutter-steps. At Good Counsel (Md.) High he ran a small business selling custom jeans, splattered with colorful paint and snipped up with scissors. Today he drives a silver Jeep with a football-sized Jurassic Park decal slapped across the driver's side door, and throughout this season he wore cleats designed to honor Eminem, Kobe Bryant and SpongeBob SquarePants. In warmups he's prone to skip around the sideline in skintight short-shorts, playing catch with children in the stands.
Aron's last lesson was the hardest. For five years, starting when Stefon was in grade school, he watched his father suffer from heart problems. With Stephanie at work Stefon became a caretaker, cutting his dad's hair, measuring out his medication, cooking his oatmeal every morning—until Aron passed away in January 2008, at 39, leaving his son with a sense of patriarchal purpose. As a top 15 national recruit in '12, Stefon chose a rebuilding Maryland program over Ohio State and Florida largely so his younger brothers—Mar'Sean, 22, now a safety at UAB, and Trevon, 19, a corner for Alabama—could make the short drive to visit on weekends.
Make no mistake, though: When Stefon left Maryland as a junior and declared in each of his interviews at the 2015 NFL scouting combine, "I'm the best receiver in this draft, just so you know"—that wasn't just Aron talking. This cocksuredness comes as much from Stephanie, who was in Tampa last January to watch Trevon play for the CFP championship when she ran into Ravens general manager Ozzie Newsome. "You didn't pick my son," she blurted out. "They should fire your ass!"
The truth: Even the Vikings weren't quite sure what they had after drafting Diggs in the fifth round. His time at Maryland had been marked by instability under center (he caught passes from multiple QBs every season, including from a true freshman converted linebacker one year); freak injuries (a broken right leg in 2013, a lacerated kidney in '14); bursts of magic (among the witnesses to his 100-yard opening kickoff return against Virginia as a freshman was Vikings GM Rick Spielman); and vague murmurs about his immaturity. "His reputation was that he could be off the reservation," says Minnesota coach Mike Zimmer, "that you were going to have to kick him in the butt."
"Coming out, I had that tag, that red flag stuff, being a so-called prima donna," Diggs says. "I tried to clean that up the best way I could."
Any such doubts about that were quickly erased at OTAs. The night before practices began, receivers coach George Stewart (now with the Chargers) was exiting the parking lot outside the Vikings' Winter Park training facility when his headlights caught a shadow in the distance. There was Diggs, wearing workout gear and a helmet, referencing the playbook on his iPhone, running routes alone in the dark.
NFL practice squad members rarely get to enjoy the luxury of being themselves, so Thielen pulled on a red pinney and transformed into the Giants' Victor Cruz.
This was October 2013, midway through a rookie season during which Thielen lived in a cousin's basement to save money. Friday was Red Zone Day at practice, his time to shine. Thielen had already spent half a lifetime emulating other pass catchers—mimicking Carter's sideline toe touches while falling into bean bags as a kid; trying to snare passes at the high point of his jumps like Moss—so when he shredded Minnesota's first-string secondary with yet another acrobatic, contested catch, he decided to top off his Cruz imitation by aping the New Yorker's signature salsa dance.
The moves—demonstrative gyrations, one might say—drew stern rebukes from several Vikings, including linebacker Chad Greenway, who felt the rookie had too quickly outgrown his humble Detroit Lakes britches. But Greenway admits Thielen deserved kudos too. "If you don't want to see him dance, keep him out of the end zone," he says. "Adam has that swagger to prove himself and be like, 'Yeah, I'm here. Stop me.'"
The rest of the league took slightly longer to come around. Minnesota was visiting Cincinnati for a joint practice in August 2016 when Thielen lined up opposite cornerback Adam Jones for one-on-one drills. Thielen was by then an established special-teamer, but his receiving résumé remained thin: only 20 career catches. Pacman sized up his opponent, stepped back and refused to participate. "I want to face some dogs!" he yelled. "Give me a dog!"
Funny word choice, there. As a senior at Minnesota State, Thielen began paying weekly visits to sports psychologist Cindra Kamphoff, who eventually led him to the concept of flow state: essentially, the elusive feeling of peak mental and physical performance. Kamphoff asked Thielen to picture himself in flow. What does that look like? How does it feel? Then she had him pick a name for when he reaches that point. Some clients call this "killer instinct" or "unstoppable," Kamphoff explains. Others might see themselves as an animal, like a shark. Thielen settled on another creature.
"Let that dog out," he reminds himself at the line of scrimmage. "Let that dog out," he tells teammates in the locker room.
"Not that kind of dog," he says now from his living room recliner, laughing and motioning to the Thielens' bite-sized bichon shih tzu, Lily. "You've got to have that extra nastiness. You're different on the football field than you are with your family."
Thielen is the kind of dog who refused to back down in a small shoving match with Jones at that open scrimmage; who scorched the Packers' secondary last Christmas Eve for 202 yards—the most by a Vikings receiver since Moss in 1999—and punctuated his first of two TDs with a Lambeau Leap; who struts past Zimmer on the sideline, barking over and over, "They can't cover me!"
For the most part he's correct about that—and yet "people still sleep on him," says receiver Cordarrelle Patterson, a teammate of four years before he moved to Oakland. "But Adam likes it like that. He likes being under the radar."
When Diggs arrived two years ago, Thielen could have been jealous—Another wideout blocking my path—but he latched onto a familiar ferocity. "Diggs has that dog," Thielen says, "and I love that about him."
Save for a few stylistic differences—Diggs relies on sudden, quick-twitch bursts while Thielen's cuts are smoother—they are wired similarly as receivers. Both excel at disguising their routes, like pitchers with the same release point for fastballs and curves. Both rotate seamlessly among the flanker, slot and split end positions in Minnesota's offense, a flexibility that allows for unpredictable play calling. If Thielen has sausage fingers, then Diggs's massive mitts are meat plates; he always hid them in his pockets as a kid, embarrassed about their size. His catch radius is extensive for a guy listed at six feet.
"Completely different backgrounds, upbringings, all that," Thielen summarizes. "But we've both been doubted. We both have that chip on our shoulder. I think we have a lot of connections."
Outside work, they don't spend much time together. Diggs, who lives alone, recently moved to downtown Minneapolis for the restaurant scene; Thielen and his family settled in Woodbury, miles away from the nearest Vikings player. But "it's like they're twins," says Patterson. They huddle at each other's stalls, swapping notes on footwork and coverages. They lock eyes in meeting rooms, juking through imaginary slants in tandem. In the offseason Thielen texts Diggs reminders like GIVE YOUR BODY A BREAK—odd, considering how Thielen himself scheduled family vacations to Orlando each March so he could catch passes at Jon Gruden's QB camp.
On the rare occasion that Thielen runs a sloppy route, the same first thought always pops into his head: What will Diggsy say?
Against the Redskins, back in Week 10, their work spoke for itself. Early in the second quarter, Thielen caught a linebacker napping over the middle, cut hard into space and gained 38. EHH! AHH! POW! Five plays later, third-and-goal from the Washington three-yard line, Diggs sprung into the flat for his fifth of eight TDs this season. He celebrated by mimicking an airplane and jump-hugging the goal post, drawing an unsportsmanlike conduct flag. Thielen, of course, provided backup, protesting to an official: "He accidentally ran into the pole!"
Each one has the other's back; that's how things have to be in this offense. Shurmur's system leans on passing concepts that make his receivers work together—pick plays and crossing action—rather than in isolation routes on the outside. Here, Diggs and Thielen happily oblige. "We feed off each other; it's nowhere near a selfish thing," Diggs says. "Everybody wanna eat. But for us, it don't even matter who eat. It's going to happen. They can't stop both of us."
It's been this way since day one. Diggs debuted on Oct. 4, 2015, against the Broncos' top-ranked defense, just as Thielen made his first start at receiver. And while the Vikings lost on a late field goal, the receiving pair combined for 12 catches and 157 yards. "It was a glimpse of what was to come," says Scott Turner, then Minnesota's quarterbacks coach, "but nobody thought that at the time."
Given the Vikings' upheaval under center this season—"I would say 'unfortunate turnover,'" Spielman corrects—the full blossoming of Diggs and Thielen as playmakers has come at the perfect time. Everyone at Winter Park remembers when Bridgewater buckled during an August 2016 practice, tearing his left ACL and dislocating his knee. (Thielen slammed his helmet, knelt and prayed. Diggs cried.) But, just as they would when Bradford went down after a season-opening win over the Saints this season, they moved on fast. "I can't give them my legs," Diggs says. "I can't stop working because one guy went down."
Each new passer has presented certain tendencies for his receivers to learn. "Sam usually likes to throw [his passes] on a line, not give you a whole lot of air," Thielen says. "Teddy and Case are similar—get it out early and let you run to it." But this, by now, is old hat. At MSU it was a running joke that Thielen became every new QB's best friend. (After the Vikings acquired Bradford, Thielen quickly invited the new guy out for 18 holes.) Diggs, meanwhile, points to that emergency QB at Maryland. "I was getting thrown to by a linebacker," he says. "I don't give a f--- who's back there. Because they're all good." 
Of course, this all made for some sideline melodrama back in November when Keenum threw interceptions on consecutive passes against the Redskins and cameras captured Bridgewater strapping on his helmet, ready to go. Yet Keenum stayed in, finished out the 38–30 win with four TDs, earned NFC Player of the Month accolades and never relinquished the starter's job.
No matter what happens this postseason, the Vikings have a big decision to make: All three QBs are set to become free agents. Perhaps plans will change if, say, one of those guys hoists the Lombardi Trophy on Feb. 4. But with beasts like Thielen and Diggs, will it even matter?
Right before halftime in that Washington game Thielen lunged full-extension to snare a seven-yard TD from Keenum, just out of cornerback Josh Norman's reach. Then he crouched down on all fours, motioning the offense to join him in a queue. Diggs went first, hopping over the linemen, lilypad to lilypad, followed by Thielen. At the end they jumped and hugged—just two guys letting loose their inner frogs.