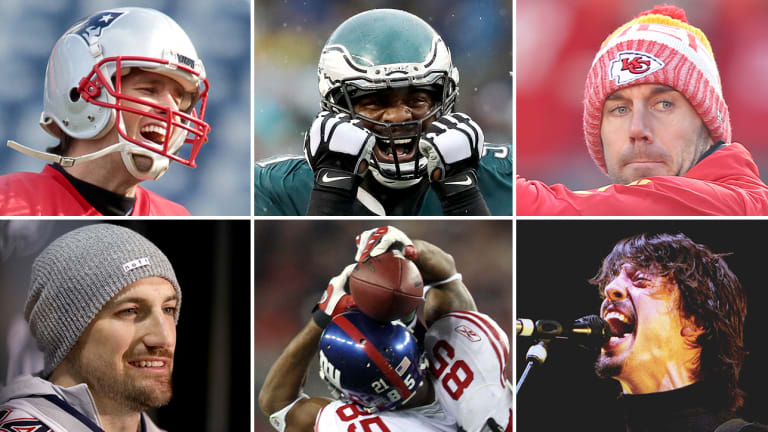 Face It: Some Day You'll Miss Hating the Patriots, the Eagles Look a Lot Like the Super Bowl 42 Giants, That Weird Alex Smith Trade
Also, why Sunday feels like a Rex Burkhead kind of day, the helmet catch through the eyes of a pass-rusher who almost sacked Eli, the NFL needs to capitalize on the new breed of rivalries, Baha Men can't catch a break, and the almost 17 best comedy sketches ever. Plus, musical guest: Foo Fighters!
1.Say good night to the bad guy! Come on. The last time you gonna see a bad guy like this again, let me tell you. Come on. Make way for the bad guy. There's a bad guy comin' through! Better get outta his way!
We all remember that famous Al Pacino speech in Scent of a Woman, right before he goes on the coke binge and kills Chris O'Donnell. Great movie.
A lot of fans take solace in the fact that this Patriots run is (presumably) going to end soon. But for everyone who hates this team—and that's the vast majority of people who are even vaguely aware of professional football—ten years from now, when Brian Flores is coaching and Shea Patterson is under center for the perennially above-average Patriots in the midst of another 9-7 year, you'll feel an emptiness.
Depending on where you pinpoint the heel turn, the Patriots have been the NFL's villains for 10-15 years, and their dominance in the salary cap era might never be matched. And it's not just that they've been really good for a really long time. They're often branded "cheaters" in large part due to two scandals (of . . . let's say varying legitimacy). And, regardless of how you feel about that,* they have carried an undeniable Stepford quality that's, frankly, off-putting to most.
For football fans, the only thing more emotionally satiating than rooting for the team you love is rooting against the team you hate. This might be the Brady/Belichick Patriots' last run, or they might have a couple left, but it will be over soon. And whether you begrudgingly respect what they've accomplished or not, I suggest that at some point on Sunday, you take a moment to appreciate that there will probably never be another team that makes you feel this way again.
*—We each create our own reality, and if you believe Tom Brady has five Super Bowl rings because of "cheating," well, I don't understand Wittgenstein well enough to be able to puncture that.
2. If you squint hard enough, this matchup looks a lot like Super Bowl XLII.
If there's one thing that has consistently foiled Tom Brady over the years, it's overwhelming pressure up the middle. (I mean, that has foiled literally every quarterback ever, but in Brady's case it's been the only thing that has unfailingly vanquished him in the past.) That was the Giants' greatest strength in Super Bowl XLII, the ability to dominate with a four-man pass rush.
The Eagles are maybe the only team in the NFL right now who can do something similar, and the Patriots did not see anything like this Eagles front four all season. Maybe a little bit when they hosted the Chargers in October, but those guys either come around the edge or loop around to the inside, they don't go straight from Point A to Point B the way the Eagles do. Ditto for the Jaguars, who, despite the branding power of "Sacksonville" are better on the back end than they are in the pass rush. When you have seven in coverage, you can devote two of those seven to Rob Gronkowski and still have five other defenders to deal with their other four options. Not to mention, no one has run on the Eagles all season. This is the kind of team who can say they're going to hold Brady to 20 points or less and mean it.
Ultimately, the Giants needed a fluke play—the helmet catch*—to help propel them to a victory 10 years ago. And the Eagles will probably need something similar in this one. It's Brady on one side, Nick Foles on the other, and if you take out any weird bounces the Patriots are going to win. But realistically, if these teams played 10 games on a neutral field, the Eagles would win three of four of them. New England is rightfully favored, but this is going to be a game on Sunday.
* — For those of you who don't know what the "helmet catch" was: In Super Bowl XLII, Giants receiver David Tyree, primarily a special teamer to that point, was running downfield when Eli Manning heaved a pass his way. Tryee actually took his helmet off mid-play, caught the ball in his helmet, and then put the helmet back on his head with the ball still in it. Patriots defenders didn't know who had the ball, and Tyree ended up running it all the way for the touchdown. He then grabbed a bucket of water and ran over to the Patriots sideline and threw it at Bill Belichick, but it turned out it was confetti—not water—in the bucket. Belichick was still pretty steamed (his words) about the whole thing, and the subsequent offseason the competition committee banned the use of buckets containing confetti, glitter or streamers during a game. Which, of course, became known as the David Tyree rule.
3. A couple years ago, for our Super Bowl Gold book (which, while put out for Super Bowl 50, is still good and you'd be crazy not to buy it), I talked to Jarvis Green, who had Eli Manning in his clutches on the helmet catch play, about that very helmet catch play. In the spirit of repurposing content (and because I thought he told a pretty entertaining story), here's an extended version of what Green had to say about it (quotes lightly edited for clarity):
"They outplayed us. But we weren't unfocused or unprepared. We played all the way through. And we had it, but then they made that play…
"I feel like it was the longest play I was ever involved in in professional football. I was on the center, over front. We got off the ball and we got a push inside. The holding—that entire game—was ridiculous. I remember coming off the ball and looping around. Richard Seymour crossed my face, Shaun O'Hara choking the crap out of him. I got my hand on Eli's shoulder pad. I remember afterward Seymour said, "Man, Green, you kinda pushed me off," and I said, 'You pushed me off!' We were both trying to get the cheese, I guess.
"We watched a lot of tape on Eli, and normally on a play like this he's just going to drop down and take the sack. But this is the Super Bowl, so he got out of all our grasps, backed up out of the pocket and he just threw it up. And everybody just stopped and turned around. It was like a screening party, everybody just watching the ball. It unfolded so slowly. And then it's just… 'Oh my God, no.'
"I guess it was destiny for us to lose this game. I feel like I didn't sleep for about two weeks afterwards. I mean, if I make that play, I'm going to Disney World. What's funny though: I started getting these royalty checks in the mail. I didn't know why, and I hadn't watched TV for weeks after the game. So I called the NFLPA and asked what was going on. They said, 'Remember that play in the Super Bowl? There's a Gatorade commercial, where Eli Manning gets away from the guy who could have had the sack…' Then they asked if I wanted the checks to stop; I said, 'No, no, no.' I finally saw the commercial little later, watched it maybe two or three times. That was enough."
4. You know how different days have a different feel? Like you wake up in the morning, and it just feels like Friday? Well, right now it feels like a Rex Burkhead day. You feel that, right?
The Patriots are going to have to throw chip-blocks all day against Philly's edge rushers, and they're going to want to get the quick-strike passing game going. Burkhead is the best chip-blocker they have in their stable of backs, and he's neck-and-neck with James White as their best receiving back. Throw in the fact that Dion Lewis lost a fumble in the AFC championship game, for which he can never be forgiven, and it seems like Burkhead (assuming the knee is healthy) is the best option they'll have against this Eagles defense. (And, yeah, at +6600, he's my favorite dark horse MVP candidate.)
5. After much deliberation and a few sleepless nights, I officially approve of the Eagles' dog masks. It's a bit of an unintentional Dawg Pound rip-off, but the masks are so unnervingly real, it just adds a waking nightmare factor that you have to respect.
Tim Rohan had one of my favorite stories of the first four weeks of 2018, profiling the two random dudes in China who, struggling in the business world, decided to delve into the underserved market of animal Halloween masks. Then they woke up one morning to find they sold out their inventory because 8,000 miles away a team they'd never heard of won a game they didn't know was being played in a sport they don't follow. Only in America! Or, in this case, China.
I also have to imagine that, somewhere, the Baha Men watched all this underdog business unfold over the last three weeks and are sitting around the phone that's on the floor in the middle of their studio apartment, in absolute disbelief that it hasn't rung. And one of them can't let go of the fact that someone was using the dial-up modem to connect to the internet on Tuesday night even though they all agreed the phone line was to be left open at all times. And now the Eagles are going to come out to Meek Mill on Sunday, and each Baha Man can't help but wonder . . .
6. Just taking a step back for a moment, the NFL has the best regular season in professional sports because, my goodness, it is a journey. A little less than five months ago the Patriots were peeing all over themselves in Foxboro while the Chiefs looked like world-beaters—no defense, Brady wasn't the same without Edelman, all that stuff. The reason the Patriots keep doing this every year is because they treat the season like a process more than anyone. They have mastered different identities over the years, and they can figure out who they're going to be and ultimately be better in January than they were in September. And it always works out this way, no matter how often everyone in the six New England states wants to freak out and light things on fire and break windows of small businesses every time they start 2-2.
A quick note before we move on to some non-Super Bowl items . . .
I understand everyone at Fulton Beer in Minneapolis had a wonderful time at The MMQB tweet-up Thursday night. I, for one, hope to be invited to one of those someday.
But I would like to take this opportunity to thank everyone who came out to the Gameday 10 Things tweet-up last night, held in my dad's Saturn in the parking lot of the Dunking Donuts off Huntington St. It was a night of lively football conversation, but then I had to turn off the sports talk radio to save the car battery, after which it was mostly a series of awkward silences.
I was also happy to sign a couple of books over the course of the night, though in retrospect I wish I had brought some copies of the book I wrote. Just a reminder to those who were in attendance—Steven and Ira—I need to get those books back to the library. (I've been in the doghouse over there ever since I lost all three of their copies of "Crazy from the Heat," the David Lee Roth biography. They said if it happens one more time they're gonna take away my card). So please bring those books to me at the same Dunking Donuts any weeknight between 11 p.m. and 2 a.m., where I'll be waiting for employees to throw away the leftover donuts at the end of the night, because if you ask nicely enough they'll let you fish a couple out of the trash bag, unless it's Jeff working, because that kid has been a real dick ever since I accidentally ran over his bike while he was riding it.
7. It sounds like a lot of Eagles fans were acting like a bunch of turds toward Vikings fans at the NFC title game, which is (1) a shame because it's a football game that you're not even participating in, and (2) a reminder that an NFL game is not a suitable environment for anyone under the age of 15 or under a BAC of .18.
The silver lining is that it seems like two bad-blood rivalries started to take shape in January: Vikings-Eagles and Steelers-Jaguars. All four of those teams are likely going to be good over the next couple seasons, and those matchups will come up during the 2018 regular season.
It's a perfect time for the NFL to start scheduling aggressively around some of rising franchises and new rivalries. Panthers-Saints has something cooking (Sean Payton should hold a trolling seminar for coaches at the next league meetings). Most of us could see a scenario where Rams-49ers not only becomes a great matchup twice a year, but as a bonus from a marketability standpoint a rivalry that features a ton of points and two quarterbacks who look like they should be nuzzling adorable kittens within the pages of Tiger Beat.
The "declining ratings" narrative has been blown out of proportion (mostly by people who don't understand the difference between ratings and viewership), but what the league does need to worry about is finding marketable teams beyond the usual suspects. And now they have a few falling into their laps.
8. I've gotten over the fact that Washington traded for Alex Smith, but I still can't get over the reported multi-year commitment they made to him.
a. When the trade was first reported, the first thing I thought was, "Oh, so they got Alex Smith to be their bridge guy. Neat!" It's fine if they came to the conclusion that Kirk Cousins wasn't going to be worth the for-now-record contract they'd have to give him. But there's really no amount of mental gymnastics you can do to convince yourself that Smith makes them anything other than the fourth-best team in the (albeit very good) NFC East for the next three seasons.
Washington's roster is fine overall. They have a very good offensive line when healthy. They have a superstar tight end who can't be counted on to play 16 games. Their best back is a great receiver but is coming off a broken leg. (It's a group of skill position players that's nowhere near the talent Smith had to work with in Kansas City.) The defense is kind of reminiscent of the Steelers two years ago: a bunch of interesting athletes who seem kinda mismatched, basically going out and trying to beat up opponents. With a league-average quarterback in Smith, in the NFC East, it's optimistically a 7-9 team—maybe you catch a couple breaks and squeeze out two more wins and, in a down year, grab a Wild-Card spot.
Kirk Cousins presents a wide range of potential performances on a weekly basis. He is a flawed quarterback, but at his best he was capable of carrying a bad team to victory (like the win in Seattle behind a street-free-agent offensive line last November). He was also capable of dragging a team to losses in games they should win, but you could at least hope he hits a hot streak in December and all of the sudden you're making noise in January.
Smith is in the same middle class of QBs as Cousins, but you know you're getting the same middle-class guy on a weekly basis. And that's wonderful if the other 52 guys on your roster constitute a great team (Jacksonville, Denver, etc.), but that's not Washington. With Smith they'll beat the teams they should beat. They'll lose to the teams they should lose to. And, considering where the Cowboys, Eagles and Giants are, that probably means a last-place finish in that division.
There's always the chance that something clicks with a new coach-quarterback pairing. Jay Gruden is a very good offensive coach. But Smith is also going to be 34 in May and has played 13 NFL seasons. In all likelihood, he is the guy that he has been. And, at this point, for this Washington team, that's a great bridge guy. To commit to that for three years is less-than-ideal.
It seems like, if they decided it was time to move on from Cousins, it would have made more sense to hang on to the third-round pick, the promising young defensive back (Kendall Fuller) and shop the 99-cent bin for the likes of Josh McCown or Tyrod Taylor (who is the even more conservative version of the ultra-conservative Smith). Get your one-year bridge guy and save a little money, then target one of the quarterbacks in this draft (Washington is picking No. 13, and if they're willing to part with Kendall Fuller and a 3, might as well see what it will cost to jump into the top five).
b. All that said, good on Alex Smith for finding a landing spot where he can start for the next three years. He deserves a lot of credit for playing the mentor role twice in his career now. I know he's been paid handsomely over the years, but it takes a big man to be told—twice during your prime years!—"Hey, we brought this guy in to replace you in a year, so . . . teach him everything you know, please and thank you," and actually do just that.
c. I don't want to overstate the value of Kendall Fuller, but: He's 23 next week, looked like a budding star at times last year, and is making six figures for each of the next two seasons. That's a very valuable asset. Washington must be feeling really good about redshirt freshman Fabian Moreau's prospects to let Fuller go.
9a. Before the conference championships, at the end of a long-winding path that started with Tom Brady's horribly disfigured right hand, I mentioned Jay Johnston and the kicker to the Mr. Show sketch "The Story of Everest," and branded it on of the 17 best sketches ever.
Well, you asked for it—and by "you," I mean literally one of you, you know who you are—and now I reveal the other 16 of the 17 best sketches ever, in no particular order. No, wait, in a very particular order, which would be best to 17th-best:
Pre-Taped Call-In Show (Mr. Show With Bob & David)
Politician Jam-Taster (Kids In The Hall)
Ministry of Silly Walks (Monty Python's Flying Circus)
The Audition (Mr. Show With Bob & David)
Dead Parrot (Monty Python's Flying Circus)
The Census (Saturday Night Live)
Encyclopedia of Numbers (Tim & Eric Awesome Show Great Job)
Monster Parties: Fact or Fiction (Mr. Show With Bob & David)
Citizen Kane (Kids In The Hall)
Charlie Murphy's True Hollywood Stories: Prince (Chappelle's Show)
The Mimic (Saturday Night Live)
The Cobras (Saturday Night Live)
Doo Dah Doo Doo! (Tim & Eric Awesome Show Great Job)
Young People & Companions (Mr. Show With Bob & David)
Girl Drink Drunk (Kids In The Hall)
The Story of Everest (Mr. Show With Bob & David)
9b. Yeah, that . . . that was only 16. Sorry
10. It's a Gameday 10 Things tradition that, for the final column of the season every year, the last item involves some kind of awkward "maybe goodbye?" note because, while no one has explicitly told me to stop writing these things, it could happen any minute. Not to mention, the human circulatory system is a magnificently complex thing. What if, some time between now and September, mine just stops working?
I can see approximately how many people click on these columns every week, and it was more than last year! Though, of course, I don't know how many people actually read it, how many of those clicks are by accident, how many people open it in a new tab but never get around to looking at it (I'll find time for you one day, "17 Way to Please Your Man.") But to those of you who have sent complimentary notes to Talkback or via Twitter or Facebook, I did see them and I greatly appreciate the support (and sorry that I've often been too busy and/or too much of a jerk to write back). For those of you who wrote in with criticisms—constructive or otherwise—know that you have wounded me deep inside where I am soft and for that you can never be forgiven.
Also, I was supposed to have a weekly video segment this season, and then realized in September that it takes a very long time to tape, edit and produce them when you don't know what you're doing. I did two and then just put the whole project on hiatus. But I wrote another 11 episodes and I'm going to tape them over the course of the offseason, so if you're one of the 14 people who watched the two episodes I did this year that's good news for you, I suppose.
I might write here or there—I've been dying to do something on the new fetishism for overly conservative quarterbacks at a time when some of the most uniquely talented athletes the position has ever seen are breaking into the league—but for the most part, until Sept. 9, I'll be back to an editor-only role, which is actually what I do for about 90 hours a week anyway. And it's always nice since our writing team is essentially football journalism's version of the '85 Bears defense. I'll also continue to record the 10 Things Podcast with co-host and aspiring biathlete Andy Benoit all offseason, and I think you should subscribe to it. Even if you don't like podcasts, you can transcribe everything we say and then read it back to yourself, and it will feel just like a written column.
Other than that, I just want to say I'm appreciative for and slightly worried about those of you who have been around every week this season. And I'm especially appreciative for my infinitely patient wife who often has to proof this column, and my not nearly as patient children who contribute no editing to this column. (In an "offseason is coming" moment, yesterday my seven-year-old asked me if, since there's only one game left in the football season, I'll be available on Sunday morning to "make dragon noises" for what I think is some kind of installation art she's doing in the playroom. I'm undecided at this point—dragons breathe fire, but what exactly constitutes a "dragon noise"; and it's unrealistic to expect me, a mortal man, to be able to replicate it, is it not?) 
That's it. I have no other things that I have thought. If you're a big football fan and have nothing else going on this evening, I'd strongly suggest watching the Super Bowl. Now, without further ado, ladies and gentlemen, performing the best song of the 1990s . . . Foo Fighters!
• Question or comment? Email us at talkback@themmqb.com.