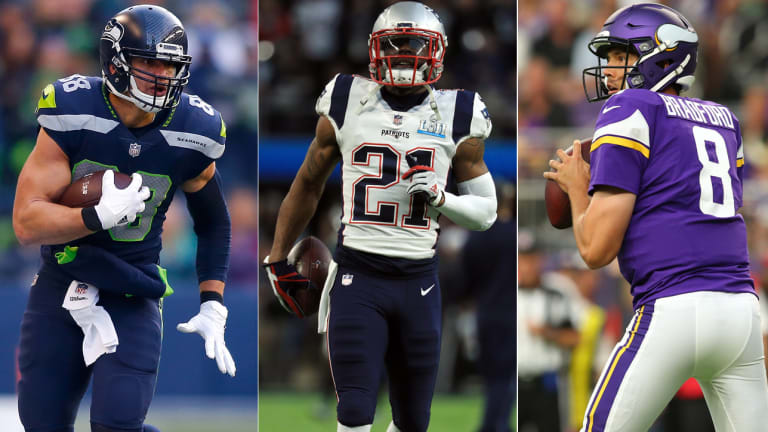 Free Agency Free-For-All: Thoughts On All The Deals Done Before The NFL Year Opens
Some quick-hit analysis on Sam Bradford to Arizona, Jimmy Graham to Green Bay, Case Keenum to Denver, Malcolm Butler to Tennessee and much more
Today is March 14. Free agency officially begins at 4 p.m. ET. By the time free agency begins, it will be over.
We've all been snow-blown by the frequency of the agreements since the opening of the league year at noon Monday. Here are the agreements, and non-agreements, that slapped me in the face by 11 p.m. Tuesday:
• Quarterback Sam Bradford to Arizona, one year, $20 million. I mean, I have great regard for Arizona GM Steve Keim. But this is a crazy contract if it's as reported: $20 million without conditions, and $15 million guaranteed. (That is per ESPN. I'll change my mind if there's a smaller guarantee and incentives, all adding up to $20 million.) But in the past five years, Sam Bradford has played 38 games. He has missed 42 (mostly with injury, and a few with a coach's decision). He is 19-19 in those games. Let's compare with Tom Brady, the NFL MVP. Bradford: $20 million in 2018 money, and a $20 million cap number. Brady: $15 million in 2018 income, and a $22 million cap number. And let's compare with Drew Brees, who got $25 million a year for two years. What fan base feels better—the Saints with a guy very likely to play 16 games and throw for 4,500 yards; or the Cards, with a guy who missed 57 percent of the games in the past five years? The Cardinals needed a respectable quarterback, to be sure. But to pay Bradford good money when he hasn't earned it makes zero sense to me.
• Pass-catchers Allen Robinson, Taylor Gabriel and (move tight end) Trey Burton to Chicago. Robinson is a number one receiver, Gabriel either a slot receiver or a field-stretching number two or three, and Burton an athletic underused receiver/blocker who will do whatever coach Matt Nagy asks. The Bears gave Mitchell Trubisky some nice security on Tuesday.
NFL Free Agency 2018: Grading the Biggest Moves
• Quarterback A.J. McCarron, nowhere. The musical chairs have very nearly been filled. How horrendous it's been for McCarron that the trade from the Bengals to Browns last Oct. 31 got negated by the league because of tardiness with the 4 p.m. ET deadline. These, it seems to me, are the best of some bad options for McCarron:
1. Sign with Buffalo. And pray Buffalo gives him the bridge starting quarterback job for 2018, while the Bills develop the quarterback they draft near the top of round one.
2. Sign with Jacksonville. And hope Blake Bortles has three straight Bortles games in mid-2018, so McCarron can take the reins on a strong playoff team.
3. Sign with Cleveland. So he can beat out Tyrod Taylor as the bridge guy to whomever the Browns draft.
4. Sign with Cincinnati. And slink back to the land of Skyline Chili, tail firmly between legs, to back up Andy Dalton with a one-year deal, hoping 2019 is better for him.
• Malcolm Butler to Tennessee for $12 million a year. We may never know the documented truth about the benching of Butler in the Super Bowl. But someone inside the Patriots told me recently there's nothing deep and dark and secret about what happened to him at the Super Bowl: He'd simply been playing like crap in practice and Bill Belichick did what he felt he needed to do to win the game—put Butler on the bench. (Though I'll never understand dressing him if Belichick wasn't going to play him. That was cutting off the nose to spite the face.) Butler always was angry he didn't get paid before the 2017 season, or traded to a team (like New Orleans) that would pay him. Now he has the money. Will the Titans get a top-10 corner in return? That's what they bought, and that's what they should expect.
Ndamukong Suh: Here's Why Teams Will Be Lining Up to Sign Him
• Tight end Jimmy Graham and defensive lineman Muhammad Wilkerson to Green Bay. This was the most anti-Ted Thompson day in a decade in Green Bay. New GM Brian Gutekunst got Aaron Rodgers a three-year security blanket in Graham, and got a severely underperforming player, and a worrisome player who got paid and stopped trying, for the defense in Wilkerson. Big day. Graham should be a Pro Bowler in that offense. Wilkerson should be a Pro Bowler in any defense. But we'll see on the latter.
• Tackle Nate Solder, and no news. Pressure's on the Giants to sign the New England left tackle after missing out on guard Andrew Norwell, who signed with Jacksonville. Solder will also have Houston and New England fighting over him. This, to me, is the biggest story of the first day of free agency: Who gets Solder? [Ed. note: Solder will be signing with the Giants.]
• Quarterback Drew Brees back to New Orleans for $25 million a year. Man, imagine if Kirk Cousins didn't seem bound for Minnesota. Imagine the Vikings stealing Brees for the next two years. Tell me, Vikings fans, who'd you rather have: Brees at $25 million a year for two years, or Cousins for $28 million a year for three years? I'll take Brees. Lucky for the Saints they'll never have to think about life without Brees until at least opening day 2020.
Why Kirk Cousins Can Succeed With the Vikings
• Quarterback Case Keenum to Denver. GM John Elway, the way I see it, didn't think Kirk Cousins was worth $10 million more per year than Case Keenum (not sure he's right, because the price of quarterbacks doesn't matter; you just need a good one) and so struck quickly on Keenum. I get it. But the only thing that matters in the NFL is getting a good quarterback. Keenum's done it once. Now the Broncos need him to do it year after year.
• Wide receiver Sammy Watkins to Kansas City for three years and $16 million a year. The Rams, as it turned out, got one season and 39 catches out of this former first-round receiver for the Bills. Watkins, at 24, is on his third team. That's never good. Kansas City's Brett Veach is a smart young GM, smarter than I am, obviously. Because I would never have paid a guy with 67 catches and 10 touchdowns over the past two years the money Kansas City paid him.
• ​ORR: Can Sammy Watkins play to his potential in Kansas City?
• The Colts, one of the neediest teams in football, did nothing with their $72 million in cap space. Doesn't bother me. Some of the best free-agent deals are done on day 63, not day one of the legal tampering period. Good for them for not panicking and waiting out the market—because it's not a great market anyway.
Now for your email, much of it on Richard Sherman and his new 49ers contract ...
Negotiating With The Enemy: Inside the Richard Sherman-49ers Contract Talks
A SEAHAWKS FAN ON RICHARD SHERMAN
I'd like to point out a couple of things about Richard Sherman, a man whom I genuinely love and respect but don't view through rose-colored glasses:
1. I knew Richard was done on Seattle the moment I first read he said "all that kumbaya stuff" about the Seahawks. Richard, man to man, that "kumbaya stuff" is the reason you have a vast bank balance, a Super Bowl ring and the the freedom you enjoyed in the past to speak your mind while working in the NFL. That kumbaya stuff WORKS. You and the LOB and that Lombardi Trophy are the proof of that, and it baffles me that you suddenly decided that mindset should be scoffed at and thereby denied to all the young players who came into Seattle after you. It was cheap and disrespectful.
2. Yes, the Seahawks cut you and not the other way around. But they also did it with ample explanation, left the door open for you to come back, AND squared up to the reality that a 30-year old player coming off an Achilles injury was not the same value to the team as a healthy Richard Sherman. They did what they did for practical reasons. You did what you just did out of spite.
3. Nobody here was burning your jersey until YOU SIGNED WITH SAN FRANCISCO. You can quit using that as an excuse for signing there. We all knew you'd sign somewhere, but you CHOSE to set up an adversarial situation between yourself and the 12s—not the team, US. So do not think you're going to be universally loved as a Seahawks hero, forever, after you stuck your a-- in all our faces. If you somehow think that signing with SF is not disrespecting us, the fans, then you clearly spent seven years here and didn't learn the first thing about the 12s.
4. "I'm vengeful that way." You also claim to be honest and no BS, so let's replace that "vengeful" with the accurate term: "Petty."
—Steve
A stark email, and a stark message to Sherman. Steve, I would just say this: Richard Sherman became a great football player because he had that significant edge to him, an edge that people in most walks of life do not have and never will. That edge allowed him to go wacko on Erin Andrews in a post-game interview, give the choke sign to the Niners after that game, and made him go batcrap on Darrell Bevell on the sideline during a big game. None of that is nice. None of it is sportsmanlike. The stuff that you hate about Sherman is the same stuff he uses to play at the highest level of football after being a lightly regarded fifth-round pick. I get your anger. I also think if he did everything the right way, the polite way, he'd never have been the player you grew to love. I am not saying that justifies anything he ever did. I am just saying it is part of the Richard Sherman package.
INCENTIVIZED CONTRACTS VS. CAP SPACE
The talk on the Richard Sherman deal got me wondering on how highly incentivized deals count against the salary cap. Does the full amount count toward the cap even though the player might not make the full amount? Is it a percentage? Does it count against it the following year? Or is it some NASA mathematical equation that none of us would understand anyway?​
—Joe, Cincinnati 
The earned parts of the contract are applied to that year's salary cap. The not-likely-to-be-earned incentives that the player actually earns that season are applied to the following year's cap.
HOW MUCH DOES SHERMAN SAVE BY REPRESENTING HIMSELF?
I'm curious how much money an agent  would make for negotiating a similar contract. If you added that to Sherman's contract, would he still be getting knocked for not getting a good-enough deal? Let's say an agent would have negotiated Sherman's contract and all the money that he was able to get Sherman was to hit the break-even point for his services. Effectively, there would have been no more money in Sherman's pocket and less available for the 49ers to spend trying to get better players.​
—Brian B., Milwaukee
Sherman would have had to pay between 1.5 percent and 3 percent of his contractual earnings to an agent for the job he did himself. As I've said to many (mostly outraged) people about Sherman doing his own negotiating is: "Why should you care?" And the fact he is, he wanted to do this. He wanted the experience of doing it. The outcry over it, honestly, is something I find weird.
ON SHERMAN'S NEGOTIATING SKILLS
Armchair agents are criticizing Richard Sherman for his negotiating skills, but since when is absolute top dollar the sole criterion for assessing a contract? Sherman went to a team on the rise, with a quality general manager, a stellar coach and a franchise quarterback. He'll be very well paid, and he'll get twice-a-season payback opportunities against the team that let him walk. Maybe Sherman is a lot shrewder than the armchair agents think. It sounds to me as if he did just fine.​
—Joe C., Morris Plains, N.J.  
Pretty much my feelings, Joe. Thanks.
ON MADISON, INDIANA
Thanks for using part of your column to inform your readers about articles such as Juliet Macur's [on the drug and suicide problems in Madison, Ind.]. I'm familiar with Madison, and many other small towns like it. And while this article was excellent, I can tell you the situations in these towns are far worse than is portrayed. Absolutely awful, and I can't for the life of me understand why so many young people with decent futures embrace drug use like they are. It's absolutely gutting these small towns. I don't have a solution, since I have no idea of the root cause. More funding for counseling would barely scratch the surface. There is something very dark in the hearts of so many young people, something that wasn't there a generation ago. But if some evil person wanted to eradicate small-town America, he/she would curse them with the drug epidemic they have now.  ​
—Dave S., Libertyville, Ill.
Thanks, Dave. I hope stories like Macur's will continue to remind us of the depth of the problems facing us. We have to attack the heroin and opioid problem like we have attacked few problems in the recent history of our country.
CLEVELAND'S DRAFT
Love the column, never miss one. If I were a Browns fan, I'd love to see them draft Saquon Barkley with the first pick, and pray that Baker Mayfield was there at four. I bet Hue would be able to relate to saying/doing regrettable things in the heat of the battle and really connect with Mayfield. Think about the weapons Mayfield would have with Tyrod Taylor as a bridge QB. I'd watch that on Sundays. Love your work and your non-sports viewpoints and thoughts; if something is too long or I'm not interested I scroll past. Seems simple to me.​
—Steve, Fresno, Calif.
Steve, thanks so much. Really appreciate the kind words. Like you, I'm fascinated by Mayfield. I can't wait to see him in the NFL, and Jackson would be a great handler and coach for him.
WHAT SUPER BOWL COACHES HAVE IN COMMON
Since Super Bowl XII, almost every head coach who has won a Super Bowl won his first by the end of his fifth season with the team. (The only exception to this is Bill Cowher, who won in his 14th season of coaching the Steelers. Yet even Cowher made it to the Super Bowl in his fourth season.) It seems like 40 years is more trend than coincidence, and it would be interesting to explore the implications of this for the coming season. For example, should there be more pressure for the Vikings as Mike Zimmer is going into his fifth season? What other teams are in the same predicament? Why does five seem to be the magic number? Do players tune out or coaches get figured out by their opponents?​
—Marc A.
Interesting, Marc. Never thought of it that way. I believe it's probably more coincidence than mathematical formula. But I would say this: Study in the past 40 years which coaches won a Super Bowl by year five without a "B" grade quarterback or better. That is as much a factor as the coach, in my opinion.
ALL THE PRESIDENT'S MEN
First off, LOVE the column. The depth and variety of angles is my favorite part of the story your team tells every day on MMQB. The conversations, the fly-on-the-wall description of key moments bring the process of the NFL's daily journey to life. Thank you for thinking outside of the box and recruiting the same kind of dreamers to help you make it happen. I first watched All The President's Men when I was 11 or 12. It made such an impact on me that I read the book in junior high for a class project. I will never forget the look on the teacher's face when I proposed reading it. I think she thought I was in over my head, but she clearly didn't know what I was capable of. Later, it got me involved with the yearbook, led to newspaper internships in high school and college and a communications degree. My favorite line of the movie, from Robards playing Bradlee: "You know the results of the latest Gallup Poll? Half the country never even heard of the word Watergate. Nobody gives a sh*t. You guys are probably pretty tired, right? Well, you should be. Go on home, get a nice hot bath. Rest up ... 15 minutes. Then get your asses back in gear. We're under a lot of pressure, you know, and you put us there. Nothing's riding on this except the, uh, first amendment to the Constitution, freedom of the press, and maybe the future of the country. Not that any of that matters, but if you guys f*** up again, I'm going to get mad. Good night." Outstanding. Keep it up. You and your team are the storytellers to this great game.​
—Barry B. 
That is a wonderful note, Barry. Thank you for it. I can hear Jason Robards saying that. It's perfect Bradlee. I once interviewed with Bradlee and was shaking in my boots sitting there. Man, I could watch that movie again right now.
THE KRAVITZ STORY
I am so thankful you shared the Bob Kravitz article. Panic attacks, depression and anxiety are not a sign of weakness. Admitting you need help isn't whining. Reaching out for help is a sign of strength. There are options, there is help. It's time to destigmatize mental illness. We all have stuff. I know some readers tell you to stick to sports. I am so glad you don't stick to sports!​
—Gary H., Dallas 
That's one of those columns that left me with mouth agape, Gary. I had to share it. Thanks.
• Question or comment? Email us at talkback@themmqb.com.