For Andrew Luck, It All Re-Starts Here
In case you didn't know, Andrew Luck is throwing a football again. But here's why it's different from seemingly every other time he's attempted to come back from injury. Also, Mike McCarthy explains a longtime Packers minicamp tradition, Norv Turner's ideal situation in Carolina, why so many players are holding out from minicamps this year and more
It received less attention than the dog-and-pony show with the smaller football on Tuesday, but on Wednesday, Colts quarterback Andrew Luck threw an actual NFL football. In front of everyone. Media included. And I'm told he did it again on Friday, while working out without cameras and reporters around to recount every one of his paces.
This is how Luck is going to have it for the next few months, and no one needs to apologize for the scrutiny. He's a generational talent who carried the Colts—with a roster gutted to start the post-Peyton Manning era—to the playoffs in 2012, a playoff win in '13 and a trip to the AFC championship game in '14. He's the NFL's closest player to a LeBron James-level prospect this decade. And he was well on his way to realizing his potential like James has before he messed up his shoulder in 2015, and made it worse by playing through the injury for almost two years.
So yes, the attention is justified—Luck returning to the practice field and throwing was easily the biggest story coming out of NFL minicamps this week. And that's where we're going to start this week's MMQB. We'll get to why there are more holdouts this year, we'll talk to Packers coach Mike McCarthy about his different handling of minicamp, and new Carolina OC Norv Turner about working with Cam Newton, and we'll bounce around the league to find some guys who built up steam this spring and will hit training camp with a running start.
But let's dive into Luck. Here's four things I know…
1. Luck is deeper into his rehab without a major hiccup than he has been at any point since the initial procedure in January 2017. Last year he never got past the five-and-a-half month mark. One difference: He's been more deliberate with his return to health this time around.
2. He's pulled out all the stops, including going to Los Angeles to work with a mechanics coach and traveling all the way to Amsterdam for treatment, seeking alternative ways to train. Listening to the QB talk makes it sound like he found something that works for him.
3. The upper reaches of the Colts brass privately have heard the tone we all did publicly last week, which is different from what Luck's tone had been previously. The quarterback admitted he was lying to himself last year. And while he knows that getting back to throwing on a more regular basis will lead to soreness, he's confident it will be just that—soreness, rather than pain. "The pain is gone, and it's going to stay that way," he said to reporters at minicamp. "My body doesn't revolt, in a sense, to new things I ask."
4. Luck's injury is being handled like any other injury would be in the spring and summer—with the utmost care, given the acknowledgement that no one is playing a real game this weekend ... or will for another dozen weekends. To that end, I'm told the plan is to give Luck days off in training camp, and monitor reps to simulate what his regular-season regimen will be, so he'll be conditioned for Week 1 when he gets there.
Here's the flip side: Luck hasn't done anything in any sort of team setting (11-on-11, etc.) yet—in front of media or not—besides stretching and the QB/center exchange, and that leaves just the six weeks between the start of training camp and the opener for him to re-acclimate. There hasn't been a breakthrough moment or even much talk internally of where Luck stands physically for the staff to chew on—instead, just a call for patience.
And last year, there were no fewer than four setbacks along the way, based on what the team was saying. The Colts said he'd be ready for camp, but he wasn't. Then they said he'd be ready for Week 1, but he wasn't. Then they kept him off the PUP list, implying they believed he would play within the season's first six weeks, and he didn't. And then after the team had him throwing in October, he was shut down.
So skepticism is absolutely understandable here.
What I can say that is no one is questioning the commitment or work he's put in, and so his optimism is the team's optimism. Members of the Colts staff noticed how ripped Luck looked when he returned to the building in December, and if you look at pictures from this spring, you can see it. As we mentioned, he's committed himself fully to finding a way to get his shoulder right. As one staffer explained, the Colts are "really proud of the kid," just for that.
If and when Luck returns to the field, there is reason to believe things will be different than they have been. GM Chris Ballard has put the infrastructure in place—if rookies Quenton Nelson and Braden Smith win jobs, and everyone stays healthy, Luck would have four linemen picked in the top 40 of their respective drafts in front of him, and a revamped group of backs led by Marlon Mack and Nyheim Hines behind him.
What does this all add up to? We'll see. And by we'll see, I mean that this is probably as good as the Colts have felt about where Luck is at physically since Ballard arrived in January 2017, and it's certainly the best spot they've been in with him since Frank Reich was hired as head coach in February, so we'll see how much that winds up meaning.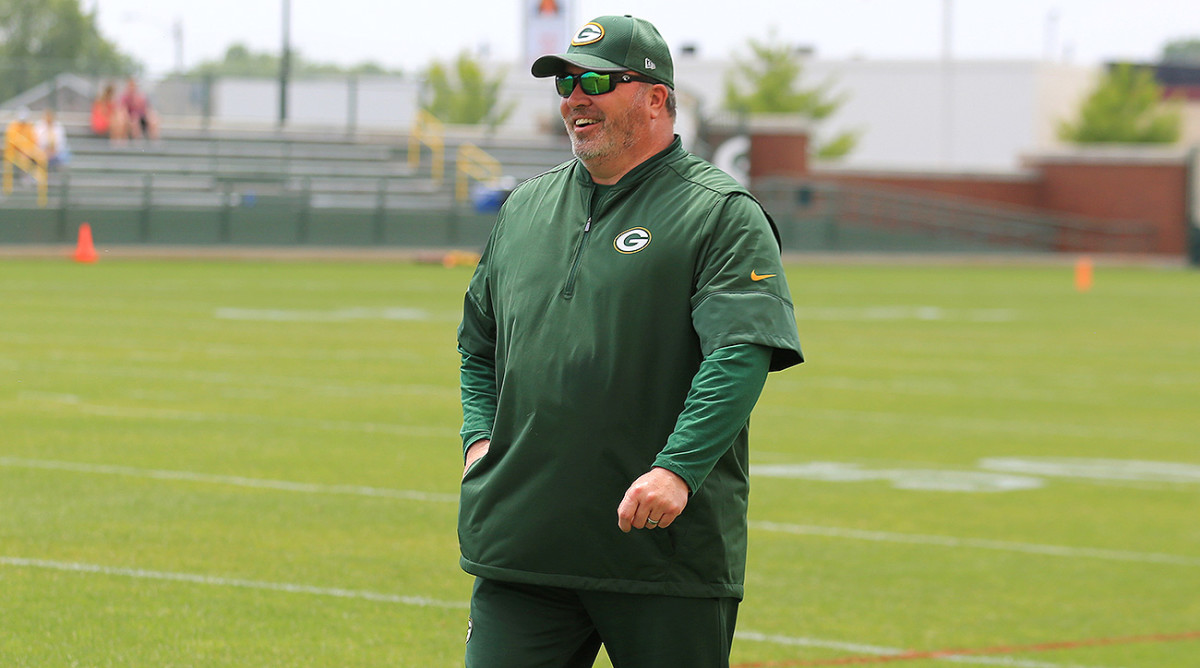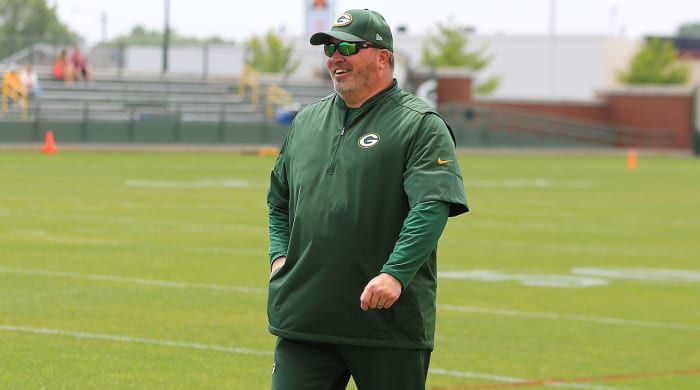 For a long time coaches have said that they don't get enough time with their players under the rules of the 2011 CBA. In March 2017 I wrote about how the coaches had organized and brought up the issue with the league. So it caught my attention last week when Packers coach Mike McCarthy decided to send 16 of his most seasoned players—what he calls the "veteran select group"—home for the summer a week early. His reasoning was pretty simple.
"You gotta define the statement—'limited time with players,'" McCarthy told me just before his last practice of the spring. "From my viewpoint, the defining thing is it's limited time with younger players. I'm of the opinion—and it started in 2016, and in a different form and fashion it started before that—that you get to a point in the offseason program where you're trying to create more opportunities for your young players."
Before 2016, McCarthy found that he was spending time resting veterans during the nine-week offseason program in order to give the younger players more practice time. It made sense to do that for the benefit of both the younger and the older guys. Two years ago McCarthy took the next step, and fully excused 15 vets from the minicamp. As he saw it, it had the same effect as resting guys while they were still in the facility. The upshot was threefold: First, taking the most senior members of the locker room out of the equation would create leadership opportunities for guys becoming young vets. Second, the minicamp could be tailored specifically to development. And third, the older guys see it as a reward.
"Like in Aaron's case: Six years for Aaron Rodgers, that's 6,000 reps of regular season, but also another 6,000 practice reps. He's in Year 14. You're recognizing it," McCarthy said. "And frankly, the opportunity to individually train for another week, that's something, to a man, they're very appreciative of. When the majority of your group makes a concerted effort to single you out to tell you how much they're appreciative of the extra week, that in itself is a reward as a head coach.
"And they've earned that. … But I'm cognizant of what I'm doing through Phase I and Phase II, and the first nine OTA practices. The allocation of reps reflect that. We're clearly accommodating that they're not going to be at minicamp."
As Eagles Minicamp Wraps Up, the Race to Full Health Is on for Carson Wentz
McCarthy's approach, going back to 2011, is trying to make the most of the time he has with the players (in-season they've toyed with things like holding full practices on Saturday). The league in general has gotten younger, thanks in part to the reworked rookie salary scale, which means players have to be ready to play faster than ever, despite having less time to work than ever.
Focusing all of his attention on the younger players in the minicamp, where they not only practice but get a full day of meetings and an extra walkthrough (the rest of the offseason program is mostly half-days) to study and make corrections, is a nod to that. McCarthy says he's seen the difference in his young quarterbacks and corners and pass-rushers, and with younger defensive players' readiness to step into a signal-caller role.
Last week, in fact, he says he saw more of the young tight ends who will add depth behind Jimmy Graham than he might have otherwise. The hope is that this will pay off in the first month of the season, when McCarthy—and many others—have seen the league's development problem show up in quality of play.
"I think it's obvious to everybody," McCarthy said. "If you watch at the beginning of the season, games one through four, one through five, you look at the quality of play, it's different from before. This is my opinion—it really is noticeable once you have injuries. And unfortunately, we've had injuries. When you start battling the injury component, and every team goes through it, now you're playing younger players a little earlier than you'd like to.
"Very obvious things like that pop out at you and you take time to step away and think about how do address it. How do you improve?"
Obviously, he believes he's found a way.
Last August, I traveled with Norv Turner to training camps as he navigated his first summer without football in decades, and he made one thing clear—it would take a pretty ideal situation to pull him back into coaching. In Charlotte, he thinks he's found that situation, as offensive coordinator for the Panthers. His boss, Ron Rivera, is an old assistant of his. His son, Scott, is his quarterbacks coach. And the topper: He gets to coach Cam Newton.
Turner has coached Troy Aikman, Drew Brees and Philip Rivers, but if you ask him if he's ever had a quarterback like the one he's got now, he won't skip a beat.
"No," Turner said, on the last day of the team's spring work. "It's an understatement to say [Newton is] very unique, and when he's playing at his best, defensive coaches see him as one of the hardest guys in the league to defend. Now, I think we've added some guys that will help, so they can't totally zero in on Cam and just have a plan for him. We have some guys that have good playmaking skills and are going to help us."
The Panthers drafted DJ Moore—who has looked the part in OTAs and minicamp—and built veteran depth in acquiring Jarius Wright and Torrey Smith. Christian McCaffrey's a year older, and last year's second-rounder, Curtis Samuel, is healthy and gives the coaches another Swiss Army knife of a weapon.
But more than anything else, the Turners were brought to Carolina to get the most out of Newton—replacing Mike Shula and Ken Dorsey, Newton's OC and position coach the last five years—and they know it. They also know that because Newton is a different kind of player, they'll have to coach him in a different way.
It starts with scheme, and Newton has a head start there. Turner's old protégé Rob Chudzinski installed the first NFL offense that Newton ran, in 2011, and Shula carried over the terminology when he was promoted in 2013, so there's a ton of conceptual familiarity in place. Conversely, both Chudzinski and Shula added on with pretty extensive option-based packages. And that stuff's not coming out.
For the 49ers, the Biggest Job May Be Managing the Jimmy Garoppolo Buzz
"Chud did a great job of looking at the things that Cam did well in college, looking at all the RPOs," Turner said. "They started running them in 2011. You go back and look at their tape, it's impressive. All the things people are talking about, that teams are doing, Cam was doing it in 2011 and '12. So the system, he's not having to learn new verbiage, new calls. …. And the things that Cam has done well, we're going to continue to do.
"He was the MVP two years ago. You can put games on and he's just outstanding. What we're trying do is make sure we put him in a position where, as we approach it, he doesn't have the highs and the lows, so we can get consistency through a 16-game season."
That's where the individual part of the equation comes in, which has been a little different. From a teaching standpoint, the younger Turner (who was a quality control coach in Carolina for Newton's first two seasons) has tried to make what can be monotonous spring work competitive in the quarterback room to get the players more engaged. One example: They time a quick-hand drill where each quarterback takes five rapid-fire shotgun snaps, throwing to five different spots, and declare winners and losers at the end. The result the coaches have seen is a locked-in starter who's learning the ins and outs of every play call, rather than just going out and playing.
"With him, on every play, we want to make sure he has a plan and he's following that plan," said Scott Turner. "And to know checking down is OK. A lot of Cam's issues have come because he's so talented that he thinks he can make every play work. And sometimes, it's just not there, so you check down and go to the next play. By holding the ball, sometimes he takes hits or falls into negative plays.
"Making decisions quick, getting the ball out of his hand, that's where, when he improves, the consistency will come. We're not trying to make him anything he's not. We want him to be the best version of himself."
And if the new guys coaching Cam get that out of him, look out.
As far as I can remember, six high-profile players holding out from NFL minicamps this year is the highest since the 2011 CBA went into effect. There were four in 2014, and last year, there were none, which makes this year's half-dozen—Rams DL Aaron Donald, Raiders OLB Khalil Mack, Falcons WR Julio Jones, Seahawks S Earl Thomas, Titans OT Taylor Lewan and Cardinals RB David Johnson—all the more interesting.
What gives? After talking to a few teams and a few agents, I came up with six reasons why these six players would stay away at the risk of fines of up to $84,435 …
• Players believe that the fines, ultimately, will be waived. They aren't always, but if a holdout leads to a long-term deal, the penalties usually are. And in other cases when a deal isn't struck, teams will use the carrot of waiving the fine as a lever to get the player back in the fold. The Rams, for example, waived seven figures in fines to Donald last summer. So most agents will lay out the facts to their clients, with some level of confidence that the fines will be negotiable in the end.
• Five of the six players holding out have been on big contracts already and should be able to afford the risk. Both Jones and Thomas are former first-half-of-the-first-round picks, on second deals that topped the market when they were signed, and Donald, Lewan and Mack all went in the first 13 picks in 2014, meaning their original contracts were sizeable relative to their draft class. Johnson, a third-round pick in 2015, is a different story.
• There is something of a domino effect at play here—if one player holds out then another will feel more comfortable following suit. It's tougher to do it if you're the only one. Lewan and Johnson didn't have to worry about that when they made the late decisions to stay away.
Matt Ryan and the Falcons Are Not Concerned About Julio Jones's Absence ... Yet
• The 2011 CBA rookie deals don't give players much leverage. Where first-round picks in the old system had gigantic cap numbers at the end of their deals as leverage to push teams to negotiate early, the current system gives teams the fifth-year option, and then the franchise tag option in Year 6 on those guys, which can keep them from the big second contract every vet wants into their late 20s. So they have to find ways to create their own leverage.
• Second-tier players, on the other hand, have made it to the market, and reaped the rewards of the rising cap. You think Jones might have taken note of Sammy Watkins' three-year, $48 million deal in Kansas City? Think Johnson noticed how the Niners just gave Jerick McKinnon a four-year, $30 million contract? It makes sense that first-tier guys might get antsy seeing what second-tier guys are getting.
• Every year, there's a freak injury or two in the spring that might make players think, "I'm not risking anything". This year it was Chargers TE Hunter Henry tearing his ACL at OTAs. Next year is a contract year for Henry.
There are more personal reasons in these cases too. Both Jones and Thomas have played through many injuries and are approaching 30, so football mortality is at play too. But as much as I can remember, players are starting to get wise to market conditions (seeking shorter contracts is one piece of fallout there).
We'll see where this goes come August, when the fines only get heavier ($40,000) and the stakes for the teams are much higher.
… OF THE WEEK
Tweet
If there could have been a better ending out there to the Patriots' 2018 offseason program than Bill Belichick giving a long-snapper (Cardona) and a fullback (James Develin) extensions, just before boarding to go sightseeing in Normandy … I'd love to hear what it would be.
YouTube/Video
[youtube:https://youtu.be/UGz14SOWpvo]
It's been a good few weeks for Meek Mill.
Quote
"KD broke the league. … You hopped onto a 73–9 team and he took the easy way out in my mind. It's different when LeBron [James] left. He went to [Miami to join Dwyane] Wade and [Chris] Bosh, but it wasn't something that was already guaranteed, something you already knew was going to have immediate success. [James] had to gel and work things into place. With KD, you just stick him in and he scores. You already knew what they had. They were 73–9 before, and you put the second-best player in the world on an already all-time great team, and of course you're going to have success, pretty easy success. Anyone can have an off night, and they can still find a way to win."
Browns defensive end Myles Garrett on Kevin Durant. And like I said last week, I pretty much agree with the sentiment. You can acknowledge that Durant's an all-time talent, and that the Warriors are an all-time great team, while conceding that he took a shortcut to a championship that no other superstar has.
Meme
I can't stop laughing at this.
OFF-FIELD ISSUES
1. Deepest condolences to all adversely affected by Phil Mickelson pulling a move that I might try by the windmill on the eighth hole at the mini-golf course down the street. Our thoughts are with you and your loved ones.
2. I may be the only one who saw it this way, but it felt to me almost like Brooks Koepka was just treading water all the way to the U.S. Open title, right up until the grandstand gave him the bounce he needed on the 18th hole. Winning two in a row is a big accomplishment, of course, but I do hear what people are saying: At the majors, you're looking for the spectacular, and the Shinnecock Hill course really prevented it this weekend.
3. As an Austro/German/Irish/Scottish/Croatian-American, I'm down to two teams in the World Cup. So I guess I'm 1–1 now? And that's your World Cup update for this week. (Editors note: But by all means, check out SI.com's great coverage.)
4. I'm legit excited about the NBA offseason, and the Kawhi Leonard rumors only dialed it up a notch. The NFL, of course, wishes it could have the buzz during free agency that basketball does. Not so badly, though, that owners would be willing to cede the sort of leverage to their stars that basketball's biggest names have to move about their league as they see fit.
5. Josh McCown's tweet about Father's Day is worth your time. Hope everyone out there—including my dad, who introduced me to football before I could read—had a good one on Sunday.
TEN TAKEAWAYS
1. If you remember Christian Hackenberg's first (only?) two seasons in the NFL down the line, it will probably be for the number zero—as in the number of snaps he's gotten so far as a pro. That's hard to believe considering the fact that he was drafted 51st overall in 2016, and he was considered a potential top pick two years earlier. The Raiders cut Hackenberg last week, three weeks after the Jets traded him for not much more than a bag of pylons.
So how did this all happen? Hackenberg had the size, the arm, the drive, the football IQ and the charisma to make it in the league. But the Jets screwed up in believing accuracy issues that were clearly there at Penn State (and Bill O'Brien effectively coached around in 2013) could be solved in the pros. And then, criticism in that area (remember when Jets reporters went nuts over the overthrown ball that almost hit them on the sideline at a practice?) got in his head, the problem got worse, and that was it.
2. It feels like every other day I'm hearing about another running back from this April's draft class who's poised for big things. Last week it was Derrius Guice, and this week it's Kerryon Johnson, Detroit's second-rounder from Auburn. He's flashed competitiveness and great run instincts in his first few weeks as a Lion. If he can get up to speed in pass protection, where he's raw, he's a good bet to carve out a nice role in the fall. He and the rest of the backs there should also have a pretty legit line to run behind too, if Taylor Decker stays healthy (they think he's a franchise-level left tackle) and Frank Ragnow looks as good in pads as has out of them this spring.
3. Most of the change in Kansas City has centered on Patrick Mahomes taking over at quarterback, but the Chiefs went through a deliberate makeover on defense over the last few months too. Playoff ousters against Pittsburgh and Tennessee the last two years showed the K.C. brass that it needed to get tougher and faster on the defensive side, and the belief is that steps have been taken there. The additions of veteran LB Anthony Hitchens, NT Xavier Williams and CBs Kendall Fuller and David Amerson have helped. And second-rounder Breeland Speaks is already taking first-team reps opposite Justin Houston at outside linebacker, while third-rounder Dorian O'Daniel's speed has shown up as he played as a nickel and dime 'backer.
4. It shouldn't come as a huge shock to anyone that Nathan Peterman is competing with Josh Allen and AJ McCarron for the starting QB position in Buffalo. Yes, he looked awful in that one start against the Chargers last season. But he was consistent and efficient enough in practice (he didn't wow anyone) to make Sean McDermott and ex-OC Rick Dennison want a look at him in game settings, and they felt like he'd represent an upgrade over Tyrod Taylor in certain areas (like the intermediate passing game in the middle of the field). And while Peterman revealed in that game that he wasn't any kind of upgrade, the fact that the coaches had that curiosity about him tells you he showed them something. I suspect this is just McDermott and his new offensive staff wanting to see a little more before they make the decision on who'll start down the line. Of course, if he were to win the job, it would make you wonder about McCarron and Allen, so there's that.
Starting Job? For Now, Sam Darnold Is Just Holding On Tight
5. Here's a name to watch in Cleveland: Fifth-round LB Genard Avery. The Memphis product was the talk of the spring on defense for the Browns and adds to a crew that brings back Jamie Collins, Christian Kirksey and Joe Schobert, and just added ex-Eagle Mychal Kendricks.
6. Odell Beckham earned the respect of the coaches and the front office this spring, and, in doing so, has effectively put the ball in the Giants' court on the contract negotiation. He and new head coach Pat Shurmur have texted regularly throughout the offseason, and everything that's happened has been above board as far as I can tell. One coach there told me flatly, "Odell's been awesome" to all the new guys in the building. And that means that when it comes time for the team to make the investment in him, and that time is coming, he'll have a lot of people signing off on the idea of it, which wouldn't have been the case last year.
7. This week, Cowboys RB Ezekiel Elliott talked to the Dallas media about assuming a leadership role and carrying a heavy load (he'll need to) in the offense, and he's doing more than just talking—he came to minicamp with a good attitude and in better shape than he has in the past. Remember, Elliott showed up to camp heavy in 2016, and admitted that his looming suspension affected him last year. And he's still rushed for 2,614 yards and 22 touchdowns in 25 career games. So as long as the Cowboys' line is its dominant self, it's fair to believe that Dak Prescott and a reworked passing game will have some help, and that Elliott and company could buy them some time to get right.
8. Getting Benardrick McKinney extended was a priority for the Texans this offseason, and it became reality last week with a five-year, $50 million windfall for the fourth-year inside linebacker. It's interesting in that it's the first big internal extension done by new GM Brian Gaine. Oftentimes, new bosses are cognizant that their first draft picks and first big contracts involve guys who reflect what they'll look for in people. And my sense is that McKinney fits that bill for Gaine.
9. I asked Patriots QB Tom Brady last week if retirement was ever a consideration this offseason, and he quickly said, "No." But he conceded in an interview with Oprah Winfrey that aired Sunday that he's thought about that time coming—"I think about it more now than I used to. I think I'm seeing that there's definitely an end coming, sooner rather than later." To me, the key for Brady has always been how he enjoys the work Monday-Saturday. That part, and not Sunday, is usually what pushes older players away from football. I've sensed more through the years that he genuinely the likes the work that goes along with playing at the highest level, and so long as that doesn't change, he'd have a tough time walking away. But this offseason really has been the first time we've heard him openly discuss it—first in the "Tom vs. Time" doc, and now to Oprah.
10. The Kellen Winslow Jr. story is bizarre, I think, to the great majority of us. But a couple of his ex-teammates that I texted with over the weekend didn't seem very surprised. Both said he was always a weird guy. Being capable of what he's being accused of, of course, goes well beyond just weird.
Could Kellen Winslow Jr.'s Attorneys Use Football-Induced Brain Injury as Defense for Alleged Crimes?
FIVE-DAY FORECAST
There isn't a lot going on, which means that players are out on their own for summer vacation—and just a few years ago, that meant it was automatic that the arrests would start rolling in. A lot of those were for the kind of stuff a lot of 20-somethings get busted for (bar fights, etc.), some were worse, and there were a few that would be a lot worse.
So give the NFL and NFLPA credit here. The personal conduct policy was strengthened in 2007 in the wake of the Michael Vick and Pacman Jones incidents, and got even tougher in 2014, post-Ray Rice/Greg Hardy/Adrian Peterson. And we know now it's working.
Pro Football Talk's Mike Florio has tracked these arrests over the years, and he published some eye-opening numbers in 2016: There were just nine player arrests over the first half of that year (remember, with 90-man rosters in place, there are nearly 3,000 guys in the NFL each spring), down from 13 in the first half of  '15, 21 over the first half of '14, and 29 over the first half of '13.
Florio stopped running his arrest tracker in early 2017 at the request of Brandon Marshall because of this progress, but he did mention last week that there were none over Memorial Day weekend, which would've been considered a big win for the league five years ago, and was barely noticed in 2018.
Last week most coaches delivered the annual "don't be a knucklehead" speech to their players as they broke for summer. It must feel good to them, and to the league, that the message is getting through now.
Question or comment? Email us at talkback@themmqb.com.