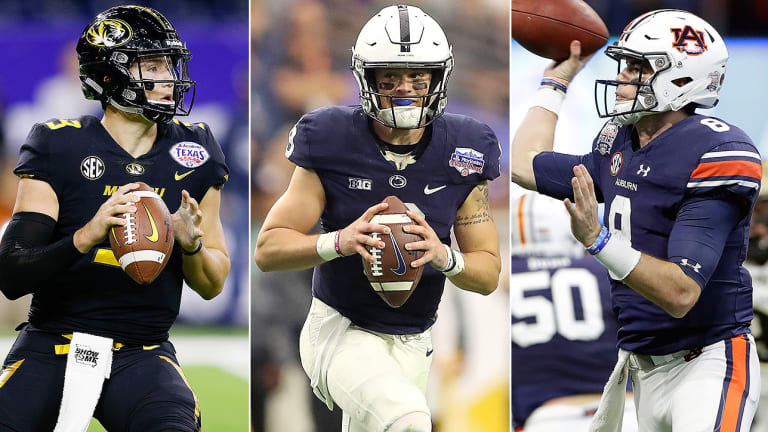 Which Quarterbacks Will Rise to the Top of the 2019 NFL Draft Class?
Historically the NFL has gravitated toward a certain type of quarterback, propping up a handful of college passers before the start of the season. But this year is different—there's not a group of clear first-round draft prospects at the position, which may cause NFL teams to shift how they evaluate the position.
Baker Mayfield was drafted into the NFL two months ago, six years after Russell Wilson and 17 draft cycles after Drew Brees. If you look closely, you won't find too many torchbearers for the vertically-challenged passer in the years between those three.
Should Mayfield, the No. 1 pick of the 2018 draft, be an inspiration for the six-foot-and-under crowd? Without question. Is he a trend-setter? Tap the brakes. Brees's success was supposed to open the minds of NFL decision-makers on the established decision-makers for quarterbacks. It didn't. Wilson's breakthrough was seen as the potential front end on how teams viewed the position. It wasn't.
Last July, pegging Sam Darnold, Josh Allen and Josh Rosen for the first round of the 2018 NFL draft was an easy bet. Those players hadn't just produced at their respective colleges, but they were prototypes for the ideal NFL quarterback. Mayfield wasn't considered to be a first-rounder at this point, but he wasn't exactly anonymous either. The 2017 Heisman winner finished in the top-five of the voting for college football's most prestigious award in '16 and '15.
But it's a different story as we come out of the 2018 draft cycle and move into '19. There's a glaring absence of prototypical first-round quarterbacks, and predicting which passers could be drafted on the first night (if any at all) is anyone's guess—and based on the type of QBs that college teams are recruting, NFL teams might not have a choice on what kind of quarterback they want to draft for much longer.
"This is not up to the NFL," says Trent Dilfer, head coach for the high school Elite 11 quarterbacks program and a former NFL first-round pick himself. "This is up to college coaches. And what college coaches want is—if I'm going to simplify it the most—competitors that have twitch in their body and their arm."​
For Many NFL Players, Summer Doesn't Bring Much of a Break
In the 2019 quarterbacks draft class, there are players who are closer to the prototype, in Auburn's Jarrett Stidham and Missouri's Drew Lock. You have guys who are a little different, in West Virginia's Will Grier and Penn State's Trace McSorley. As Dilfer says, "They're going to be more about tastes than traits."
"The game has become about playing fast, throwing fast, getting to the receiver fast, it's precision and speed, not power and stature," Dilfer says. "It's about precision and twitch, not power and stature."
Case-in-point: The walk-on Mayfield beat out a 6' 5", 209-pound, four-star recruit (Cody Thomas is now playing baseball in the Dodgers' organization) to earn the starting position at Oklahoma, after winning the job at Texas Tech from 6' 5" Davis Webb two years earlier. Another example? Penn State's six-foot, 198-pound senior, Trace McSorley, has held off a freakish 6' 4" athlete, in Tommy Stevens, for three years in Happy Valley. So what does this trend mean?
"What you're going to see is a radical shift in how quarterbacks are evaluated," Dilfer added. "I don't think Baker's a pioneer. I think Baker's a product of what's happening. College coaches value certain things more than they used to, and those are going to be the guys that are going to play. And then as those guys play, our minds are going to get wrapped around the fact that you don't have to be John Elway or Ben Roethlisberger anymore."
Michigan is another team buying into the trend of smaller quarterbacks, having brought in shorter, quicker Shea Patterson this year as a transfer to compete with prototypes Brandon Peters and Dylan McCaffrey. And as Dilfer said, there's not a whole lot the NFL can do to stem the tide as the rest of the sport adjusts what it's looking for at the position.
"If Baker has a lot of success, I think it could continue to lower the barrier to entry," said ex-NFL quarterback Jordan Palmer, who prepared Darnold and Allen for the '18 draft and is working with some of next year's class this summer. "You used to have to be 6' 4" and 225 pounds, and you don't have to be that anymore. You gotta be able to play the game. And with the RPOs, the pure progression passing, where guys aren't having to read coverage, because there's a percentage of plays called in the NFL now where that's not required, it does lower the barrier for entry."
Fantasy Football Preseason Reports: A Scout's Take on Every Team
So we've got Lock, Stidham, Grier and McSorley. There's NC State's Ryan Finley, who flashed on the NFL radar briefly last fall, and Duke's Daniel Jones, who's emerging as a darkhorse. There's Buffalo's Tyree Jackson, a 6' 7", 245-pound player who's creeping into the consciousness of the pros and UCF's McKenzie Milton who, at 5' 11" and 185 pounds, is on the complete opposite of the measureables spectrum.
Add it up, and there's lot of potential, and lots of unknown, which should make the fall fun to watch.
"I don't think from a talent perspective those guys too far off, they'll be right there with last year's class," Palmer said. "I don't see a drop off in talent between some of the guys in last year's class that went high and some of the guys in this year's class. ... I think this class is better than people think. And there's going to be a couple guys who put together great years and rise here at the end."
"It's not that [the quarterbacks are] not as good as last year, there's not going to be as much need, so the quarterbacks aren't going to be the main conversation piece for the next nine months," said Dilfer. "So taking all that into consideration, I'd say Stidham and Lock will be in the narrative all year long as first-round picks. The other ones, it will be a taste conversation. Where do they fit? Who needs one?"
With the help of Palmer, Dilfer and a few scouts, we'll take a look at the horses in this race—including both the guys who look like thoroughbreds, and the guys who don't …
Drew Lock, senior, Missouri. Lock, who's 6' 4" and 225 pounds, was a Division I basketball recruit coming out of high school. He can make every throw, but he has yet to post a season with a 60% completion rate. Some scouts are comparing him to Josh Allen, which is both good (Allen was uber-talented and a Top 10 pick) and not good (he was panned for accuracy issues).
"He's been a one-read quarterback strictly, with a good arm, and accuracy that's very poor on short and mid-range throws," one AFC scouting director said. "He throws a good deep ball, he's weird that way, like a guy that's just really good off the tee. The short game is what he's lacking, struggles placing it, and he struggles if his primary receiver is covered. But he's big, good athlete, and this is a big year, because he'll do some pro-style stuff."
Derek Dooley, Mizzou's new offensive coordinator, spent four seasons with the Cowboys, and his pro-style background should help scouts get a more complete picture of him. "He's got incredible arm strength, he's an awesome kid, he's a learner, he's a leader, all that stuff," Dilfer said. "He's just played in a system, like Bryce Petty did, where they just don't learn a lot of football. That's until this year." For what it's worth, word is that Lock looked great throwing it at the Manning Passing Academy in June.
Jarrett Stidham, redshirt junior, Auburn. Once a superstar recruit of former Baylor coach Art Briles, scandal in Waco threw the 6' 3" Stidham's college career influx for over a year—then he landed on solid ground in the SEC, making second-team all-conference last fall. While there's some disagreement on what type of prospect he is, everyone agrees he throws the prettiest ball. "He's got the best arm talent," said one NFC exec. "He looks like a very talented kid." As is the case with Lock, there's skepticism around the simple offense he runs at Auburn, but by all accounts, he's a sharp kid.
Will Grier, redshirt senior, West Virginia. Grier first popped on the radar in 2015 as a redshirt freshman, winning the job at Florida and showing a ton of promise early. Then he failed a PED test and transferred, reemerging last fall and winning Big 12 Newcomer of the Year honors while throwing for 34 touchdowns at West Virginia. Weirdly, there's some question over his size—he's listed at 6' 3" and 217 pounds, but some who have been around him swear he's smaller than that, which has led to some Mayfield comparisons. "I get the same feeling on him I had on Baker," said the NFC exec. "I expected an undersized guy with an average arm. When I left Oklahoma this year, I felt like Baker could make every throws. And I had the same feeling watching Grier against Virginia Tech—he's a gamer, he's got moxie, he has athleticism, and he can make the throws."
Justin Herbert, junior, Oregon. At 6' 6" and 225 pounds, Herbert boasts a live arm, athleticism, and a career completion percentage of 64.7 with a 32-7 TD-INT ratio. However it seems like the NFL, and even guys like Dilfer and Palmer, are scrambling to catch up on him because he was a late bloomer and overlooked recruit, and he wasn't draft-eligible last year. When I asked the AFC scouting director if he knew anything about Herbert, his answer was to the point: "No, but my scouts love him. They think he's a premier guy." The questions I've heard on him regard his toughness, and his ability to work through progressions, which makes him, in the scout's eyes, a work in progress.
David Johnson Is No. 2, Be Patient and Wait for Luck and Mahomes, the Non-Saquon Rookie You Want
Ryan Finley, redshirt senior, NC State. Last year when I asked around if there was a potential out-of-nowhere prospect like Mitchell Trubisky in the pipeline, I heard Finley's name. But he cooled off late last season and decided to return for a fifth year. The one-time Boise State transfer is up to fifth in school history in career passing yards (6,557) and seventh in touchdown passes (35), and had a streak of 339 attempts without an interception broken last year. It will be interesting to see how he's scrutinized this fall. Though he's Academic All-ACC and pursuing a Master's, questions have come up about his personality and what he's like as a teammate.
Trace McSorley, redshirt senior, Penn State. Stylistically, he'll be compared most to Mayfield—McSorley plays a breakneck style and has piled up wins in college. And as you might expect, at six-feet tall (maybe), he's polarizing. "I love him, he's like GI Joe," said the AFC scouting director. "He's not an NFL quarterback, but he's such an awesome college football players. He's not as good an athlete as Baker or Manziel, not as accurate either. He's like them in that he's a run-around guy who makes plays. But those guys were really accurate."
Dilfer, for one, disagrees on that one. "I'd say Trace probably has more arm talent than Baker does," he said. "I'd say Trace is probably a little thicker, has a little more stature, and is a little better athlete. Trace was a DI safety prospect, he's one of the unique competitors I've ever been around. He is fantastic."
Daniel Jones, redshirt junior, Duke. NFL people seem genuinely intrigued by this 6' 5", two-time team captain who, via coach David Cutcliffe, has had pro-style training and access to the Mannings. "He operates in the pocket and moves just like the Mannings," said the NFC exec. "His feet are always moving. He's talented, it's just consistency and decision-making with him, he needs to clean up the turnovers. But it would not shock me if he winds up in first-round consideration. I saw him play Northwestern his freshman year, you could see he could make every throw. He's a big, strong kid."
Clayton Thorson, redshirt senior, Northwestern. Thorson has intrigued scouts for a while, but he's inconsistent, and ahead of his fourth year as the Wildcats' starter, he's coming back from a torn ACL. At 6' 4" and 225 pounds with a live arm, he's worth watching, though there are questions on when he'll be ready to play.
Shea Patterson, Junior, Michigan. Listed at 6' 2" (though most NFL types believe he's closer to six feet), Patterson is another player who doesn't fit the NFL quarterback prototype. He started 10 games over two years at Ole Miss, flashing athleticism, a big arm and playmaking ability.
"The Ole Miss tape shows he has the twitch, the precision part needs to grow, which I think it will at Michigan," Dilfer said. "At Michigan, they're all about making a lot of decisions, run game, pass game, protections, he's going to have to do all that stuff, and you have NFL coaches coaching him. He's going to bring a new look to Michigan football."
Tyree Jackson, redshirt junior, Buffalo. An absolute horse at 6' 7" and 245 pounds, Jackson was very raw in 2016 but showed progress last year, and is getting some NFL love now. Palmer will work with him later in the summer, but hadn't studied him yet, nor had the scouts I spoke with. He's got athletic ability, that's for sure, and a level demeanor, per Palmer, making him another name to file away. As is …
McKenzie Milton, redshirt junior, UCF. He was the heart and soul of an undefeated team last year. The problem? He's listed at 5' 11" and 185 pounds. "The kid who blew everyone's mind that none of us knew anything about, because he only went to one Elite 11 camp three years ago that none of us were at, because it was late in the process, and is such a great kid that he came back to be a counselor because he wanted to be part of our process is McKenzie Milton," Dilfer said. "This kid, first of all, just as a leader, as a person, is a 10. He's a little guy, he's super little, but he plays huge. His arm is electric, it is off-the-charts electric, it's Tua Tagovailoa-electric, it is unique. He has unique release, unique twitch and unique power in his arm for a little guy. That ball is scary good." But again, there's that caveat—and while it's easier to get around than it used to, it's still there for everyone to see.