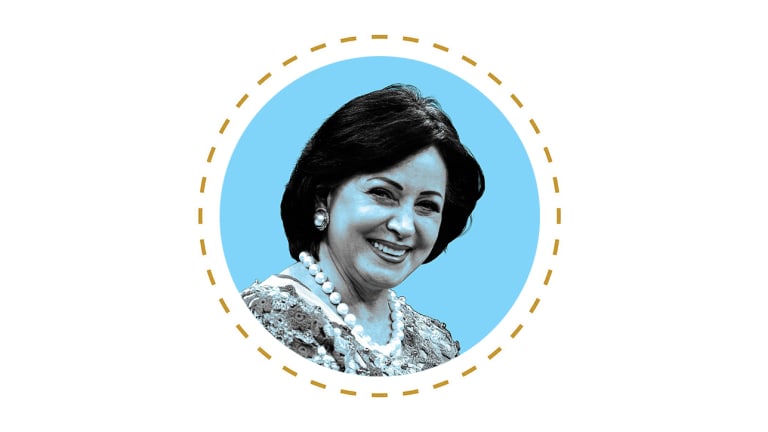 Gayle Benson, New Orleans Saints
Learn about New Orleans Saints owner Gayle Benson, including how she made her wealth, her education and more.
Learn about New Orleans Saints owner Gayle Benson, including how she made her wealth, her education and more.
NEW ORLEANS SAINTS | GAYLE BENSON | OWNER | AGE: 71
Education: Martin Behrman High School
How They Acquired the Franchise: The widow of former Saints owner Tom Benson, Gayle gained control of the team following Tom's death in March 2018. But the acquisition was far from smooth. Prior to his death, Tom was embroiled in a multi-year dispute with his heirs over ownership stakes in the Saints and the Pelicans. The parties ended the dispute with a confidential settlement in early '17, and Benson made arrangements before his death to ensure Gayle would assume ownership of both franchises.
Net Worth: $2.7 billion (per Forbes in 2018)
Franchise Valuation: $2 billion (per Forbes in 2017)
How They Made Their Money: Gayle started Gayle Bird interiors, an interior design firm in 1975. Per the Saints website, she "directed numerous major design efforts with her clients, including the Mercedes-Benz Superdome, several of the city's most prestigious hotels, local supermarket chains and automobile dealerships." In the late '70s she began buying and selling historic properties around New Orleans, and decades later, in 2014, she established GMB Racing Stables, a horse racing stable.
Tom owned several auto dealerships in New Orleans and San Antonio and a handful of Southern banks prior to buying the Saints for $70 million in 1985. He purchased the New Orleans Hornets in 2012 for $338 million, later renaming them the Pelicans.
In the Owner's Words: "Please rest assured," Gayle said in a statement after Tom's death, "I will own and operate this franchise until my death and do so with the same drive and focus towards success that my husband displayed throughout his life. … I want to assure you that the New Orleans Saints are in good hands and my vision for strong, long lasting ownership and continuity are in place and already at work."
Political Donations: Gayle has a very modest track record of political donations, but has been consistent in contributing to Republican causes. Notable contributions: $25K between 2014-15 to The Fund for Louisiana's Future, a super PAC aligned with Republican Senator David Vitter; $2,700 to Bobby Jindal's presidential campaign in '15; and $2,700 to Jeb Bush's presidential campaign.
NFL Committees: Tom led the Finance Committee as chairman for several years, and Gayle said she is "anxious to be involved in committees that will also help forge and direct the future of our great game."