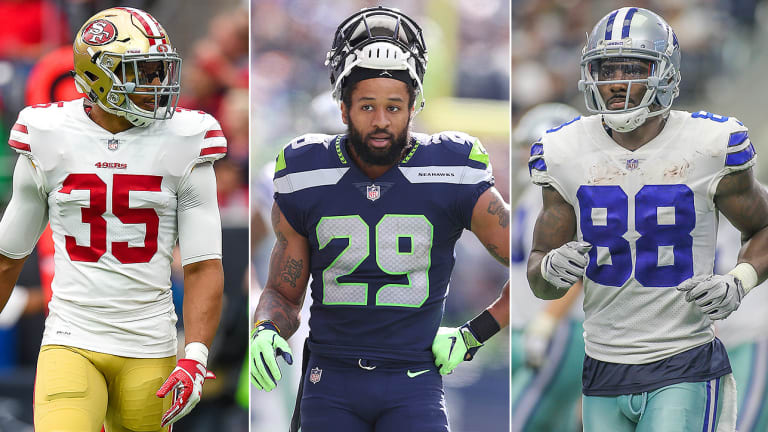 Best Potential Landing Spots for Dez Bryant, Eric Reid and Earl Thomas
Dez Bryant and Eric Reid are still free agents, while Earl Thomas, after holding out of the Seahawks' preseason, has been the subject of trade rumors this season. Which teams could most use the services of these players right now?
UPDATE (Thursday, Sept. 27, 11:25 a.m. ET): The Panthers announced that they signed S Eric Reid.
Week 3 in the NFL sent us into a tizzy about which teams are good, which teams are not and whether this is it for the Patriots dynasty. In truth, it's still too early to decipher those questions as we wrap up the first quarter of regular-season play.
But! What we do know is that certain teams have immediate needs, and like every year, there are some big-ticket names to be had via free agency or a trade. (We're leaving the 49ers and their obvious quarterback need out of this—they may just be stuck in 2018 after all the preseason hype.) 
And so I give you the best destinations for Dez Bryant, Eric Reid and Earl Thomas if these players—and their prospective teams—want to be competitive this season.
Dez Bryant
Best fit: Colts
Indianapolis is off to a 1–2 start this season, and the offense needs a boost if this is going to be a playoff season. Andrew Luck is well enough to play after his injury layoff, but he's clearly not the Luck of old, at least not yet. So far he's only attempted eight passes that have traveled at least 20 yards past the line of scrimmage (he's connected on just two of those and one was a touchdown). So if Luck doesn't have the arm strength to stretch the field—or if he can only stretch it seldom and those shots are going to T.Y. Hilton—why not get a big receiver who has a lost a step who can get his shorter throws? It's difficult to imagine the Colts will beat the Jaguars or Titans' secondaries with their current pass catchers, so add some size and a little attitude with Bryant to make this season worth it.
Other fits: Cardinals, Cowboys (duh), Washington.
Eric Reid
Best fit: 75% of the NFC South
I'm not here to entertain the "he's suing the NFL so why would teams sign him" line of thinking. Every coach and executive that has ever been in this league say they're in it to win, and they realize that not winning will cost them their jobs. For the Falcons, Bucs and Panthers, Reid would increase the odds of these teams winning on Sundays. He also fits into the culture of all three teams with his constant philanthropy and community work. In Carolina, new owner David Tepper has made clear his commitment to helping those in both Carolinas. Arthur Blank's Falcons spent almost an entire year on their 'Protest to Progress' campaign. Just a few weeks ago the Buccaneers and the city of Tampa announced a new social justice campaign. Oh, and all three teams have recently lost starting safeties for the season.
Other fit: Packers
Earl Thomas
Best fit: Chiefs
Expecting the Cowboys here? Part of me fully believes Thomas ends up in Dallas, while the other part figures if it hasn't happened yet, it won't. The best fit for Thomas, if he wishes to get a second Super Bowl ring this year, is to go to Kansas City. When Eric Berry (heel) heals, the duo will make the most formidable safety group in the NFL since … Thomas and Kam Chancellor. The Chiefs are tied for dead-last in the league in passing yards allowed and are getting passed on more than any other team. As great as their offense is, the Chiefs have no chance of winning the Super Bowl with the worst passing defense in football. Kansas City has the flexibility with Patrick Mahomes's rookie contract to ink Thomas to the kind of deal he's looking for, and you could get away with the guaranteed money in the first year or two as Thomas enters his 30s without totaling ruining the cap situation.
Other fit: Cowboys
Not getting this newsletter in your inbox yet?Join The MMQB's Morning Huddle.
HOT READS
NOW ON THE MMQB: Kalyn Kahler gives us a peek at the other Josh Allen who's making the rounds in draft circles. … The film is telling Andy Benoit that the Texans are drifting away from Deshaun Watson-specific tactics. … Robert Klemko with an oral history of the night Jerry Jones knelt. … and more.
WHAT YOU MAY HAVE MISSED: Jenny Vrentas talked to NFL execs and Adrian Peterson to find out what Le'Veon Bell is worth. … Is there any way for the NFL to back out of its bad roughing-the-passer calls? … Get your power rankings here! … and more.
PRESS COVERAGE
1. Meet Nick Mullens, the new 49ers' backup QB who has a very type-A personality, writes The Athletic's Matt Burrows.
2. SB Nation's Natalie Weiner writes why that an all-woman broadcast team should be more then an alternative.
3. Raiders QB Derek Carr said he wishes Dolphins DE William Hayeswould have landed on top of him rather than avoiding a penalty and thus tearing his ACL.
4. You never see or hear about Michael Thomas on top-5 wide receiver lists. He doesn't seem to care. B/R's Tyler Dunne writes the Saints WR is here to make history.
5. It's never too early to look at college quarterbacks, and N.C. State's Ryan Finley seems to be leading the way according to PFF.
6. And speaking of college football, Clemson coach Dabo Swinney made the tough call sitting Kelly Bryant (16–2 as the starter) for stud Trevor Lawrence. Now Bryant is transferring after what he felt was a "slap in the face" at Clemson.
Have a story you think we should include in tomorrow's Press Coverage?Let us know here.
THE KICKER
Dirk Koetter is being coy about his starting quarterback for Week 4, but it should be obvious, no? Think what you will about Ryan Fitzpatrick, but he just became the first quarterback in NFL history to throw for at least 400 yards in three consecutive games. The Bucs are 2–1 and Fitz clearly has good chemistry with his pass catchers. It's unclear how long Fitzpatrick will be the starter, but it seems obvious he's the guy versus the Bears on Sunday.
Question? Comment? Story idea? Let the team know at talkback@themmqb.com