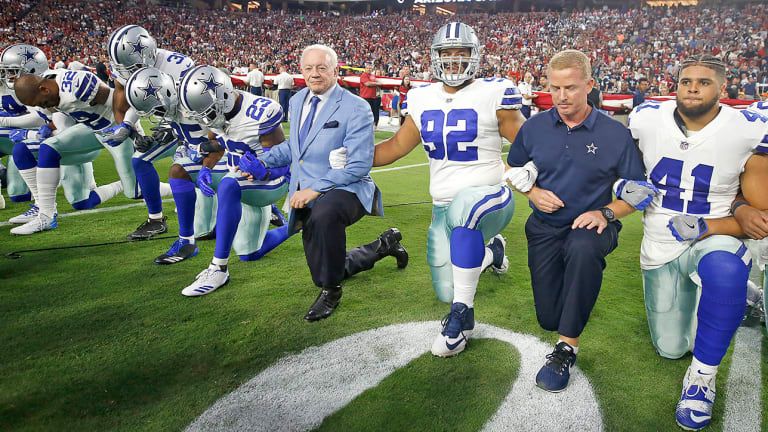 Oral History: The Night Jerry Jones Knelt
One year ago, the Cowboys owner took a knee in a show of solidarity between ownership and players against President Trump. Here's how the two players he locked arms with remember it
It's the smile that jumps out at you first. Jerry Jones's is the only face you can see clearly, because he's the only person in the lineup staring at the camera, soaking up his moment. He's arm-in-arm with two of his employees—Bene' Benwikere and Brian Price—kneeling in advance of the playing of the national anthem on September 25, 2017 in Glendale, Ariz. Jones has just pulled off the impossible in uniting his team, if only for a brief moment, in the most divisive issue facing the NFL. The 74-year-old Republican has one knee in the turf, his fists clenched. And he's grinning.
Three days earlier, the President of the United States had described players protesting police brutality and racial inequality during the national anthem as "sons of b----es." Owners and front office executives around the league had, for 72 hours, been discussing ways to show solidarity with the players, and in some cases, head off a major round of Sunday protests inspired by Trump's words. Jones, a Trump donor, was one of a handful of owners who didn't release a statement supporting players, but his kneeling in supposed solidarity with players before the Monday night game is one of the lasting images of that weekend. All of this happened one year ago, and in that year, the individual protests have continued. The NFL passed a rule banning protest during the anthem, then rescinded it. The President kept talking and tweeting about it.
It's worth remembering now: That day that must've felt like a victory for many in power in the NFL, including Jones. The Cowboys owner made sure that moment on the field would be immortalized by photographers; when he saw them being waved off the field for the start of the anthem, Jones shouted to security to back off. The photographers would stay. This would be a moment. This is how some of the players surrounding him remember it.
Benwikere, the 26-year-old journeyman corner from Fontana, Calif., paid attention that week as players discussed what to do, and Jones stepped in with a solution. Ten minutes before they left the locker room for the anthem, Jones delivered his final pitch.
Bene' Benwikere (Cowboys CB, 2017): "One of the things Jerry said before that—like literally minutes before that—was whatever we do I want to do it as a team. That was one thing that I feel like got a lot of people who weren't ready to do all that to buy in, the fact that he made it about the team. That was the last little push. Whether he was really sincere about it or not, I don't know. That was just a weird time."
Benwikere walked to midfield and stood beside fullback Keith Smith, a friend.
Keith Smith (Cowboys FB, 2014-17): "I kind of just stepped up on the line and then everybody came up. I don't even remember where my head was at. I was thinking about the game to be honest."
Before Benwikere knew it, Smith was several feet away. It was now Jones standing to his left.
Benwikere: "That was crazy. I look to my left and it's Jerry Jones. And I'm like, I don't know how I'm going to do this right now. And then I started thinking about getting the world to understand that the protests were not about disrespecting the fallen soldiers, but the crimes that have been committed over time. But I'm not sure the guy next to me [Jones] believes that. You can see that the arm doesn't want to go there. But hey, that was the moment."
Brian Price was in his second NFL season with his second team, and dressing for the first time after spending 2016 on the Packers practice squad. The undrafted defensive tackle's head was elsewhere during that's week's anthem protest discussions.
Brian Price (Cowboys DT, 2017-2018 preseason): "That was my first year being active, so those first three or four games I was all over the place, going crazy. Everything was happening with the national anthem and I was like, man, I just want to play some football."
Price, whose father is black and mother is white, said he'd been a victim of racial prejudice growing up in Lafayette, In., the predominantly white suburb that's home to Purdue University. He'd been called the N-word before, and more specific slurs: "Half breed, mutt, whatever you can think of I've been called it." It's in this context he views police brutality in the U.S., but Price found himself in the moral quandary faced by most of the league's players who are expendable pieces on NFL rosters.
Price: "Having gone through all that back home, it hurts to see what's going on in the country. But I have to worry about making a football team right now, taking care of my family, so I have to steer clear of certain things."
He had no plans to protest during the season, or even be prominently photographed during the team demonstration. But he wandered to midfield, and then Jones popped up and reached out an arm.
Price: "I'm hype, it's Monday Night Football. I'm on the 50-yard line, not thinking this is about to be a major camera angle. I ended up locking arms with two players. I don't really like attention, I hate it, and then Mr. Jones is there."
A journeyman corner and a defensive tackle at the bottom of the 53 aren't ideal subjects for an iconic photo. When photographers were tipped off to the Cowboys' plan to demonstrate before the game, they envisioned Jason Garrett, Dak Prescott and Jason Witten linking up near Jones. The caption on the photo James D. Smith took for the Associated Press read like this: "Dallas Cowboys head coach Jason Garrett (right to left), player Brian Price, owner Jerry Jones, players Bene' Benwikere (32), Noah Brown (85), and other players kneel and link arms in a show of unity on the field before a 2017 NFL week 3 regular season game against the Arizona Cardinals."
Benwikere signed with the Arizona Cardinals in March. Jones is still with the Cowboys, as was Price when he spoke for this piece (he was among the final cuts and has since joined the Cleveland Browns as a practice squad player). While Price was candid about his feelings that day, Byron Jones wanted no part of a conversation about the anthem and police brutality and the boss who shares his last name. In the year since, Jerry Jones has said the Cowboys do not support players who choose to demonstrate during the anthem. His son, Stephen, elaborated that Cowboys players would stand for the anthem, "If they want to be a Dallas Cowboy." What does Byron Jones, think about how the protests have been handled by his team, and of Jones shift from kneeling in solidarity with his players to threatening the jobs of players who protest?
Byron Jones (Cowboys DB, 2015-present): "I put stuff behind me. I keep moving. I've got a lot on my plate I'm dealing with. I don't worry about what he said, she said, it's just me."
Ditto for Keith Smith, the fullback who spent his first four seasons in Dallas and now plays for the Oakland Raiders. After a preseason game in Los Angeles, Smith had no interest in discussing last year's team protest, or any protest.
Smith: "I don't even remember where my head was at. I was thinking about the game to be honest…. I try not to look back on the Dallas stuff unless it's about my boys. I'm just with my teammates man."
Price was more introspective. He was 15 and eating with his friends at a Buffalo Wild Wings in Lafayette when a passing stranger referred to him as a "half-breed." Says Price: "Me being the person I was at the time, I snapped. I tore B-dubs up. I've been clearheaded ever since."
He had conversations about the protests with his agent, Pipe Creek, Texas, attorney Daniel MacNeil, a veteran who did a combat tour in Iraq. "It's just his opinion, but he's said, this is why I fought, so people can have their freedom of speech," Price says. "That's a white guy saying that. Nobody's really right or wrong. It gets to a point where people get pushed around so much they feel like doing something about it. I don't see anything wrong with that. My dad was in the military. I see both sides, but I just think everybody protesting just wants equality."
Like many, Benwikere grew up associating the national anthem with sacrifices made by Americans in combat; hijackers struck the towers a week after his 10th birthday. He and most of the NFL are part of the generation that has known American involvement in the War on Terror longer than it's known peace.
Then, recently, Benwikere read about the third verse of Francis Scott Key's anthem, the part that celebrates the deaths of escaped slaves who fought for their freedom alongside the British in the War of 1812.
And where is that band who so vauntingly swore,
That the havoc of war and the battle's confusion
A home and a Country should leave us no more?
Their blood has wash'd out their foul footstep's pollution.
No refuge could save the hireling and slave
From the terror of flight or the gloom of the grave,
And the star-spangled banner in triumph doth wave
O'er the land of the free and the home of the brave.
Benwikere: "When you listen to the anthem, you can hear the negativity when it comes to persons of color. I'd been taught in school that it is for fallen soldiers. That's the connection I made as a kid, but I don't feel that way anymore. I don't want to take a knee, but I don't want to put my hand on my heart and stand on the line because that's not what I get out of the anthem anymore."
"So I'm thinking, Hey do I want to rock the boat? At that point I'm the 53rd man on the roster. If you're going to have a whole team doing one thing and I want to go be an individual, how does that look to my team? I was torn. A lot of people are still torn."
• Question or comment? Email us at talkback@themmqb.com.