Washington's Organizational Failures, Benjamin Watson's Release, NFL News
Also, some follow-ups on the Colts beating the Chiefs on Sunday Night Football, players and teams to watch ahead of the trade deadline, clarification on my Earl Thomas tweet and more.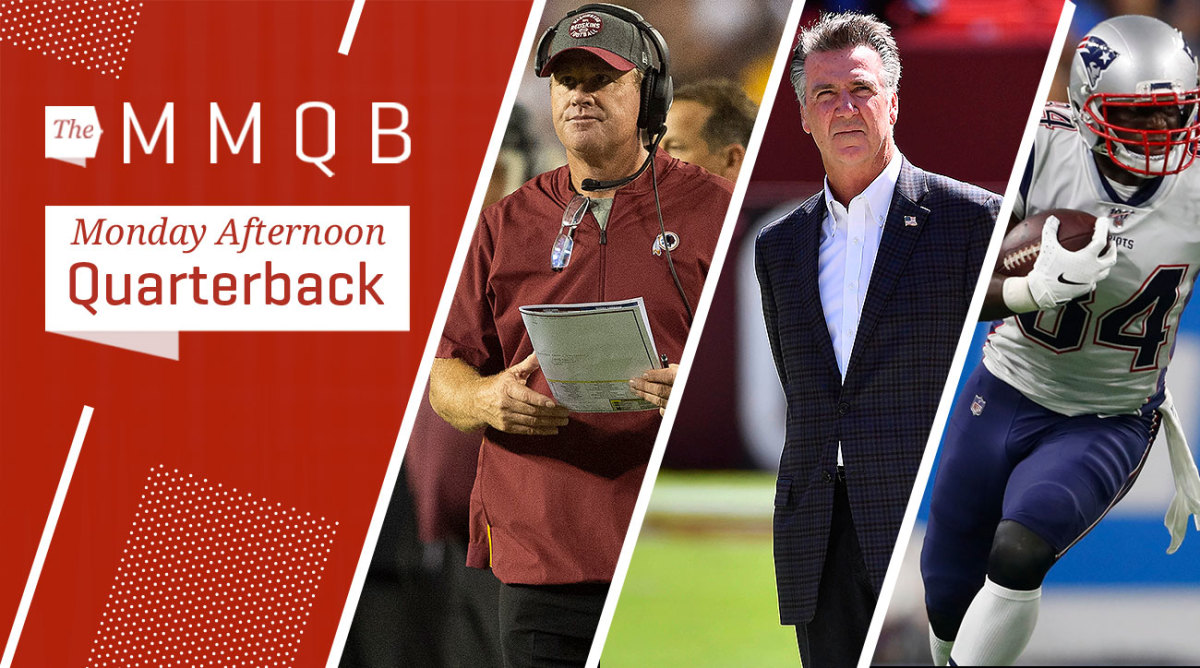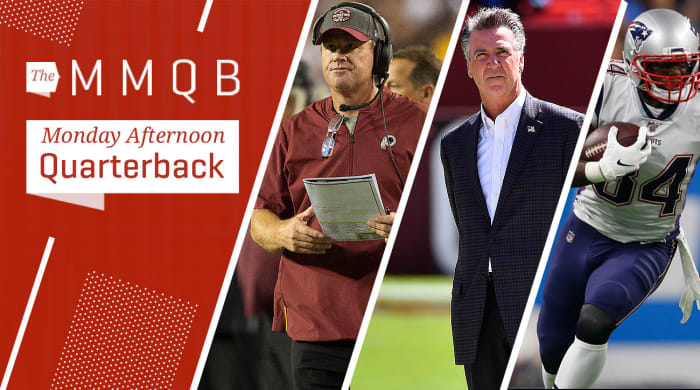 The final game of Week 5—Niners at Browns—should be fun tonight …
• We've dissected the Redskins firing Jay Gruden a couple of different ways today—Alaa Abdeldaiem covered the initial news break, Conor Orr weighed in and so did I. But one important thing that relates to the impending head coaching search is the disconnect that exists in the building between personnel and coaching. 
Everyone made a big deal of who wanted (or didn't want) Dwayne Haskins last April, but it's far from the only example that's driven Washington coaches crazy. Another was the case of linebacker Zach Brown. Following the 2017 season, the coaches made clear they didn't want him back. So what did the Redskins do? They signed him, of course, to a three-year, $24 million deal, and a year later, he was cut. Washington is carrying $3 million in dead money on their cap this year as a result. This is not how good organizations operate.
• Redskins president Bruce Allen said at his presser that he hasn't had any dialogue with other teams on disgruntled left tackle Trent Williams, and that Williams isn't available for trade. That matches what he's told other teams who have inquired—he has taken the calls but politely declined to engage in trade discussion. The issue between Williams and the team remains of the Redskins' handling of multiple medical situations, and to this point seems to be well beyond the point of no return.
• Patriots letting TE Benjamin Watson go is interesting, and not all together that sudden either. I'm told Watson learned a few days days before the Redskins' game that he wouldn't be making the trip to Washington, and that retirement hadn't even been a topic of conversation between he and the team. Ryan Izzo and Matt LaCosse dressed for the Patriots at the position, and combined for 61 yards and a touchdown on three catches, making Sunday the most productive post-Gronk tight end day for the team thus far. (This also won't slow down questions over whether or not Rob Gronkowski could, eventually, return, particular because Watson's ouster clears $2.1 million in cap space they could use to move him back on to the roster.)
• Indianapolis's win over Kansas City on Sunday Night Football was another showcase for the depth of the roster that Colts GM Chris Ballard has assembled in Indianapolis. With Darius Leonard down, rookie linebacker Bobby Okereke (the Colts think he's got star potential) flashed next to the always steady Anthony Walker. And in the secondary, rookies Rock Ya-Sin and Khari Willis played well in every-down roles.
• As for the Chiefs. they will be fine, and they believe Patrick Mahomes's ankle will be too. But their problems went well beyond that—turnovers, penalties and mental errors all flowed into what was a sloppy night in general. The result was the Colts dominating time of possession (Kansas City had just four possessions and 22 plays in the second half), which effectively neutralized an offense that was missing Tyreek Hill and Sammy Watkins down the stretch.
• Just to make what I Tweeted about Earl Thomas clear—I think the action was clearly ejectionable, but I don't think that his intent was to injure Mason Rudolph. It's football, sometimes even the worst stuff is matter of happenstance. You'd like to think that was the case on this one.
• Other teams are starting to monitor the Falcons ahead of the trade deadline, with a few young guys in contract years in their sights—defensive end Vic Beasley, linebacker De'Vondre Campbell and tight end Austin Hooper among them. Given owner Arthur Blank's stated displeasure with where things are, at 1-4, how GM Thomas Dimitroff and coach Dan Quinn handle the deadline will be interesting.
• We've mentioned the Broncos before along those lines, and I'd continue to keep an eye on Chris Harris and Emmanuel Sanders—30-somethings in contract years that could serve as short-term fixes for contenders, a la Golden Tate in Philadelphia last year. Defensive end Adam Gostis is another name I'd toss on that list.
• I found Raiders G Richie Incognito's quote on ex-Raider Khalil Mack to be pretty fascinating: "Of course we take that personally. He was talking about how he was looking forward to playing us and all that stuff. There's history. We came out, and we were physical with him, and they didn't like it." Josh Jacobs, by the way, the first of two first-rounders that Gruden got for Mack, ran for 123 yards and two touchdowns on 26 carries and caught three balls for another 20 yards in the Raider win.
• Following up on Jaylon Smith's role on the Dallas defense—we mentioned a couple weeks ago how they were managing his workload, as they used him more as a pass-rusher. Smith led the Cowboys linebackers against Green Bay, playing 69 snaps on defense. Leighton Vander Esch was on the field for 66, Sean Lee for 31 and Joe Thomas for 19.
Question or comment? Email us at talkback@themmqb.com.