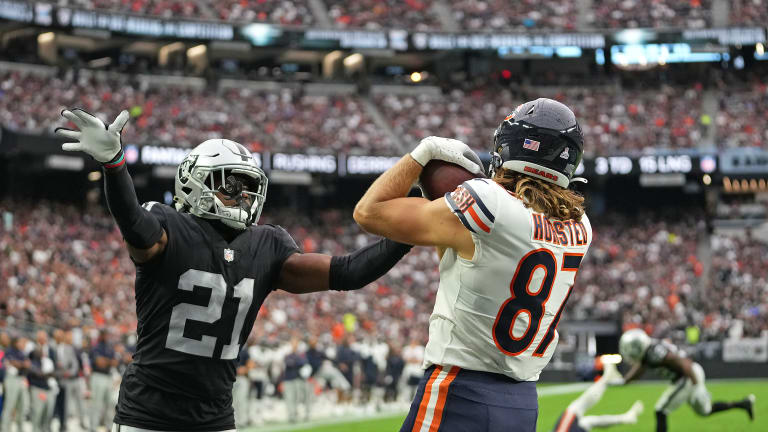 Live Blog: Final, Bears 20, Raiders 9
Updating with scores and plays live as the Chicago Bears are at Las Vegas to take on the Raiders, looking to climb above .500 and register their first road win of the season.
Fourth Quarter
Carr throwing short, completes two as clock winds down and now a holding penalty as Carr is flushed out of the pocket with five seconds remaining. Carr runs out of bounds under heavy pressure. Final: Bears 20, Raiders 9
A defensive masterpiece by Sean Desai who really went to work on that Raiders film from last week when they faced the defense of Brandon Staley, who was Bears outside linebackers coach before and runs the same Vic Fangio defense.
Santos on for a 46-yard kick. Dead solid perfect. 56 seconds left. Bears 20, Raiders 9
On third down Williams moves forward a few yards. The Bears let the clock run down now and have fourth-down at the 28. 
Bears just going to eat as much clock up as they can and hand it off. Raiders take a timeout. Have one left.
Carr under heat tries to step up and throw a floater to Edwards down the middle as he came open behind the secondary but way past Edwards. Game, set and match. 
The game's on the line here.
They get back 12 to Renfrow at the two-minute warning. Fourth-and-5 now at their 30. TWO-MINUTE WARNING!!!
Raiders jumped, seeing Quinn and Mack together on the same side of the line.
Incomplete to Renfrow, timing was off as heat was coming up the middle on Carr. Third-and-12.
A Mack sack for a loss of 2.
Mr. Automatic, 33 straight field goals by Cairo Santos now. A 46-yarder with 2:45 remaining. Bears 17, Raiders 9
Dumb call. Sweep by Fields gets 1 yard. If they were going to run Fields, it should have been out of the zone read or a bootleg where he had an option or can use his quickness. They turned him into a fullback sweeping.
The offensive line has been a huge key in this, as well as the hard running of Khalil Herbert and Damien Williams. 140 yards rushing to 63 by the Raiders.
Third-and-5 play coming up at the 29. Would be 46 or 47 for the field goal now.  Raiders tending to Hankins. 
Herbert for no gain. Hankins is down on the field for the Raiders a second time.
Herbert cuts goes outside and gets 5 more. Bears are in field goal range but would rather have the TD or eat up clock before they get a field goal as clock is under 4 minutes
Herbert goes into bull mode and drives through tacklers for the first down to the 34.
Williams back in and spins off left tackle for 6.
Fields to Kmet over the middle for 14. Bounces away and gains yardage to the 46
Raiders held back in eight-man zone umbrella near the first down but somehow Fields knifed it inside low to Mooney at the 40. First down.
Herbert held to a yard on run up the middle. Third-and-12.
Robinson called for offensive interference. Second-and-13 at the 25.
Robertson interferes with Robinson and officials mark it at the 28. But the interference was beyond that point. Then Herbert gains 7 up the middle. Boot pass by Fields then and a late flag on incompletion.
Grant with another adventure on a kick return that bounces. Bears only get to the 15.
Josh Jacobs leaps up and they say over but Eddie Jackson steals it. Officials say he got the TD. They go for two and Mack sacks Carr. Bears 14, Raiders 9
Incomplete but Bears get flagged for a blow to the head on the incompletion. Roquan Smith. Must have been head and neck area
Fade to  Waller and it's overthrown.
Carr completion for a 3-yard gain and first-and-goal.
Jacobs gets 2 off left tackle. Third-and-2.
Carr to Renfrow and he worms his way to the Bears 7.
Mario Edwards Jr. tosses Josh Jacobs after the whistle. Then Jacobs charges him. And officials have flagged Edwards. No problem with the call but officials didn't blow their whistles immediately and let it happen, and then didn't throw the flag until long after the play was over and Jacobs was charging Edwards.
Ruggs a short pass for 4 and shoved out of bounds by Kindle Vildor.
Now they take away the penalty because they say the play clock wasn't reset. 
Play clock ran out and the Bears were pointing at it for three seconds. The officials stood there and didn't call anything until they were finally made aware. Really on top of things guys.
Call stands. At the Bears 31.
This has been a physical war you'd expect from the Bears and Raiders. The low score is the Bears defense and Raiders' running game not giving them the cover to go play-action passing enough.
Nagy challenges it.  The replay is inconclusive. There's no way they get this overturned, although it's entirely possible he didn't get it. Carr is coming back in the game now.
Bears shoved him back but officials might say the initial surge got it. They did. He only needed 2 inches.
Inches short, fourth down. Peterman sent back out to go for it. Another QB sneak?
Peterman scrambles and looks like he came up just short but they could give it to him.
A 7-yard run by Jacobs and then a 1-yarder. Third-and-2 for Raiders at the Bears 33.
Derek Carr took one to the head trying to lower his head and get the first down. Roquan Smith with the tackle. All the players crowding around quietly watching. The Raiders put Nathan Peterman in.
Carr sneaks for the first down but is down on the field after the play.
Third Quarter
Offsides on Eddie Jackson. He did not appear to breach the neutral zone but they called him for it anyway.  Quarter ends. Bears 14, Raiders 3
Tight end screen wide but Mack gets over and drags him down from behind for 4. Then thrown in flat to Jacobs for 2. Third and a short 6.
Jacobs creeps forward for 4 and they go quickly. Carr hits Ruggs at the 49.
Bears have had chances to widen this lead. It's like playing with fire because Raiders are a momentum team
Renfrow with a nice return to the 26 on the punt.
Raiders stuff the third-down run and no gain by Herbert. Bears to punt.
Working the middle of the field to Mooney for 7 after a 2-yard gain by Williams. Third-and-1 play coming up with three and a half minutes left in the quarter.
Finds Robinson for the first down, a really difficult catch made easy at the 32.
First down run around right end by Williams for 6.
Grant uses his head and makes a fair catch, but the punt was fairly low and it looked like he actually could have gained yardage on that one. Can't they get a punt returner who makes smart decisions? Oh for the days of Tarik Cohen.
Finds Waller this time but it's a last resort as the zone forms well downfield and Waller tackled nowhere near the first down. Raiders to punt.
Carr high to Waller and his tight end can't quite get it. Might have been peaking at Roquan or Gipson coming up on him
Trevis Gipson with the sack. Tracks down Carr from behind and slams him to the ground for an 8-yard loss.
Jacobs slams off right tackle for 5 more.
Carr dumps it down over the middle to Jacobs for 5 yards with nothing else open.
Carr gets enough time to find Renfrow for the first down along sidelines at the 28.
Mack sees Parker make a little move and points it out to officials. False start. Third-and-10.
Tries to go deep to Drake but Roquan has trailed him deep downfield and it's incomplete.
Raiders go to the power game, run straight up middle with Jacobs for 5
Fields only 8 of 16 for 68 yards at this point.
Herbert with 53 yards and Williams with 51 so far. You have to wonder if Williams is bothered by that thigh bruise he had or quad injury or whatever it was. The Bears never really explained it.
Punt fair catch by Renfrow at the 11 with 10:04 left in third quarter. 
Fields scrambles and throws incomplete to Robinson and Bears must punt. Another wasted opportunity to put some distance between themselves and Raiders.
Herbert stuffed for no gain on second down. Bears face third-and-10.
Bears at their 45. Fields rifles incomplete to Mooney, who is back in, and it appeared he was interfered with but incomplete.
DHC with the pick on a floater to Jones. 
Carr throws wide of Waller on first down under pressure, then hits Jones for 6 OB. Third-and-4.
Raiders will start at the 21. The Bears went to a no-huddle after the first run by Herbert for 8 and then managed to fail to get the first down. When they go with no huddle this year, it never seems to work. The line is disrupted, especially when they try to run. 
Two runs by Herbert and one by Williams up the middle get 9 and Bears will punt. Hankins has a right arm injury for Raiders.
Dumb punt return move by Grant trying to return one out of the end zone. Should have let it go. They would have had it at the 20. He did make a nice return to the 17. 
First down pass after touchback to Renfrow, matched up one on one against Roquan. But Bilal Nichols stuffs second down play. Then a long pass dropped by Edwards. Wide open behind Jaylon Johnson. Raiders must punt.
Second Quarter
Fields sacked and half ends. Bears 14, Raiders 3
Herbert gets the first down on an inside run and Fields downs the ball. Mooney out of the game and laying on the sidelines. He had a groin injury earlier but played through it.
Overthrow on second down against the blitz and heavy pressure. Bears have no timeouts after squandering all of them.
To Kmet over the middle for 8
Weak 39-yard punt to Bears 40 and OB.
Bears getting it back with 58 seconds left in half and should have good field position.
Third down from the 21. Carr overthrows deep one for Waller.
Mack sacks his buddy on second down.
Bilal Nichols illegal hands to the face offset by a Raiders holding penalty, replay.
Raiders get a dumpoff for 9. On second down flags fly all over as Carr runs OB.
Ifedi questionable to return on knee injury so not entirely serious. Touchback puts Raiders at 25
Shake and bake and spinorama in one, Williams off left tackle behind Peters and Darnell Mooney and makes Robertson miss with a spin. TD on a 4-yard run with 1:56 to go in quarter. Bears have to use a timeout on the extra point because they didn't have enough players on the field for the kick.  Bears 14, Raiders 3
Herbert stuffed on second down and it's third down and goal. TWO MINUTE WARNING!!!
Herbert gets 5 to the 4 up the middle. Ifedi walking to the locker room and not on a cart.
Bears better get on waiver wire for a tackle after the game.
Second timeout by the Bears with 2:49 left. Ball at the Raiders 11.
Great blocking from Wilkinson on the backside and Hebert gets 9 cutting back behind them.  Kmet with good block on it too.
Elijah Wilkinson would be in with Ifedi hurt. The Bears tackle injuries continue.
Could be a knee injury but Fields was hit in the throat after throwing and is fine.
Fields sits in pocket nicely under pressure, hits Robinson cutting outside for 11. First down at the 20 but Germain Ifedi is injured.
At the 31 of Raiders and Fields throws deep incomplete. 
Williams gains 4 and then Fields comes back onto the field. No problem
Khalil Herbert for 3 but he could have had more. Just cut wrong. Then Dalton drills it to Goodwin over the middle for 8 and the first down.
Looked like a knee, maybe a hyperextension for Fields.
At Raiders 46, Fields sacked for no loss trying to get one off on the run. Fields went down  awkwardly and leaves the field with an injury.
Mooney catches a short pass and was going to go OB but found no Raiders near him so he turned it upfield for a 17-yard gain.
Williams surges through for 9 over right guard and it's third-and-1.
Bomb to Marquise Goodwin and he's out of bounds even though he catches it with one hand.  
Zone read and Fields gives it to Williams, who breaks through for 8.
Damien Williams with 7 on first down up the middle, then takes a screen for 2. The Raiders pass rush was so poor on it that it didn't allow the screen to develop.
Bears at 13 after penalty.
Mario Edwards Jr. flagged for a late hit and mouthing off after the play ended. 
A fourth-down and 1 stuff by Mack on a Jacobs run. Then the Bears celebrate and a flag flies. The play didn't get close to the line of scrimmage let alone the first-down sticks. Behind Mack was every other person in a white jersey.
After a 5-yard run by Jacobs, Carr tries running a bootleg around the left side and Roquan Smith read it perfectly and nailed him. Fourth-and-1.
A 4-yard dumpoff to Jacobs  who goes OB
Pass interference on Roquan Smith defending Moreau at the Bears 35. 
Linebacker Caleb Johnson with an injury stopping the return  Henry Ruggs a 29-yard catch on play-action deep. Then Danny Trevathan, now wearing jersey No. 6, fails to touch him down.
Bears coverage team downfield quickly stuffed it at the 18 even after a missed tackle on initial attempt. There's a  timeout ... on the field.
Jesper Horsted with the 2-yard TD catch and was interfered with but still caught it. Fields knocked to the ground after the pass as he rolled out. First career TD pass. Bears 7, Raiders 3
First down play is stuffed but Williams needed to wait a second and he had huge hole open.
Fields is told to run around right end on a sweep. A dumb call. But the Raiders are called for illegal hands to the face. First down at the 2. Another dirty play by the Raiders. 
Williams stuffed on first-and-goal from the 5.
Officials move it back to the 10 for some reason. Incomplete in the end zone on a slant as Fields is hit again in the head. Another roughing the passer call on the world's dirtiest team. Maxx Crosby elbowed him to the throat.
First Quarter
A 7-yarder to Robinson near the sideline and then Williams has a huge hole behind Jason Peters for a run to the 9 as the quarter ends on 14-yard gain. Raiders 3, Bears 0
Herbert in for Williams breaks an 11-yarder for a first down to 31.
Ryan Nall playing the role of JP Holtz as a lead blocker on a 5-yard Williams run.  
Dumpoff to Williams for 18 to Raiders 48
Quick 3-yarder to Allen Robinson but Raiders get a late hit call. A really dumb cheap hit on their part. Ngakoue
Delay of game. Fields also takes a hit on his ribs where he got hit earlier.
Fields got away with an incomplete pass on a play that should have been called a lateral.  He didn't get away with it. They marked it back 7 yards after that. 
Another solid return by Grant to the 28.
Bears have to get this cadence and snap stuff worked out. They've played in worse noise. Tackles are jumping up and down like it's Whack a Mole.
Fields OK because Andy Dalton never did start throwing. 
Overthrow in the end zone. Bears force the field goal. It's not what they want but Daniel Carlson's 31-yarder is good with 4:00 left in quarter. Raiders 3, Bears 0
Third-and-goal at the 12.
Two penalties for holding on the Raiders again. This one on Brandon Parker against Mack. Then Deon Bush breaks up a dump-off throw behind the line. 
A Jacobs TD run around right side but flags fly in the middle of the line.
Gigantic hole again and it's second and goal at the 2. No Akiem Hicks is having an impact on this drive as the Raiders running game is working.
They cross up the Bears with a toss play on third-and-7 and it works. Drake gets to the 8.
Drake gets 3 on second down. Third-and-7.
Roquan Smith and Deon Bush break one up in end zone. Carr thought it was a TD.
Jacobs tears off left tackle to the 19. The hole was huge. 
Two missed tackles on attempt to stop Renfrow after a good catch of a poor pass.  Gains 9
Third-and-9 and somehow Darren Waller left wide open for a big gain of 28 all the way to the Bears 39. Then the Bears have to call timeout because of confusion. They need to figure out how they could leave Waller that wide open. Everyone knows who's getting the pass.
Bears miss four tackles on a screen to Jacobs and he gains 8.
Raiders get two holding penalties and I guess the one on guard John Simpson is worse. So they take that one. 
A 12-yard wideout screen on first down and the Bears were outnumbered on that side of the field. Then Jacobs for 3 up the middle. 
Fields being looked at on the sidelines. He was plastered on a scramble up the middle a yard short. It was a poor scramble attempt because it came out of a crowd and he waited so long before going right into the linebackers. 
Yannick Ngakoue jumps offsides. Third-and-4. Then Fields with 3 on a scramble and a punt.
Overthrow to Cole Kmet to the sideline deep. They gave the time to Fields but it was more  of a max protect
Damien Williams gets 1 off left guard.
Grant dangerously fields a put at the 2 but returns it to the 19.
Short toss and Roquan Smith wraps it up to force a punt. Coverage was solid as Derek Carr had nowhere to go.
Quinn with a stuff for no gain on first down and on second down Tashaun Gipson nearly gets the tipped interception. Third-and-10
Fair catch at the 27 for Raiders' Hunter Renfrow.
Jason Peters jumped but they didn't see it, and a safety blitz forces a throwaway by Justin Fields.
Williams gets 1 on second down and it's third-and-8 at the 30.
A second-down false start by Germain Ifedi offsets a 6-yard run by Damien Williams
As predicted here, the Bears started with an extra offensive lineman, Alex Bars. Didn't have that other blocking tight end.
Jakeem Grant's first return is a broken mess but he makes it back past the 25 anyway.
Pregame
Bears are down to three tight ends with Jesse James missing due to personal reasons and J.P. Holtz injured. This means it's Jesper Horsted time if they go three tight ends. The reason for going three tight ends is to block most of the time, and Horsted is not a blocker. Look for some extra offensive linemen on the field at times then in certain short yardage situations, too.
The Raiders have only four inactives after placing several players on IR including CB Damon Arnette and CB Trayvon Mullen.
As expected, Khalil Mack is playing. Raiders shouldn't have anticipated otherwise.
Passing along this stat from SI's Albert Breer, Jalen Hurts 12 of 20 for 35 yards. That's worse than 6 for 20 for 68 yards.
Anthony Miller let go by the Texans because Danny Amendola is back?  That shows how little they actually saw from Miller if Amendola can supplant him. Amendola will be 36 years old in a couple weeks. Some Bears fans on social media talking like they should sign Miller back. They did get more production from him than they have so far from Damiere Byrd, Marquise Goodwin and Breshad Perriman all rolled into one but Miller signed off on Chicago with the way he departed. He brought as much heartache as production. As for the other receivers, I would look for the Bears to let Jakeem Grant challenge them because he was a halfway decent threat last year in the slot for the Dolphins even though he really is a return man above everything else. Needs to learn the offense. It would be nice to see if Perriman has learned it yet. He hasn't been on the field game day yet and has been here now in his fifth week.
Inactives
Bears
QB Nick Foles
TE Jesse James
WR Breshad Perriman
LB Joel Iyiegbuniwe
TE J.P. Holtz
DE Akiem Hicks
 Raiders
DT Damion Square
T Jackson Barton
RB Peyton Barber
DE Malcolm Koonce
Twitter: BearDigest@BearsOnMaven