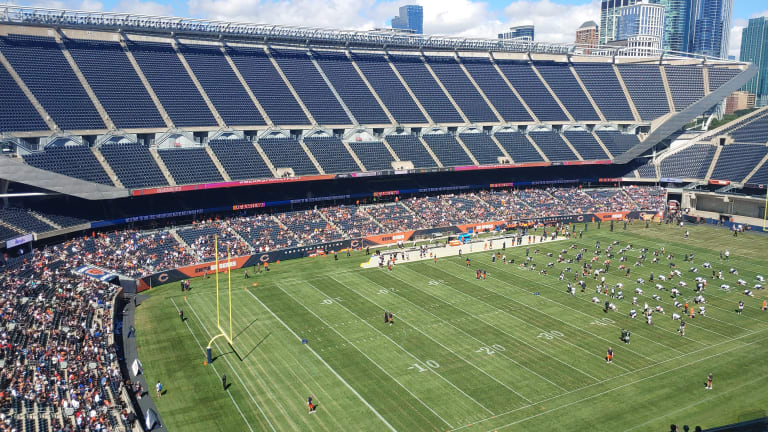 Bears Fan Fest Live Blog
Bears commentary and report live from Bears Fan Fest at Soldier Field on a day when Roquan Smith said he wants to be traded.
Bears Family Fest Live Blog
Scrimmage ends. Bears win.
Fields scores twice on scrambles in red zone scrimmage. Legit scrambles, not the kind where the defense would have sacked him. That should be a real weapon near the goal line. Bears didn't use his mobility down near the goal line correctly last year.
DeAndre Houston-Carsoaln called for a hold and wasn't too happy, complained to officials. Nsimba Webster finished off the second-team drive by taking a wide receiver screen into the end zone from 20 yards.
This has been one of the longest sequences of full-squad scrimmaging in camp. 
Robert Quinn with a sack. They let the play go for a Fields scramble. Quinn handled rookie Braxton easily on that one, then a play later came around him again to hurry a Fields throw incomplete in the end zone. Quinn really goes at  his own pace in camp. Wise veteran.
Pretty 20-yarder over the middle to crossing Equanimeous St. Brown starts another set for Fields. Then a short out to Chase Allen, getting some work with first team. Fields is throwing right now to backup receivers, Isaiah Coulter, Nsimba Webster, and Dazz Newsome.
Chris Finke with the second impressive catch he made in this set, but this one broke for a long TD run after he came over the middle. Prediction: He'll be a fan favorite in preseason games. 
Tight end Jake Tonges over the middle for 10. Has been consistently getting open in passing game among reserves. Showing up more as a receiver in camp than Chase Allen, the other undrafted rookie tight end.
Fields forces a ball deeper in zone and Matt Adams dropped an easy interception. Not a good QB decision. A few downs later he throws one away. That should have been the option on the near pick. 
Fumble! Sharpe recovers it after Fields lost it on either a jet sweep or fake jet sweep. Improving with fakes is one underrated way Fields can still improve greatly.
Full scrimmage again. Braxton Jones at left tackle today, Riley Reiff at right tackle. 
We'll hear from Matt Eberflus after practice for the first time since they had information on N'Keal Harry's injury. Doubtul anything will be mentioned about Smith's trade request. They have avoided talking about him throughout camp.
Breaking down into group work for special teams. Chris Finke, Kevin Shaa, Khalil Herbert, Nsimba Webster in the deep return roles for reps. 
Roquan Smith has been spotted on sidelines.  
Very small crowd compared to other years they've held this, but it's not unexpected when they hold it on Tuesday morning.
Kindle Vildor on the field practicing after missing practice before the day off on Monday. However, no Kyler Gordon still.
Wide receiver Velus Jones Jr. still not participating. He went out with an unspecified minor injury before Monday's off day.
Cornerback Duke Shelley still out. It's difficult to be in his situation, being challenged at slot cornerback by Tavon Young and Gordon and unable to practice. 
Team running thrugh individual work, Justin Fields with his depleted receiver corps due to injuries to Jones, Byron Pringle (quad) and N'Keal Harry (ankle).
 New Bears LB DeMarquis Gates with an interception of Trevor Siemian while covering Khalil Herbert in one-on-one passing. He must be going for the Alec Ogletree award. Last year Ogletree arrived at  practice and made one interception after another when no one else was doing it.
Full scrimmage now and check down to Tajae Sharpe for  8 yards by Fields. He's quickly developing a connection with the former Falcon/Titan. 
Fantastic one-handed grab by Darnell Mooney along the sidelines. Mooney hasn't shown a lot of verticality but if he's going to be No. 1 receiver he'll need to bring out the full arsenault.
Backup QB Trevor Siemian neatly stepped up into the pocket and seeing no one open flipped it to Trestan Ebner on the sidelines. Ebner has hands like a receiver and knows where to be against coverage.  Showed this at Baylor.
More open in the zone coverage today for Fields underneath and Mooney caught a 12-yarder over the middle. Passing game looks a little more crisp in this workout as they go against a combo of starters and subs. Big tight end Rysen John with a 50-yard catch wide open down sidelines from Nate Peterman. Blown coverage. How do you miss a 6-foot-7 tight end?
Third team offense hit with illegal motion by refs working this practice on screen to Darrynton Evans.  They had gone a few practices without being bogged down by false starts after it was  a problem early in camp.
Fields might be working better with Sharpe but the two couldn't connect on a bomb down the sidelines. That's entirely Fields' fault on the overthrow. Sharpe wide open. 
Bears mixing in the run and pass in this scrimmage. David Montgomery getting some runs inside. 
Fields with a shovel throw on the run in scramble mode. He's been doing that fairly well in practices. Good thing. He may need to do it often if this line doesn't come around.
Twitter: BearDigest@BearsOnMaven