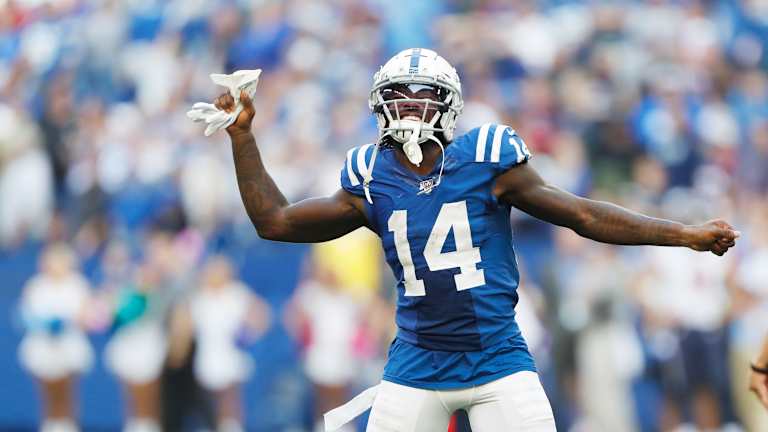 Unlikely Heroes Help Propel Colts Past Texans
Colts claim first place in AFC South Division for first time since 2015 with a hard-fought, 30-23 home win over the Texans at Lucas Oil Stadium.
As unexpected highs and lows go, the Indianapolis Colts raised more eyebrows on Sunday.
Well, they actually did more than that. They seized first place in the AFC South Division with a 30-23 home win over the defending division champion Houston Texans at Lucas Oil Stadium.
It's the first time the Colts have occupied the division penthouse since Week 9 in 2015. Yeah, it's been a while.
The Colts did it with solid defense, starting strong in not allowing a first-half touchdown and finishing that way with a Darius Leonard interception in the final minute. The Colts did it with solid offense, including downright stunning contributions from wide receiver Zach Pascal and tight end Eric Ebron.
Pascal, a second-year pro with three career TDs, caught two scoring passes, the latter giving the Colts a 28-16 lead late in the third quarter. Ebron, known mostly for his drops this season after making his first Pro Bowl last year, came down with a one-handed TD grab in the third quarter that immediately ranks as one of the NFL's best receptions of the year.
It was so good, the 4-yard TD reception was initially ruled incomplete. Upon further review, yeah, somehow No. 85 snagged that football with only his right hand and got both feet in bounds in the back of the end zone.
Big picture, upon further review, after many couldn't be faulted for fearing the worst when quarterback Andrew Luck retired in August, these Colts (4-2) have exceeded the expectations of most to be where they are in late October. As Colts general manager Chris Ballard cautioned after Luck's unexpected retirement in preseason, don't write this team off.
That sounded like just overly optimistic talk at the time. As it turns out, Ballard has been proven prophetic because he's built a decent team that's been able to persevere at least in the short term when all seemed lost.
Quarterback Jacoby Brissett had a career-high four TD passes in outplaying Texans quarterback Deshaun Watson, who had only one scoring pass with two interceptions. Defensive end Justin Houston had two of the Colts' three sacks of Watson, who wasn't able to scramble so effectively because he was shadowed by Leonard.
It was fitting that Leonard finished the game off by catching a tipped pass for an interception at the Colts' 32 with 26 seconds remaining. This was his first game back after missing three in concussion protocol. Not surprisingly, the defense was much better with "The Maniac" back where he belongs.
Back to that big picture and keeping a level head in terms of perspective, there's still 10 regular-season games to play. Beating the Texans (4-3) at home essentially translates to holding serve against a rival. The Colts still have to venture to Houston in November. That penthouse position is by a slim half game at the moment.
But based on back-to-back wins against the Chiefs and Texans, and considering this was the start of a favorable five-game stretch with four home games, the Colts are trending in quite a positive direction. And look at the next four foes — Denver (2-5), at Pittsburgh (2-4), Miami (0-6) and Jacksonville (3-4).
The Colts have positioned themselves for productive run. And they endured this day despite a fourth-ranked rushing attack being stuffed for just 62 yards on 26 carries.
That's because head coach Frank Reich knew his team would need to throw the ball to win. Brissett completed 26 of 39 passes for 326 yards and four TDs. Reich also got creative with a couple of plays, most notably a double pass play in which Pascal overthrew uncovered running back Nyheim Hines for what would have been a touchdown.
The Colts offensive line got flagged three times for holding Texans All-Pro pass rusher J.J. Watt, who had six quarterback hits but not one sack. Brissett was only sacked once because he failed to read a safety blitz in time and tried to scramble.
When he made his only costly mistake, fumbling away a snap to give the Texans possession at the Colts' 4 in the second quarter, the Colts defense stiffened and forced the visitors to settle for a field goal as the home team held onto a 7-6 lead.
Colts Pro Bowl wide receiver T.Y. Hilton, who has had some of his best career games against the Texans, didn't have a catch until midway through the second quarter. He uncharacteristically dropped a couple of passes. But the standout wide receiver got it together with six catches for 74 yards and one TD.
That made Pascal's six catches for a 106 yards and two TDs so important. The wide receiver, who entered the league undrafted in 2017 and bounced around through Washington and Tennessee before being claimed off waivers by the Colts in 2018, provided career bests in receiving yards and TDs and tied his previous best NFL game in receptions.
Again, much like his team, the effort qualified as most unexpected.
As fans filed out of Lucas Oil Stadium, a boisterous Texans backer snickered at euphoric Colts supporters by saying, "Play somebody!"
Well, the Colts just played the Texans and won. And just like the Texans, the Colts were coming off a road win over the Chiefs, who reached the AFC title game in January.
It's still early yet, but the Colts have every reason to feel pretty darned good about themselves.