Steven Stamkos remains a work in progress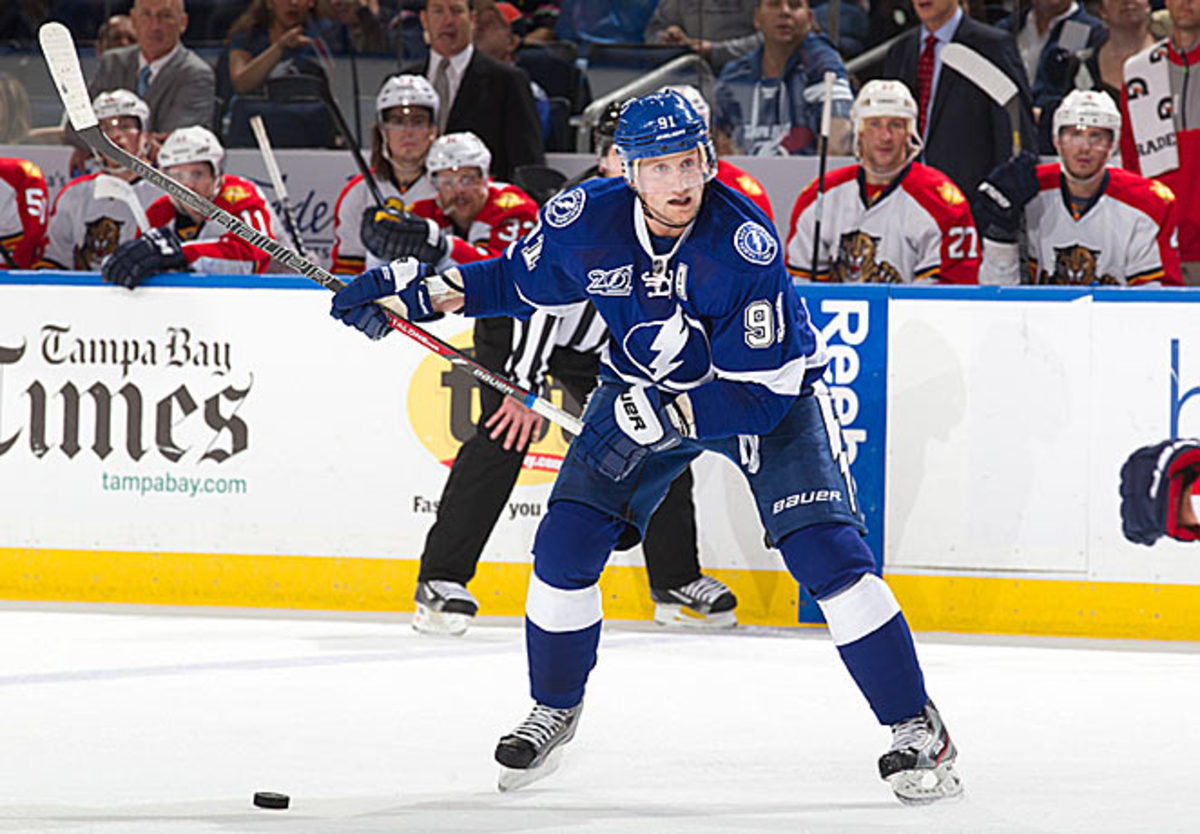 Since the Rocket Richard Trophy was introduced in 2000, only Pavel Bure and Alex Ovechkin have won the goal-scoring title in consecutive years. It's a trend that's likely tied to the fact that prolific goal-scorers quickly become the object of study in the video rooms of opposing teams. In this abundant digital age of advanced statistical analysis, tendencies and habits are easier to identify. A sniper's favorite move can be dissected with relative quickness; his favorite spots on the ice become common knowledge. The importance of evolving one's game, then, has become the key to staying on top of the league. Few understand that better than Steven Stamkos of the Tampa Bay Lightning.
"You have to adjust your game," says the 23-year-old center, who earlier this season rode a five-game scoring streak. "That's something that I learned from a guy like Marty [St. Louis]. You have to reinvent your tendencies on the ice."
That's often easier said than done. Just ask Ovechkin, who spent five years seemingly scoring at will but hasn't broken the 40-goal mark since 2010. It's not that the Washington Capitals winger can't do it anymore. He scored 19 goals in 31 games with the KHL's Dynamo Moscow during the lockout (a pace that would have seen him score 50 over the course of 82 games). It's that his NHL competition's intelligence and familiarity with him is making it harder. Corey Perry, after scoring 50 in 2010-11, saw his production take a nosedive last season when he netted 37, and he has just a single goal through his first 12 games this season. Vinny Lecavalier, the Richard Trophy-winner in 2007 with 52 goals, hasn't scored 30 in any of his last four seasons.
Stamkos shared of the goal-scoring title with Sidney Crosby (51) in 2009-10, and started the following season on a tear. But by late in the schedule, his offensive production cooled to a point where over the final 30 games, he netted just six goals. When he took the ice last season, one that would see him score 60, he brought a more diversified game. He wasn't relying nearly as much on his lethal one-timer, a shot so heavy and quick that it was deemed nearly unstoppable. But after a couple of seasons, opponents began to realize where he'd be; goalies knew where he would aim. The shot, though still intimidating, was no longer as effective as it had been.
"A lot of people still to this day think I score a lot of goals on the one-timer," he says. "In reality, the last couple years, I could probably count on both hands the number of times I've scored that way. Especially on the power play, I don't even play on that side anymore."
His reliance on and success with the one-timer has waned over the last two years. From 2009-2011, Stamkos scored 96 goals in all, and nearly a quarter of them came off slap shots. By contrast, of the 67 he's scored since, just 10 were off one-timers. Last season, the vast majority of his goals came from wrist shots and a snap shot that has become more and more effective as he's grown into his 6'1" frame. At 196 pounds, Stamkos is some 20 pounds heavier than he was when he reported to rookie camp in Tampa Bay back in 2008, and most -- if not all -- of that weight has been lean muscle, thanks to intense off-season workouts and a conscientious diet.
"Having confidence in your physical attributes now, whereas when you first get in the league you were tentative, now you're eager to go into those (contested) areas," he says. "You're expecting to win battles and expecting to outmuscle a guy in front of the net for a dirty goal."
Stamkos' first four goals of this season came within 25 feet of the net, and his shots have varied widely. But since his five-game streak early this season, he has been held goalless for his last five games and the Lightning have begun to slide, now sitting just out of eighth place in the Eastern Conference. Has he gone cold or have opponents been adjusting?
It might be time for Stamkos to push himself out of his comfort zone once again. But now, with so many more weapons in his arsenal, chances are it won't be long before he regains his scoring touch. Still, that doesn't mean he won't work for it.
"There's people who work hard and there are people who are relentless. He is relentless," says Lightning coach Guy Boucher. "He might have a bad game, but it will never be because of his work ethic."
And that makes Stamkos a formidable and constant work in progress.