Short season putting heat on NHL coaches and GMs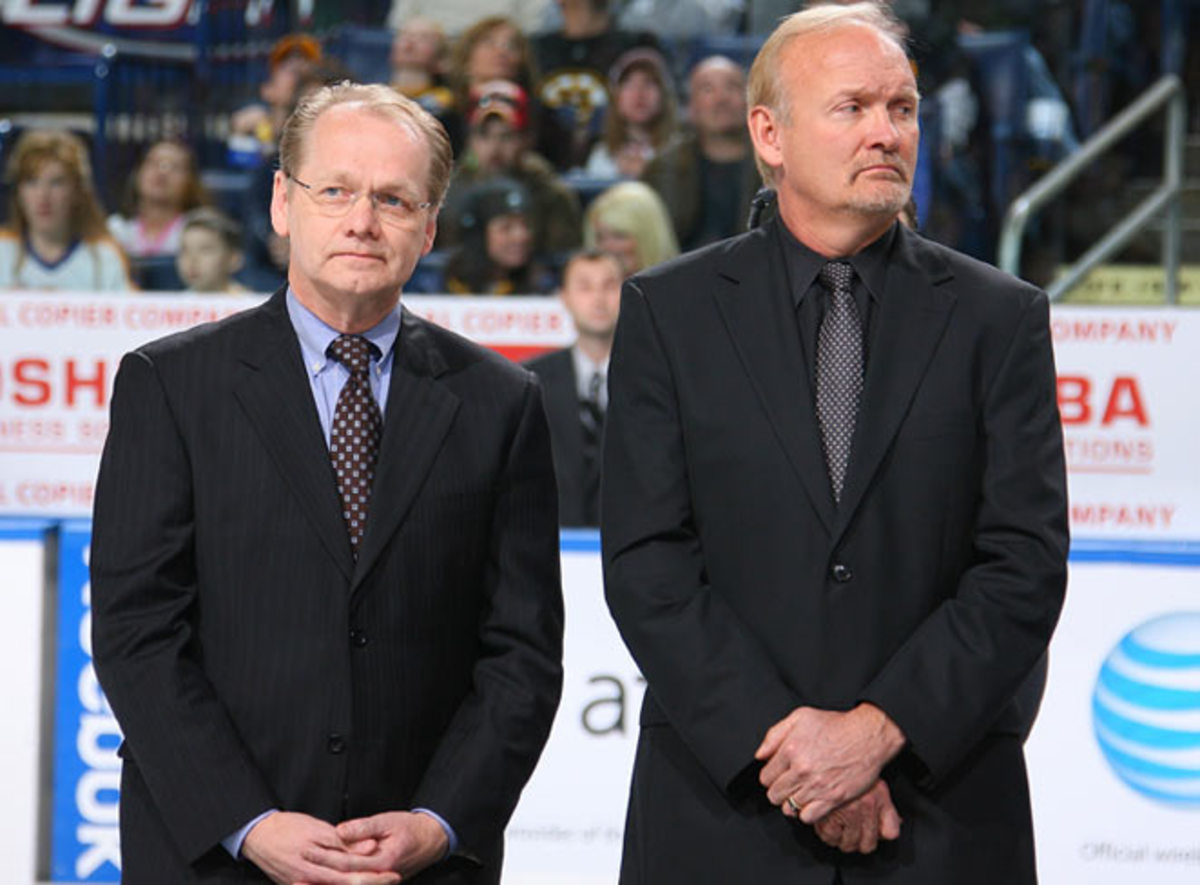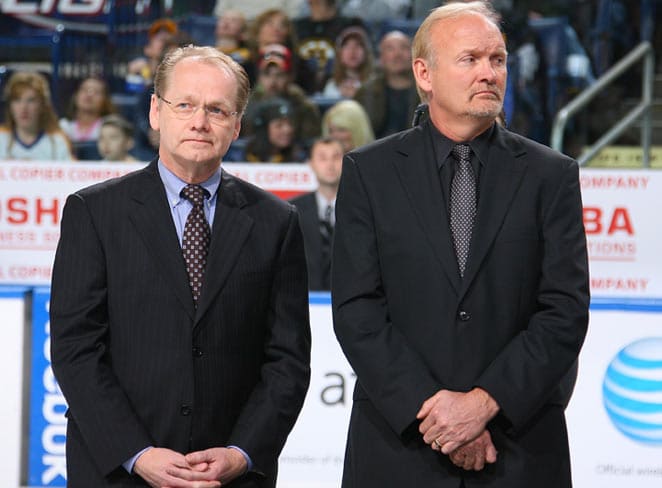 Unless you get some perverse enjoyment from the suffering of others (and, strangely, Germans actually have a word for that -- schadenfreude) -- thinking and writing about coaches and GMs who may lose their jobs is really no fun. If you've ever lost your job -- and I've lost a few -- you understand.
But with the firing of coach Lindy Ruff by the Sabres this week and the dismissal of GM Scott Howson by the Blue Jackets earlier this month, it's clear that even this lockout-blunted season won't offer any reprieves. It may not be fair or wise to judge anyone on the basis of a compressed schedule played after a week's worth of training camp and with precious little practice time, but fair and wise is irrelevant if someone in charge believes that immediate change is necessary.
Running a hockey team is a hard, results-oriented business. Coaches are at the mercy of the GMs who assemble their teams. GMs are at the mercy of team presidents and owners and how much they are permitted to spend. Things don't always go according to plan, which is why these men are all, cruelly, hired to be fired.
Last season, we looked at five coaches who were on the hot seat. Four of them didn't survive the campaign. The fifth was gone shortly after it ended. This list is even longer and it includes GMs.
I hope I'm less accurate this time.
Buffalo Sabres
The axing of Ruff, who many believe is a good coach, puts the focus more squarely on GM Darcy Regier for the Sabres'recent showing -- no playoffs series wins during the past five years and missing the postseason in three of them. Owner Terry Pegula opened his checkbook when he took over and all the new faces that were brought in just aren't producing W's. Pegula may have given Regier a vote of confidence in January, but Regier gave Ruff one in early February.
MUIR: Regier must go, too
Calgary Flames
GM Jay Feaster has been a loyal soldier since he replaced Darryl Sutter in late December 2010, but he has an aging core of veterans who management or ownership -- or both -- refused to deal when they still had market value. With little in the way of high-end prospects in the pipeline (Hockey's Future ranked the Flames 23rd among NHL organizations), this is a situation that's crying out for a top-to-bottom overhaul. The question is: does ownership realize it?
MUIR: Flames who could be on the trading block
Colorado Avalanche
Their improved record last season positioned them to be a playoff team this year, but without Ryan O'Reilly and with Gabriel Landeskog on IR (11 games and counting), there's a danger that the Avs won't take that next step. Coach Joe Sacco is under tremendous pressure and GM Greg Sherman is under tremendous scrutiny but, as always, little happens in Denver without the say-so of team president and éminence grise extraordinaire Pierre Lacroix, although his low profile keeps him insulated from attention. If things don't improve, Lacroix may pull the trigger on one or both men, but the real decision-maker won't change.
Columbus Blue Jackets
The hiring last week of new GM Jarmo Kekalainen means that Coach Todd Richards is working for someone who didn't hire him. Most of the time, that means a coaching change is coming and, given the fact that the Jackets continue to reside in the Western Conference basement, it's a pretty safe bet that Kekalainen and team president John Davidson will want their own man behind the bench.
Dallas Stars
All indications are that owner Tom Gaglardi is a hands-on guy, one who has his sights set on the Stars becoming a Stanley Cup contender again within three years. That means GM Joe Niewendyk and coach Glen Gulutzan are both being watched closely. It is very unlikely that Gaglardi would want to make changes during the season, especially with his team hovering around postseason contention. But if Dallas misses the playoffs, it could spell trouble for one or both.
Edmonton Oilers
Unlike their Albertan cousins to the south, the Oilers have collected a lot of young top-end talent but -- as so many people have observed for so long -- the front office has continually neglected to acquire players who can effectively shut down the opposition. Edmonton has a seriously imbalanced roster that isn't developing as it should. Right now, the Oilers look to be in danger of a seventh consecutive non-playoff season. Owner Darryl Katz has been consumed with getting his new downtown arena built, but now that the matter has been resolved, you have to wonder if he might turn his attention more fully to the on-ice product and question its direction.
Minnesota Wild
GM Chuck Fletcher has been on the job in St. Paul for three seasons and while he's fully stocked the cupboard with excellent prospects, the Wild haven't really made any moves up the ladder in the Western Conference. Owner Craig Leipold lavished multi-millions last summer on free agents Zach Parise and Ryan Suter, so if he's impatient for immediate results after three consecutive playoff misses, the Wild probably have to make the postseason this time for Fletcher and coach Mike Yeo to breathe easy.
New York Islanders
You really never know about this team with Charles in charge. Mr. Wang has stood by GM Garth Snow despite five straight non-playoff years, in some measure because he hasn't spent very much on players compared to the rest of the NHL. How long coach Jack Capuano remains in place could depend on whether the Isles finally make the postseason. But in any case, if the rumors of Wang selling the club prove true, it could be bad news for both Snow and Capuano.
New York Rangers
Expectations have been elevated at Madison Square Garden and, quite simply, the Rangers need to make the playoffs and probably a deep run for coach John Tortorella to survive. An early elimination wouldn't look good, and missing the party altogether could be unacceptable to GM Glen Sather and the Garden Corp.
San Jose Sharks
After years of being on the verge of a championship, you have to wonder if ownership may start thinking that the window is closing on this group and its chances for the glorious trip to the Stanley Cup Final that was envisioned. If so, both GM Doug Wilson and coach Todd McLellan could be under scrutiny, but it's highly doubtful that anything will happen during the season.
Tampa Bay Lightning
There have been rumblings for a while that GM Steve Yzerman, whose team took a step backwards last season, is no longer enamored with coach Guy Boucher. There's no saying how accurate that talk is, but Yzerman rebuilt the Lightning's defense and got a decent goalie, so should Tampa Bay not qualify for the playoffs or if he feels the season is in danger of going down the drain, Yzerman might make a change. He would have some options with both Ruff (a Team Canada 2010 cohort) available and highly-touted Jon Cooper continuing his successful work with Tampa Bay's AHL club.
Washington Capitals
Like the Sharks, the Caps have labored under high expectations for several seasons and fallen short of advancing as far as owner Ted Leonsis had hoped. Their poor start this season probably didn't help matters, nor has deposed coach Bruce Boudreau's work in Anaheim. Missing the playoffs could mean curtains for GM George McPhee and coach Adam Oates. It's possible that even making the playoffs but dumping out early might result in the same fate.
Winnipeg Jets
Last season's feel good story will feel less good if the Jets don't make the playoffs. At least last season they put on a good show for the home crowd, but now, strangely, their record at the MTS Centre is sub-.500 and they're playing better on the road. If they're not playing anywhere after 48 games, however, coach Claude Noel could take the fall.