Lightning fire Guy Boucher with team plummeting in standings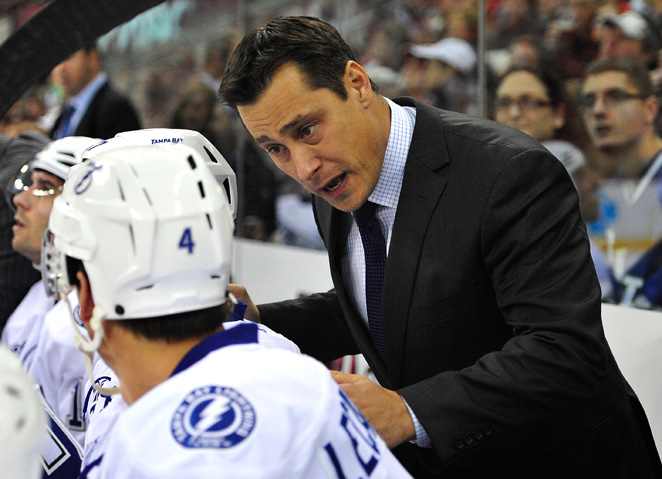 TAMPA, Fla. (AP) -- The Tampa Bay Lightning fired coach Guy Boucher on Sunday, with the team in next to last place in the Eastern Conference and on its way to missing the playoffs for a second straight year.
Assistants Martin Raymond and Dan Lacroix ran the team Sunday night in Winnipeg in the Lightning's 3-2 loss to the Jets.
"Guy has poured his heart and soul into the Lightning organization for these past three years and we appreciate all the work he has done," general manager Steve Yzerman said in a statement. "But ultimately I am not satisfied with the direction we are heading and I believe making a change today is in the best interest of our franchise."
Boucher's dismissal came one day after the Lightning fell behind by four goals in the first period of a 5-3 loss at Ottawa.
MUIR: Yzerman deserves the blame
The Lightning are 13-18-1 and will likely miss the postseason again after reaching the conference finals during Boucher's first year. He was hired as the Lightning's seventh coach in June 2010.
Tampa Bay entered this season with playoff aspirations after adding goalie Anders Lindback and defensemen Sami Salo and Matt Carle. Lindback and captain Vincent Lecavalier have been among the players sidelined by injuries.
Boucher's hiring was Yzerman's first major move as GM. Boucher had only one year of professional coaching experience, none on hockey's highest level. But Yzerman was not deterred from making him the league's youngest coach, saying the 38-year-old had adapted to the players, personalities and level of play he encountered at every stage of his career.
Boucher was a junior league coach for three years before taking over the American Hockey League's Hamilton Bulldogs, Montreal's top minor league affiliate. He led Hamilton to the second-best record in the AHL then turned down a chance to coach the Columbus Blue Jackets.