NHL playoffs: Red Wings are lesson in being realistic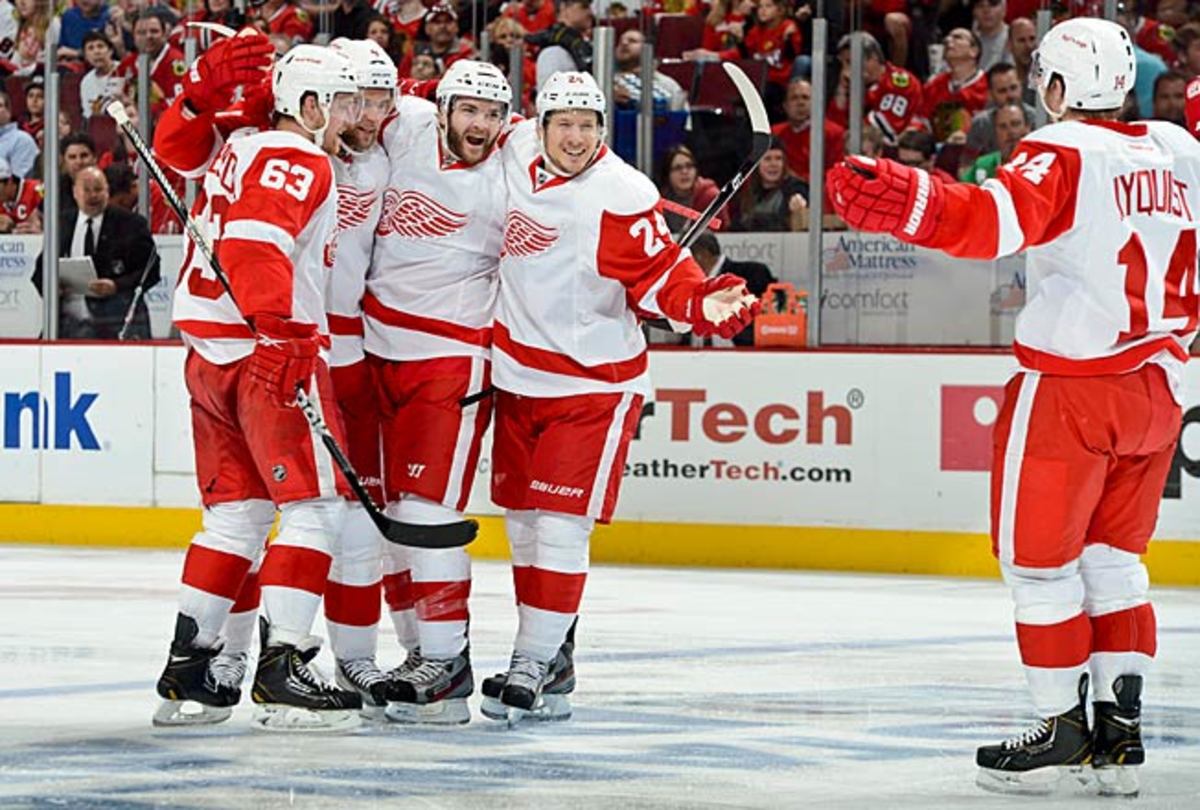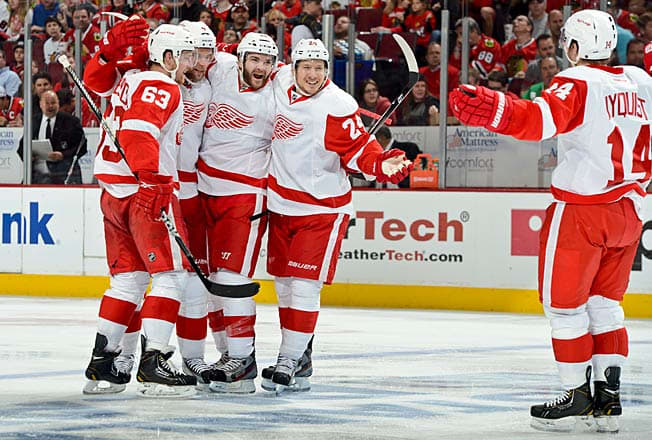 Are you surprised that the Red Wings returned home to host the Blackhawks on Monday night at Joe Louis Arena with their second-round series tied at one game apiece? Detroit was rather dominant while defeating Chicago in Game 2 and has, for the moment, wrested home ice advantage away from the favored Hawks. Among those who might be somewhat surprised -- pleasantly so -- is GM Ken Holland because his Red Wings are thought to be a team in transition.
GAME 2:Cazeneuve's thoughts | Recap | Boxscore | Highlights | Complete postseason schedule
In fact, on January 16, a few days before this short season began, Holland told a gathering of the Detroit Sportscasters Association, "There's the possibility that we might not make the playoffs this year."
His words seemed shocking because Detroit's last failure to reach the postseason occurred in 1990, but they weren't mean to be subterfuge. The fact was that the Red Wings had lost a pair of stalwarts -- the great defenseman, captain, and future Hall of Famer Nick Lidstrom, and one of their heart and soul guys in big winger Tomas Holmstrom -- to retirement. Veteran blueliner Brad Stuart had departed via free agency. A group of young players and new faces was coming in. How was this going to work?
There was much uncertainty and Holland spoke wisely. No sense in creating heightened expectations for a club that had such big holes to fill. Had he promised the fans that his offseason moves and promotions of youngsters from AHL Grand Rapids were guaranteed to get the Wings into the postseason and the team stumbled, the boos filling Joe Louis Arena would have been audible throughout the NHL -- hardly creating a great environment for the players, especially the new ones.
So Holland tempered his message, simultaneously challenging the team and coaching staff to prove that they could make the postseason tournament. It came down to the last few games of the regular season, but at the finish line, coach Mike Babcock had steered his reformulated club into the Western Conference's seventh spot. Detroit's far flung fan base -- which is more accustomed to playoff appearances (not to mention division, conference and Stanley Cup championships) than any other club's over the last two decades -- couldn't have been happier.
Holland has provided us all with a valuable lesson in how a team should manage fans' expectations.
Let's contrast that with how things roll in Washington, where Capitals owner Ted Leonsis, who now seems to have recognized that he's fostered inflated hopes for his club, has historically promised fans nothing but ongoing success and even the Stanley Cup, in fact, multiple Stanley Cups.
It's great to be optimistic and enthusiastic -- Leonsis seems to have those admirable qualities in abundance and they are essential attributes for success in sports or business. But it's also important to be realistic.
To win the Cup, everything has to fall into place and go just right for four rounds over two months. Your best players have to be your best players, goalies can get hot or cold, pucks can take strange bounces, sticks can break, refs can make or miss tough calls, players can wear down and get injured. The Stanley Cup is the most difficult championship to win in all of sports and parity in the NHL means, as Holland told the Detroit sportscasters, "all 16 teams that make the playoffs now can win the Stanley Cup." Only one of the 16 clubs gets to be that fortunate. The other 15 fall short. Those aren't very good odds on which to base a promise.
Asked a few weeks ago by Washington sports radio host LaVar Arrington what it would mean to him to win the Cup, Leonsis seemed to back off a little, saying, "I'm not gonna talk about that. I think that just jinxes it. I really think that the key thing for us is to embrace the opportunity....
"You can't take for granted your career, you can't take for granted making the playoffs and being able to compete," he continued. "And this group of guys has been together for a while now, and they're all entering their prime. And I don't think the window opens or closes; I'm hopeful that this team can continue on a run and make the playoffs 10, 15 years in a row. But, no time like the present, and I'm hoping that they embrace that, and that this is a better run than we've had in the past."
"Ted Leonsis did not used to be shy when discussing the Stanley Cup," Dan Steinberg observed in The Washington Post. But, "the owner appears to have taken a more conservative approach in recent months."
It could be, however, that the years of Leonsis' promises and raised expectations have created a pattern of high hopes and crashing disappointments for Caps fans. It's hard not to get excited about the talent that GM George McPhee has collected over the years and the team seems to be -- finally -- on the right track with Adam Oates behind the bench after years of Bruce Boudreau's run-and-gun style followed by Dale Hunter's circle-the-wagons approach. The Caps remain one of the NHL's glamour clubs with good reason. They've been a very good regular season team for a number of years.
But regular season hockey and playoff hockey are very different. On the Washington Post blog "Capitals Insider," stats guy Neil Greenberg showed that the Caps, who have a history of strong regular seasons -- albeit in the Southeast Division -- have a terrible record in their 33 potential series-clinching games: 11-22, the worst percentage among all NHL clubs (.333). He says they are winners, but they are also "chokers."
Capitals fans are more than mildly upset by the repeated failures, but I think part of the reason for their annual heartbreak is that they, and perhaps even their team, have been expecting victory when the playoffs roll around. You can't just show up and win the Stanley Cup based on your talent, not without doing some very difficult things. It's not elevated expectations that result in victory, but elevated play -- the extra try, the attention to detail, the in-series adjustments, the leadership in the room and on the ice, the cohesion from every guy on the bench buying in to the team concept, and the tone that is set at the top of the organization.
Talent is one thing, getting that talent to win is another.
At the start of the season, Ken Holland didn't know if Niklas Krnowall and Jonathan Ericsson could combine to fill Lidstrom's role on the blueline. He didn't know if Justin Abdelkader would take the next step and become a consistent power forward, or if the new young core of the team -- defensemen Brendan Smith and Jakub Kindl, and rookie forwards Damien Brunner, Joakim Andersson and Gustav Nyquist -- would sink or swim. He probably didn't even know how good a captain Henrik Zetterberg would be. There were far too many unknowns to make promises, so Holland didn't promise anything.
It would be overly simplistic to say that well-managed expectations are why Detroit is in Round 2 and the Capitals are not. Stanley Cup playoff success is much more complicated than that. But, handling those expectations well does matter. As has so often been the case, every team can learn something from how the Red Wings went about their business this season.