NHL playoffs: Rangers scratch Brad Richards for Game 4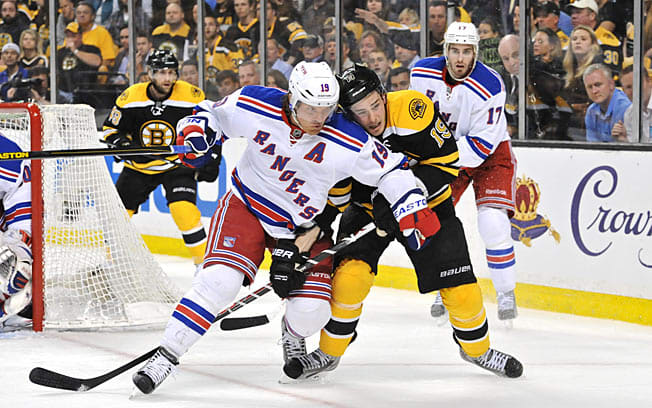 NEW YORK (AP) -- Struggling Rangers center Brad Richards said he will be a healthy scratch when New York faces elimination in Game 4 against the Boston Bruins on Thursday night.
Richards, a star player earning $12 million this season, stayed on the ice with the extras Thursday during the morning skate. He then confirmed that Rangers coach John Tortorella had called to tell him he would be sitting out.
"I don't know if surprised is the right word for it," Richards said. "I'm disappointed."
More changes could be made to New York's roster for Thursday night's game. Tortorella wouldn't reveal what his lineup would be before the team took the ice for the morning skate.
CAZENEUVE: Answers to Rangers' woes start with Tortorella
Defenseman Anton Stralman, who was injured in the second period of Tuesday night's loss, will likely be out of Game 4. Veteran Roman Hamrlik could be the one to take his place. Healthy forwards Arron Asham and Chris Kreider might also be replaced.
The 33-year-old Richards, an alternate captain who has seven years left on the nine-year, $60 million deal he signed in July 2011, has been largely ineffective in 10 playoff games. He has registered one goal and no assists and posted a minus-3 rating.
He had already been dropped to the fourth line and had his ice time cut. Richards' inability to get New York's woeful power play going has left him as an odd-man out. He said that being on the fourth line made it difficult for him to be effective.
Richards, in his 12th NHL season, had only 10 shifts and a career playoff-low 8:10 of ice time Tuesday in New York's 2-1 loss to Boston in Game 3 that put the Rangers on the brink of elimination in the Eastern Conference semifinal series.
Richards is a prime candidate to have his contract bought out after this season. After this year's lockout, each team was given the option of two amnesty buyouts that could be used to terminate contracts before next season or the 2014-15 season.
The buyouts will cost two-thirds of the remaining amount on a deal - paid evenly over twice its remaining length - and will count against the players' overall share in revenues, but not the individual team's salary cap. A buyout for Richards would cost the Rangers $24 million over 14 years.
"Nothing's over," Richards said. "Work harder and try my best to never let it happen again."
Richards, who had 11 goals and 23 assists in 46 games during the regular season, was the Conn Smythe Trophy winner as playoff MVP when he and the Tampa Bay Lightning captured the Stanley Cup under Tortorella in 2004.