John Tortorella was a winner whose abrasive act grew tired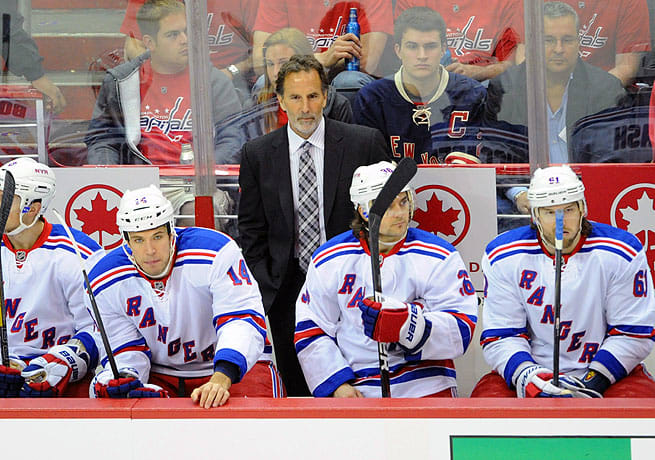 John Tortorella's New York Rangers were known for wearing down other teams with their tenacious play. Unfortunately, Tortorella ultimately wore down his own players and wore out his welcome in New York, falling short of a trip to the Stanley Cup Final in five seasons and leaving behind a swath of colorful language and unfulfilled promise. This is not to suggest that Tortorella had no successes. His teams played an honest game, blocked shots with every bruised bone in their bodies and won more games than they lost. Tortorella's greatest ally, captain Ryan Callahan, was a good fit for the coach, because Callahan is the type of player who will put his head through a wall and then ask where the next wall is. Tortorella loved that. But then there were the issues and incidents. Some may have been checkpoints in Tortorella's dismissal, but certainly there are images of the coach that stand out, the impression he left behind, and the players who felt his greatest impact:
"He stinks"
So maybe the Ranger power play was the product of bad playing rather than bad coaching, but when Tortorella was asked why Carl Hagelin, a talented forward, wasn't on the power play more often, he replied, "He stinks." Typical of Tortorella, he did make some valid points about Hagelin's speed game being a bad fit for the structure of a power play, but he also used the word "stinks" several more times during his answer. Hagelin is an impressionable 24-year-old trying his hardest and there are ways to get messages across in public -- say what you want in private -- without demeaning a young player. And if the power play stinks, does some of the team's inability to fix it hang with the coach? Beyond just the power play, if the team's personnel (smaller , speedier, skilled players) doesn't necessarily match the style of play (winning by doing gritty things such as hitting and blocking shots), does the coach need to adapt the style to match the roster or does the GM need to adapt the roster to match the style?
"He stinks," the follow-up
As a postscript to the original Hagelin comments, and a series in which his team didn't seem to perform for him, Tortorella was willing to accept some responsibility for not getting his front-line players to play front-line games. Rick Nash was largely silent for a number of postseason contests. Henrik Lundqvist, the Rangers' meal ticket and Vezina Trophy winner, talked in the past tense about his time as a Ranger, saying, "You know, I had a great time here in New York." Had? This was very different from the exit interviews players gave last year, when they were quick to complement the team and, by extension, their coach. The looks of resignation were very noticeable this time, as if even the key players were thinking it was time to move on and try something new.
Rocky Richards
When Brad Richards, New York's high-priced free-agent center, began sliding this year, Tortorella often defended the player who had won a championship with him in Tampa. Actually, Tortorella's use of Richards -- demoting him to the fourth line and then benching him for the last two playoff games -- is completely defensible. But the coach needed to let everybody know how defensible it was during a recent press conference, when he said: "Brad Richards is a helluva hockey player. He has had struggles here. It continues. Me putting him in that role does not help him. So I'd rather have him out and identify how we're going to run our fourth line. None of you's, don't put words in my mouth. It's not blaming Brad Richards. I've already heard enough of that crap already. He's a helluva hockey player that's having a helluva time. I need to make decisions for what I feel is right for the team to win tonight's game. That's why I make that decision. This is a Conn Smythe winner, a guy that I've grown up, a guy that I love as a person and as a player. Kiss my ass if you want to write something different. It's not about blaming that guy and I don't want anybody to pile on him. This is my decision and I make it for the hockey club."
Unsavory Avery
In between coaching stints, Tortorella tore into troubled forward Sean Avery during his stint as an analyst, saying, "He's embarrassed himself. He's embarrassed his organization. More important, he's embarrassed his teammates who have to look out for him. But it's the NHL. He's embarrassed the whole league. Send him home." Then Avery went on to play for Tortorella's Rangers and the two had an uneasy coexistence. Nobody knew when Avery would occasionally say inappropriate things or mock the game by face-guarding Martin Brodeur, but Tortorella allowed Avery to sit on one end of the bench away from the regular rotation of his linemates that applies to virtually every other player on every other team. Tortorella's explanation: "Sean is his own cat." For all the times the coach put his foot down, this would have been a time to do the same with Avery and tell him to knock off the nonsense.
Fan-dango
During Game 5 of the Rangers' playoff series against the Washington Capitals in 2009, Tortorella got into it with a Caps' supporter, squirting some water and jabbing his stick between panes of glass at an unruly fan who had tossed a beer on him. It was New York assistant coach Jim Schoenfeld who came in to play peacemaker, taking the stick from Tortorella's hands. Event staff was called in to fix the glass and the league suspended Tortorella for the next contest.
Reportage
Tortorella had a good verbal battle going with one local reporter a few seasons ago in which he told the man once to "Get the f--- outta here. I'm not going to answer any questions from you." He also asked the reporter if he had ever fought before. "You challenging me?" the man asked Tortorella. Sometimes if the games were dull, the postgame scrums would make up for them.
Boyle-d over
This was a picture of a frustrated and beaten-down player who, it should be noted, often defended Tortorella. Brian Boyle was having a tough game in the face-off dot against the Bruins in this year's playoffs. A lot of opposing centermen do. Boston has the best record in the league at taking face-offs. But after whiffing several times against Patrice Bergeron and company, Boyle sat by his locker-room stall and tore into himself for not being "able to win one friggin' draw." At one point, Boyle began talking about Tortorella and then cut himself off in mid-sentence. It wasn't the first time. The coach had benched him earlier in the season and Boyle seemed to take the demotion extremely hard, telling people that the coach had a right to expect better of him. This was an example of a player who felt he had let down his coach, but it left you wondering if the coach had done enough to enable him to succeed, if there enough details about how to improve to go with the mandates to improve. Boyle wasn't the only young Ranger who worked, but struggled to find his game. Brandon Dubinsky was dealt in the trade for Rick Nash after falling from 24 goals in 2010-11 to 10 the next season in the same number of games.
Never DeBoer-ing
It takes two to tango, but was there ever a more entertaining tete-a-tete than Tortorella yapping with Devils coach Peter DeBoer? The two had words while leaning over the ends of their benches a couple of times. Whether New York's Mike Rupp was jabbing Marty Brodeur when passing through his crease or whether the teams engaged in three fights just three seconds after an opening faceoff, just how many fans were wishing for DeBoer and Tortorella to drop the gloves, too?
Classic comment
Did he really say that? Okay, of course he was kidding, but the disclaimer was a day late and many dollars (as in a fine from the league) short. Tortorella's Rangers beat the Flyers at the Winter Classic in Philadelphia in 2012, despite the penalty shot that was awarded to the Flyers in the closing minute. Said Tortorella after the game: "I'm not sure if NBC got together with the refs to turn this into an overtime game . . . There are two good referees. I thought the game was reffed horribly. I'm not what happened there. Maybe they wanted to get it to overtime. I'm not sure if they had meetings about that . . . In that third period, it was disgusting."
No gift of Gab
In Marian Gaborik, Tortorella had one of the game's greatest natural offensive talents on his roster. Gaborik twice posted 40-goal seasons for Tortorella's Rangers, and the other parts of his game that the coach tried to get him to improve certainly got better as time wore on. But picture the mild-mannered Gaborik breaking his stick in the midst of a scoring slump this season. Tortorella tinkered with Gaborik's minutes, but the star forward could only manage nine goals in 35 games, and was clearly frustrated by the results, before he was traded. The stick-breaking was only a snapshot. What did it mean? Whatever tough love Tortorella tried to impart to his players in the name of making his team better just wasn't working.
In the end, Tortorella set a high bar he and his team weren't able to reach. The coach said it himself after the Game 6 loss to the Devils in 2012: "I just don't want us -- and you hear it so much and I won't accept it: 'You won a couple of rounds. You got into the third round.' That isn't good enough. We still have to find a way to win another round and get there. I just don't want this organization to sit still."