The 2004 NHL lockout: A light look back at a dark day (9/16/04)
On the tenth anniversary of the start of the catastrophic 2004-05 NHL lockout, a light look back at what was and what is now.
On September 16, 2004, after nearly two years of failed collective bargaining talks, the NHL and its players found themselves in a lockout situation for the second time in nine years. As both sides went to the mat over issues of a hard salary cap and "cost certainty" for a league that claimed to have only 11 profitable franchises and losses of $273 million in 2002–03, the NHL was again left with empty buildings; players. Referees and arena workers were also left without paychecks. And idle fans had nobody for whom to cheer. The following February, the NHL became the first of North America's major pro sports leagues to lose an entire season to a labor impasse.
A lot has changed, much of it for the better, in the 10 years since that dark day, although not without another labor dispute that ate up a large chunk of 2012–13. But in many ways, the NHL's lost season of '04–05 was an historical dividing line. Here's a quick look at some of the most notable facts from before and after the lockout, and at a few of the more memorable statements from the league's second great showdown.
"Bottom line, if they want a hard cap, we'll sit out the rest of our lives."—Maple Leafs defenseman and NHLPA rep Bryan McCabe​
GALLERY: Revisiting the 2004–05 lockout
Revisiting the 2004-05 NHL Lockout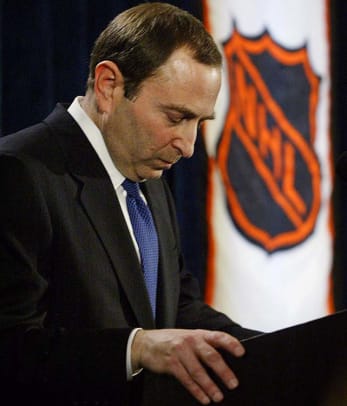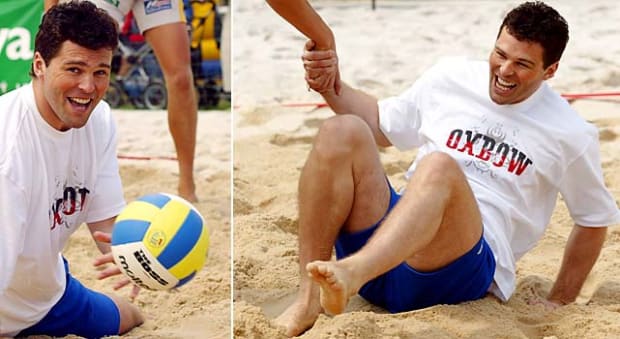 Best teams before the lockout: Detroit Red Wings and New Jersey Devils (3 Stanley Cups since 1994–95 lockout); Colorado Avalanche (2)
Best teams after the lockout: Chicago Blackhawks and Los Angeles Kings (2 Cups each—neither made the 2004 playoffs)
Average player salary before the lockout: $1.83 million (up from $892,000 in '96)
Average player salary now: $2.4 million
Top paid players before the lockout: Peter Forsberg,JaromirJagr ($11 million per year)
Top paid player now:Shea Weber ($14 million)
"They're comfortable, they're presumptuous, they know they're going to play and they don't have to fight for the position." — Bruins owner Jeremy Jacobs, commenting on the greed of the players
GALLERY: 20 Best Players at the 2004 lockout
NHL's 20 Best Players by the 2004 lockout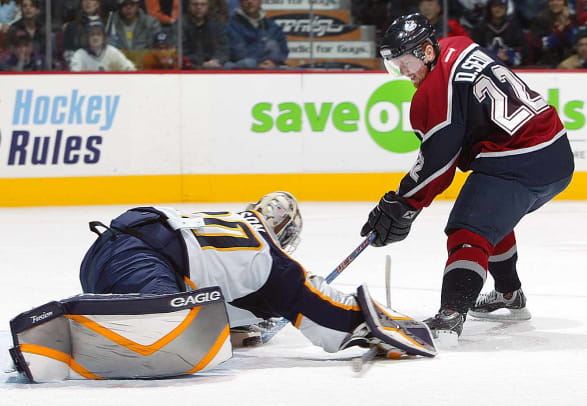 ​
Notables who did not return after the lockout: Scott Stevens, Ron Francis, Al MacInnis, Mark Messier, Adam Oates, Igor Larionov, Steve Thomas, Felix Potvin, Bob Goodenow
Notables bought out after the lockout: John LeClair, Tony Amonte, Derian Hatcher, Ray Whitney, Darren McCarty, Pierre Turgeon, Bobby Holik, Brian Savage, Patrice Brisebois
"It's asinine and it's both sides."—Flames defenseman Andrew Ference on the continuing impasse.
GALLERY: 20 best players to enter the NHL since 2005
Top 20 players to enter the NHL since the 2004 lockout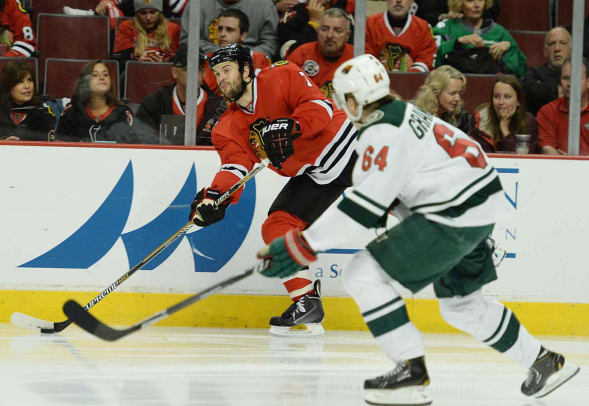 ​What is no more: the NHL on ESPN/ABC (TSN in Canada); the Northeast Division; the Southeast Division; the Northwest Division; Detroit and Columbus in the West; the Atlanta Thrashers; the dominance of the neutral zone trap; the red line; the touch icing rule; ties; Pittsburgh's Igloo ...
What has come to be: NHL on NBC/NBCSN (Rogers in Canada); the salary cap; the salary floor; the shootout; the loser point; the smaller neutral zone; smaller leg pads for goalies; shallower nets; the trapezoid; more interference calls; no substitutions for the team icing the puck until the ensuing face-off; hybrid icing; the Department of Player Safety; Rule 48 on head shots; concussion protocol; mandatory visors; no removing helmets before a fight; less fighting; the jersey tuck rule; the Winter Classic; the Stadium Series; the Metropolitan Division; the Winnipeg Jets; realignment (Detroit and Columbus in the East, Winnipeg in West); the expanded draft lottery (better odds for 10 highest-finishing non-playoff teams); playoff wild cards; Consol Energy Center; Prudential Center, MTS Center, advanced analytics ….
Scoring (2003–04): 6,318 total goals (5.13 per game; NHL leader—Senators, 262)
Scoring (2013–14): 6,573 total goals (5.34 per game; NHL leader—Blackhawks, 267)
Fighting (2003–04): 789 bouts (Pct. of 1,230 regular season games with fights: 41.14%)
Fighting (2013–14): 469 bouts (Pct. of 1,230 regular season games with fights: 29.76%)
"We're going to try to make it better for everybody, period, end of subject. And if you don't realize that, then don't come. We don't want you at the rink, we don't want you in the stadium, we don't want you to watch hockey."—Flyers forward Jeremy Roenick, responding to fans who blamed the players for the lockout
Attendance (2003–04):  20,356,199 (per game avg. 16,549)
Attendance (2013–14): 21,758,902 (per game avg. 17,690)
Average ticket price (2003–04): $43.57 (Highest: Red Wings, $57.11)
Average ticket price (2013–14): $61.62 (Highest: Maple Leafs, $122.20)
"I might jump over the table and choke him to death. That would not be good. That's why they keep me out of the negotiations."—Flyers owner Ed Snider on NHLPA boss Bob Goodenow​
Total revenue (2003–04): $2.24 billion ($74.6 million per team)
Total revenue (2003–04): $3.7 billion ($123 million per team)
Avgerage value of NHL teams before lockout: $163.3 million
Avgerage value now: $413 million
5 Most Valuable Franchises | Create Infographics
Most valuable teams now (according to Forbes):
Maple Leafs: $1.15 billion
Rangers: $850 million
Canadiens: $775 million (up from No. 8; $195m)
Canucks: $700 million (up from No. 15; $148m)
Blackhawks: $625 million (up from No. 10; $178m)
5 Least Valuable Franchises | Create Infographics
Least valuable teams now
Blue Jackets: $175 million (down from No. 17; $139m)
Lightning: $180 million (down from No. 13; $150m)
Blues: $185 million (down from No. 16; $140m)
Hurricanes: $187 million (up from No. 30; $100m)
Islanders: $195 million* (down from No. 12; $160m)
* In August 2014, the Islanders were sold for an estimated $548 million
''This is a sad, regrettable day that all of us wish could have been avoided." — NHL Commissioner Gary Bettman announcing the cancellation of the season on Feb. 16, 2005​
Odd tales
* The Flames had not made the playoffs for seven years before they made a surprise run to Game 7 of the 2004 Stanley Cup finals, where they lost to the Lightning. Their coach was Darryl Sutter, who cited concessionaires and other NHL support personnel who were out of income when he volunteered to cut his own pay during the work stoppage. Players were expected to be set for life after just a few years of work. Their predecessors weren't so lucky. Hall of Famer Maurice Richard maxed out his annual salary at $50,000 near the end of his career and worked as a door-to-door furnace salesman soon after retiring from the Canadiens in 1960.
* How did players and officials get by during the lockout? Referee Bill McCreary installed kitchen cabinets to pay the bills. Stephane Provost, a linesman with more than 700 NHL games under his belt, was painting houses for $10 an hour during the NHL playoffs when he would likely have been working.
* Rory Fitzpatrick was without a team until signing with the Rochester Americans in March. As a fifth or sixth defenseman for most of his career, Fitzpatrick was not among the league's higher paid players, though with 500 games to his credit, he was considered a veteran by the specifics of the AHL, which limited a team to six labeled "veterans" who could dress per game. Only after the Amerks suffered a series of injuries was Fitzpatrick invited to shed his Mr. Mom clothes. "I was getting very good at folding and dusting," the father of four said.
* TSN replaced its Hockey Night in Canada coverage with ECHL and NCAA games, and even broadcast live and taped coverage of The World Series of Poker—which hooked goalie Roberto Luongo, among others. In 2012, Luongo ranked 250th among nearly 8,000 entries after five levels of play. TSN also added two new fishing shows just for the halibut.​
* Rangers defenseman Joel Bouchard organized a 16-city tour of four-on-four teams to raise money for charity. The tour was picked up by Canadian network RDS. Luongo played in the four-on-four games, as did Simon Gagne, Jose Theodore, Vincent Damphousse, Mike Ribeiro, Martin Lapointe, Eric Belanger and Pascal Dupuis.
* Hundreds of NHL players skated in Europe, with mixed success. Pavol Demitra won the Slovak scoring title and Miro Satan was league MVP. Henrik Zetterberg won the Swedish League scoring title with 50 points in 50 games, but Daniel Alfredsson's Frolunda Indians won the league title.
* AK Bars Kazan of the Russian Superleague (now the KHL) threw money at a league title like they were the New York Yankees, but with a $65 million roster that included Ilya Kovalchuk, Alex Kovalev, Nikolai Khabibulin, Darius Kasparaitis and North American imports Dany Heatley and Vincent Lecavalier, they got bounced in the opening round of the playoffs. The Moscow Dynamo prevailed with a payroll that was roughly one-fourth as expensive. 
The end
 "Today, our Board of Governors gave its unanimous approval to a Collective Bargaining Agreement that signals a new era for our league—an era of economic stability for our franchises, an era of heightened competitive balance for our players, an era of unparalleled excitement and entertainment for our fans."—Gary Bettman announcing the end of the impasse on July 22, 2005