Ironic return to Nashville for Barry Trotz as All-Star coach
"I feel like an alumni going to a bowl game," says Barry Trotz, coach of the NHL's Metro Division All-Stars, about returning to Nashville, where he was fired in 2014 after 15 seasons.
WASHINGTON, D.C. — Sometime after Christmas, as the Washington Capitals surged further ahead in the Metropolitan Division, head coach Barry Trotz began to think some of his plans were going to get canceled. He and a few friends had discussed traveling somewhere during the NHL All-Star break, and even tossed around a few location ideas. "Somewhere warm, or somewhere out west," Trotz says. Besides, with one son living in Russia and the rest of his family visiting a daughter in Australia, Trotz was going to be alone during the layoff anyway. The getaway guys' weekend, he figured, would be rejuvenating before the season picked up again.
Then the Capitals intervened by continuing to do what they have done all season—win. By Dec. 27, their divisional lead had climbed into double digits, 10 points ahead of the sliding New York Rangers. It wasn't official yet, but the odds overwhelmingly pointed to Trotz spending his break behind a bench in Nashville. He warned his friends about the predicament. They asked if he could get out of it. "They were a little mad at me for not having hall passes," Trotz says. Eventually, though, the promise of All-Star Game swag swayed popular opinion. They would all go. "We'll hang out, not have a problem," Trotz says. "It was more about getting out of town."
• All-Star Notes: Competition John Scott can win | Scott takes shot at NHL
Consider the irony, then, of the destination of Trotz's second career All-Star nod (his first was in Dallas, in 2007, as an assistant to Randy Carlyle): Instead of escaping to some beachside property with his buddies, he would fly to the city he knew best, the place he lived for 17 years. By his firing in April 2014, he had become the NHL's longest-tenured head coach and the second-longest in all North American professional sports, a unicorn among today's turnover fodder. During his time, the Predators grew from an expansion franchise with little identity, housed in a downtown area Trotz describes as "beat-up," into a consistent postseason contender worthy of hosting a weekend-long romp. He well remembers rumors of relocation to Kansas City and Hamilton, and wondering whether the experiment with hockey in Tennessee had fizzled out. Now, with hockey fans buzzing along Broadway, he believes Nashville will never feel more alive.
Restless legs: Behind the scenes with the Capitals on a back-to-back swing
Ranking the NHL's best, worst general manager-coach combinations
Washington Capitals Road Trip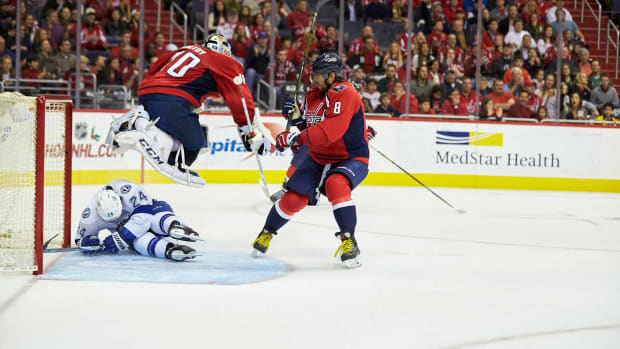 The man who moved the wheel just wants to party.