Auston Matthews re-opened door to NHL for coach Marc Crawford
How working together in Zurich helped top prospect Auston Matthews and his coach reach the NHL.
Your teams. Your favorite writers. Wherever you want them. Personalize SI with our new App. Install on iOS (iOS or Android).
BUFFALO, N.Y. — It's been 11 years since Marc Crawford last experienced winter, at least the smack-your-face, whip-your-nostrils type found near his home along the St. Lawrence River, or at his new job in Ottawa. The climate trended temperate in Switzerland, where he coached the Zurich Lions for the past four seasons. In each of them, an apparel package gifted by one particular sponsor included a bulky winter coat, which Crawford never put to good use overseas. Now? "I'm set," he says. "I'm good. I might need a nice pair of winter gloves and I need to get a scraper."
That Crawford has returned to the NHL, as an assistant coach on Guy Boucher's staff with the Senators, is partially owed to his pedigree. He won the 1996 Stanley Cup while helming the Avalanche in the franchise's first season in Colorado after moving from Quebec. He spent 13 more seasons behind NHL benches, stopping in Vancouver, Los Angeles and Dallas. Then he headed abroad, winning the 2014 Swiss League A title with the Lions and reaching the finals in consecutive seasons.
Which is why Crawford first says this: "What would've happened is, I would have gone back and pursued strongly getting back in the NHL, the way I did this year. I knew that I'd been out for three years. I said you can't be out longer than that, or you're out too long."
And then this: "I ended up staying because Auston was going to be there."
Auston, of course, is Auston Matthews, the presumptive No. 1 pick in the 2016 NHL Entry Draft at First Niagara Center. He was born two days after the cutoff for the 2015 draft, in which he almost certainly would've been picked either second behind Connor McDavid (by Buffalo, interestingly enough) or third, given that the highly regarded Jack Eichel was also in the mix. Instead, the center spent his 18-year-old season in Zurich, starring for Crawford and the Lions.
Crawford knew of Matthews' immense talent, having watched him at the 2015 world junior championships in Toronto and Ottawa. But the thought of recruiting him to Switzerland never entered Crawford's mind. After all, even though Matthews grew from unusual roots—an Arizona native, his mother a Mexican immigrant—he still lived in North America, and traditionally after high school North American prospects either entered Canadian juniors or the NCAA.
Then came April, when Switzerland hosted the world under-18s in Zug and Lucerne. Sometime early into the tournament, Matthews' agents at Creative Artists Agency, PatBrisson and Judd Moldaver, approached Crawford. "With the idea of, hey, would you consider this guy?" Crawford says. So he started paying closer attention. Behind Matthews, the United States won gold for the second straight year. And in seven round-robin games, Matthews notched eight goals and seven assists, more than anyone else the event, including four Swiss players who would play for Zurich in the fall. "Auston was light years ahead of those guys," Crawford says. "I felt the way he projected out, he'd be a top player in the league by the end of the year."
Auston Matthews blazing his own trail to NHL stardom
​At the time, Crawford was weighing his NHL options. He had been coaching in Switzerland since the Stars fired him in 2011 and badly wanted back into the fraternity, despite having another year left on his contract with the Lions. But Crawford had also gotten particular joy from guiding young talents like the Sedin twins in Vancouver, Anze Kopitar in Los Angeles, and Jamie Benn in Dallas. And when Matthews' camp was evaluating his overseas options, Zurich stood out as a logical choice because of the man behind the bench. When Brian Matthews, Auston's father, lists the reasons why Auston eventually signed with Zurich last August, the first thing he says is, "The challenge of Crawford."
"Once Auston became available, the big part of it was, he wasn't coming unless I was here," Crawford says. "That was part of their deal too. All of a sudden it became really important to the team that I was back." During a short conversation with Brisson, the agent pitched Crawford on the true scope of Matthews' abilities. Maybe, Brisson told him, guiding the presumptive top pick would also boost Crawford's profile and help turn heads. "I stayed because we were getting this incredible talent," Crawford says. "I didn't think anything but good could become of it. I'd be good for him, he'd be good for our team. And, selfishly, I knew I'd be talking to a lot of decision-makers in the NHL and I was going to selfishly give myself a chance to get back."
It worked. Despite missing 14 games, four of which came while he waited to fulfill Swiss visa requirements by turning 18, Matthews finished as a first-team All-Star, second in the MVP voting and nabbed rookie of the year honors. "I think Marc Crawford gets a lot of credit for the demand of accountability," says Ryan Shannon, a veteran forward. "He finds a way to bring the best out of everybody. Sometimes it's a hard reality. Sometimes it's getting yelled at. Sometimes it's backing off. Sometimes it's saying the right word, to poke. I think he had a very good read with Auston."
From Crawford's perspective, the teenager seamlessly blended into a world of professional adults, mature beyond his time. Like other rookies, he cleaned up the bus after road trips and stayed late to gather pucks. "He won them over by not expecting preferential treatment," Crawford says. Matthews also handled newfound fame—though not at the level expected when he starts his NHL career in Toronto—with ease. Crawford roughly estimates that between 60-70% of apparel sales were MATTHEWS 34 jerseys. When the team held a fundraiser for its youth development program, fans damn near knocked each other over to sponsor Matthews. "He got some crazy amount that nobody had ever thought possible," Crawford says.
Once, before Matthews could legally drive in the country, Crawford remembers asking fellow rookie Roger Karrer to show the highly regarded kid the route to the rink. They took streetcars, and during the ride Matthews was mobbed by autograph seekers. Karrer had never seen quite this level of hype before and panicked, whisking Matthews off the streetcar and into a nearby cab. When they finally reached the rink, Karrer was still in shock. "He was just freaking out that Auston was getting this type of attention," Crawford says. "He was almost traumatized. Auston, he wasn't taken aback by it. When he came into our office, he's telling the story, Auston's just chuckling. He's somewhat embarrassed that he was garnering so much attention."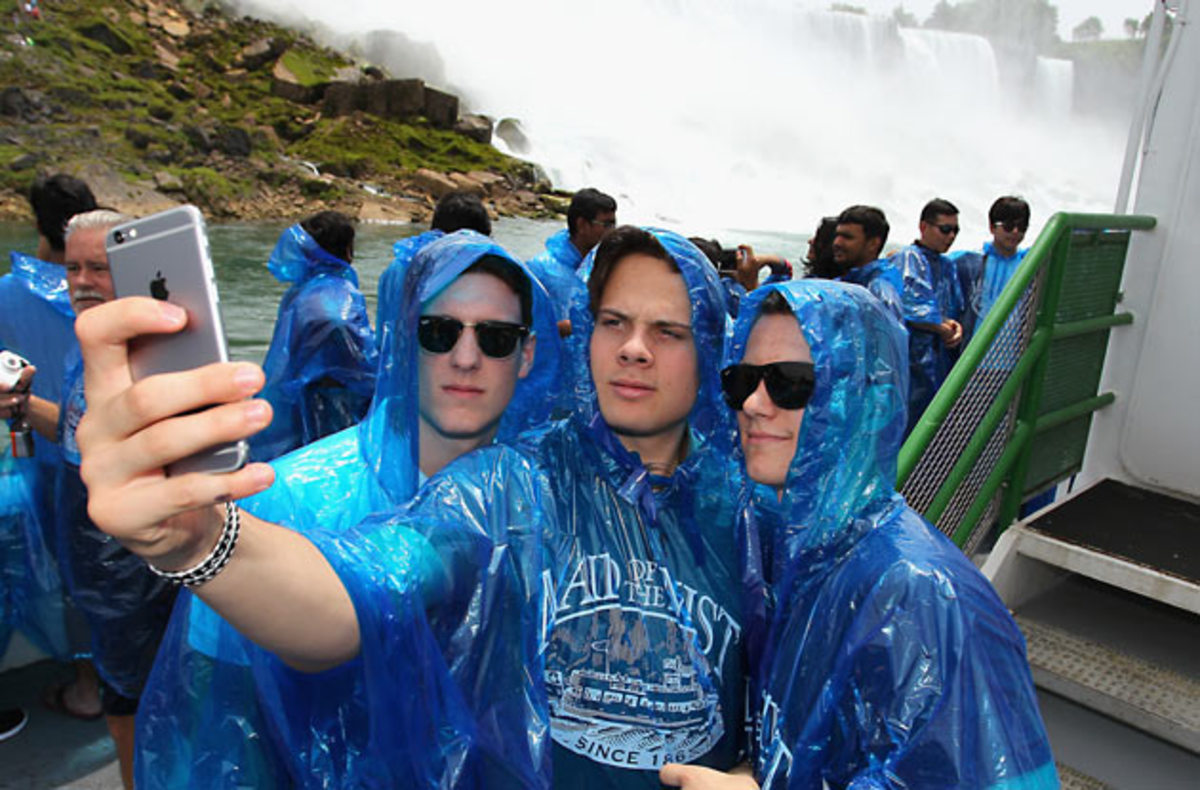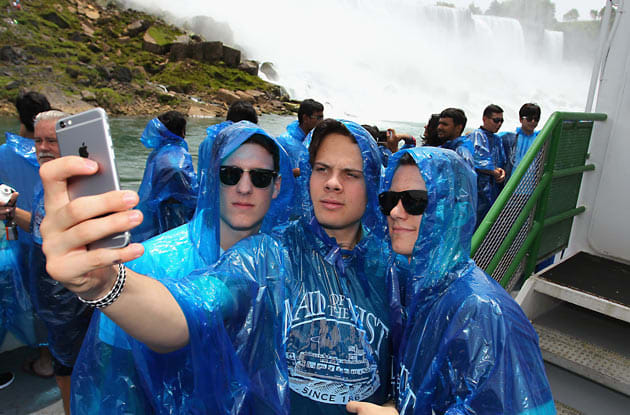 Zurich finished atop the Swiss League A regular-season standings but bowed out to the eighth seed in the first round, hastening Matthews and Crawford's respective returns to North America. For Matthews, the path was obvious; since leaving Zurich, he has led the U.S. in scoring at the 2016 world championships, made the under-23 North American team for the World Cup of Hockey, and arrived in Buffalo to become the seventh American-born No. 1 overall pick ever.
Crawford, meanwhile, faced more uncertain territory. In Switzerland, he had grown close with Boucher, the Bern SC coach and former Lightning bench boss. Ninety minutes apart by car, they visited each other often. The relationship had started after Tampa Bay fired Boucher in 2013, while he was touring Switzerland looking for jobs. "He visited me and when he left, I told him, if you get a job, I'd be really interested to come in as an assistant," Crawford recalls. "It shook him. He was like, really? He told me, he's always kept that in the back of his mind. We talked about it pointedly at the end of this season." According to Crawford, Boucher entered interviews this year with his potential staff already in mind, Crawford among them.
2016 NHL mock draft: first round
​Once the NHL season ended, Crawford hit the road. Starting in Montreal, he spoke with all seven Canadian teams, plus Buffalo, Detroit, Anaheim, and Tampa Bay, he says. He interviewed with four clubs, two as a head coach and twice for an associate job. At each stop, he found that Brisson's prediction was coming increasingly true. "Auston was the door-opener," Crawford says. "I was calling everybody and saying, I'd like to come in and talk to you about what I want to do. At he same time, I know you've got interest in Auston, and I'm glad to answer any questions you can have about Auston."
And now, provided no shockers occur around 7:05 p.m. on June 24, they will soon oppose each other in the Atlantic Division, Crawford in Ottawa and Matthews with Toronto. Fittingly enough, Matthews's prospective NHL debut will come on Oct. 12 at Canadian Tire Centre, where Crawford will coach behind the home bench. When the Senators hired Crawford, Matthews called to offer congratulations.
"Hey," Crawford replied, "now I've got to figure out a way to stop you."