Eric Staal having fun, finding game again in first season with Wild
It was easy to write off Eric Staal after his production began to taper, but he's found his groove again after signing a three-year deal with the Minnesota Wild in the off-season.
It wasn't very long ago that Eric Staal was among the NHL's upper-echelon players.
Staal finished the 2011-12 campaign with 70 points for the Carolina Hurricanes, the seventh time in his career that he'd racked up that many or more, and, while it was a six-point drop-off from the prior season, the idea that he wouldn't again flirt with 70, if not more, in any full season beyond that juncture was simply unfathomable.
In 2012-13, Staal tore up the league in a lockout-shortened campaign with 53 points in 48 games, finishing sixth in scoring, seven points behind Art Ross Trophy winner Martin St. Louis.
He'd won a Stanley Cup with the Hurricanes in 2006. He'd played in an All-Star Game four times. Twice, he was among the league's top-10 in goals and points, evening getting his image on the cover of EA Sports NHL 08.
Since then, Staal has been on a roller coaster ride. His numbers dropped and his stock with it. In 2015-16, he found himself traded from Carolina, the franchise that drafted him in No. 2 in 2003, to the New York Rangers and over 83 games, mustered 39 points, his lowest total since netting 31 as a rookie in 2003-04.
After a crooked career path, David Schlemko is the Sharks' main 'dancer'
In the off-season, Staal entered free agency as a 31 year old, signing with the Minnesota Wild for three-years and $10.5 million to go with a much-needed fresh start.
"Going into the summer, it was just about going to a refreshing start and a new opportunity, and a great chance to kind of go after the second part of my career," says Staal. "It's been a good start so far in Minnesota, but I'm hoping for a lot of great times this year and the years ahead."
Sixteen games in, the evidence supports that theory. Staal has five goals and 8 assists, which would put him in the neighborhood of 70 points. Now 32, he's still in his prime and has shown that he can still do some spectacular things with the puck.
What has he changed in terms of the way he plays?
"Nothing," Staal says with a laugh. "I never doubted that I could play and make plays and be a difference maker. It's just about a lot of different things sometimes. I've been given a good opportunity, it's been a good start, but I've got a long way and a long season ahead of me. I'm just looking forward to playing and helping this team win games."
As it turns out, it wasn't anything in Staal's game that he was lacking. He was just constantly on the penalty kill from a mental standpoint.
"There were a lot of different factors with how the last couple of years went in Carolina," he says. "The younger team they were going with, ownership, missing the playoffs for as many years as we did, that was a lot of weight and I took it hard. I mean, when you're the captain and you're there for as long as I was, you won a Stanley Cup, there's a lot of great things and positive things, but there's also things that can weigh you down."
For Staal, a big part of coping with the adversity means relying on those close to him. Luckily, he's surrounded by plenty of folks that know the NHL lifestyle.
"It can be real challenging," he says. "You need to have a good support system; you need to have people close to you that you can talk to on a daily basis. My wife has heard a lot of me venting at times and me just communicating different things with where hockey was at certain times. My family, my parents, my brothers, we all kind of know this business and know how the game works. You need to have people that care about you and are able to talk to you when things aren't going great, and help you realize that there will be brighter days ahead, and to keep your head up."
Mark Scheifele, Gabriel Landeskog leading the way in concussion awareness
Staal also knows that he's an important part of the equation.
"It's just about making sure you remember that you play a game for a living, and it's a great chance," he says. "You've gotta feel good about it every day you wake up, because a lot of people don't get to do what they want to do and dream about doing every day. It's just a great opportunity every day to enjoy. That's what I've tried to do even when the times are tough and I feel like sometimes that's made me a better player."
For the first time in a while, the eldest Staal sibling is on a team without one of the others. As for who was the better teammate, Carolina center Jordan or Marc, a defenseman with the Rangers, Staal responded in a way that only an older brother could.
"That's tough to say," he says, after a quick chuckle. "I only played 20 games and five playoff games with Marc, so I didn't get a full read on him as much as Jordan, but it's hard to give a leg up. They're both great. Obviously, it's a dream come true to make the NHL, and then to be able to compete daily with one of your siblings is pretty phenomenal. Tough to not be with them, but sometimes that's how it goes."
Playing for head coach Bruce Boudreau, also in his first season with the Wild has also been a welcome change for Staal, who cites the oft-beleaguered bench boss for both his and the team's early success.
"The way the NHL is now, I think you have to be defensively aware, otherwise you're gonna get killed," says Staal. "Every team in this league can beat you on any given night. I think Bruce has done a good job of instilling structure and knowing to play the right way, but he's also a guy that'll let you make plays and he gets it, he gets what it takes to score goals and what's needed offensively to be at your best. He puts guys in positions to be successful and seems to be one of those coaches that pushes the right buttons at the right times. He's been fun to play for."
NHL Old Faces in New Places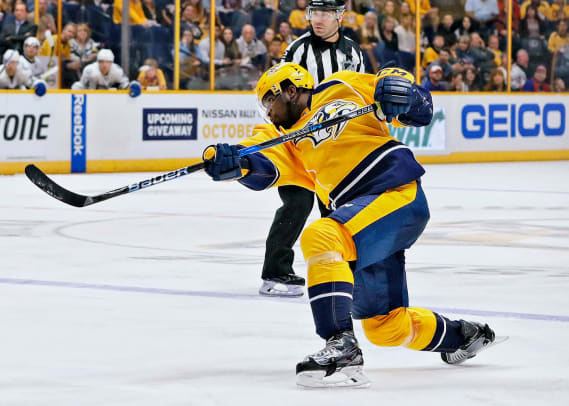 That type of "fun" is something Staal truly missed. He admits this is the most he's had playing hockey in a while.
"Definitely, yeah," he says, laughing. "No question. It's been fun to be with this group. There's a good bunch of players that are excited about winning games and that are trying to achieve something bigger. For me to kinda jump in with them and get to know them better every day and play a part in it, it's been a ton of fun.
Indeed, Staal is playing hockey with a smile these days. Still, he aspires to channel that positivity towards helping the Wild win games.
"I'm hoping for it to continue to get better and just enjoy being out there," he says, "because that's what it's all about."