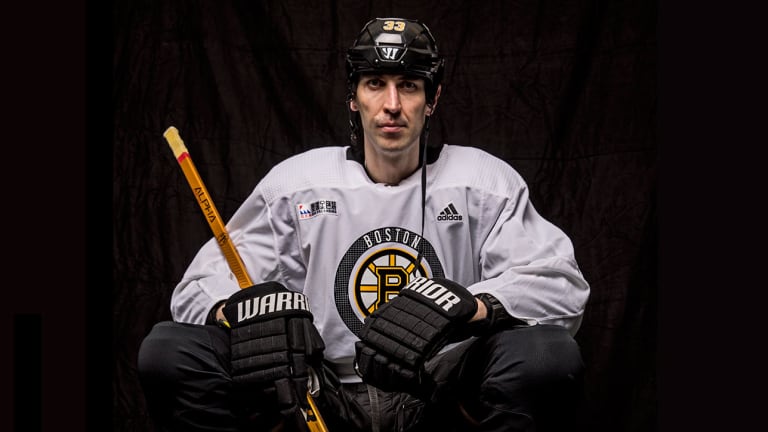 Publish date:
The Legend of Z: Zdeno Chara Remains Obsessed in His Pursuit of Outsized Excellence
An awkward, lanky prospect who transformed himself into hockey's biggest, baddest defenseman, the 41-year-old Bruins captain is staying relevant amid an NHL youth movement.
An awkward, lanky prospect who transformed himself into hockey's biggest, baddest defenseman, the 41-year-old Bruins captain is staying relevant amid an NHL youth movement.
Whenever future generations decide to curate the Zdeno Chara Exhibition, they will find ample relics of a singular hockey life. Archaeologists will track down his 67-inch (rules-exempt) Warrior sticks, painted black and gold. They will unearth the puck he sizzled at an NHL-record 108.8 mph, the sweater he wore when he captained the Bruins to a Stanley Cup in 2011, the pull-up bar that always draws a crowd. They will probably dust off the bicycle he rides around Boston, built with a heavy-duty frame to handle the cobblestone streets (not to mention his 6' 9", 250-pound body). And they will discover the presentation folder.
It's an otherwise nondescript piece of office supply—dark blue, two pockets, letter size—but should serve as the collection's crown jewel. Visitors will peruse the sheets of scrap paper, some already yellowing from age. They will scan the calendars and charts, pencilled in a blend of English, Slovak and inscrutable shorthand that spills into the margins. "But you won't be understanding what it means," Chara says. "If you do, then you are a genius."
Here is the gist, decoded and translated: For almost three decades now, the 41-year-old Bruins defenseman has meticulously catalogued every single one of his offseason workouts. Each exercise. Each repetition. Each kilogram. Curious how many pucks he shot on, say, Aug. 31, 2014? How long he spent, oh, mountain biking on July 17, 1996? Those details live within that folder, protected by a plastic sleeve, stashed above his desk in the family's combo office-playroom.
It's a stormy March afternoon in the North End neighborhood. The previous night, during a 6–5 home win over the Red Wings, Chara had surpassed 34,000 career regular season minutes—the equivalent of 23 straight days of skating, he calculated. His wife, Tatiana, and 8-year-old daughter, Elliz, are at gymnastics class, so Chara is facing a two-man forecheck from two-year-old twins Ben and Zack, who are armed with mini-hockey sticks and Bruins sippy cups.
Bruins Sign Defenseman Zdeno Chara to One-Year Extension
Peeling open the folder, Chara thumbs through years of data. "So that's 2017, 2016, '15, '14 . . . every day, what I did," he says. "And I have a whole bunch at home, too, in Slovakia." The record-keeping began there. His father, Zdenek, was an Olympic Greco-Roman wrestler for communist Czechoslovakia who later became the Slovak national team coach. He had young Zee swinging a hockey stick encased in a flower pot of hardened concrete, and performing shoulder raises with buckets of water that Zdeno pumped from a 13-meter-deep, hand-dug well.
But more than hard work, Zdenek stressed working smart. And smart workers used journals.
To this day, at the outset of each summer, Chara sits down and scripts his training sessions in month-long segments. "I'm a thinker," he says. "I like to do the work of preparation. When I start doing things, I like to already have a purpose." He begins with a basic workout calendar on the first page, then breaks down each workout into sets, reps and weight on the second. The remaining pages are left blank, to be filled later with a running diary detailing how every exercise makes his body feel. Each ache. Each sore. Each burst of energy, color-coded and organized chronologically since adolescence. "You can easily figure out patterns of preparation," he says. "It's like a big puzzle."
Stapled together the documents create a roadmap. They explain how an overlooked, underdeveloped defenseman built himself into a six-time Norris Trophy finalist and future Hall of Famer. How the NHL's second-oldest player (Wild center Matt Cullen is 136 days his senior) is leading a Stanley Cup contender (the Bruins were tied with Tampa Bay atop the Atlantic Division through Monday) in average ice time (22:55). How the tallest NHLer in history has survived amid an increasingly agile hockey world, dominated by aggressive, high-energy challengers like the Western Conference-leading Predators and Golden Knights. How to explain what, as Bruins defenseman Kevan Miller puts it, "doesn't make sense."
Maybe Father Time took one look and hit the showers out of fear. More likely: Chara's remarkable longevity—over the last two decades only he and Nicklas Lidstrom have eclipsed 1,500 minutes in a season as 40-year-olds—is fueled by the same intensity that he developed as a lanky teen who Slovak youth coaches regularly suggested should switch to basketball. On more than one occasion Chara told former Bruins GM Peter Chiarelli that he wanted to play until at least 45. Teammates believe he will get there, no problem.
"It goes against all odds with his size and his body, how heavy he is," Bruins center Patrice Bergeron says. "And he seems to be getting better. It's pretty scary."
As Zack and Ben rip around the playroom, Chara slouches onto the carpet. A dozen jerseys hang on the wall, autographed by hockey idols (Lidstrom, Bobby Orr) and other sporting icons (Lance Armstrong, Tom Brady). The bookshelves are stuffed mostly with biographies, plus a coffee table tome diagramming Tour de France routes. The desk lamp is shaped like the Stanley Cup. A picture shows Zdeno and Tatiana hoisting the real thing in 2011. Another captures him at the opening ceremonies of the '14 Sochi Olympics, carrying the Slovak flag and waving.
Chara is still bummed that NHL players didn't attend the Winter Games in PyeongChang—not only did he miss out on making a fourth appearance, but he also views the Olympics as a veritable brain buffet. During downtime at the athletes' villages in Sochi, Vancouver ('10) and Turin ('06), Chara would often watch fellow Olympians—get this—warm up. He would study how speed skaters imitated push-offs on dry land, take mental notes on which stretches cross-country skiers performed. "For me, that [was] like heaven," he says.
In Chara's eyes, every elite athlete has wisdom to impart. He has sought powerlifting tips from Slovakian weightlifter Martin Tešovič and discussed endurance-based training with professional cyclists, such as countryman Peter Sagan. His pregame warmup now incorporates throwing and kicking a tennis ball, an exercise borrowed from NHL goalies. After meeting Olympic ice dancers Alex and Maia Shibutani at a Bruins game in 2016, Chara asked for help improving his balance and skating stride; the siblings FaceTimed him from the ice that summer and passed along drills. He also used to Greco-Roman wrestle regularly with his father's national team charges, believing the stand-up style was good training for puck battles. "I still do that every summer, but not as much as I used to," he says. "All the other guys are retired."
Unlike another quadragenarian captain based in Boston, Chara doesn't need some Z33 Sports Therapy Center staffed with svengalis to oversee his health. "I don't think he's ever had a personal trainer who's there working with him all summer," says his agent, Matt Keator. "A lot of this is done on his own. It's feel-based." Even so, Chara knows when to seek advice. Like when he walked to his neighborhood Starbucks two years ago and met with Adam Nicholas, a local skating and skills coach. Not long after they sat down, Chara announced his intentions: "Listen, I want to keep improving. I want to play for as long as I possibly can."
Bruins' Ryan Donato Misses Practice After NHL Debut to Attend Class at Harvard
Nicholas believed he could help. He had prepared a video presentation outlining several inefficiencies in Chara's skating mechanics, which they watched on Chara's phone over coffee. The clips revealed how Chara tended to cross over while skating backwards, slowing his footwork and hindering his ability to defend oncoming puckhandlers. Nicholas explained how Chara could achieve faster pivots by keeping his stick in tight while turning, and suggested he lower his stance into a more compact, athletic frame. "I'm a mansion," Chara told Nicholas, explaining the difficulty. "I've got to get into a one-bedroom apartment."
Some of the hip mobility drills were especially tough; early on, Chara remarked that he felt like a Riverdancer, legs awkwardly flailing about. But he practiced diligently, even mimicking foot patterns at home while rocking his twins to sleep. Gradually his pivots got tighter. His stride grew more powerful. "The perfect size [for a defenseman] would be somebody who's 6' 3" and can fly," Chara says. "For a guy who's 6' 9" and heavy, 250, long legs, it takes a lot of work to be seen like, 'Hey, he can still play, he can still move.'"
Nicholas continues to send video clips dissecting recent games. A recent emphasis for Chara: targeting breakout passes toward the middle of the ice to maintain possession, instead of creating 50-50 pucks by chipping them high off the glass into the neutral zone. But this isn't a typical student-teacher relationship. For one thing, Chara is always texting Nicholas with suggestions for new drills. "[An] interactive approach, is what I'd call it," Nicholas says. "He won't stop until he masters everything."  
During the 2005-–06 season, his last in Ottawa before signing with Boston, Chara approached the Senators coaching staff with an unprecedented proposal: He wanted to play an entire game. Sixty minutes. No joke. "He was serious about it, for sure," former assistant John Paddock says. "We all agreed that he could've done it."
The closest Chara came was 33:34 against the Montreal on Dec. 20, 2005, but his ambition alone reflects a fixation on superlative feats of physical fitness. Everyone has a story. There was the time he coaxed his traveling companions into grueling staircase sprints at a hotel in Mozambique ... less than four months after he had shoulder surgery. Or when Paddock spotted him at Ottawa's rink before training camp, decked in cycling gear and headed on a solo 60-mile ride … casual compared to the steep Tour de France stages that Chara biked for fun each summer. "He's the reason I couldn't use my long arms as an excuse in the pull-up competition," former Bruins forward Shawn Thornton says. "That got old real quick when Zee was rattling off 35 of them at 270 pounds."
"He doesn't need a trainer or a coach yelling at him to get back in shape," says retired Boston teammate Andrew Ference. "He's the opposite. He needs people to tug on his reins: 'Zee, you're playing 28 minutes a night, we're in the playoffs, you don't need to go into the gym and have a full workout after the game.' " Consider: On the second day of the Bruins' bye week in early January, Miller received a call from Chara, suggesting that they book ice time with team power skating coach Kim Brandvold to stay fresh. "I don't like to sit around and do nothing," he says. "I like to keep getting better, staying in the rhythm."
Everything is geared toward helping Chara remain relevant amid the NHL's youth movement. After reading a book titled Stretch Fit, geared for "people at all levels of fitness," Chara has incorporated new movement exercises and resistance bands into his warmup and recovery. Inspired by a conversation with his business manager Michal Matejovic, he also recently converted to a plant-based diet. A sample pregame lunch includes salad with chickpeas or beans, quinoa, avocado and carrot. He last ate red meat in mid-September and eliminated eggs in early February.
Working smart is paying off this season. His mammoth checks and rangy reach still serve as powerful deterrents, and second-year coach Bruce Cassidy's zone defense minimizes energy-wasting chases into the corners. But Chara has also accessed a new, nimbler gear in his 40s. "I honestly can tell I got faster," he says, a hypothesis supported by the dipsy-doodle spin move that juked defenseman Brandon Manning behind the Flyers net in early March and drew an audible roar from the TD Garden crowd.
So far the only thing that's slowed Chara down was an upper-body injury that shelved him for three weeks until April 1. But rest—especially for the age-defying set—could ultimately prove helpful with possible first-round opponents including the Auston Matthews-led Maple Leafs and Hart Trophy candidate Taylor Hall's New Jersey Devils. Not that endurance is an issue. Though the Bruins passed off power play duties to defensemen half his age, Chara still kills penalties (3:41 per game, second league-wide), protects leads and smothers top lines. "He's insane," defenseman Charlie McAvoy says. "It's crazy. I don't know how he does it."
Olympic Captains Brian Gionta and Chris Kelly Back in the NHL After a Whirlwind Year
Penguins defenseman Jamie Oleksiak can relate. Less than eight minutes into the second period on March 1, Chara hopped over the boards and joined his teammates in the offensive zone. By the time that shift ended (interrupted only by a brief break for Bruins winger David Pastrnak's hooking penalty) Chara had logged an ultramarathon 3:03 . . . and still had enough leftover juice to fight the 6' 7", 255-pound Oleksiak.
When the bout—dubbed by one Penguins broadcaster as "a Richter Scale rumble"—mercifully ended, the heavyweights retreated to their respective sin bins. There, an exhausted Chara noted aloud how long he had been stuck on the ice.
"Still beat me up anyways, man," Oleksiak replied. "I'd hate to see if you were fresh."
And now, the pigeon story:
Back in Trencin, Slovakia, in the early 1980s, the Charas kept several breeds—along with parrots, ducks, chickens, rabbits and pigs—in their family garden, so Zdeno had always felt comfortable feeding them as a kid. One day last year he wandered outside the Bruins' practice facility with some old bread from the kitchen and approached a flock in the parking lot. At first, the pigeons kept their distance. Then Chara went back. "Then they get closer," he says. "Then they almost sit in your hand. Then the next time they land on your hand and eat there. It's amazing when they bridge that gap between being scared and all of a sudden trusting you with their life."
This feeling isn't just for the birds. Young or old, every new addition to Boston's locker room gets nervous upon meeting Chara. "Oh, absolutely," Miller says. "When you walk in and he shakes your hand and wraps your whole hand up . . . " But as the NHL's longest tenured captain—not to mention a walking Google translation with solid command of five languages, plus passable knowledge of four more—Chara runs an inclusive ship. "That's the perfect word," says McAvoy. "He doesn't treat rookies like rookies. Everyone gets involved."
Zee received the C in October 2006, three months after signing with Boston. He has evolved as a leader too. Says Ference, "I think he went from the Eastern European, pretty-hardass approach, where there's an expectation that everyone else should be as committed as him, to being more understanding that guys aren't all going to be in the gym working as hard as he does." Indeed, teammates were pleasantly surprised last spring when, upon clinching their Stanley Cup playoff berth, Chara arrived at the rink bearing boxes of donuts and loaves of banana bread. "So guys can have a sweet tooth, just to loosen up," he explains.
Of course, Chara adds, "I didn't have any donuts."
Seven straight Stanley Cup playoff berths and two Eastern Conference titles from 2007 to '14 will form the bulk of Chara's legacy in Boston, but his stewardship might mean more now than ever. The team leads the league with 168 points by rookies, all of whom look up—and up, and up—to Chara. That group includes the 20-year-old McAvoy, who was born 32 days after Chara's NHL debut and is now his top-pair partner and heir apparent on the Bruins' blue line.
"He broke down that conversation barrier," says McAvoy, who left Boston University and joined the Bruins during the 2016–17 playoffs. "He said all these little things that made me go from being nervous and unsure to feeling like, 'Hey, I belong here.'"
Colossus cosmopolitan Zdeno Chara helps fuel Team Europe's unlikely run
True to form, Chara is even learning from his millennial colleagues. Once famously private—until this year, no reporter had ever visited his family's condo—he signed up for Facebook and Instagram last fall. Each post is written and edited in English and Slovak with Matejovic several days in advance, offering such lengthy musings from @zeechara33 as: "When the mind is controlled and our inner voice aligned with the purpose the body is capable of more than we realize. Rule the mind and your body will follow. Your imagination is endless. No human is limited. It's in our DNA to push the limits."
That is how Chara's career makes sense. He entered the league as a bottom-pair fighter with the Islanders, willed himself into Norris Trophy contention for a decade. He continues chugging into his 13th postseason, where a healthy Bruins team has as good a chance as any, and recently signed a one-year extension that'll take him to 42. What is his purpose? A second Stanley Cup, of course. But more than that, Chara is showing what's possible by pushing the limits, by maximizing every exercise and repetition and kilogram, by playing with those patterns until the whole damn puzzle is solved.