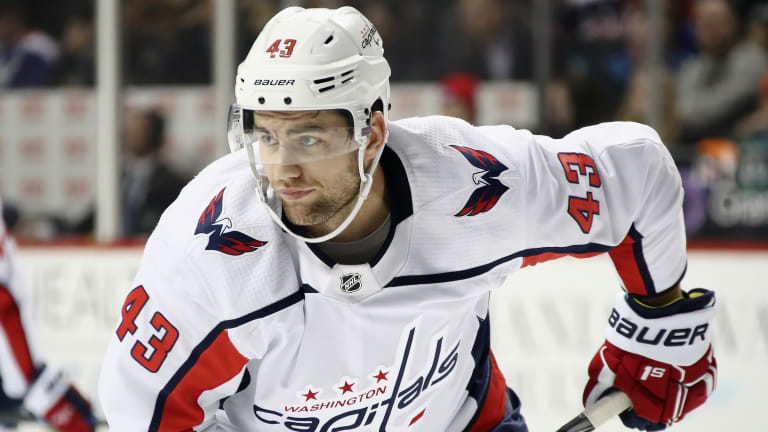 Tom Wilson Evolves Into a Powerful Sidekick for Capitals' Star-Studded Offense
Tom Wilson has always been known as a "shift disturber." Now he's a disturbing shift with a few offensive tricks up his sleeve that have been on display this season.
Every March as a birthday present, Peter Wilson produces a video of hockey highlights for his younger brother, Tom. They are pretty standard montages, spliced from game footage and soundtracked by pulsing house beats, infused with the creativity of a former film studies major. The tradition began during Tom's rookie season in 2013-14, back when the Washington Capitals exclusively deployed him as a human cannonball of fists. The initial version lasted less than four minutes, but the 2018 installment extends three times that length. 
As Peter remarked to their father, Keven, it was the first year he actually had a surplus of worthy content.
That most recent video opens on the voice of Maple Leafs coach Mike Babcock, speaking about Wilson before the first round of the 2017 Stanley Cup playoffs last spring. "Nothing against Wils, because he works hard and all that," Babcock told reporters then, "but he's not as big a concern as lots of people on their team." The music picks up. There is Wilson, cranking the overtime winner against Toronto in Game 1. There is Wilson, belly-flopping to save a puck from trickling across the goal line in Game 4. There is the title screen, black with movie script font: "Shift Disturber."
Here's the thing: Babcock's assessment was neither dishonest nor inaccurate at the time. What else would he say about a bottom-six forward with 21 total goals over four NHL seasons, especially compared to all the other skill on Washington's star-dusted roster? Since then, though, the scouting report has required some significant revisions. Much like Capitals management envisioned upon drafting him 16th overall in 2012, the 24-year-old Wilson has finally claimed the oft-cycled winger spot opposite Alex Ovechkin on Washington's top trio, delivering a career-high 35 points in 2017-18 and potting two goals against Columbus during the opening round.
Alex Ovechkin, Capitals Hope This Time Is Different Against Sidney Crosby, Penguins
"He just keeps evolving," coach Barry Trotz says.
"He's been steadily growing throughout, but this year he's taken a big step in the right direction," goalie Braden Holtby says.
"He's a total different person," Andre Burakovsky says.
Okay … that might be an exaggeration. No doubt Wilson still relishes disturbing shift on a regular basis, his league-high 54 drawn penalties and 13 fighting majors this season plenty proof. (Further examples include the orange peels or candy wrappers that Capitals road roommate Burakovsky finds tucked beneath his hotel bedding, and the opponent in juniors whom Keven recalls growing enraged after Tom loudly wondered, "Hey, does your coach know you're out here?") He still hunts on the forecheck, still mucks in the corners, still dishes bone-jiggling hits that occasionally draw attention from the NHL's player safety police, whether through his career-high 187 PIMs or the twin bill of suspensions incurred for preseason offenses. 
"He's got a bit of old-school blood," Holtby says. "That's one of the best things about him … This year I just think he's done a better job of finding when to do it, which guys you can get under their skin, not just trying to do it every shift, every whistle. That comes with growth and maturity. I think his intelligence has shone through in those areas."
Elsewhere, too. Several summers ago, Wilson visited a 1,500-square-foot facility at a rink outside Toronto, where his father operates an athlete vision-training center called Heads Up Mind Gym. There he discovered exercises like the Dynavision board, a 42-by-42-inch vertical surface that illuminates in random spots for players to smack. (Think vertical whack-a-mole.) Now Wilson concludes every morning skate on game days in Washington by slipping on 3D glasses and spending time on the team's Neurotracker machine, which he describes as "a bunch of balls bouncing around your monitor like an old Microsoft screensaver."
"I don't do it on the road, and when I do it on the road, my eyes are lazier," Wilson says. "I've noticed a big difference with batting pucks down, tracking stuff … If I'm looking down, my peripherals can see a red jersey, where it's going. My dad always said, 'If you're going to lift a weight with your arm in the gym, why wouldn't you go work your brain out with your eyes?' It keeps me sharp." 
Based on the—ahem—eye test, Wilson has indeed become more offensively adept around the net. Take, for instance, the twisting deflection of defenseman Matt Niskanen's blast in Game 3 against Columbus on April 17, as Wilson pivoted toward his backhand and guided the puck downward from chest-height. The goal, which put Washington ahead 1-0 in its eventual 3-2 win, marked a small moment of personal redemption for Wilson, whose overzealous charging and roughing penalties in Games 1 and 2 had turned into Blue Jackets scores on the ensuing power plays—and, later, Capitals defeats.
"I'm playing a lot of minutes," Wilson says. "If I can stay more focused, not take penalties, not be in the box, that's something that's going to have an effect on the game. I felt as a teammate that I let the guys down. It was on me to fix it. That's one of the worst feelings." Fortunately for him, further atonement arrived two nights later when Wilson again delivered the opening salvo, this time pumping a one-timer from his knees past goalie Sergei Bobrovsky; he also factored prominently into Ovechkin's third-period tally, controlling an entry into the offensive zone and keeping possession under heavy pressure against the boards in a 4-1 win.
Wilson has developed a theory about himself, which holds doubly true during the playoffs. "If you're getting me mad, it gets me more into the game," he says. As an example he points to the Maple Leafs series, which he finished with six goals and one memorable clapback at Toronto's coach. "Babcock's chirping me, I'm chirping them. That's when I'm at my best." As a counterexample he cites Washington's second-round loss to Pittsburgh in 2015-16, when the Penguins essentially refused to engage. "That's probably the worst," he says. "They have four lines who can play and weren't worried about agitating. I think the best chirp for me would be to ignore me."
That has become increasingly tougher over time. In addition to three extra minutes of ice time per game that Trotz entrusted him with this season, Wilson occupies a vital role on Washington's penalty killing unit and serves as a defensive-minded sidekick for Ovechkin and center Evgeny Kuznetsov at even strength. "I'm not the most skilled player in the world, but part of my presence is my presence, creating room for them." If not a major bullet point in Pittsburgh coach Mike Sullivan's scouting report for their upcoming series, Wilson should at least draw more notice from Penguins faithful; just wait until the first time he decks Sidney Crosby. Spliced together, the image is a far cry from the eight-minute-a-night rookie with a four-minute montage tape. 
"You can definitely get stuck in that role," Wilson says. "I don't take anything away from those guys. I still am that. I'm a gritty power forward. There's so many different pieces to the puzzle, and every year the team changes and guys have different responsibilities. Right now my job is to play those minutes. And who knows, maybe next year we have a top-line right winger who comes in and I get bumped down."